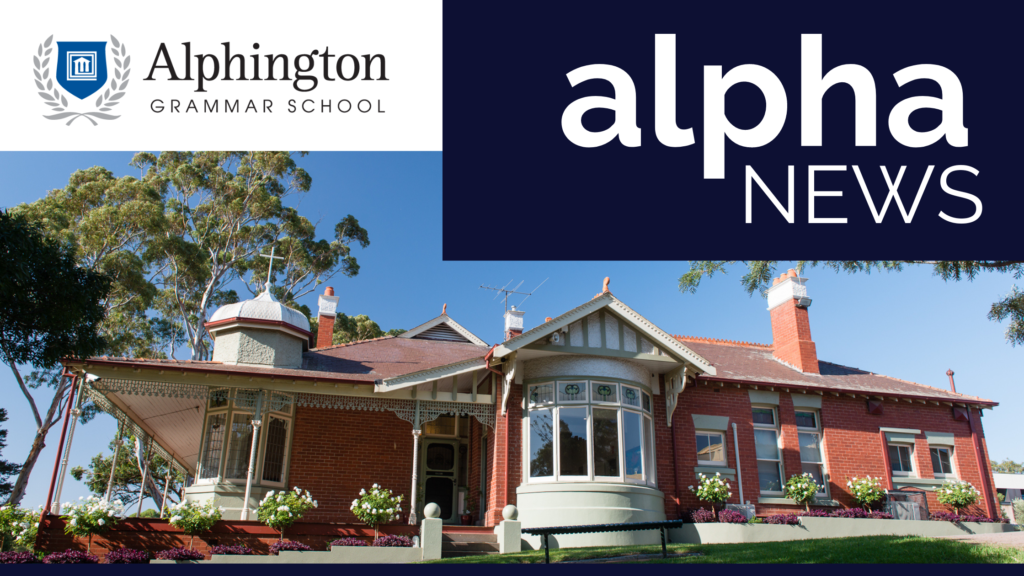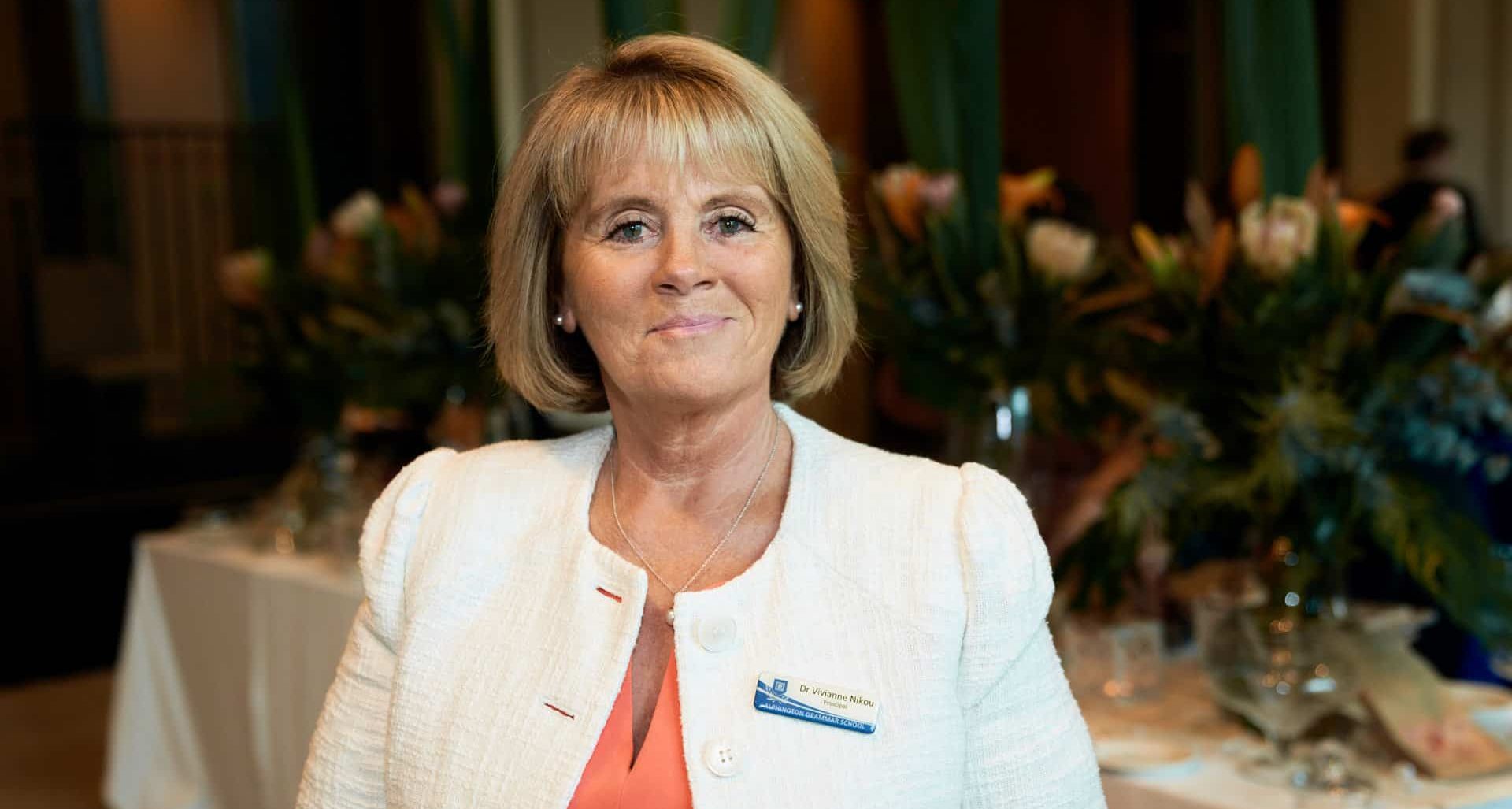 Lonsdale Street Festival
The 35th Antipodes Lonsdale Street Greek Festival held annually saw tens of thousands of visitors across the two days join the festivities and celebrate Greek culture.  There were over 80 pop up stalls and marquees including our own. I thank the staff and student leaders who were there to talk to visitors and hand out show bags.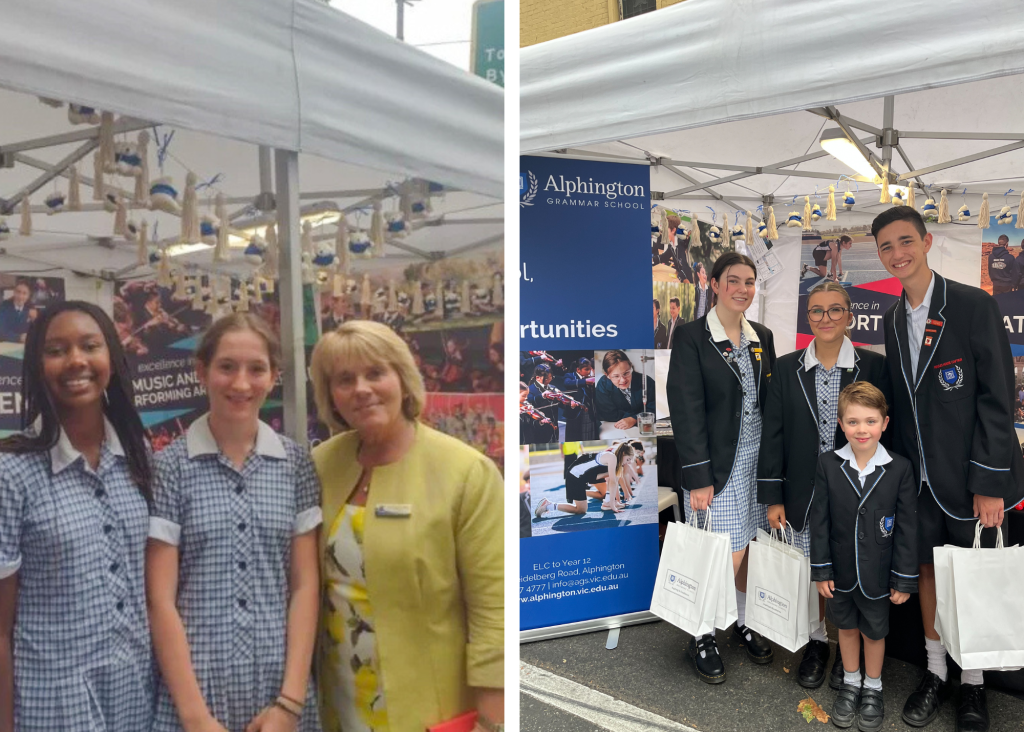 There were many performances across three stages for everyone to enjoy – How proud we all were to see some 40 members of the school choir sing both the Australian and Greek National Anthems as part of the opening ceremony.  Our students sang proudly, not daunted by the more than 50,000 visitors in the crowd.  Congratulations also to our students in the Greek Band who entertained the crowds Sunday afternoon performing on the main stage.  Celebrating together was at the heart of the 2-day festival. Thank you to everyone who took part and or visited the street festival.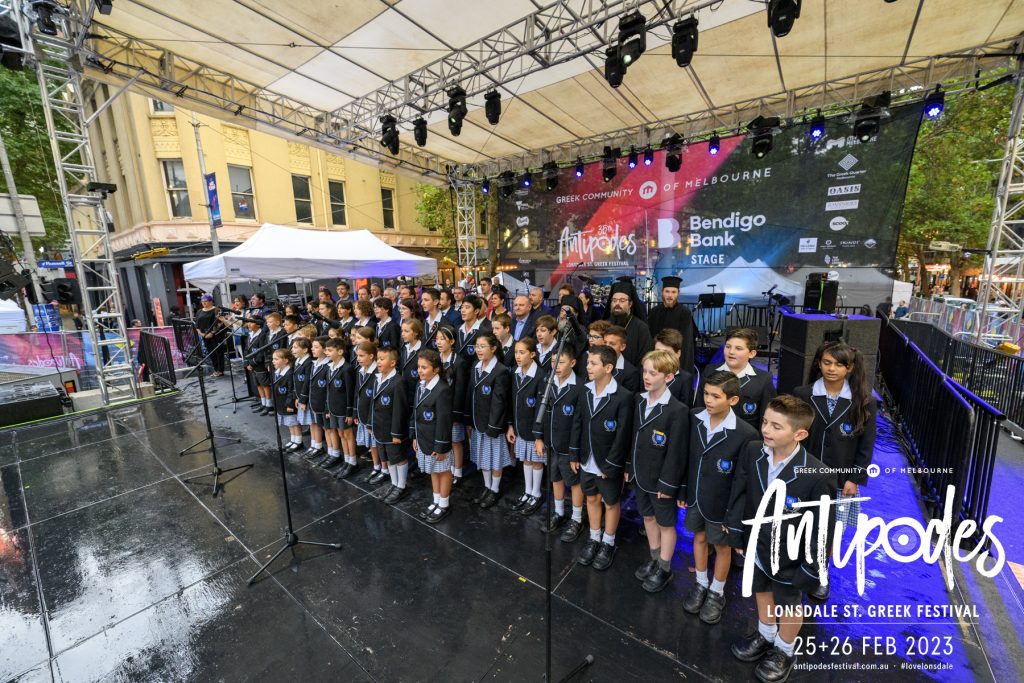 Open Day
Open Day this year was incredibly successful.  Over 1,000 people registered to attend, and it was a steady stream of visitors the whole day.  The weather was on our side, the music department who had multiple bands, ensembles and choirs performing around the school made it a very inviting atmosphere.
The room displays and the choice of activities families and children could enjoy showcased our school at its best.  Our Tour Guides were busy all day talking passionately about their school … they have all done us all proud.
Thank you to all the staff and students for making this such a successful day.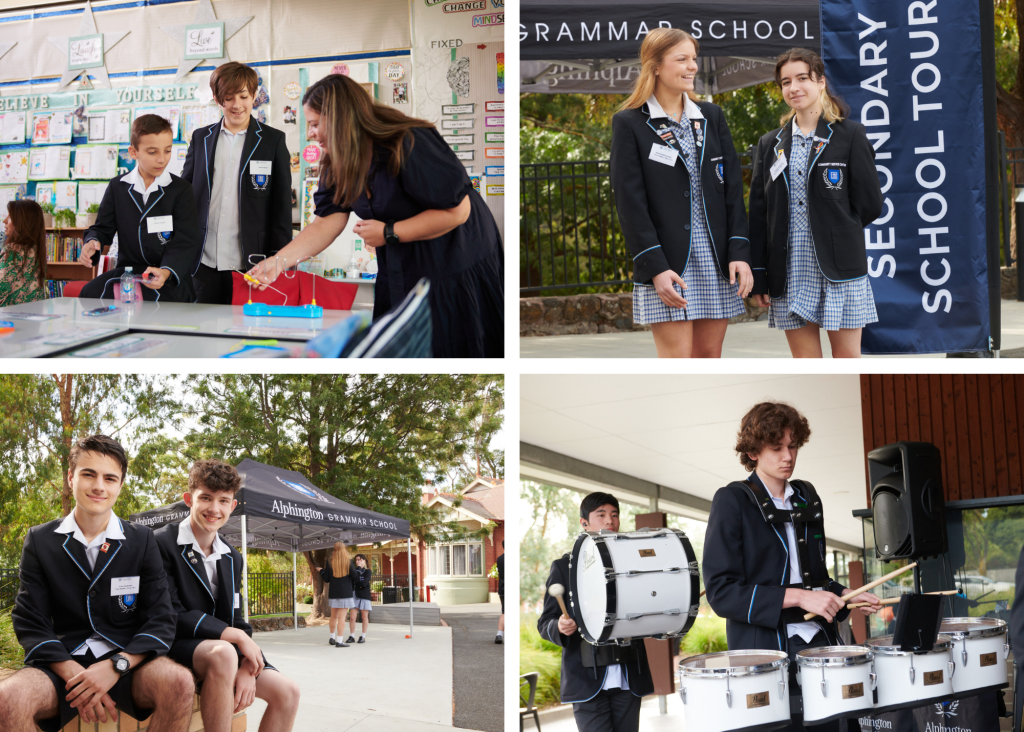 International Woman's Day 
This year, International Women's Day fell on Wednesday 8 March. As a global day celebrating the social, economic, cultural, and political achievements of women, it also calls for action to accelerate women's equality.
To mark this day, our Community Service Captains, Emmanuela Lettas (Year 12 Pericles) and Phoebe Simmons (Year 12 Byron), have put together this fantastic short video. https://youtu.be/a7fasuUYtMs
In addition, on Wednesday evening a small delegation from our school attended an International Women's Day event, hosted by the HACCI (Hellenic Australian Chamber of Commerce and Industry) at Le Ciel in Cremore. Having invited all of our girls in Year 11 and 12 (and our Year 10 Captains and Future Leaders) to submit expressions of interest, we were delighted to have the following AGS representatives in attendance:
Zoe Findley (Year 12 Socrates)
Simran Sood Saleem (Year 11 Aristotle)
Mariana Galanopoulos (Year 10 Socrates), along with her mother, Betty Koklanis
Freya Monk (Year 10 Socrates), along with her mother, Karen Fary
Angelique Karalis

(Year 10 Socrates), along with her mother, Ketty Karalis
Joined by the Deputy Head of Secondary, Ms Deirdre Grealish, the group enjoyed a buffet dinner before being treated to a panel discussion, which included the following speakers.
Niki Savva (award winning journalist, author and political analyst)
Mia Fileman (marketing strategist and podcaster)
Helen Kapalos (journalist, producer, and communications executive)
On Wednesday the 8th of March we were lucky enough to be able to attend an international women's day function hosted by HACCI. Emphasising the importance of equality and encouraging women freely express their views and beliefs, the three women inspired us to ensure that as female leaders we continue to put ourselves into the spotlight and defend our opinions and rights in all situations. It truly was an amazing experience. Simran Sood-Saleem (Year 11, Aristotle)
The International Women's Day event was an incredibly interesting opportunity. While the statistics presented at the beginning were harrowing, Niki Savva, Helen Kapalos and Mia Fileman did an incredible job of uplifting and inspiring the women in the audience, especially myself, through discussing their achievements and advice on how to remain true to yourself and navigate the world and business. The event was a reminder that everything can be changed, one room at a time, and that despite the fact that we are 300 years away from complete gender equity, we shouldn't give up. The accomplishments of these three incredible women showed me that, despite our disadvantages, we can succeed, and we will be able to create change over time.  Freya Monk (Year 10, Socrates)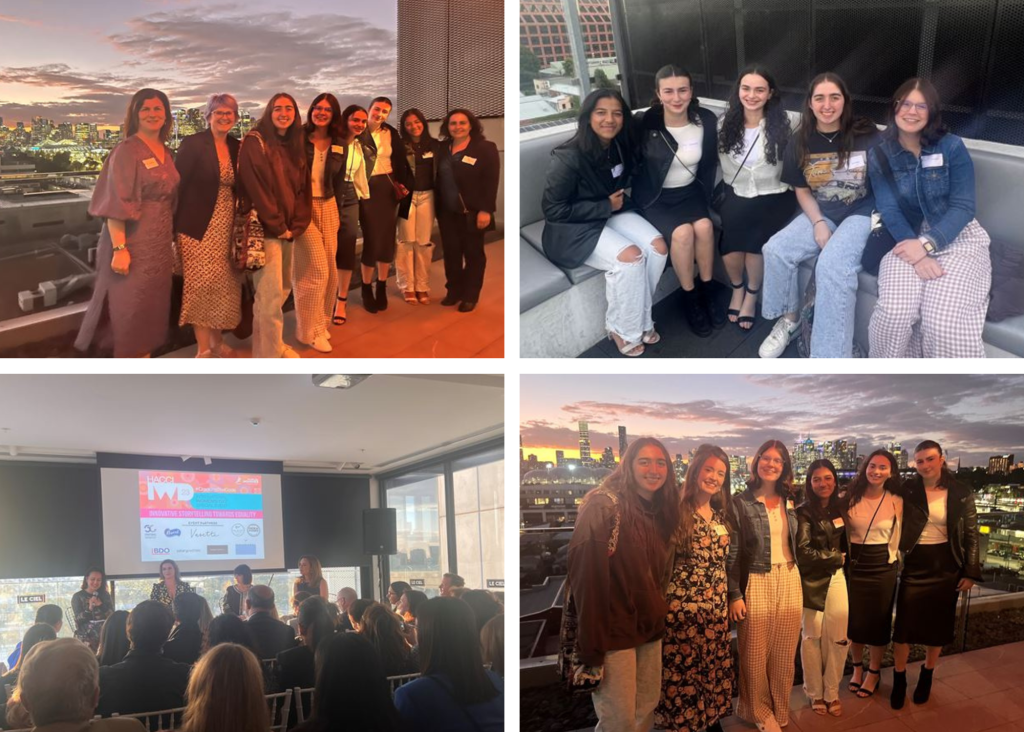 Exeat Weekend 
With the Labour Day long weekend ahead. The School will be closed Monday 13 March and will reopen Tuesday 14 March.
I wish everyone a wonderful and restful break.
Dr Vivianne Nikou
Principal
Show All
Collapse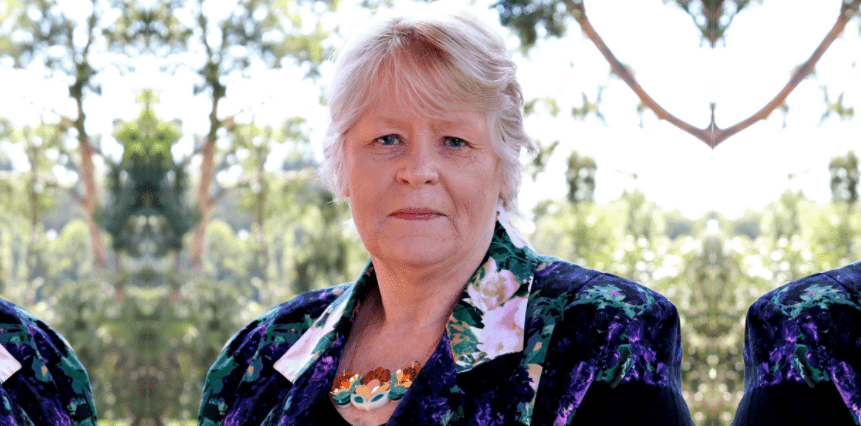 From the Assistant Principal, Head of Primary
Our students are well and truly settled into Term 1 and although a very busy term, it has also been a productive one where teachers have been able to maximise class time and teaching and learning, and really get to know their students. They have been able to set both classroom and individual expectations and talk to students about their learning journey. 
The most thorough research to date on classroom best practice has revealed the number one factor that impacts student learning is engaging teaching. The research, conducted by Emeritus Laureate Professor John Hattie from Melbourne University's Graduate School of Education, scoured 2,100 meta-analyses over 40 years, drawing from more than 130,000 studies and involving more than 400 million students worldwide.  
The culmination of this extensive research suggests the main influencing factors on student achievement are teacher mind frames and whether the students are given a clear purpose and can understand their learning journey.  
"Every child can learn, can grow, and can be taught to love learning. The most important thing a teacher can do it to have high expectations for all students and to see differences as opportunities to learn in different ways, and to teach students to welcome the challenge to aim high," he said.  
"We do that by creating classrooms full of trust, where mistakes are seen as opportunities to learn, " Professor Hattie said.  
Every visitor we have to the Primary School comments on the positive and supportive atmosphere in the classrooms, the focus on learning and the learning behaviour of our students. Our teachers and support staff are making a difference to the learning journey of the students, and we value the support we receive in this from home. 
On the back of a very successful Open Day (Saturday 4th March), teachers also held Parent Teacher Interviews this week to exchange information with parents about each student. As well as providing valuable information for parents and teachers, these interviews form the basis for class reviews at the end of the term where teachers can reflect on student and class progress with Senior Management.  
In Week 7 of this term our students in Year 3 and 5 will be sitting the NAPLAN tests. Except for the Year 3 Writing test, all tests are conducted online. The school will provide the devices for these, but children need to bring their own headphone. We value the data that the NAPLAN results provides us but recognise that this is just a small snapshot of student achievement across the year and is supplementary to the achievement data that teachers collect on an ongoing basis. 
Week 8 of this Term is Harmony Week. On Friday 24th March, all students in the primary school from Prep to Year 6 will take part in a team building workshop (two sessions each across the day). Additionally, there will be a special canteen menu for Harmony Day and students will be able to wear the colour 'orange' on the day as part of a casual clothes day. 
To end our final week of term, Week 10, Primary Students from ELC to Year 6 will be invited to take part in a Hat Parade on the afternoon of Thursday 6th April, to which parents will be invited. It will be a lovely way to end a very busy term. 
More details about upcoming special events will be sent home shortly. 
Ms Tracey Nicholson
Head of Primary    
Show All
Collapse
From the Secondary School
From the Deputy Head of Secondary
NAPLAN
As our Year 7 and Year 9 students and their families will be well aware, next week is NAPLAN Week. This year, the standardised Literacy and Numeracy testing will be completed online.
In preparation, all students completed a practice NAPLAN test on Wednesday 8 March. This process allowed our students to become familiar with the platform and our IT staff to iron out any logistical issues.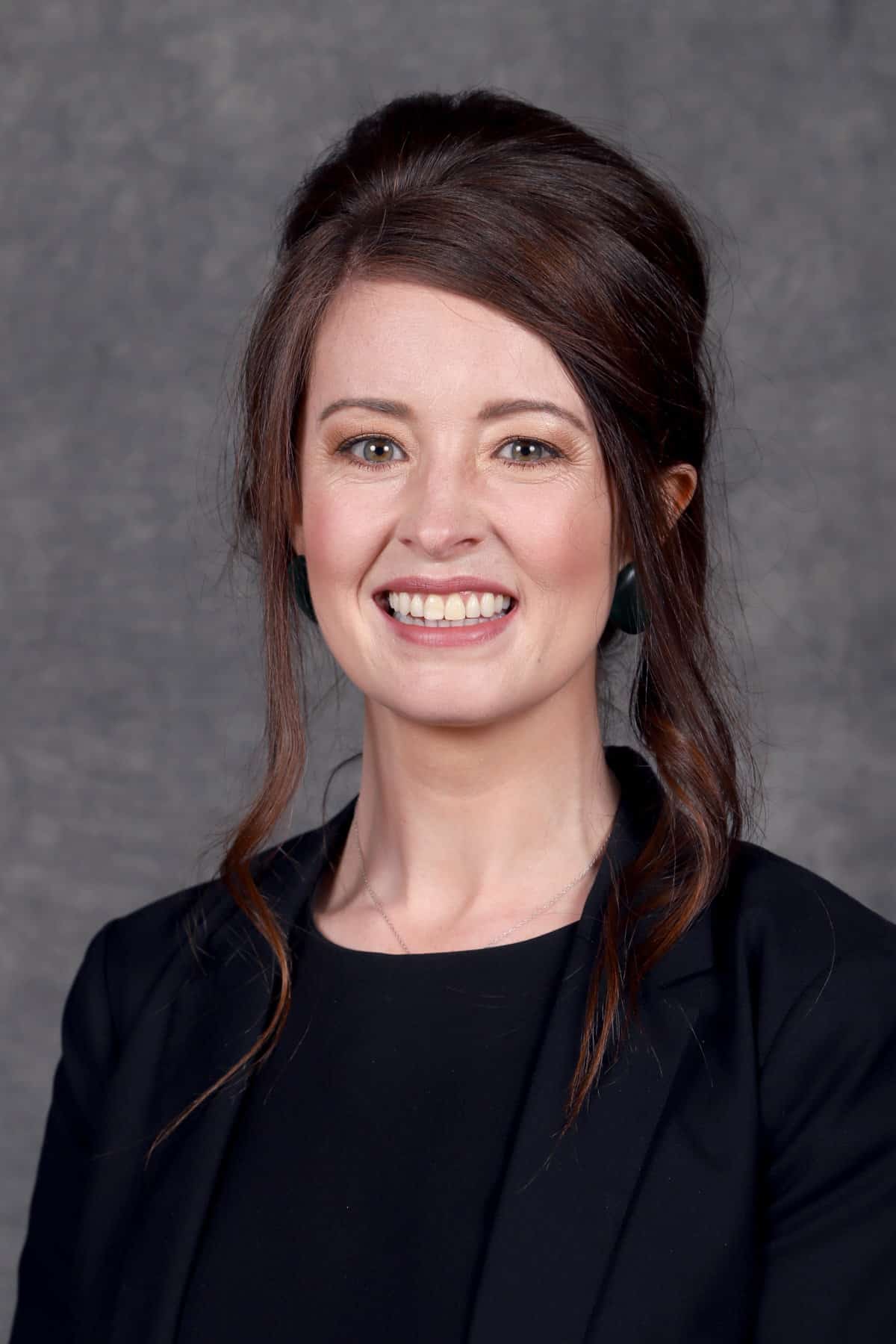 Key reminders for students:
Try your best. That is more than enough and is all anybody expects.
Students must fully shut down their laptops the night before (saving and then closing any documents that they have open).
Laptops must be fully charged before each test 
Students must bring a pair of plug-in earphones for each day of NAPLAN (wireless Bluetooth earphones are not permitted). They must test these earphones beforehand and let Mr John Savopoulos know of any issues by Tuesday 14 March at the latest.
Any student or parent queries should be directed to Mr Con Papoulis, our Assessments and Examinations Coordinator.
Music Assembly
On Monday 6 March, the entire secondary school was treated to a musical showcase during our regular assembly slot.
The assembly was led by our Music Captains, Krishan Gurdon (Year 12 Byron) and Zach Choo (Year 12 Pericles), and the key message was to get involved, give it a go, and then prepare to reap the many benefits of playing a musical instrument. Zach and Krishan are both fabulous musical role models, who lead from the front. I am sure that their dedication and mentorship over the years has influenced our younger musicians, who will be eager to fill the big gap they will leave when we wave them off at the end of the year.
We enjoyed staff and student performances from: our student Folk Band, Krishan Gurdon, Zach Choo, Ms Priya Wilson, Ms Steph Atwa, Mr Ewen Baker, Mr Nicholas Kapralos, Ms Amy Lunch, Mr Evgeny Chebykin, Ms Ceri Hills, and Ms Kristina Lang. Congratulations and thank you to those involved.
The talent and passion of our music and instrumental teachers and students never fails to blow me away. It has been an incredibly busy term for our Music Department; and we hope they know how much we appreciate what they do. Thank you to our Head of Music and Performing Arts, Ms Priya Wilson, and her team for allowing us to kickstart the week to the sound of the Rohirim, Rather Be, and Van Morrison's Brown Eyed Girl.
You have even inspired someone who has tried and failed to learn the guitar (three times!) that maybe it's worth giving it another shot.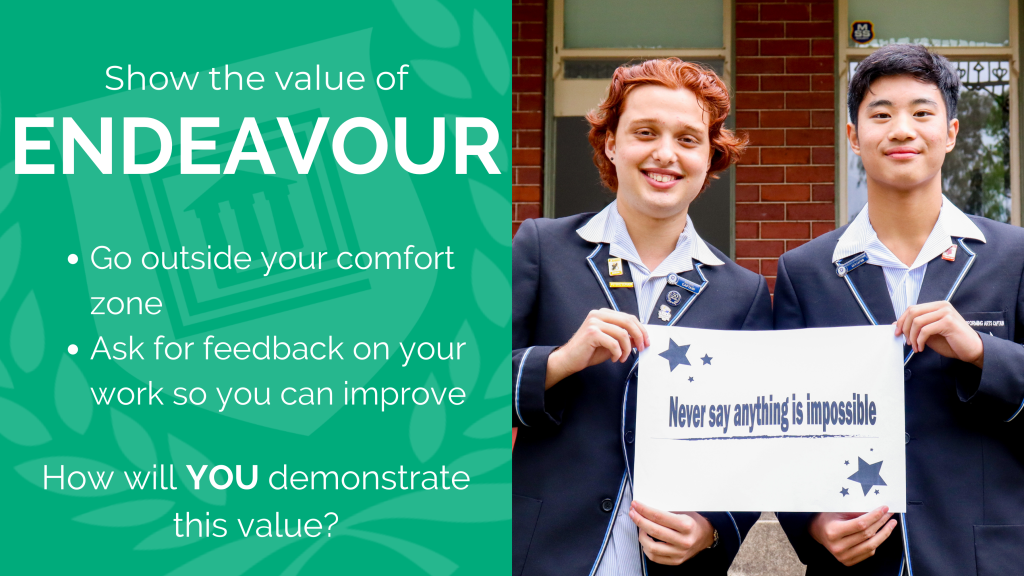 Our Student Leaders
Six weeks into the year, our Captains and Future Leaders are quickly becoming seasoned professionals. And it's no wonder! Term One has been very busy in terms of events, offering them countless opportunities to grow as leaders.
Thank you to our Future Leaders and Captains for your involvement in such a diverse range of school activities, including Scholars Assembly, Music Assembly, the Lonsdale Street Antipodes Festival, Open Day, our Years 7 and 12 Buddy System, the Future Leader facilitated IT sessions for our Year 7 students, Captain led Homerooms, fundraising initiatives for upcoming events (including Harmony Week and the World's Greatest Shave) and House Night planning.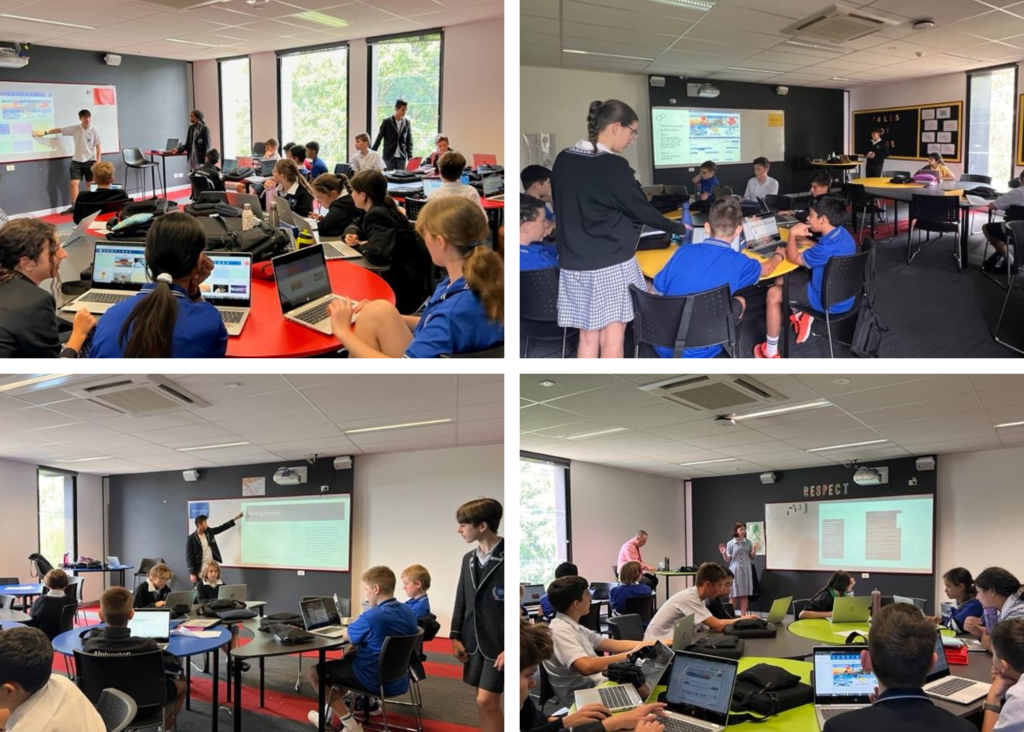 House Night
It is almost time for one of my favourite nights of the school year! Please join us on Friday 31 March for our annual House Night.
It promises to be an evening of fun, good food, good music, and House spirit. Please click on this link to purchase tickets. https://events.humanitix.com/2023-secondary-house-night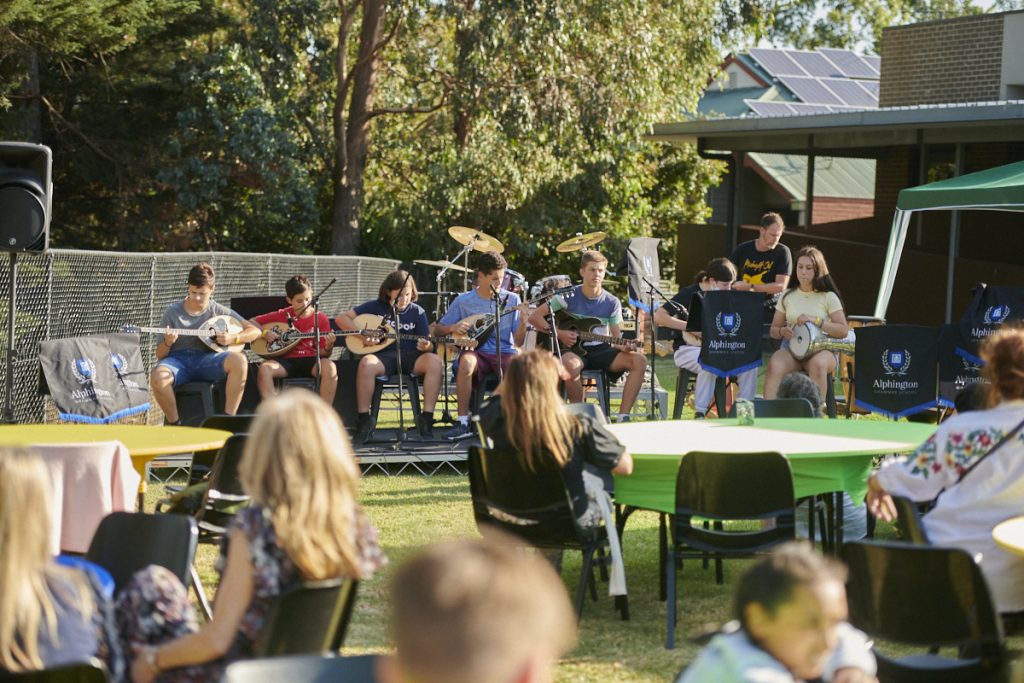 Ms Deirdre Grealish
Deputy Head of Secondary
Show All
Collapse
I was invited by the Debating Association of Victoria to attend trials for the Victorian State Debating Team. The competition took place on Sunday the 12th of February, and it was a day full of collaborating with other students and debating.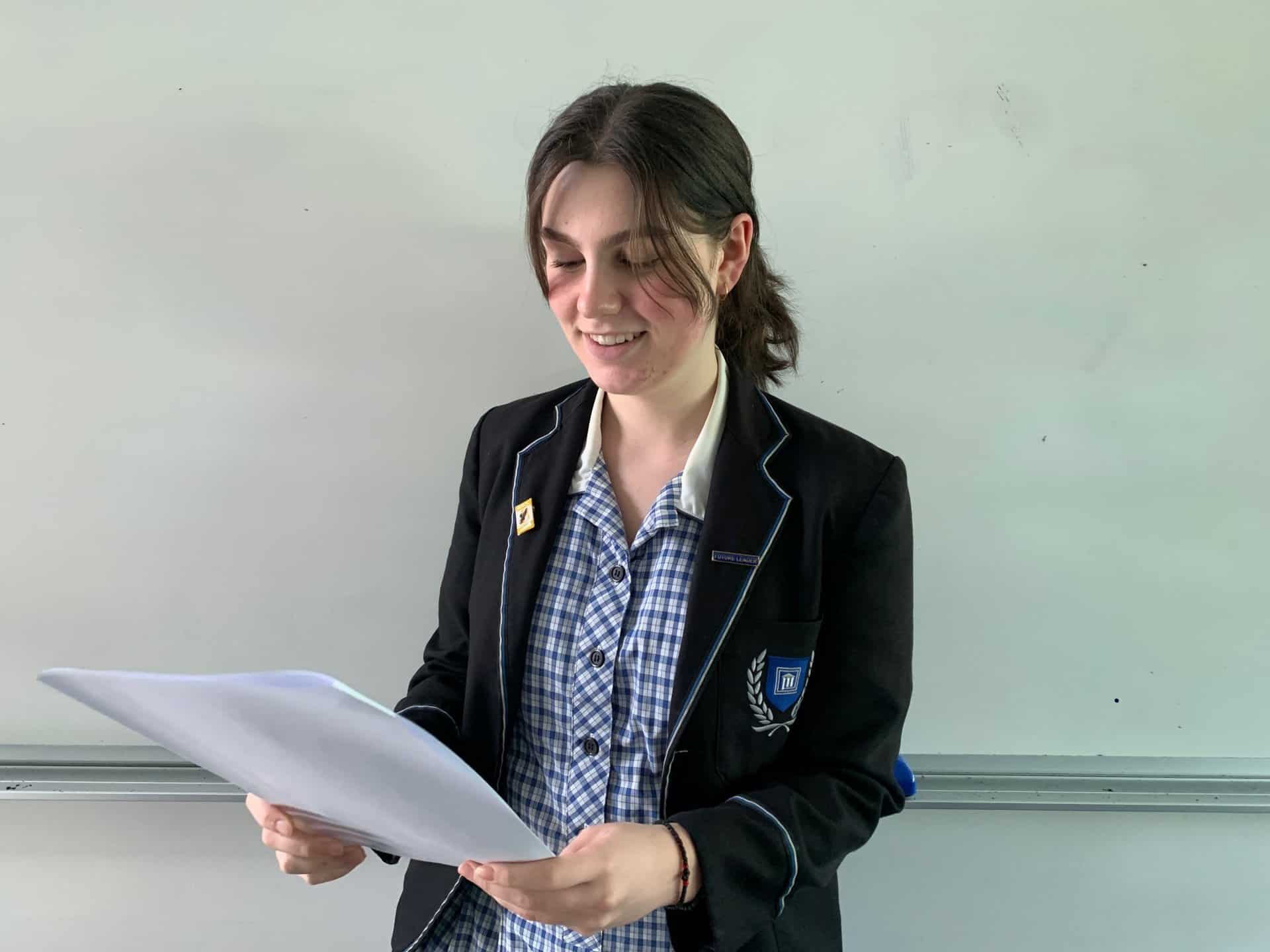 I participated in two secret debates, where the contestants were given secret topics with an hour to prepare and present a speech.  
Along with this, I met many students from across Victoria who share a common interest in debating. I was able to learn from them and see how I can improve my debating skills.  
Overall, it was a challenging day, but I really enjoyed the opportunity trial for the Victorian State Team. Regardless of the result, I had a great time! 
Chloe Portoglou, Year 12 
Show All
Collapse
International Women's Day
This year, International Women's Day falls on Wednesday 8 March. As a global day celebrating the social, economic, cultural, and political achievements of women, it also calls for action to accelerate women's equality.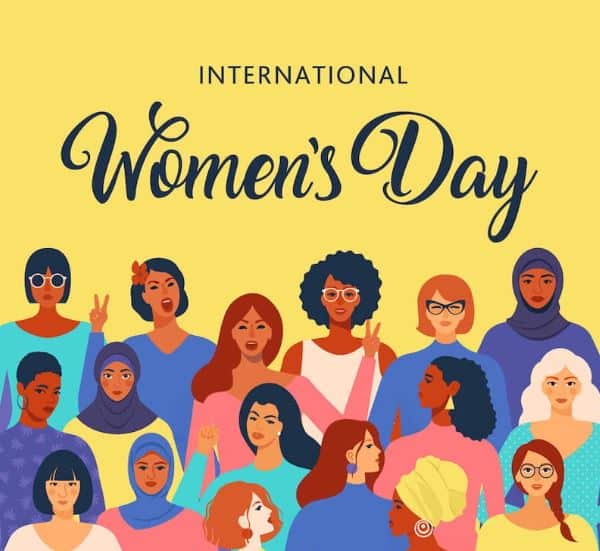 To mark this day, our Community Service Captains Emmanuela Lettas and Phoebe Simmons, have put together this fantastic short video. Please enjoy! 
Ms Anna Milburn  
Head of Socrates and Community Services Co-ordinator  
Show All
Collapse
Harmony Week – Non-Uniform Day
This year, 'Harmony Week' is taking place on the week commencing 20 March. This week is dedicated to recognising and celebrating Australian multiculturalism and is a great opportunity to celebrate inclusivity for all, regardless of cultural or linguistic backgrounds.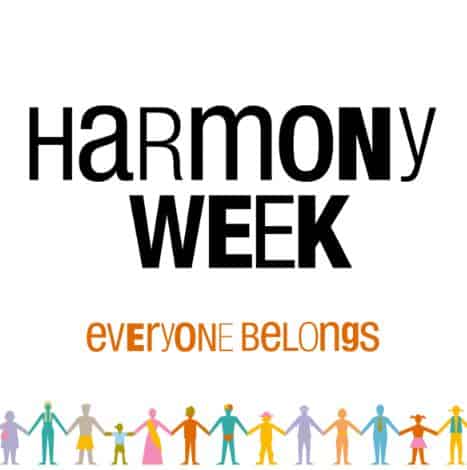 There will be a variety of activities taking place at Alphington Grammar School over Harmony week. The one I am sure all the students (and staff!) will be looking forward to is the non-uniform day, taking place on Tuesday 21 March, which is also the United Nations International Day for the Elimination of Racial Discrimination.  
Students are invited to make a $2 donation and wear their casual clothes with a splash (or more!) of orange.  
This year, all money raised will be going towards the Asylum Seeker Resource Centre, Australia's largest human rights organisation providing support to people seeking asylum.  
Please watch this space for an update on how the week went!    
Ms Anna Milburn  
Head of Socrates and Community Services Co-ordinator  
Show All
Collapse
On Thursday the 2nd of March, Daniel Kamateros an expert public speaker, came to Alphington Grammar to train the Public Speaking Club. The presenter, Daniel explained that a key part of public speaking is the body language and spoken tone.
He explained the advantages of reading a speech vs handing in an essay (tone, expressions, etc.). To teach us this, he sorted us into groups, and instructed us to read out a nursery rhyme in a specific way. Over the afternoon, we kept that same rhyme, but were given different situations.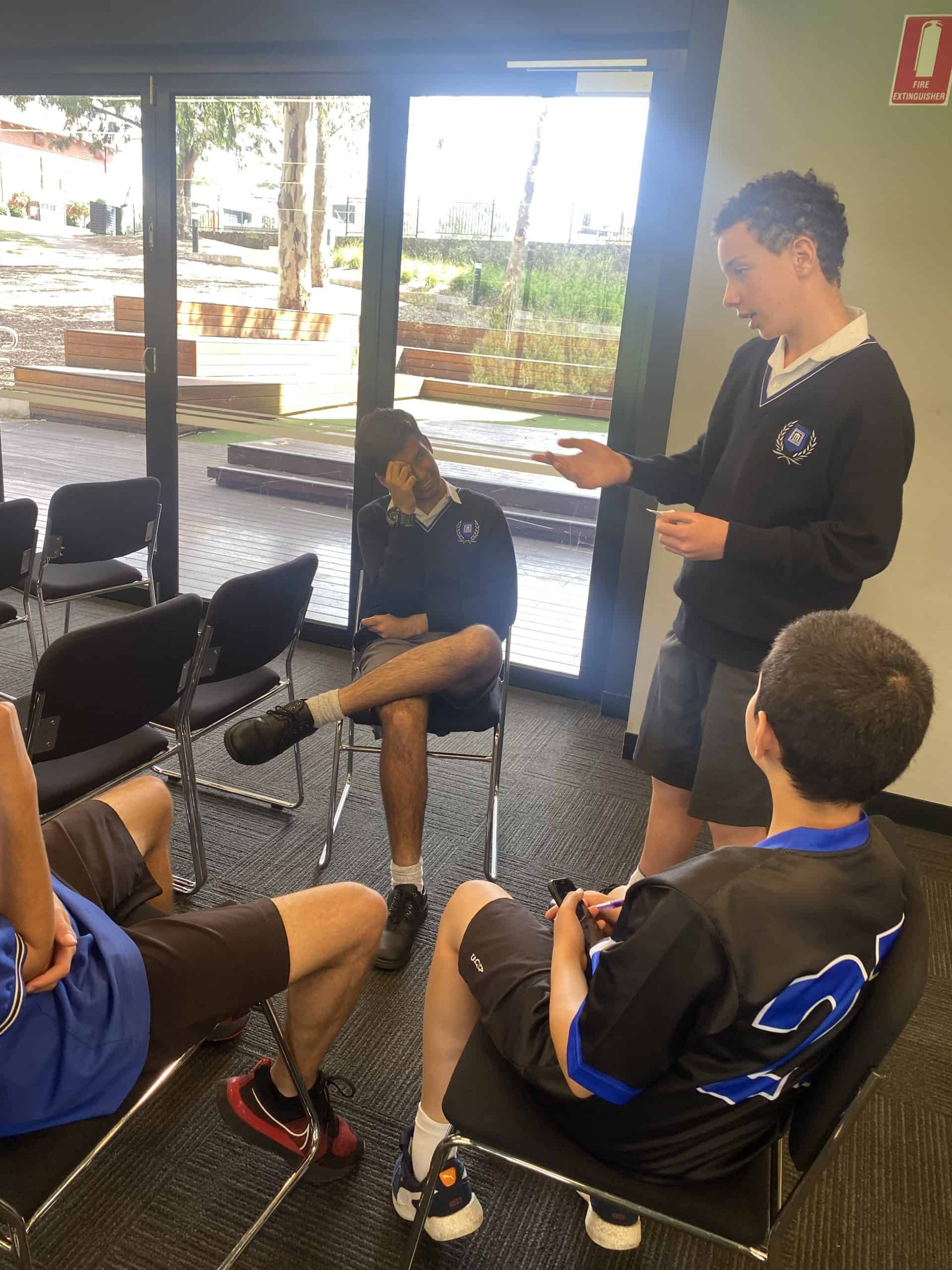 Some examples include being a police officer that had to conduct traffic, being a coach talking to a sports team that is losing, and a commander of an army. Before we started to act out the situations, we were given an example. Through these examples, Dan made everyone in the room laugh. Overall, the afternoon was incredibly fun, whilst also teaching us the importance of speech.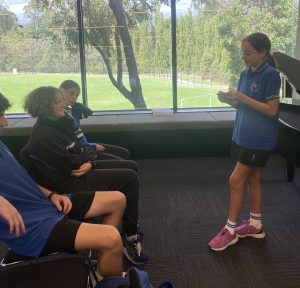 Emma Sluiter, Year 8A 
Show All
Collapse
Book Tasting – Reading Café 
This Term the primary library space has been transformed into a Book Tasting – Reading Café for Year 3 and 4 library lessons. With tables covered in bright tablecloths, vases of flowers and battery-operated tealight candles, the Reading Café is inviting and designed to spark curiosity.
Tables also display books, a Book Tasting card, table number and genre label with a description of that style of story.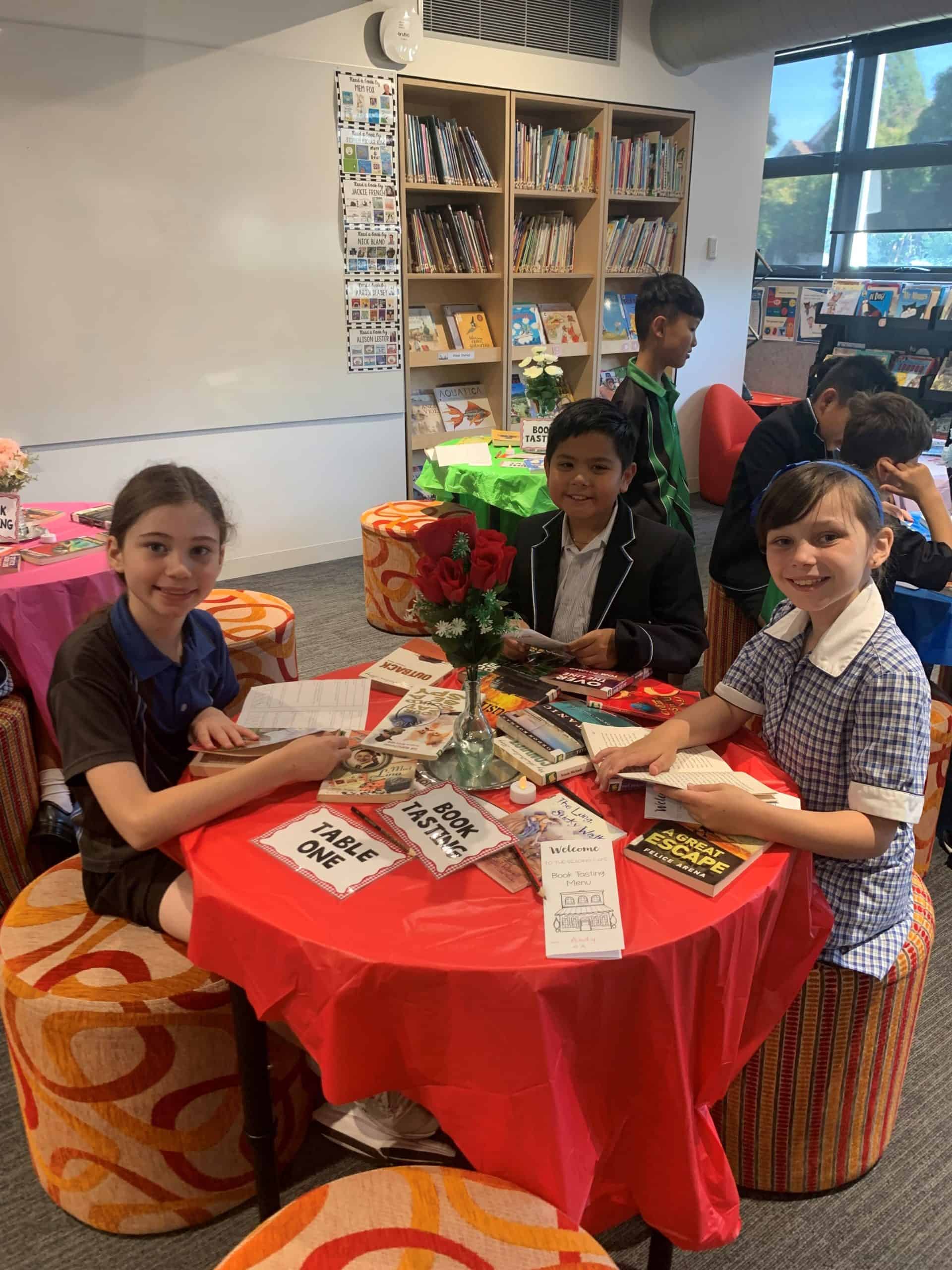 On arrival to the library, the students are directed to the reservation seating list. Once seated at their table, they discover which book genre they will be 'tasting' for the session. Around a dozen books are available to be explored and 'tasted' by reading the blurbs. An extra 'taste' is given to books that grab further attention, by reading a few pages.  
The Year 4 students have a Book Tasting Menu to complete each week, based on a book they have 'tasted' and all students are encouraged to borrow a book from their table to read at home.  
It is such a joy to see the children discovering and exploring the different book genres during these sessions. This 'book tasting' exposure extends students' options for reading and provides a wonderful opportunity to flavour, balance and enhance their reading diet.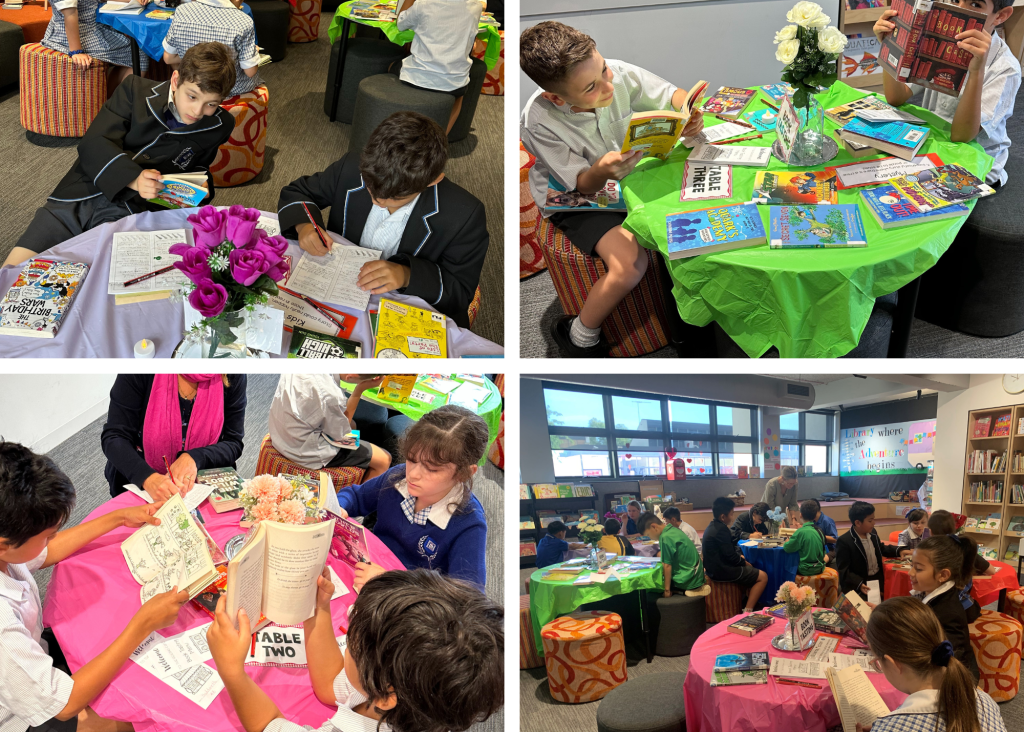 Enrichment Club – Library activity 
What to do with chapter books deleted from our library collection? Make a hedgehog of course! 
At lunchtime each Wednesday, a group of primary students can be found having fun and chatting, while folding the pages of deleted books, to create the form of a hedgehog body.  
With the addition of a small pom-pom nose, two googly eyes and four little paper feet, the hedgehog snuffles to life as an adorable 3-D creature, waiting to adorn a bookshelf at home.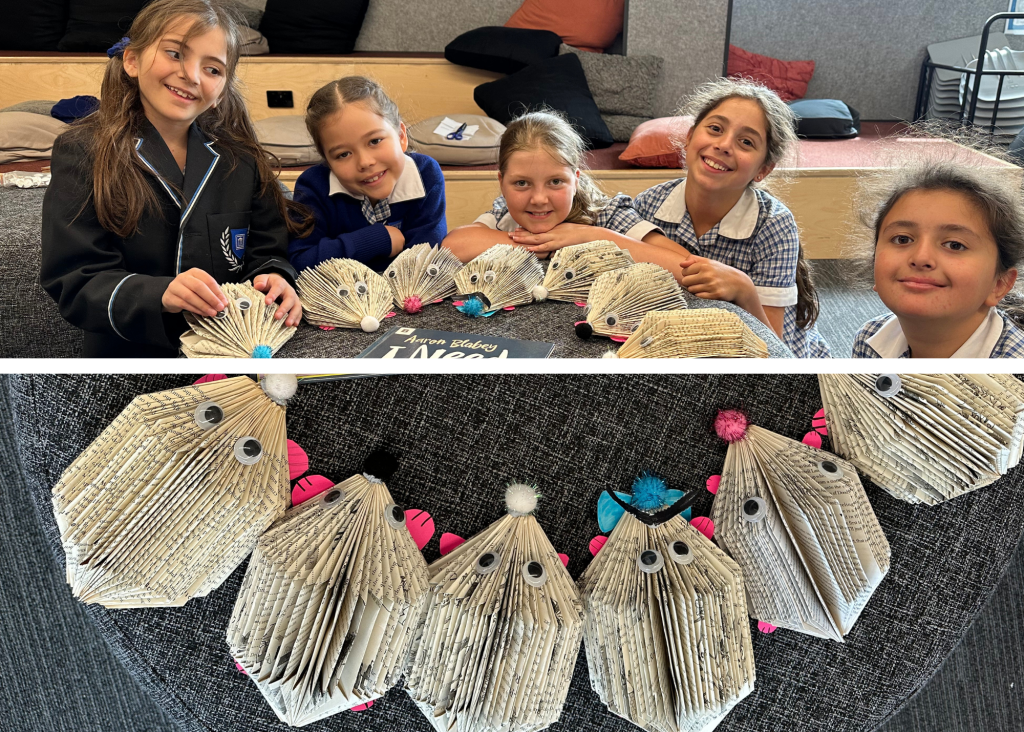 Ms Jo Whiffin 
Primary Library Teacher 
Show All
Collapse
Kira Sarakosti-Lady Lent 
This week our Year 5 students have been learning about Sarakosti which marks the beginning of Great Lent, a 40-Day period of fasting prior to Easter or Pascha. One old custom is that of Kyra Sarakosti or Lady Lent.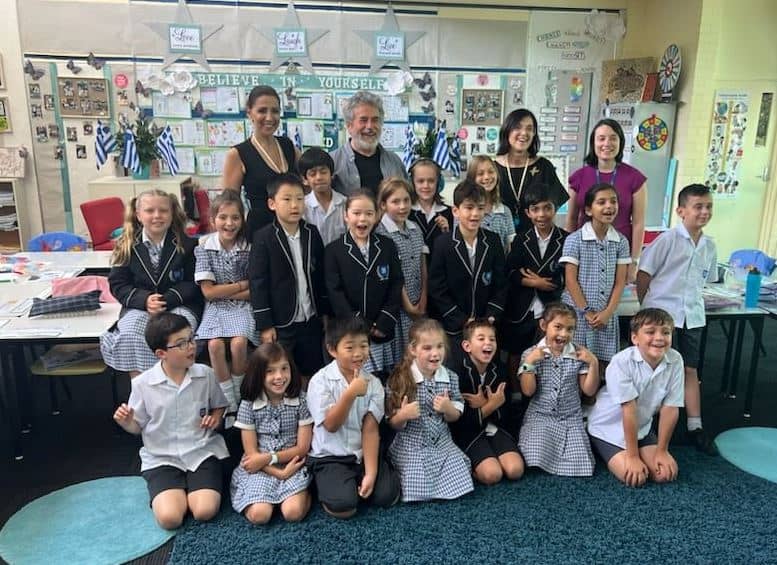 Kyra Sarakosti or Lady Lent is prepared at the beginning of Sarakosti and marks the 7-week period of fasting for the Great Lent. She is traditionally made of bread and is either depicted as a lady dressed in folkloric costume or as a nun.
She is depicted with no mouth as she is fasting, and her hands are crossed in prayer. She also has 7 legs-each leg represents one week of Lent. 
The Year 5 students had lots of fun making and baking their own Kyra Sarakosti, which they took home to share with their family.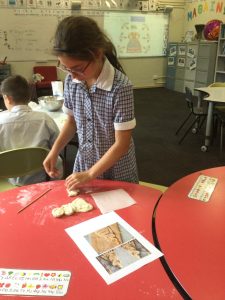 Note: if you want to learn more about this tradition or other Easter related customs, a bilingual book by local author on the 'ABC of Greek Easter' is available to purchase on her website. We had the pleasure of meeting Panagiota Andreadakis at the Lonsdale St Antipodes Festival recently and admired her book, inspired by her wish to maintain many of the Greek traditions around Easter.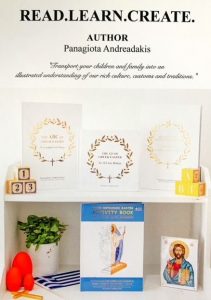 Year 3 students meet composer Tassos Ioannides 
Ms Anita Kolaitis' Year 3 Greek class had a special visitor to their class recently, in the form of renowned composer Mr Tassos Ioannidis. The students collaborated with Mr Ioannidis late last year, when they drew pictures inspired by Mr Ioannidis' song lyrics 'To Perivoli' (The Orchard) which he will animate for his Lahana Hahana ERT children's show.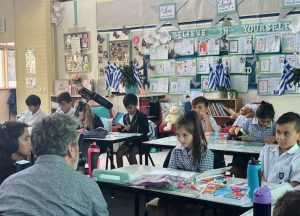 During the visit, Mr Ioannidis admired the students' work, spoke with them about music and language and taught them some of his other songs. It was a memorable visit, which we hope will cement our friendship and collaboration into the future. We also thank Mr Ioannides for the signed copy of one of his books for our library.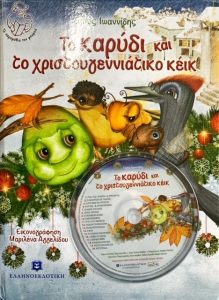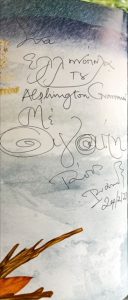 We thank Ms Ourania Katsambanis for help with the artwork and Mr Robert Panara for assistance with filming. 
Footage of the visit will also be aired on ERT, Greece's public broadcasting station. We look forward to seeing the program go to air in the near future. 
Ms Effie Bindevis 
Primary Greek Coordinator 
Ms Denise Diakodimitriou 
Head of Languages 
Show All
Collapse
From the Sport Department
Primary District Swimming Carnival  
Alphington Grammar students showcased their swimming skills at the recently held Ivanhoe District swimming competition. The students performed well, making their school proud.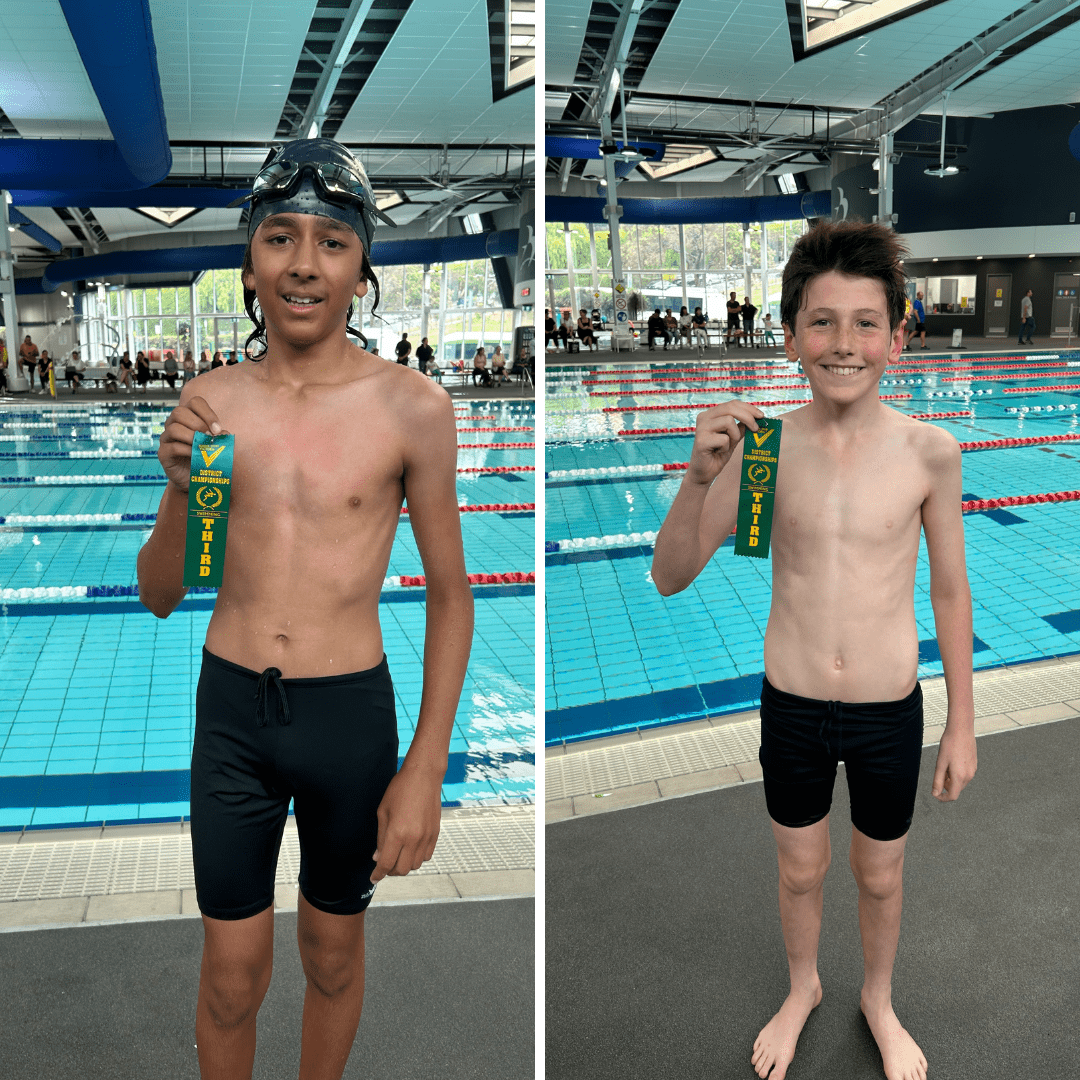 The competition took place at the WaterMarc and saw students from various schools participating in various events such as freestyle, backstroke, breaststroke, and butterfly strokes. 
The team spirit was evident as the students cheered for their teammates and encouraged them throughout the competition. 
Highlights of the day were Eli Grills and Aiden Speeding both coming 3rd for their individual events.  
The School looks forward to more such successes in the future and will continue to support its students in their endeavors, be it academics or sports. Congratulations to the Alphington Grammar students on their fantastic performance at the Ivanhoe District swimming competition!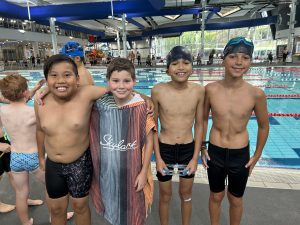 Secondary Athletics Program 
Craig Mottram, one of Australia's finest long-distance runners, we are lucky to have him as one of our schools' Athletics coaches. The program has been aimed at improving the fitness levels of the school's young athletes and encouraging them to pursue their passion for sport. 
Mottram, who has won numerous national and international titles over his career, teaches the students various running drills and exercises that would help them build endurance and speed. 
The students have also been given tips on proper nutrition and hydration, as well as advice on how to avoid injuries while training. Mottram emphasized the importance of a balanced diet and a good night's sleep to maintain optimal physical condition. 
We encourage more students to join the program to access the experience of Craig Mottram.  
Watch the Video from Craig Mottram on what it is about!!
All trainings will be on school campus and will be working towards athletic competitions.  
To sign up please use the online form for which days you will attending: 
Training Day 1: Mondays 3.45 – 5.00pm
Training Day 2: Wednesdays 7.30 – 8.30am 
Training Day 3: Fridays 7.30 – 8.30am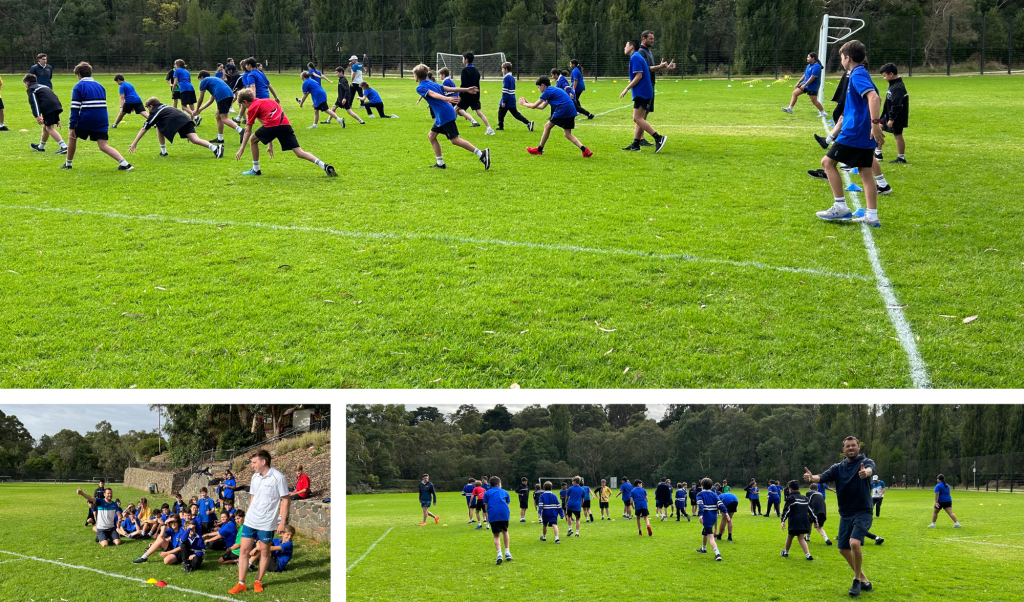 The Resilience Project Parent & Carer Presentation 
Martin and the TRP Team are so looking forward to the online Parent & Carer presentation (with other schools) on Thursday 23rd March from 6:30pm – 8:00pm (90 minutes) AEDT 
What you can expect. 
Through emotionally engaging stories and practical strategies, this session will help parents and carers understand the benefits of letting go of shame, perfection, ego and control. It will combine powerful research with candid storytelling, along with a few laughs to help support what is arguably the toughest job in the world… being a parent or carer! 
Why a Parent & Carer presentation? 
When building positive mental health in schools, we know the best impact happens when we work together. 
The 'Authentic Connection' presentation helps do just that by sharing those same evidence-based strategies being taught in the classroom, so they can be also practiced at home and beyond. Attendees will also be reminded of the importance of their own wellbeing – we bring the best versions of ourselves to our family and community, when we make time to look after ourselves.
Parents and Carer will need to register for the webinar using the following link:
https://us02web.zoom.us/meeting/register/tZMkfuipqD8qE9W3e5ySVSZgpLSwgmocjYTi
Please note that this presentation will be recorded for those who are unable to attend or would like a recap.
Ms Rahme
Head of Sport, Health and PE
Show All
Collapse
Is your child a struggling reader? Do they suffer from dyslexia? Are they an EAL student? 

Exciting news. Wheelers eBooks now have additional features that have improved learning for dyslexic, EAL and struggling readers. Alongside the dyslexic settings and inbuilt dictionary, Wheelers ebooks now have the following features: 
Text to Speech (TTS) 
Translation to 150+ languages (and the translated version also has TTS ) 
Sentence structure mark up (highlighting nouns, verbs, adjectives etc) 
Simple image depiction of words when tapped.
Please take a moment to view the following 2-minute video.  
And more exciting news – text to voice is also available in the library's online resource e.g. Encyclopedia Britannica. 
 
If you would like further information please don't hesitate to contact me in the library. 
Ms Angela Mare 
Head of Library 
Show All
Collapse
Please see below for 2023 Semester One Enrichment Programs.
It's that time of year again… Alphington Grammar School will be hosting 'The World's Greatest Shave' for the second time!  
With brand new razors ready to go, we are hoping to raise an ambitious $2000. If you would like to help us reach our target, please consider donating to our page
Link: http://my.leukaemiafoundation.org.au/ags
If you're looking for school holiday programs that will educate, engage and excite your children these upcoming school holidays, look no further than Sporting Minds. Improve your skills, have fun, and make new friends whilst learning from qualified teachers and expert coaches. Get your kids moving and making memories these school holidays.  
Program 1: 12 – 14 April 
Program 2: 19 – 21 April 
All programs are run by Alphington Grammar PE teachers Andrew Diviny and Blair Runnalls.  
To find out more or to book, visit the website: http://www.sportingminds.com.au 
Semester 1 Key Dates - Secondary
Semester 1 Key Dates - Primary
3,190 total views, 3 views today