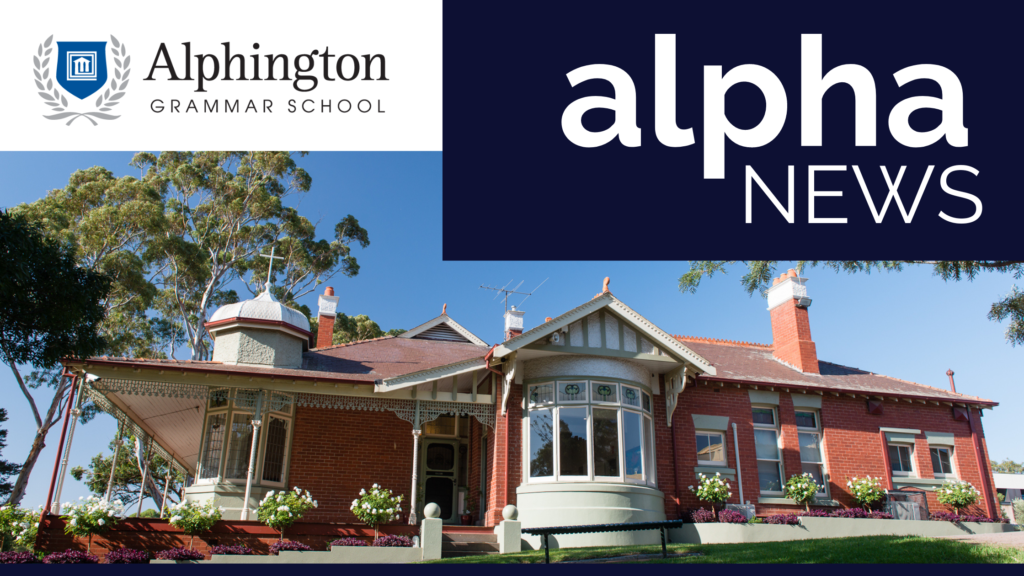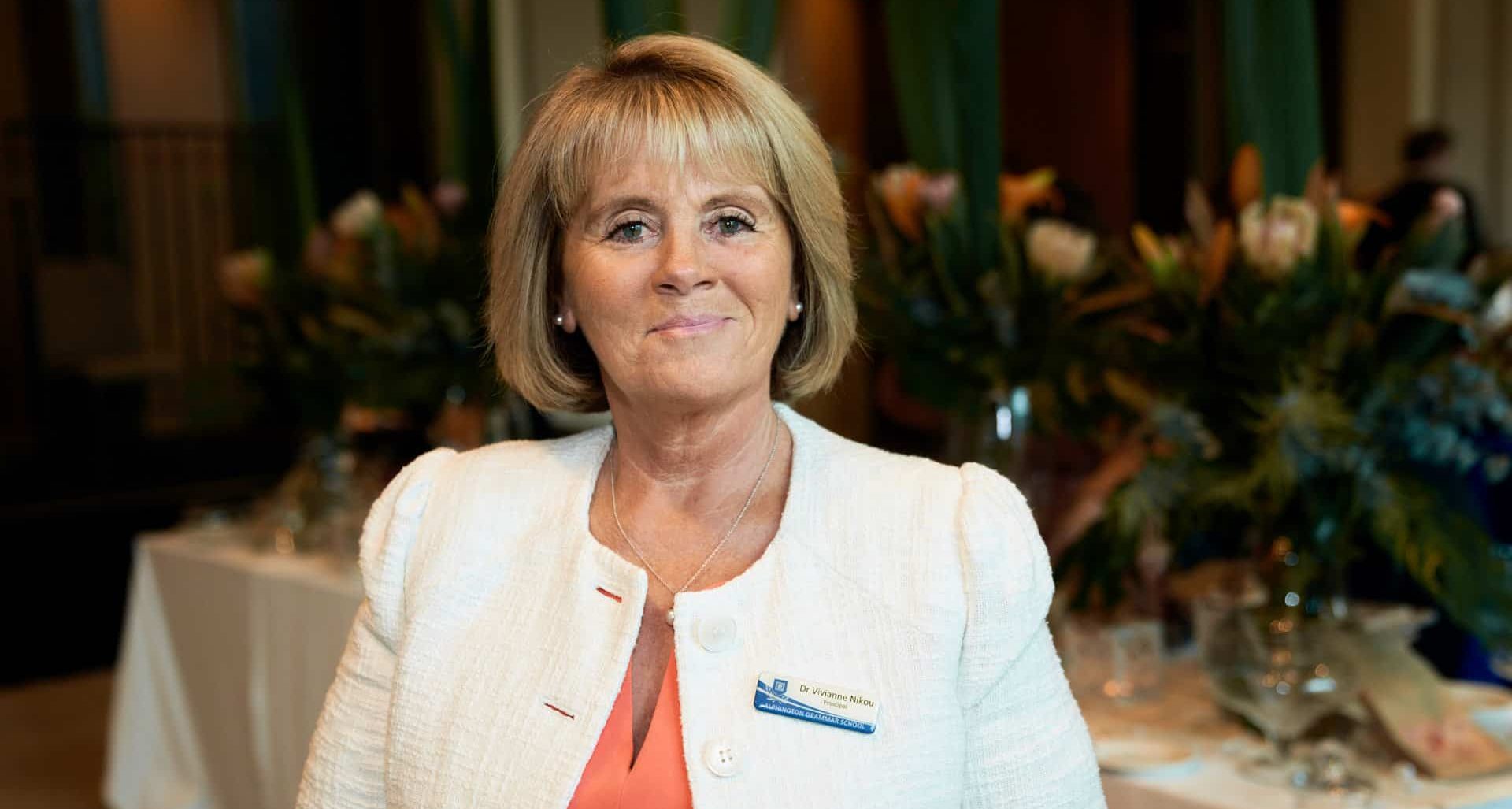 I WELCOME everyone back to a new academic year! 
A sense of renewal starts with each new year.  Suddenly, more than ever before it is, as if we have turned the corner.  After three years of COVID interruptions that upended our sense of normality the year started with a surge of optimism, and we should share it as much as possible. 
As we take ourselves back to the world of work and school there is ample reason to be hopeful as we look ahead. 
While the dreaded Coronavirus is still lingering out there and gastrointestinal outbreaks spike, we are taking steps to care and protect ourselves and those vulnerable in our community.  That aside, there is a growing determination to continue to rebuild our lives and there is a palpable sense of enthusiasm for the year ahead. 
Naturally a new school year also comes with a range of emotions for students and parents.  All that aside it was wonderful to see our students and families come through the school gates once more.  This time with parents having the ability to walk their children to their classroom and meet the teachers face to face.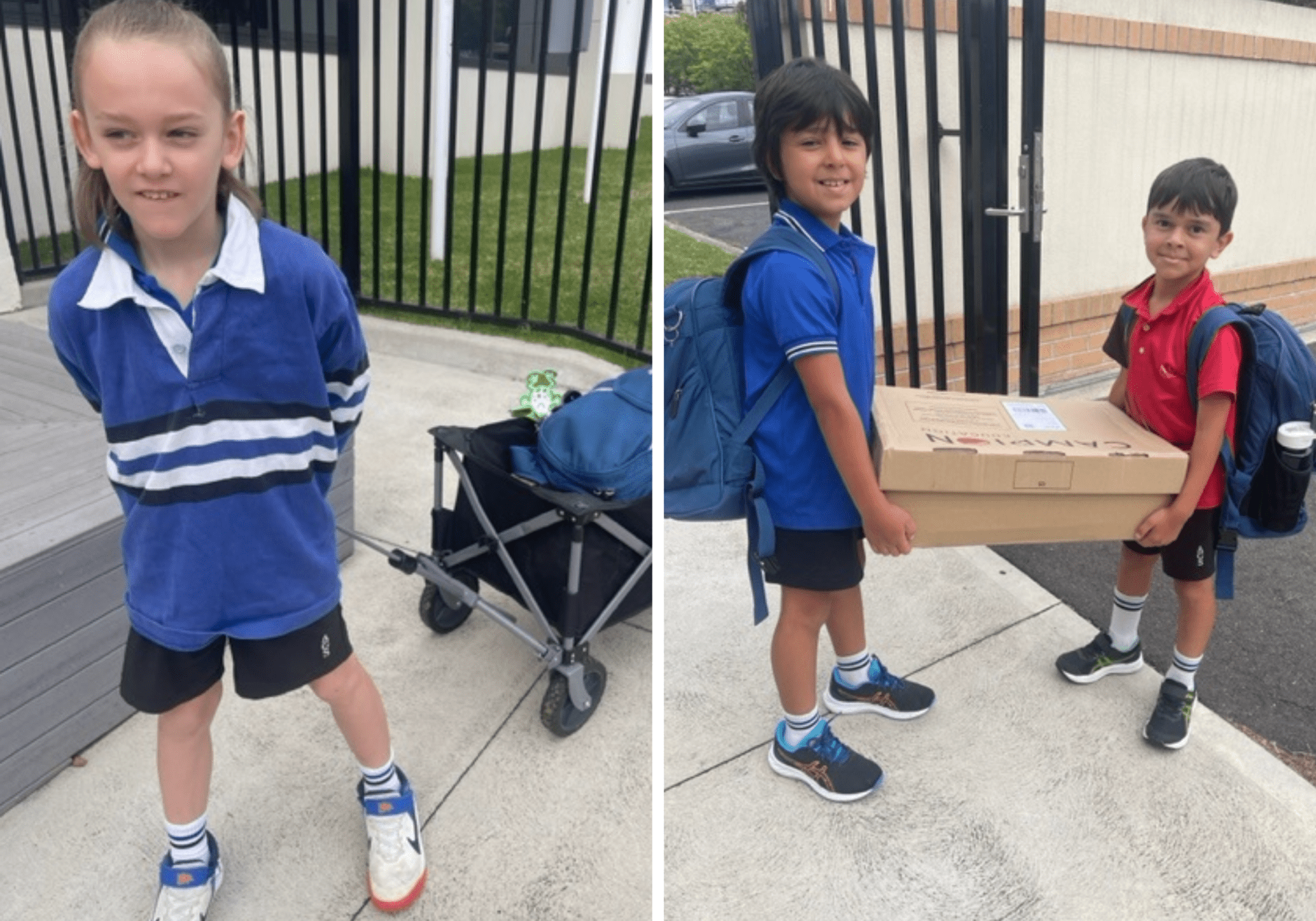 The year has begun smoothly with study skills and time management sessions for our secondary students.  Leadership training sessions for both our Primary and Secondary School Leaders.  Immersion camp for our senior Greek students who are following the theme of migration and had the opportunity to travel to Bonegilla Migrant Hostel (1947-1971) that saw many Europeans arrive in the post war era including my own parents who came out in 1954.  This was an emotional experience as our students and staff located their own relatives who had been residents at the facility.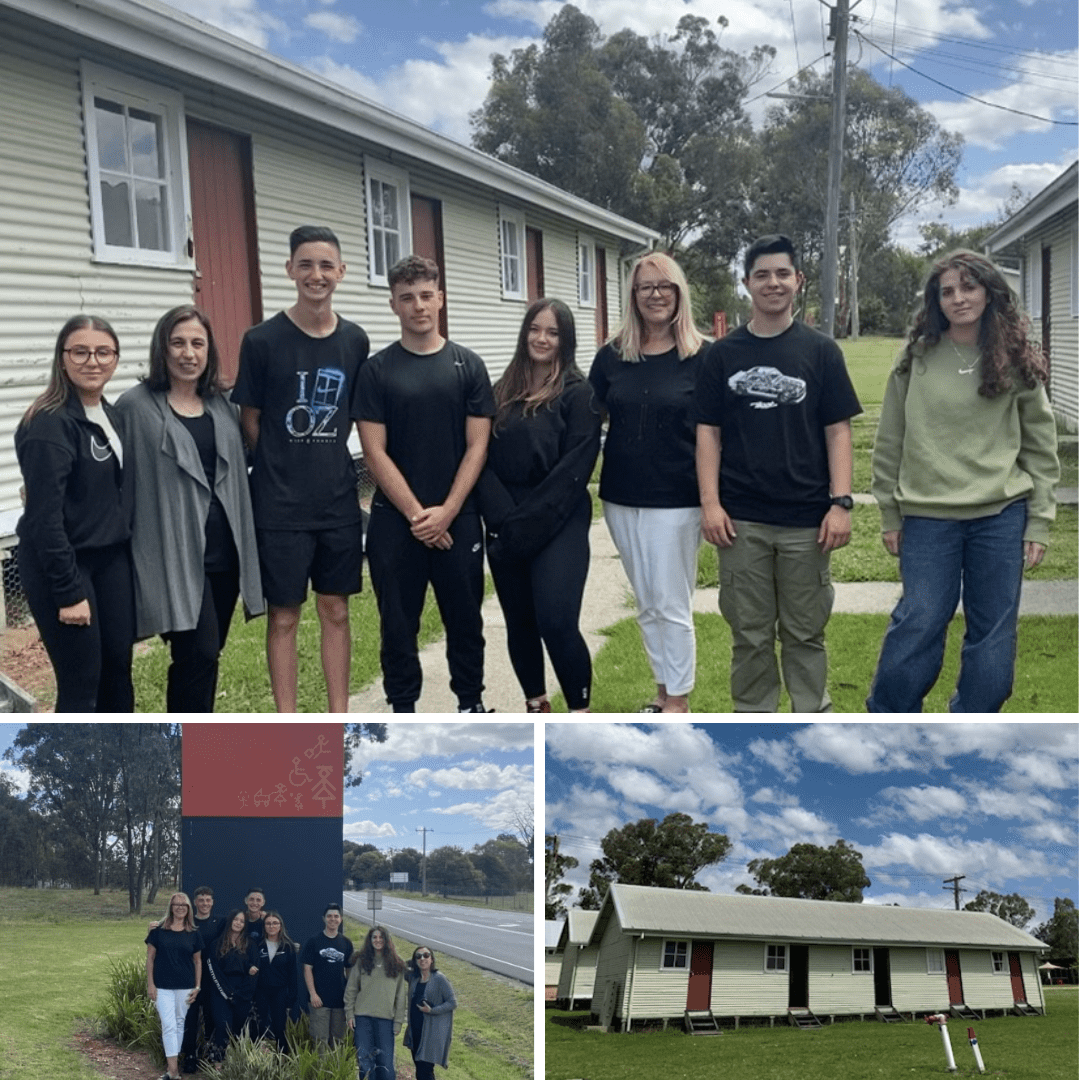 The first Primary Assembly treated us to a special occasion celebrating the "Year of the Rabbit: good tempered, kind-hearted, positive and loyal characteristics for those born under that star sign. 
I thank Tanya Liu and Payne Liu for leading us through that assembly as our MCs and, for their marvellous musical performances.  I extend my congratulations to Ms Eva Wang for organising the assembly and for showcasing the Chinese culture and bringing music, song and special family snap shots of how the Chinese Lunar New Year has been celebrated by our families. 

New Staff
Yolanda Ballan – Economics and Legal Studies Teacher  
Sally Binotto – ELC Assistant 
Katerina Botin – Provisional Psychologist  
Isabella Cohn – Administration Assistant  
Evgeny Chebykin – Instrumental Teacher  
Matthew Green – PE Teacher 
Kate Greene – Secondary Learning Support 
Luke Holloway – Secondary Maths and PE Teacher  
Shirley Ke – Secondary School Teacher (Chinese and English) 
Frances Lee-Archer – Primary Learning Support  
Elyse Nash Ferry – School Psychologist  
Pari Sidhu – Secondary Maths Teacher 
Angie Polydoros – Canteen Assistant 
Natalya Polydoros – Canteen Assistant  
Brooke Koutroulis – Hospitality and Canteen Manager 
Lauren Taffe – Primary School Teacher  
Anneke Wackrow – Secondary English Teacher  

Parent Information Evening
Parent information sessions have begun already.  Some have been taking place face to face and others online.  I encourage parents to get involved and make valuable connections with other families in their child's class and in their House Groups.  
I look forward to a wonderful year of opportunities and celebrations with our students and families. 
Dr Vivianne Nikou
Principal
Show All
Collapse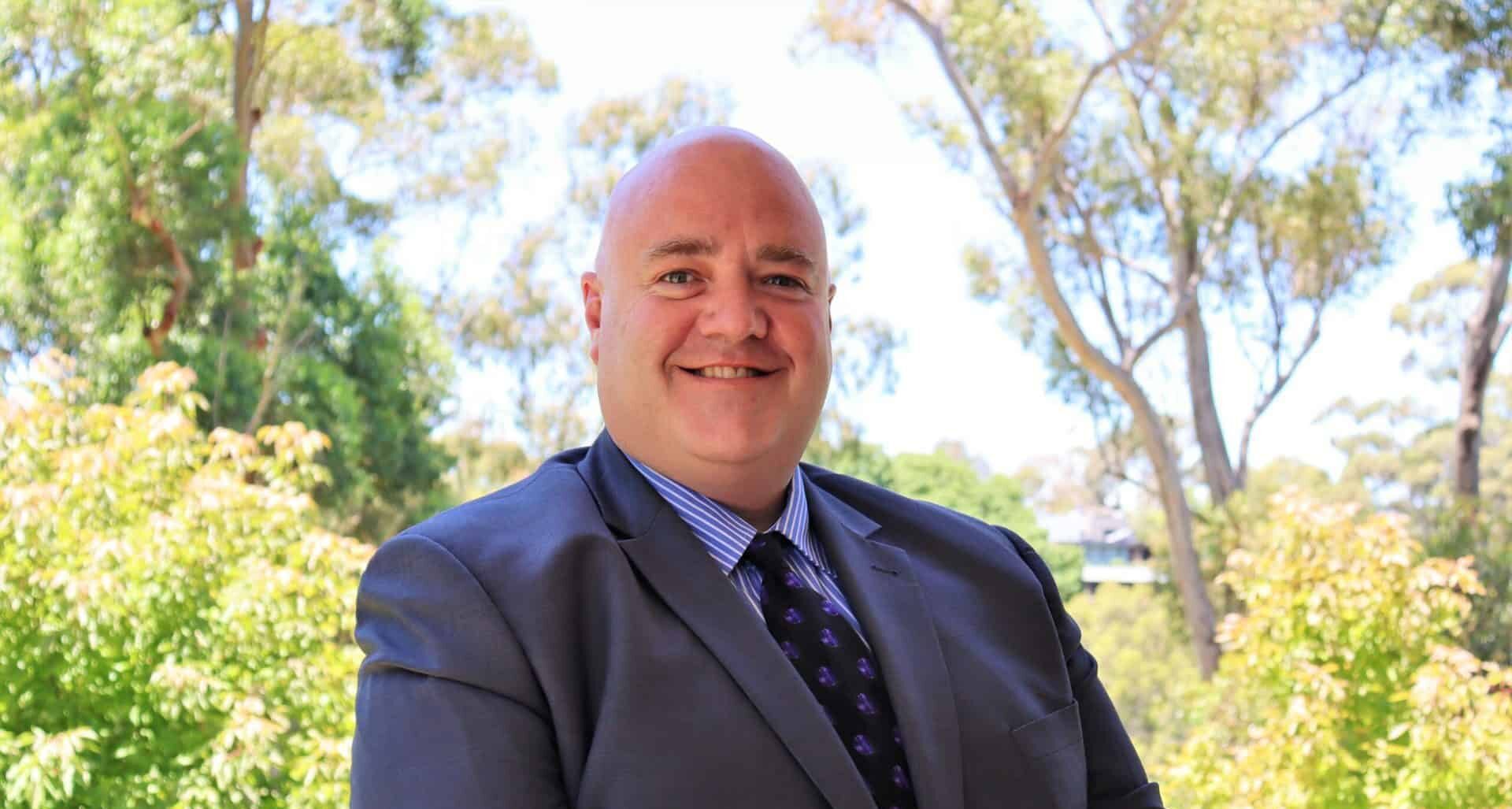 From the Assistant Principal, Head of Secondary
It is always good to see the students arrive back at school after the extended holiday period. I have heard some fabulous stories of holiday adventures both domestically and abroad. The students seem very happy to be back and they have settled into the school routine quickly.  
Year 7 and Year 12 Buddy Session
The commencement of the 2023 school year saw AGS welcome in the new cohort of Year 7 students. The Year 7 Hub was beaming with young smiling faces, excited for the new opportunities and experiences that the year would bring. Our Year 7 students were joined by their Year 12 buddies, for a chance to gain insight and wisdom on the best tips and tricks to succeed at high school. Conversations focused on the best ways to keep lockers organised, as well as what to expect at camp, on sport days and House events. It was great to see the Year 12's demonstrate their leadership skills in welcoming Year 7's. The buddy program will continue throughout the year to help our new students settle into the Alphington way.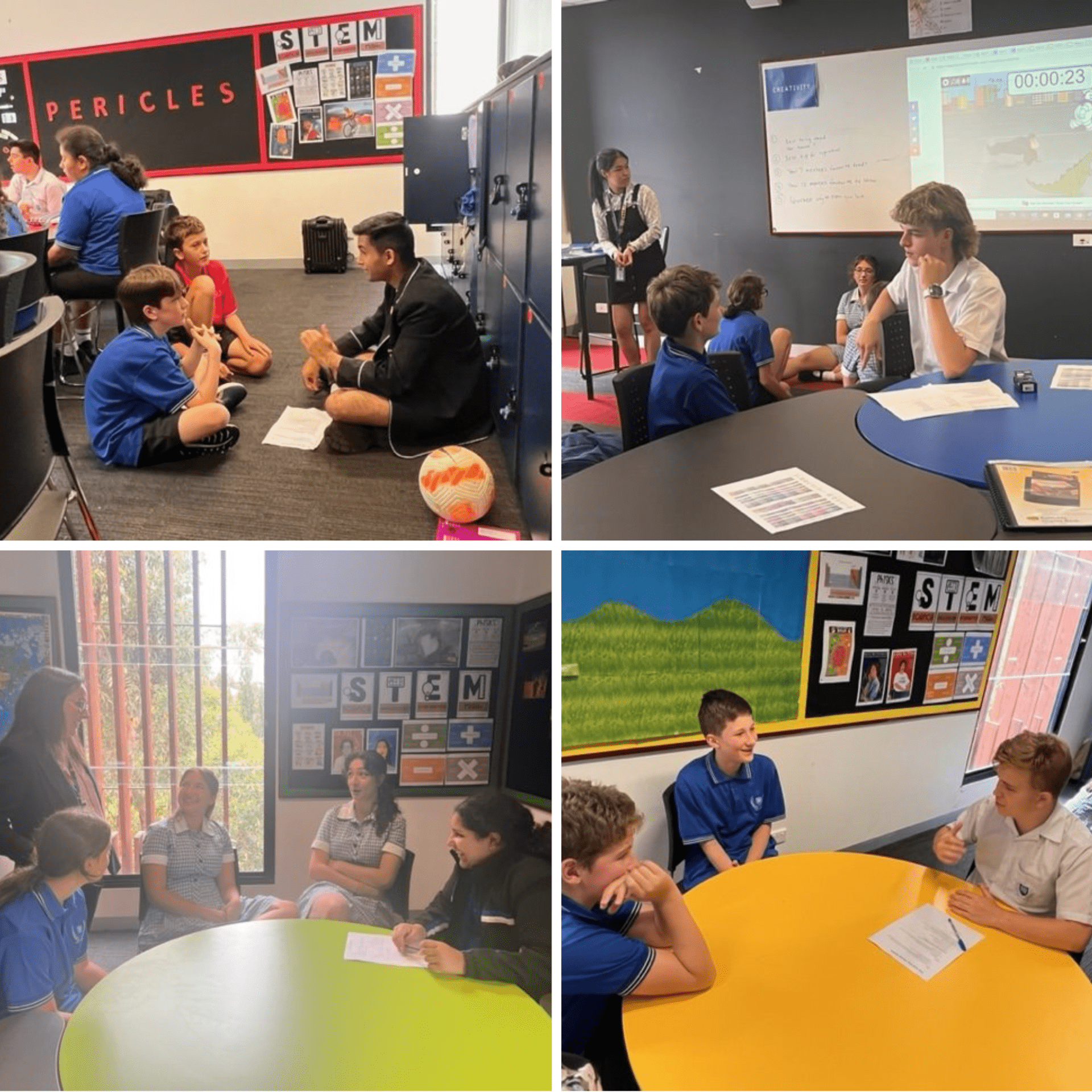 Our senior students have already had the opportunity to take part in quite a few curriculum enhancement programs, designed to complement what the teachers deliver in class. Exam technique, study skills, time management and organisational skills are some of the topics covered in these sessions. Our Year 9 students will have their first session with Elevate Education before their first semester exams.  
Year 10 completed the Elevate Education program called 'Study Sensai' and the Year 11s completed the workshop called 'Student Elevation'. Here is a brief outline of what is covered in both sessions. 
The Study Sensei 
Utilising the syllabus to frame study
Structuring and reviewing organised notes
Conceptual learning to develop deep understanding
Utilising practice exam papers 
The Study Elevation
Techniques for self-motivating
The role of belief and self-efficacy in performance 
Developing a growth mindset 
Increasing motivation through goal attachment 
Breaking goals into manageable tasks and deadlines 
Standing out through independent learning 
As a follow up to these student sessions Elevate Education will be running a Parent Webinar focusing on study skills, motivation, wellbeing, and exam preparation. By tuning into their webinar series you will learn how you can help support your child at home through reinforcing the skills they learn here at school. Additionally, Mr Papoulis, our Exam and Assessment Coordinator will be sending information to all Years 9-11 parents next week which will outline the dates for all semester exams.  
Upcoming Elevate Education Webinar for Parents – How to Help Get (& Keep!) Your Child Motivated 
When? 
Wednesday 15th February 
What? 
How to Help Get (& Keep!) Your Child Motivated 
Here's what Elevate will be covering on the night: 
What impact does praise and reassurance have on your child's motivation? 
What are the best types of goals to be setting with your child?  
How can you help your child create meaningful and lasting motivation?
Click here to register for free 
Term 1, 2023 Webinars 
Motivation – February 15th, 6:30 – 7:30 pm (AEDT) 
Time Management – March 1st, 6:30 – 7:30 pm (AEDT) 
Technology & Focus – March 15th, 6:30 – 7:30 pm (AEDT)
Essay Writing – March 29th, 6:30 – 7:30 pm (AEDT) 
Online Safety for Parents
As discussed during our recent Years 7 and 8 and Years 9 and 10 Parent Information Evenings, we find ourselves in a rapidly evolving digital age. While this is exciting in many ways, it also presents its challenges in assisting our students to make sensible decisions online so that they are safe and happy. 
As the old adage goes, knowledge is power. 
Below, please find two links from the E Safety Commissioner. The information, resources and webinars are designed specifically for parents. 
We look forward to a productive and enjoyable year.   
Mr Lukas Silver
Assistant Principal, Head of Secondary
Show All
Collapse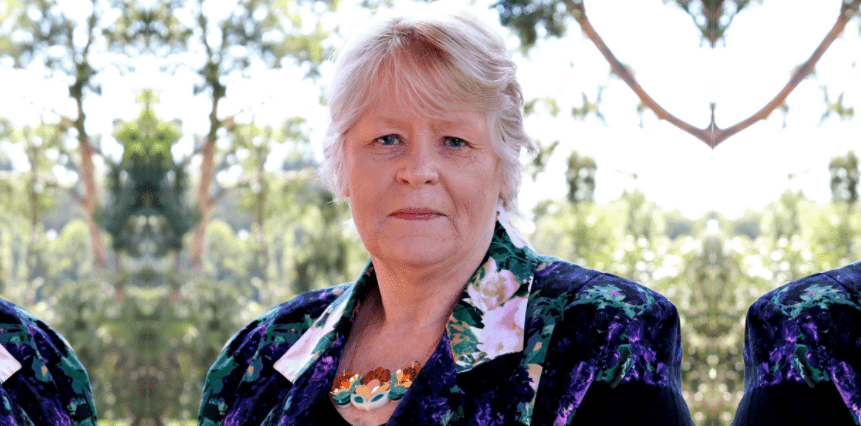 From the Assistant Principal, Head of Primary
Our first two weeks back at school have been very busy but very productive. I am so pleased to be able to say that all our classes, from ELC right through to Year 6, are settling in well thanks to the support of our families, staff and of course, the efforts of the children themselves. 
Our first two weeks back at school have been very busy but very productive. I am so pleased to be able to say that all our classes, from ELC right through to Year 6, are settling in well thanks to the support of our families, staff and of course, the efforts of the children themselves. 
We have welcomed 58 new students to the school across all year levels, so the Primary School is certainly growing, with waitlists at Prep, Year 6 and on some ELC days.  
We also welcome a new teacher, Ms. Lauren Taffe to the school. Ms. Taffe is a Year 6 teacher, and we are looking forward to her working with our upper primary student year. We also welcome Ms. Frances Lee-Archer to our Primary school Learning Support team. Ms. Lee-Archer will be assisting students with their learning in class three days a week.  
Last week saw the Primary School celebrate the Lunar New Year, the Year of the Rabbit. Students in primary classes learned about the significance of Chinese New Year and did various activities, culminating is a wonderful assembly. Thank you to Ms. Eva Wang, Year 1 students and all of our Chinese background students who contributed to the assembly.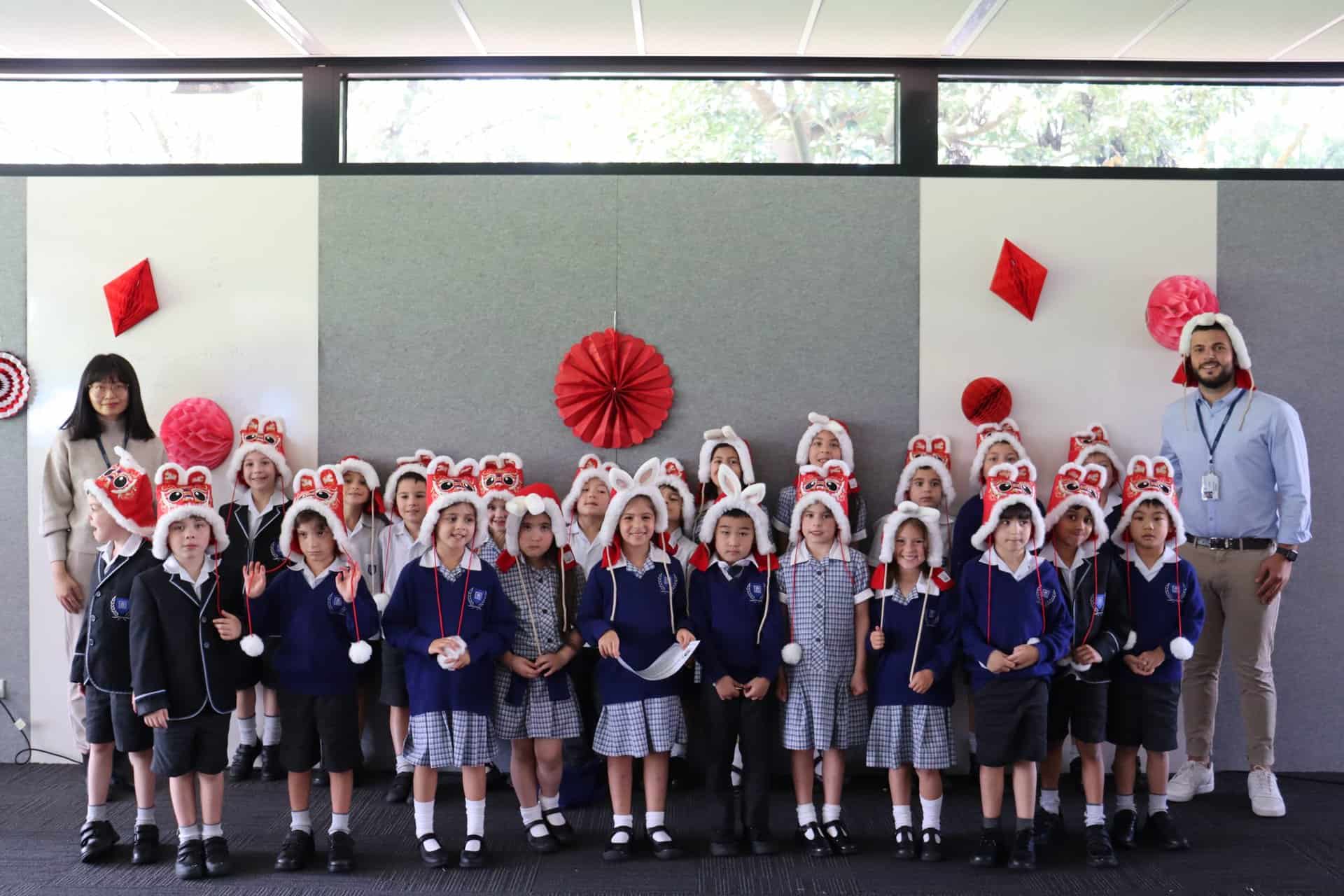 Next week at our assembly, we will be presenting badges to our Primary School Students Leaders. We look forward to their contribution to the school as the year progresses. 
Congratulations to: 
Primary School Captains 
Jonathan Karambelas 
Athanasia Kerasiotis   
Community Service Captain 
Aristotle House Captain
Byron House Captain 
Pericles House Captain 
Socrates House Captain 
Music Captain 
Sustainability Captain 
Visual Arts Captain 
Writing Captain  
Our School Community is a very supportive one. Over the years I have seen our families rally around to support one another and I would like to share the story of our own Johnson family, which you may have already seen in the Daily Mail.  
https://www.dailymail.co.uk/femail/health/article-11655817/Complex-Regional-Pain-Syndrome-Little-boy-Ben-Johnson-struggling-condition-suicide-disease.html 
I share this with permission of the family. 
Ben has a condition called Chronic Regional Pain Syndrome, which has greatly affected him and his family for over a year now. It is ongoing, excruciating and local treatments have been unsuccessful.  
The Johnson family are aiming to take Ben overseas to a rehabilitation centre at Boston's Children's Hospital and have set up a Go Fund Me page to assist. 
If you are able to help in any way, I know it would be appreciated. 
Ms Tracey Nicholson
Assistant Principal, Head of Primary
Show All
Collapse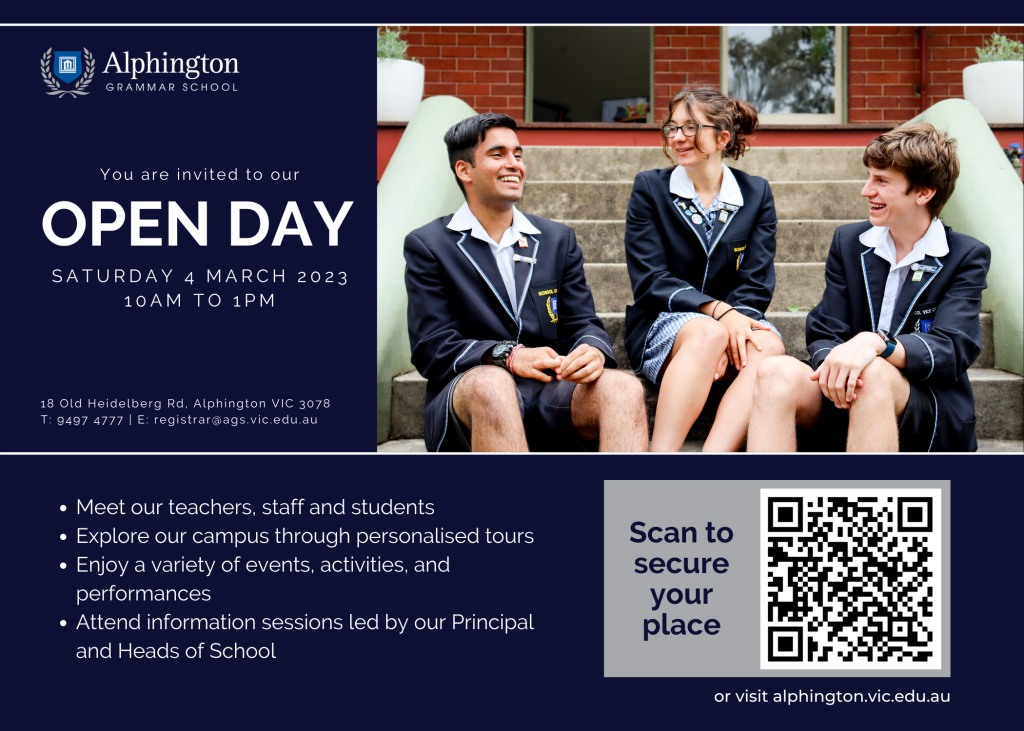 From the Secondary School
Year 12 Half Day Conference
On the first Monday morning back to school, the Year 12 students had a session with Game Plan coaching, where we learnt what to expect and how to prepare for the challenges ahead.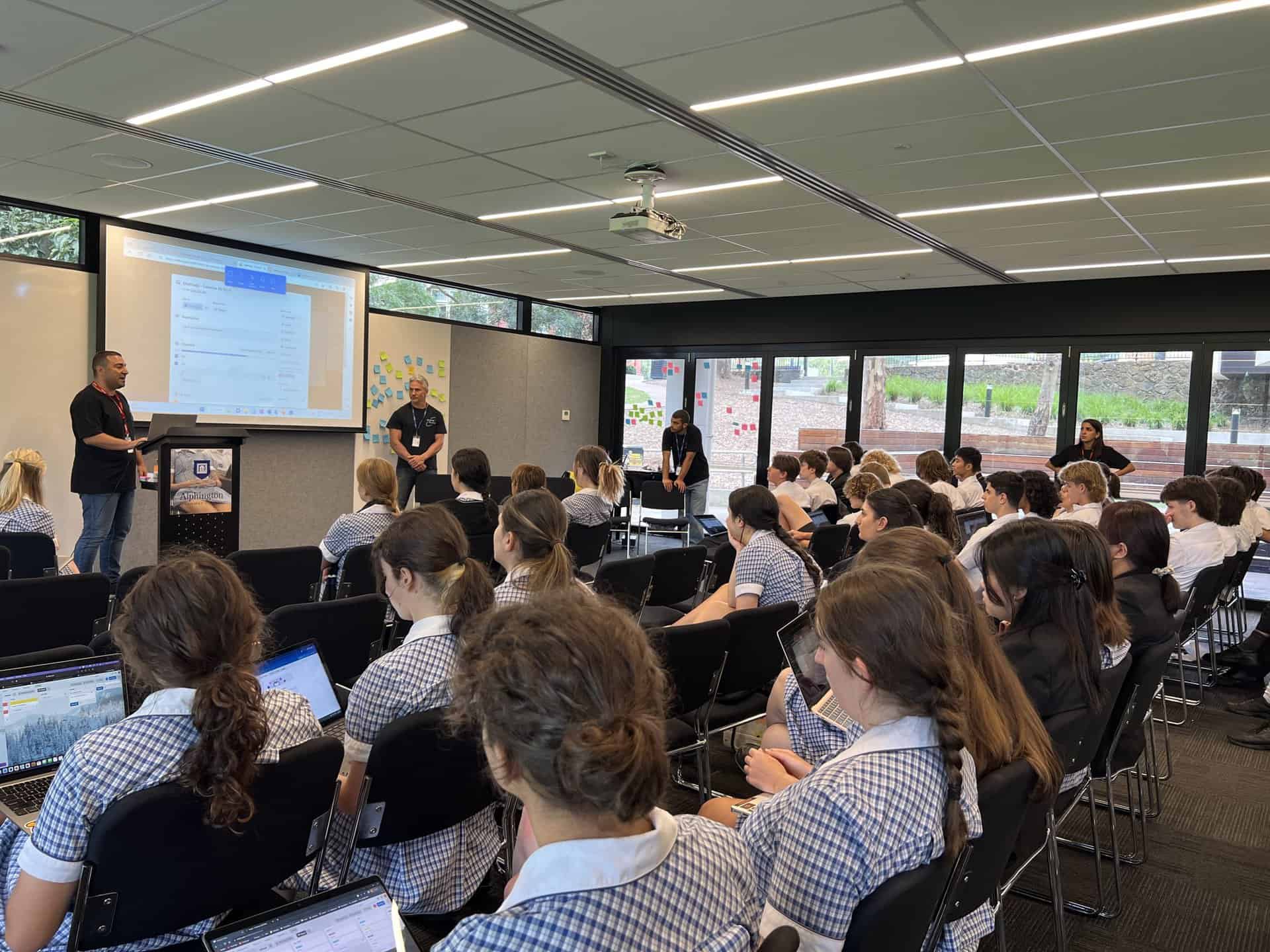 It was such a positive way to begin our last year, and the mentors from Game Plan were incredible. They even brought in recent Year 12 graduates, which was amazing as we were able to ask relevant questions about Year 12 with relatable responses. From managing stress, workload, and revision techniques, we all came away with something we could try to make our lives easier.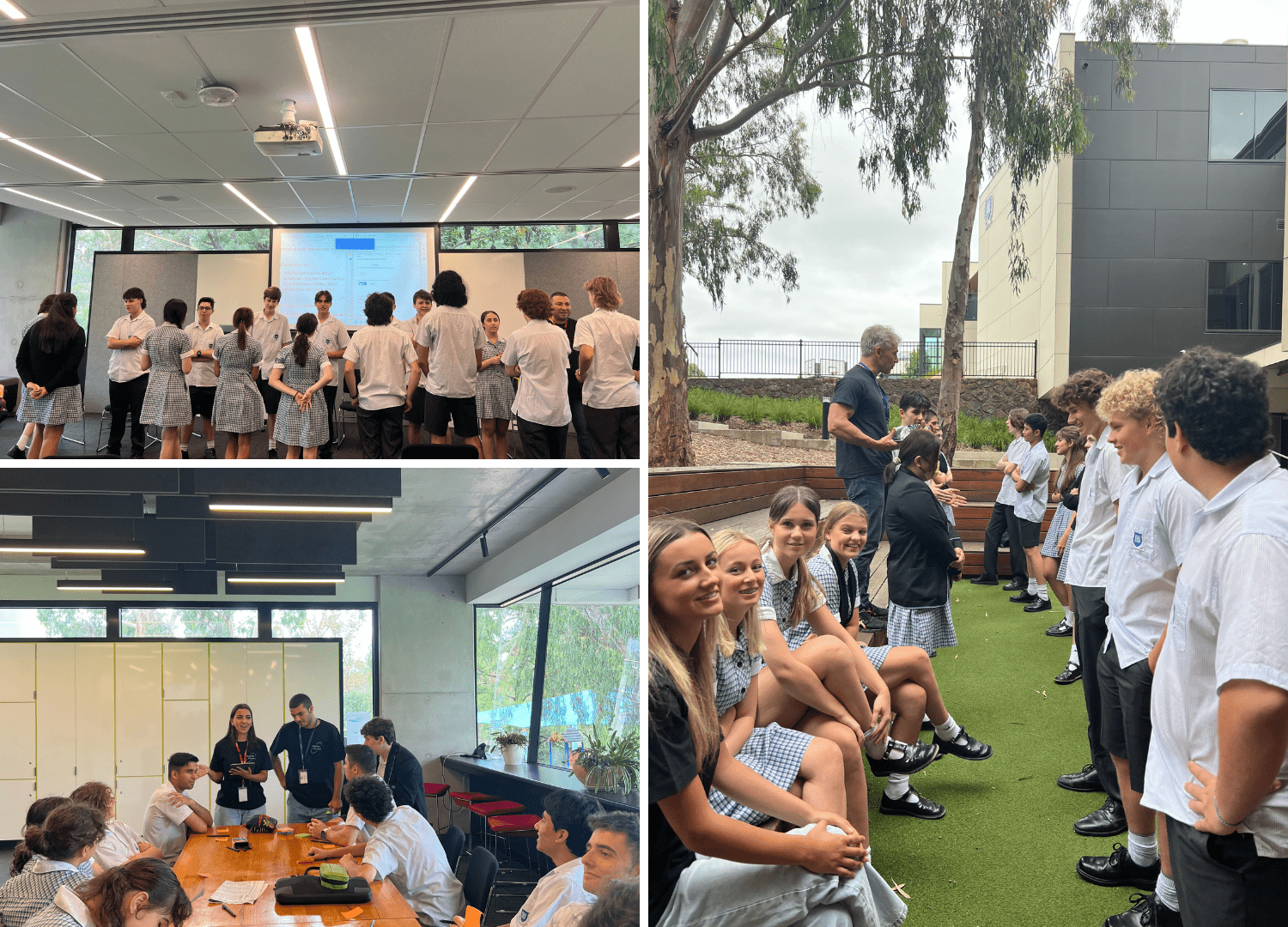 To finish off the session, we were shown how to organise our schedules to help our time management skills and keep us on track for the year. Overall, it was a great experience and was an excellent way to introduce us to our final year of high school.  
Aristea Papax
Year 12 student
Show All
Collapse
We have gotten off to a great start in Science this year, with our Year 8s planning and conducting experiments to investigate the changing states of water. We are focusing on developing key skills scientific skills from Year 7.
Dr Sam Hockey
Secondary Science Teacher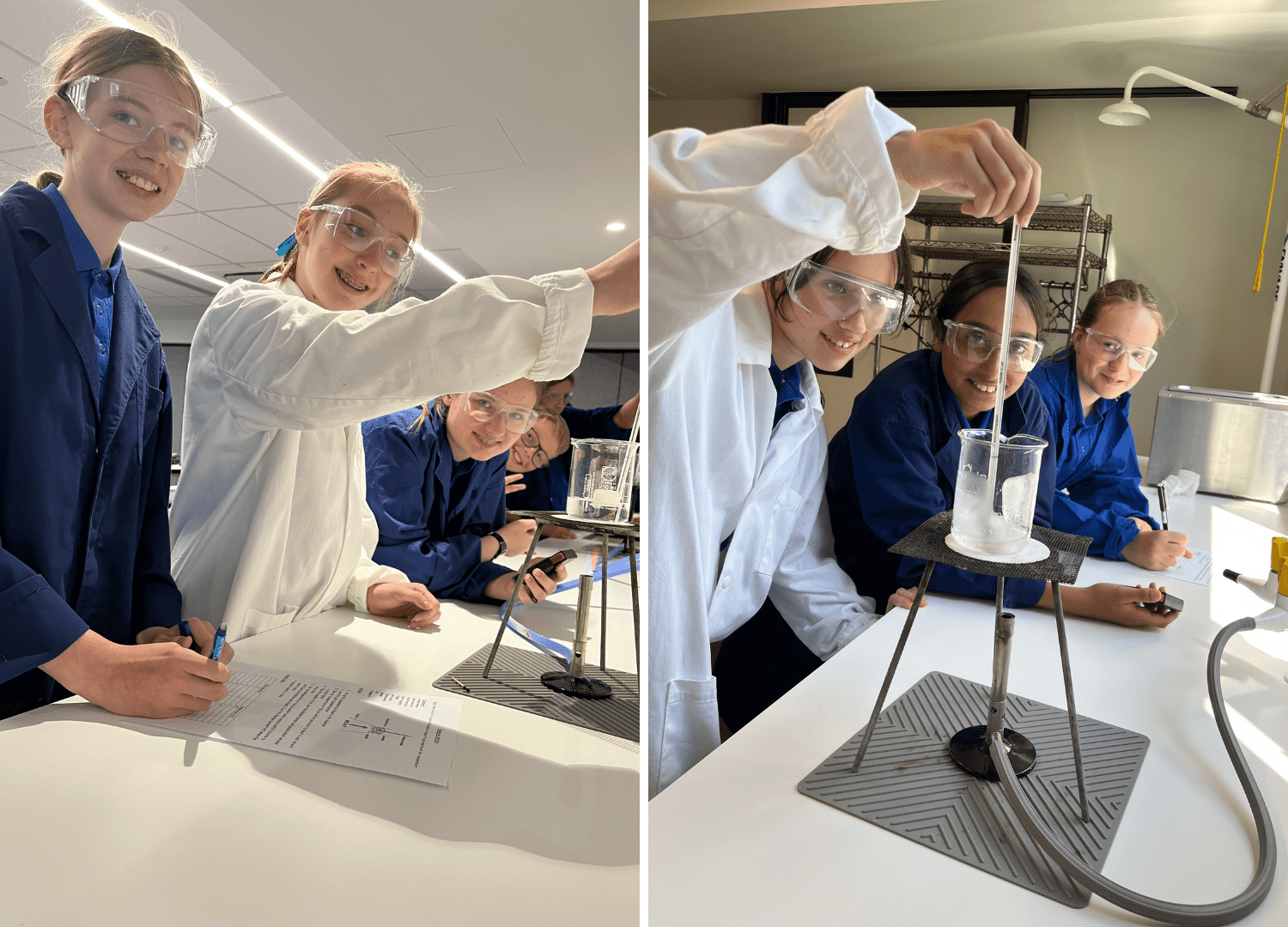 Chinese New Year Assembly
Last Friday, the Primary School students celebrated the Chinese New Year with a festive assembly. They watched a video showcasing how International students celebrated the festival in both China and Australia. This was a great way for the students to see the celebrations in different parts of the world.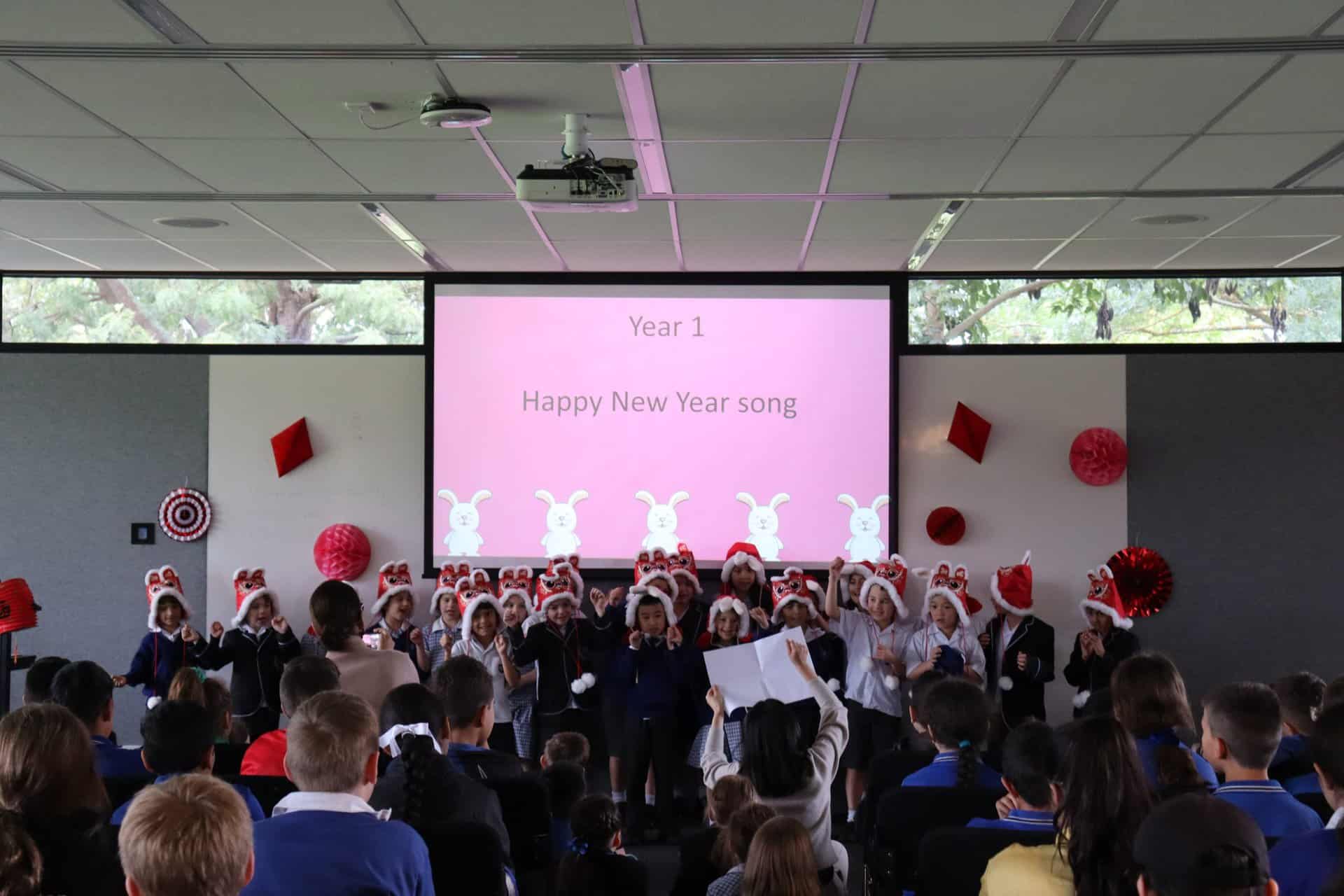 Year 1 students added to the festive atmosphere by singing the song "Happy New Year" in both Chinese and English, while two talented Year 5 students Payne Lu and Tianya Liu mesmerised the audience with their musical performance of "Liang Zhu".
This assembly was a fantastic way to start the year and to celebrate the diverse backgrounds of the school community. Congratulations and thanks to all the students who participated.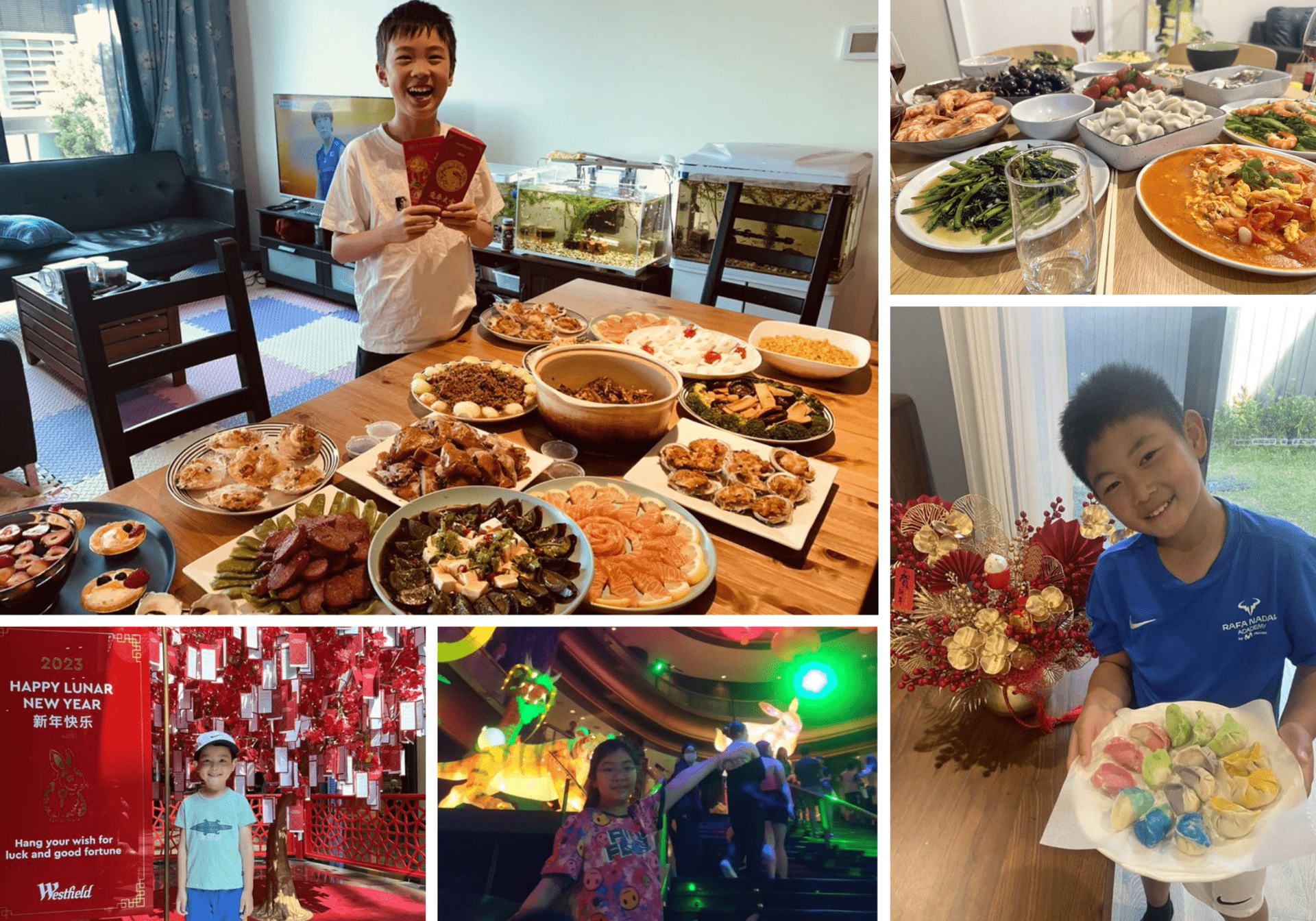 As we welcome the Year of the Rabbit, symbolising hope, luck and happiness, let us look forward to a prosperous and better year ahead!
Ms Eva Wang
EAL Support (Primary and Secondary)
Show All
Collapse
你好!,新年快乐!Happy Lunar New Year!
Welcome to Chinese in 2023! We're very excited to have our new Year 7s join us on this language learning journey, in addition to learning Greek! For our returning students we have been talking about Lunar New Year in class over the last few weeks, whilst also revising past content.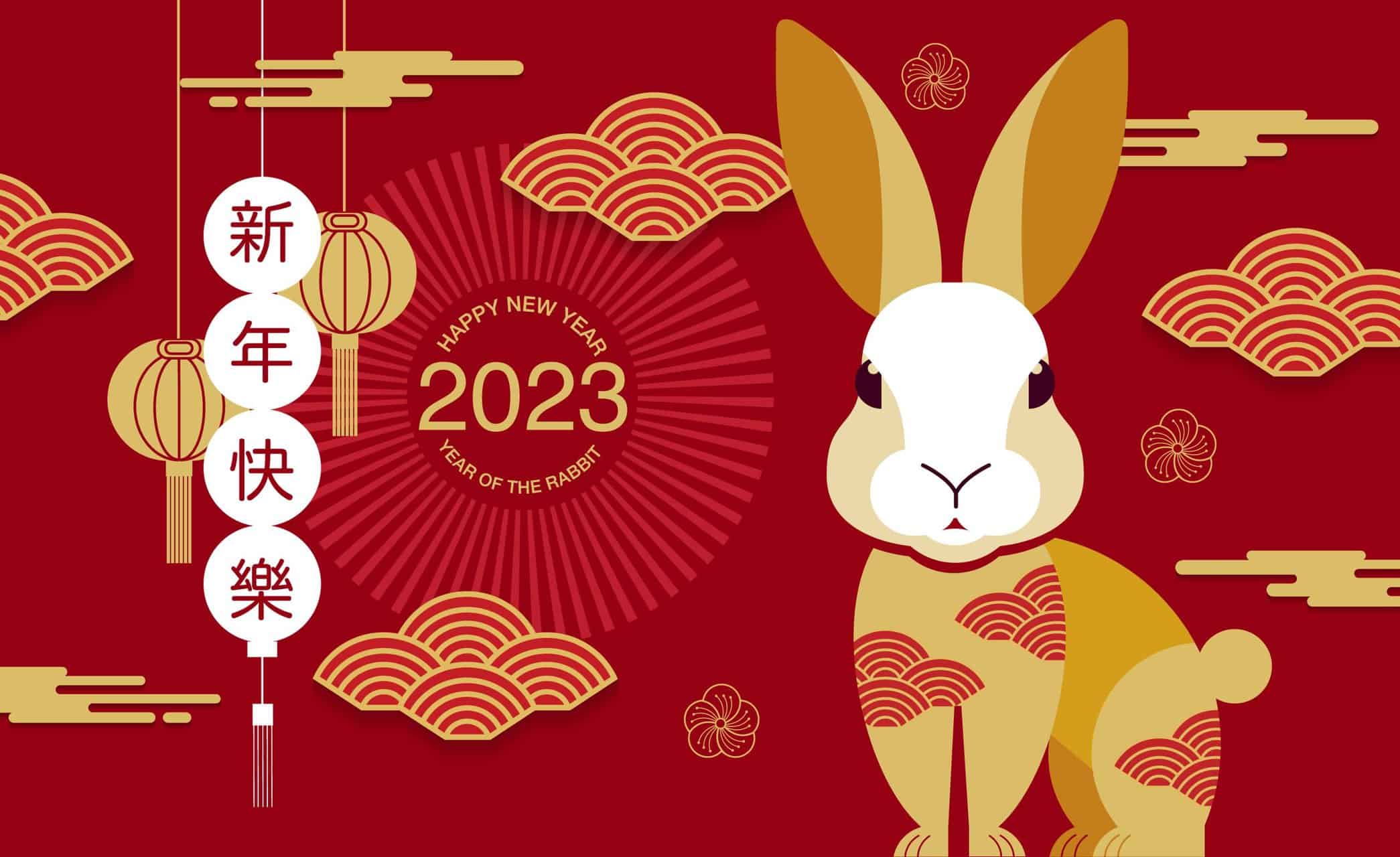 We wish all the families in the community a happy and prosperous Year of the Rabbit and look forward to working with our classes in teaching them Mandarin and all about the amazing food, culture and pandas too!
Ms Shirley Ke and Mr Ming Lei 
Secondary Mandarin Teachers
Greek Art Prizes
Well done to all students who took part in two separate Greek art competitions late last year and congratulations to Ella Burns (Year 4 Byron) and Angelique Karalis (Year 10 Socrates) for gaining First Place in their respective competitions.
Ella Burns First Place – Antenna Pacific Christmas Drawing Competition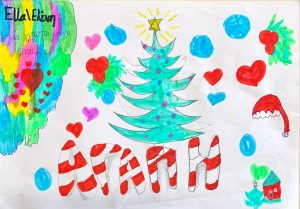 Angelique Karalis First Place – Greek Herald Front Cover Design Competition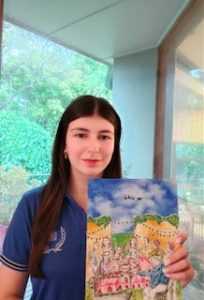 Congratulations!
From Greece with love!
Adding to the excitement of starting school for our youngest students was a special surprise gift waiting for them, all the way from our treasured friends at Mystiko Kleidi Early Learning Centre in Ioannina, Greece.
Our Prep students could not wait to open the large parcel which contained a beautiful handmade card of a boat, which symbolises good luck for the new year. The beautiful card contained special messages for our students.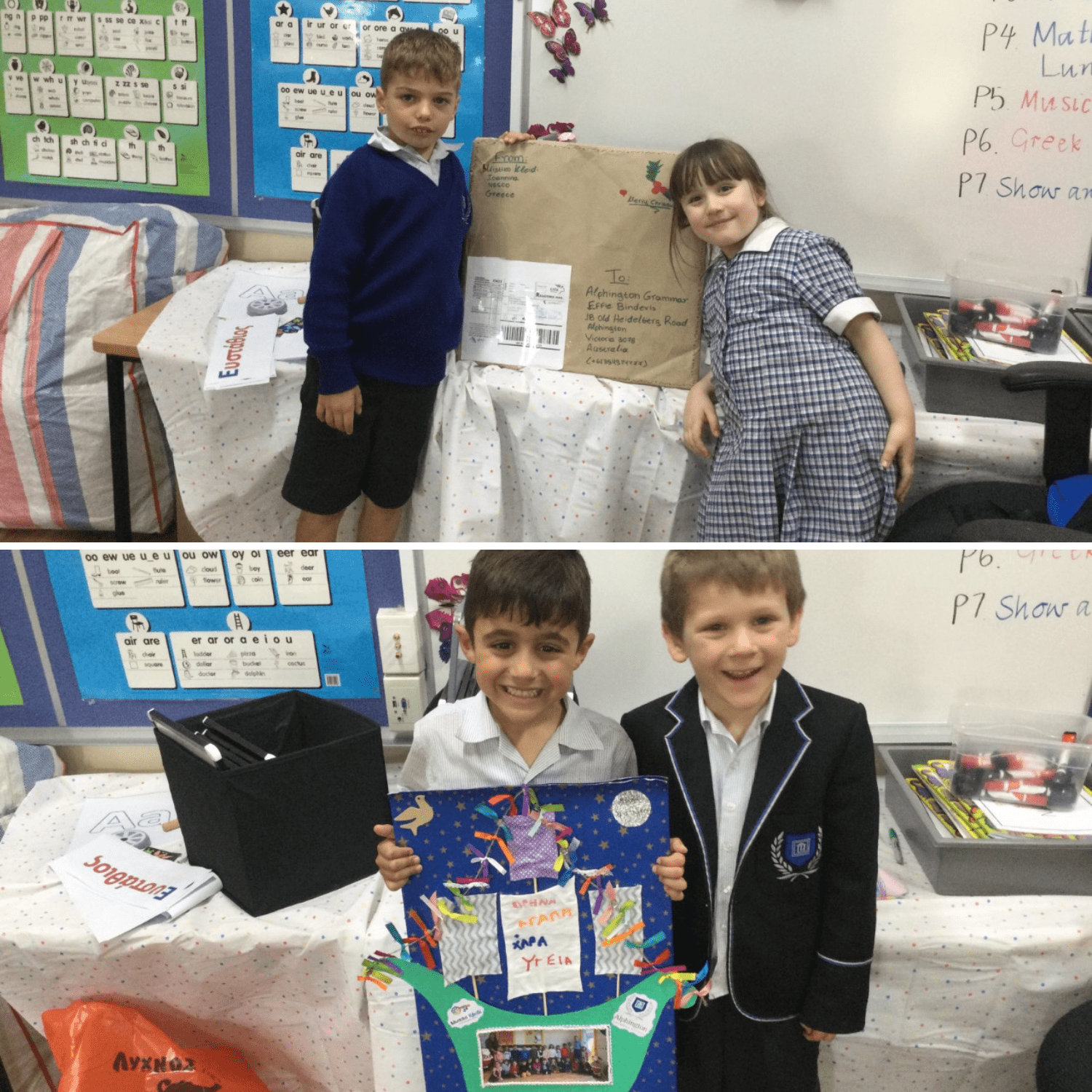 Over the holidays the students at Mystiko Kleidi also received our special parcel containing all of the beautiful gifts, handmade by our ELC students at the end of last year. They were overwhelmed with excitement and very grateful for their beautiful Australian themed gifts, including an Alphington Grammar teddy key chain, which many of the children have proudly attached onto their school bags. The teachers, students and staff expressed their gratitude in a special Facebook post showing the children opening and receiving their gifts. We are excited to continue our special collaboration this year and look forward to more exciting projects between our two schools.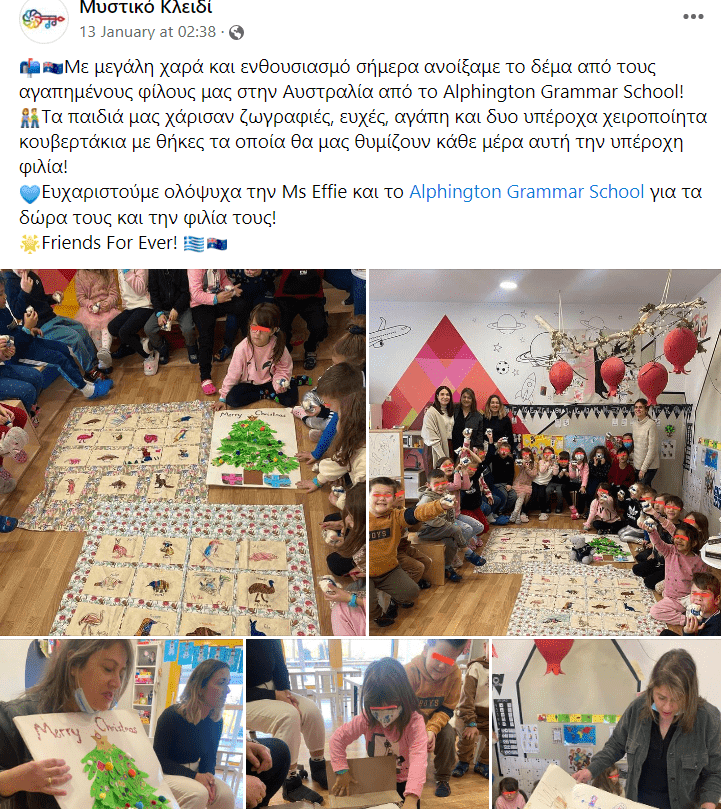 VCE Greek Immersion Camp
Our VCE Greek students and teachers recently travelled to Bonegilla Migrant Experience, the site of the former Bonegilla Migrant Hostel near Wodonga. The trip was intended to enrich students' understanding of the post-war migration experience to Australia, including the Greek contribution and connection.
It was moving to see the simple accommodation, communal spaces, photos and memorabilia of real people who passed through Bonegilla between 1947 and 1971.
Students and teachers were moved to find records of their own family members who stayed there in the early days of their arrival in this country.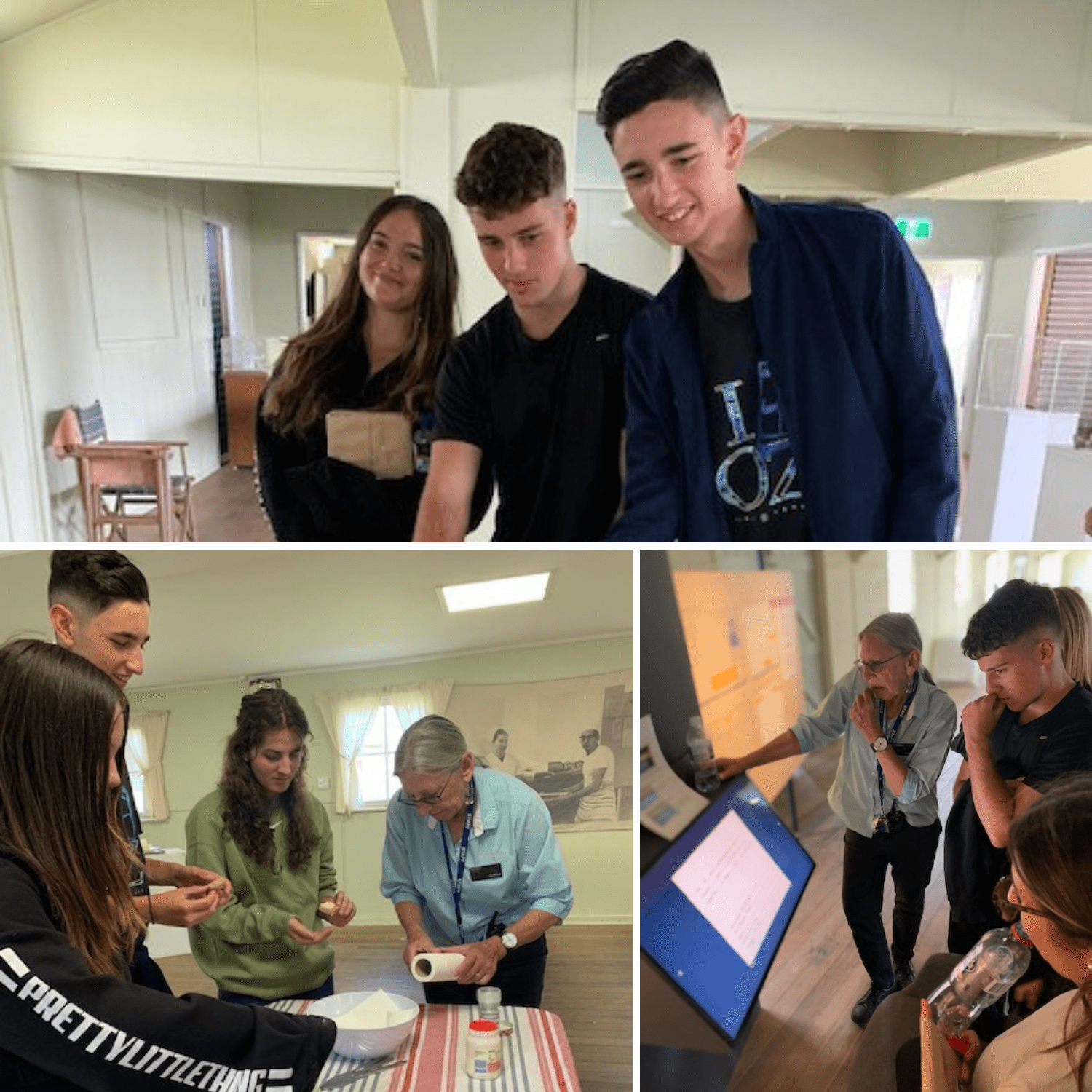 Weekends at the NGV
Looking for something to do this weekend?
Make your way to the National Gallery of Victoria and get up close with architects' Adam Newman and Kelvin Tsang's reimagining of the Parthenon, the Temple of Boom.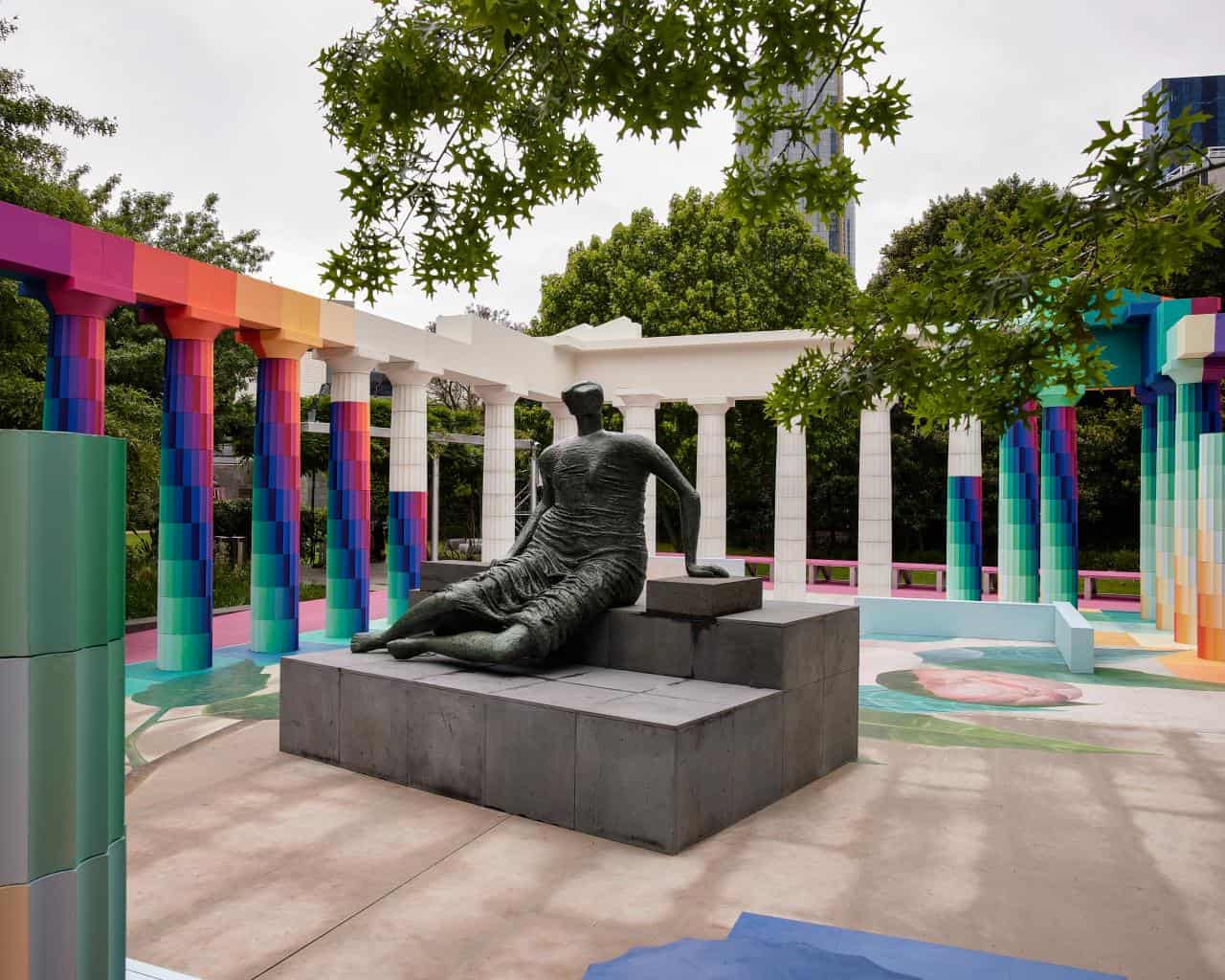 The Parthenon was built as a temple dedicated to the goddess Athena and is famous for its harmonious proportions. It endures as a symbol of artistic excellence.
This Saturday afternoon you can enjoy free programs between 12.00 and 2.00pm. The events are presented in partnership with the Hellenic Museum and comprise the
12.00 – 12.10pm: Introduction to the Temple of Boom
12.15 – 1.15pm: The History of the Parthenon
1.30 – 2.00pm: Greek Theatre and Tragedy: Medea – A Theatrical Reading
Also showing: China – The Past is Present, a display of the Gallery's collection of Chinese art and design objects. The exhibition places old and new objects together, in an attempt to highlight the impact ancient art has had on innovative contemporary Chinese art.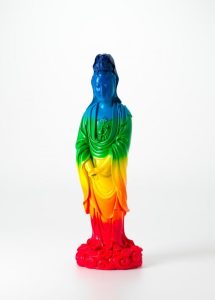 The collection includes an array of art forms, including painting, calligraphy, ceramics, metalwork, lacquerware, textiles, furniture, posters, photography and mixed media.
Entry is free.
Ms Effie Bindevis
Primary Greek Coordinator
Ms Denise Diakodimitriou
Head of Languages
Show All
Collapse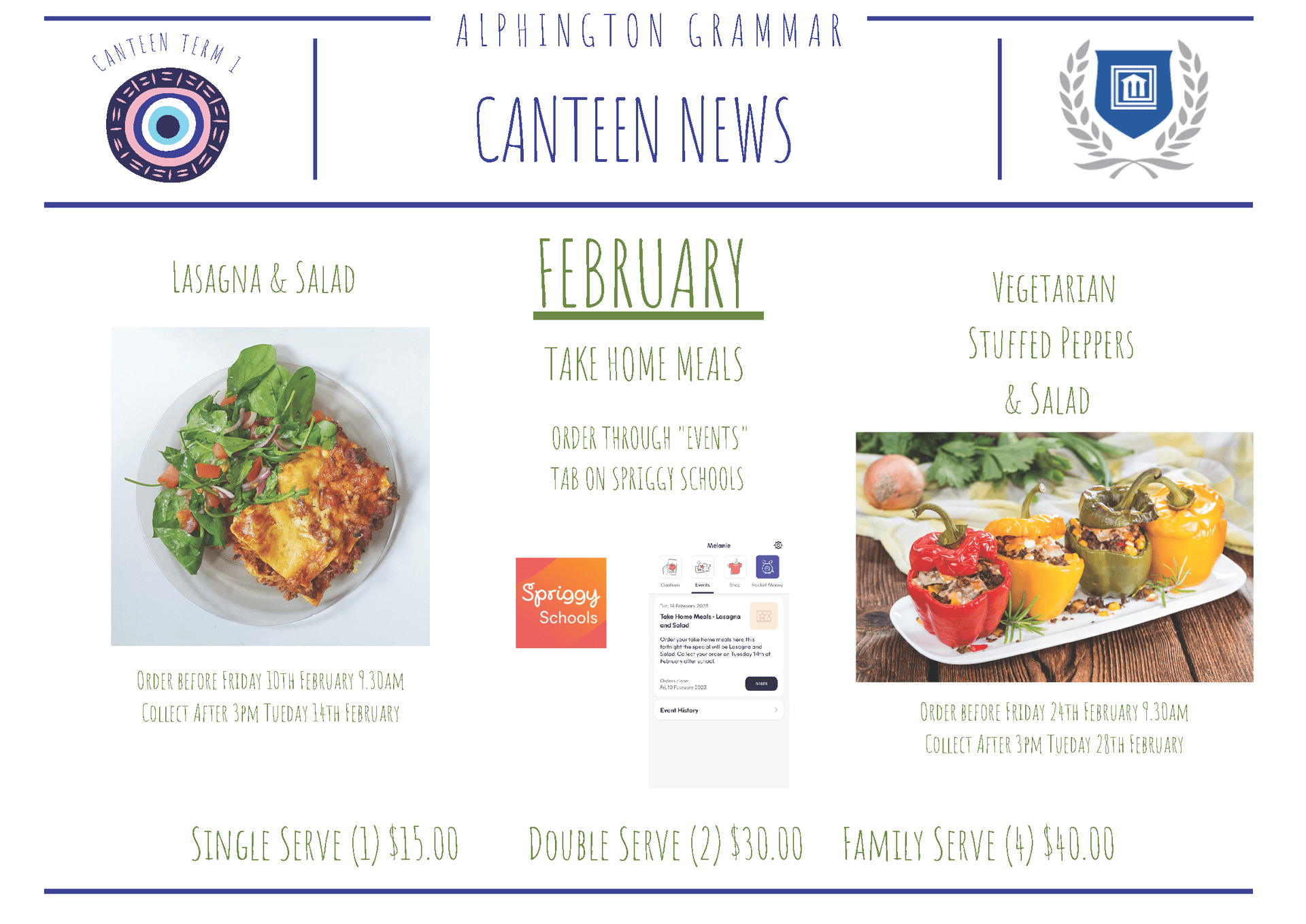 Please note that the invoice run for the second payment will be issued early this week. The due date for payment will be 24 February 2023.
Please see below for the CSEF financial assistance program information sheet and application form.
AGS Chess Club Enrolment 2023
It's not too late to join Chess Club for this term!
Music and Performing Arts
Ensembles 
We're excited to announce that all Primary and Secondary Music Ensembles will officially start rehearsing next week, Week 3, to coincide with the launch of the 2023 Enrichment Program.   
This year we have two new groups on offer:  
Music Theory Club on Wednesday mornings 
Open to student of all levels, from Year 5 upwards.
Jazz Band, on Thursday mornings  
Attached is the full Music Ensemble Timetable for Term 1. 
How do I sign up? 
Primary Students – come along to rehearsal and your name will be added to our lists. 
Secondary Students – sign-up is via the Enrichment Program link. 
If you have any questions about the Ensemble program or are unsure of your child's readiness to join up, please contact Priya Wilson, Head of Music and Performing Arts, at PW@ags.vic.edu.au. 
Instrumental Program 
Instrumental lessons were off to a flying start this week.  If you would still like to enrol your child in instrumental lessons this year, it's not too late.  Please email music@ags.vic.edu.au for more information, or you can enrol via the following link  https://alphington.vic.edu.au/instrumental-tuition-application/ 
Junior Greek Dance 
Panos Stamatopoulos will once again be offering Greek Dance classes on Monday afternoons in the Drama Studio, running from 3.45 to 4.05pm and commencing on Monday 20th February. 
The cost for 6 sessions will be $90.  Please contact music@ags.vic.edu.au if you would like to enrol your child, or if you have any questions. 
Ms Kate Salvatore
Music Administrator
Show All
Collapse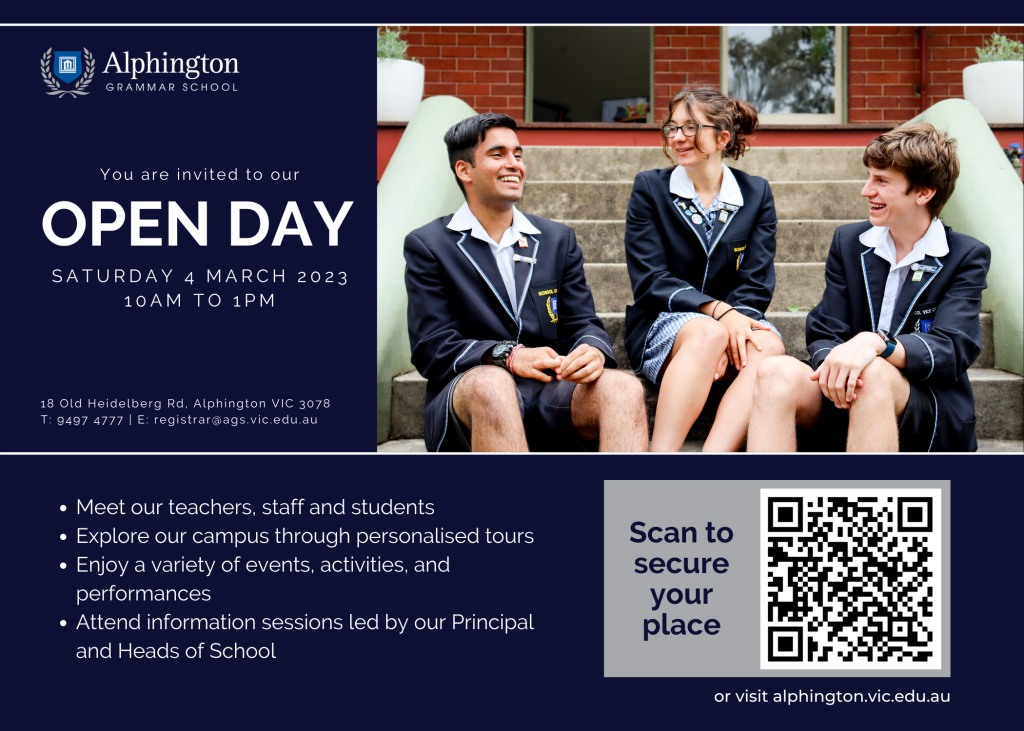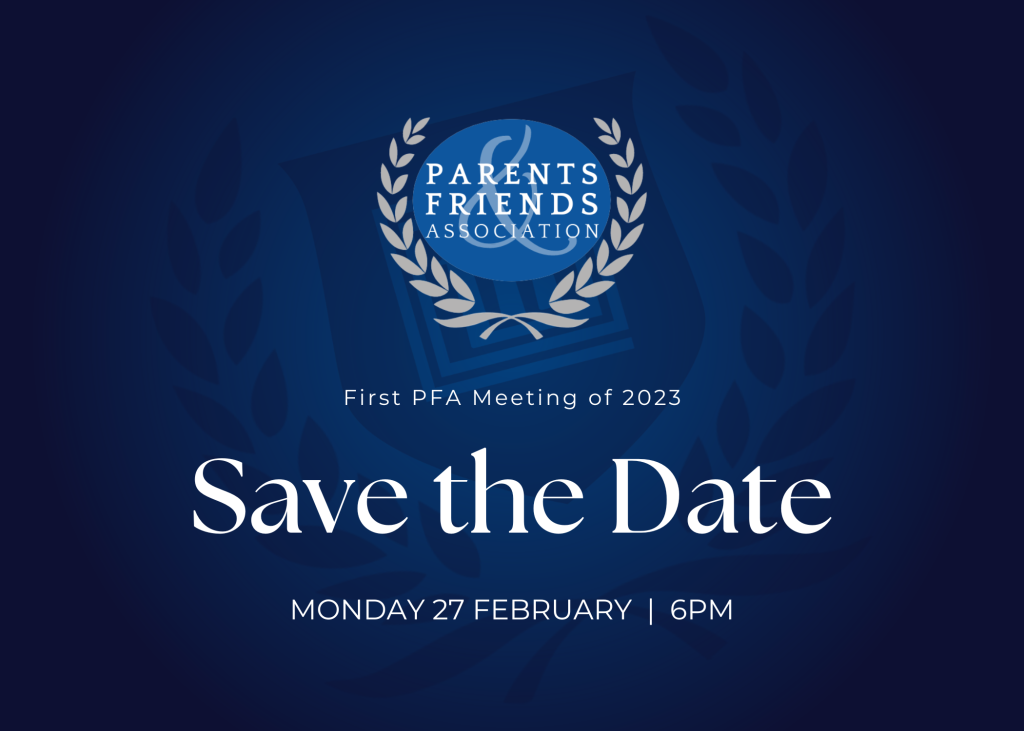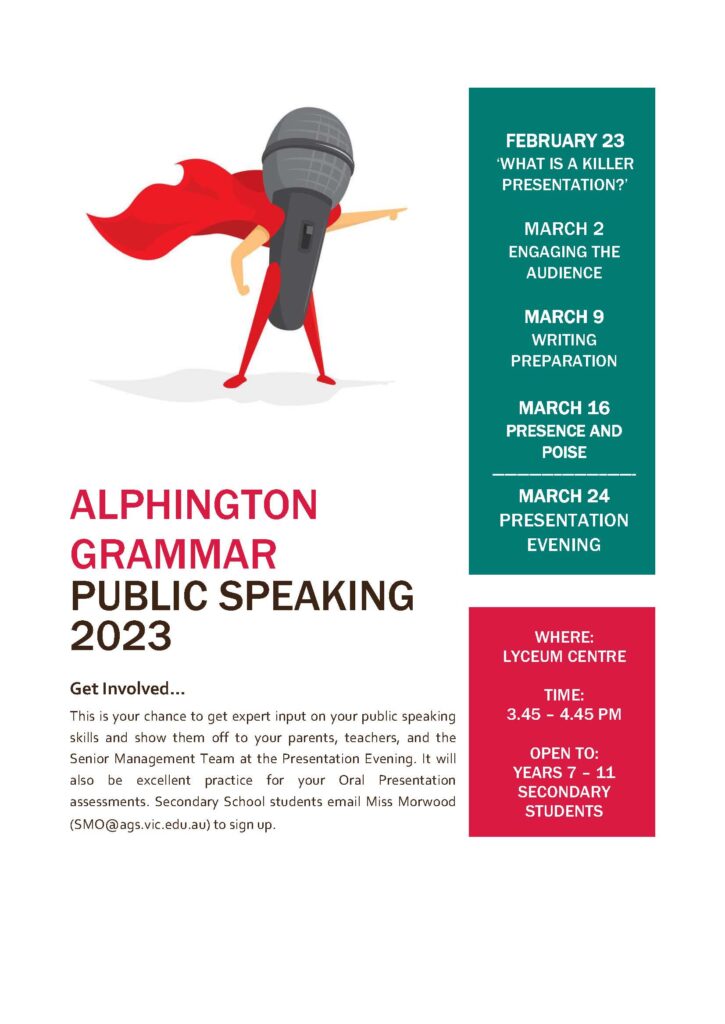 Semester 1 Key Dates - Secondary
Semester 1 Key Dates - Primary
3,071 total views, 1 views today