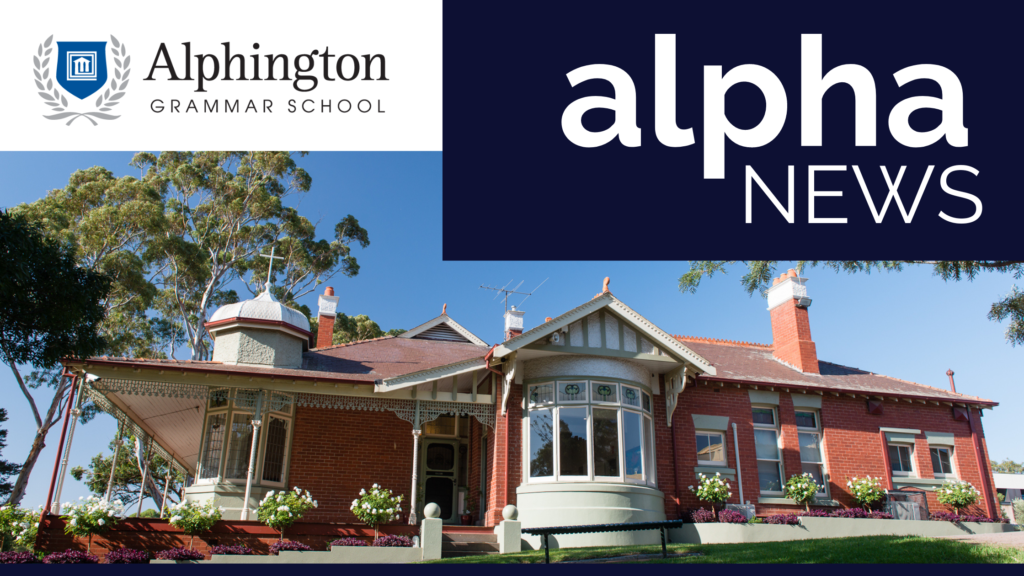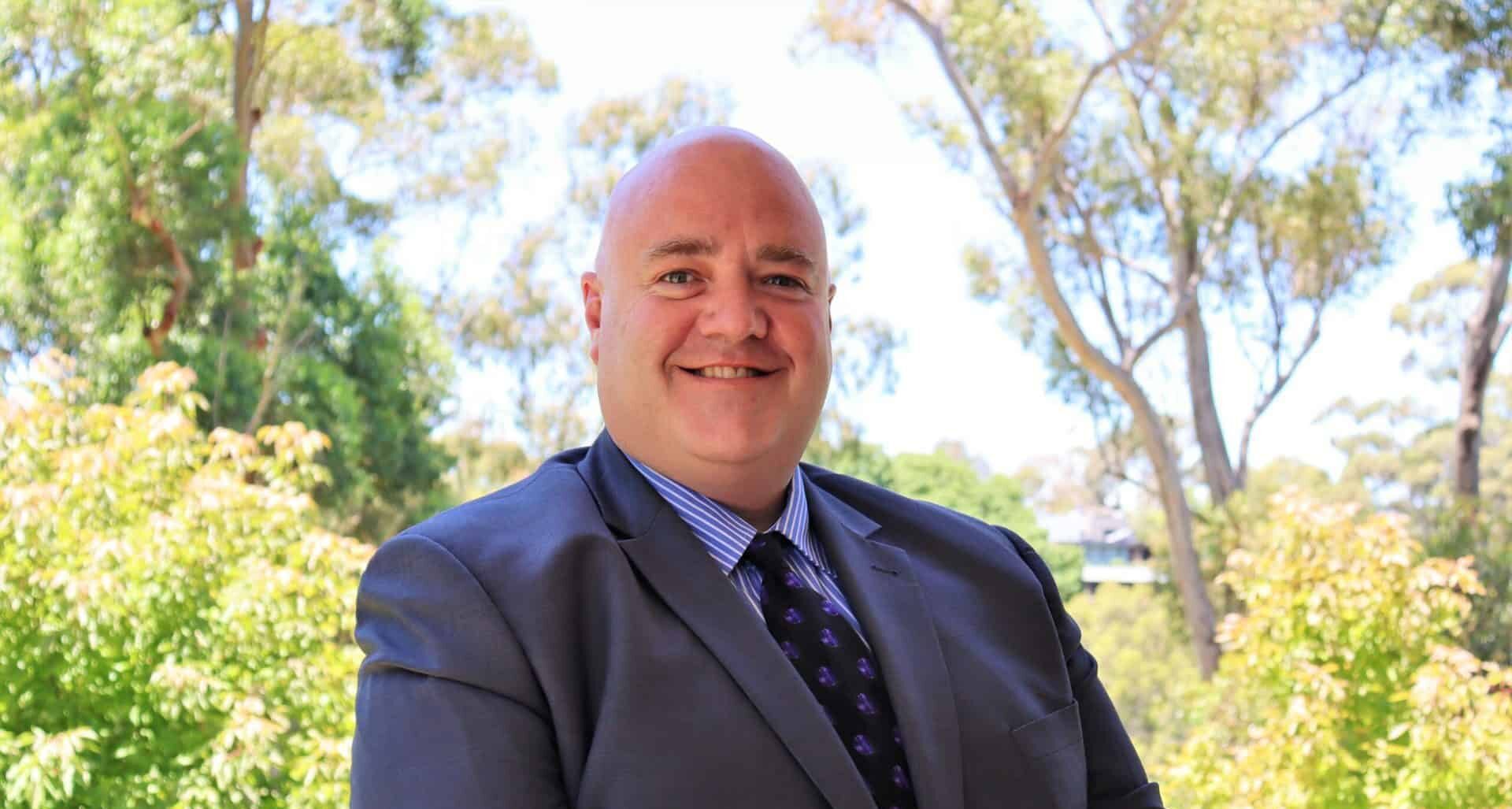 From the Assistant Principal, Head of Secondary
Term 3 is always a very busy term in the School's calendar and this term was no exception. This term we have been lucky enough to experience multiple programs, including:
·         National STEM week
·         National EHASS week
·         Years 9 and 10 Gateways trips
·         Year 8 Community Service Week
·         The Annual Music Concert
·         The General Achievement Test (GAT)
It is great to see so many rich and worthwhile activities occur that allow our students and staff to showcase the learning and teaching here at Alphington Grammar. Thank you to the students and staff who have made these events so successful and fun!
Gateways
The Year 9 and 10 students have just returned from the Gateways Program after experiencing the Northern Territory for 10 days. The Facebook pages were in full swing. Our staff were posting pictures everyday and taking the parents along on the journey. The Year 9s spent some time in Adelaide before hitting the road to explore the opal mines and the underground living conditions in Coober Pedy. Then onto Alice Spings, the MacDonnell Ranges, Ormiston Gorge, Kings Canyon, Uluru, the Wanmarra Aboriginal Community, and many more exotic and exciting locations. Meanwhile, the Year 10 students headed further north to the very top-end of the country in Darwin where they experienced places like Litchfield Park, Kakadu, Katherine, Nitmiluk, Cutta Cutta Caves and the Mt Bundy Station.
They all experienced magnificent waterfalls, challenging but spectacular hikes and they also got to handle some of the local wildlife – including one rather large snake! The students handled that well! They learnt a tremendous amount about Indigenous culture, their connection to the land and their way of life. They also learnt a lot about themselves. One of the main objectives. The aim of these experiential opportunities is to take the students out of their comfort zones; to take them away from their families and allow them to use skills that they may not use often but will certainly need to utilise more as they move through secondary schools and into university. We usually get some students who struggle being away from home – this is natural. The fact that they all enjoyed themselves and got through the challenges they faced means that they will be more resilient, stronger in character and more mature.
I would like to thank the Group Leaders; Cameron Stone, James Smith and Anna Milburn who were expertly supported by: Shelby Morwood, Ming Lei, Marguerite Roberts, Pat O'Shea, Olivia Rahme, Micheal Grigoriadis, Janet Stewart, Voula Alliminos and our brilliant student leader Daniel Garrity. I would also like to thank the students for their brilliant behaviour and conduct. Congratulations to all.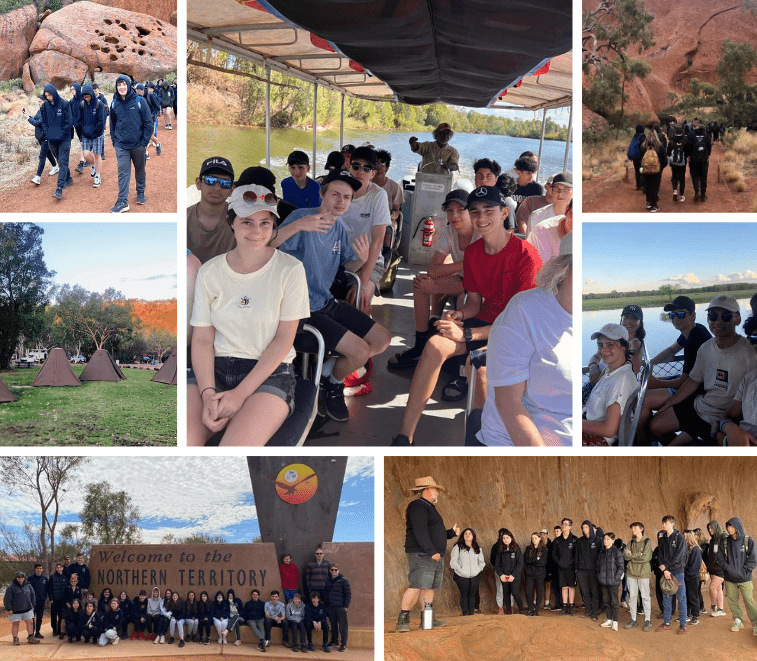 VCE Business
The Year 12 students are heading into their study SWOTVAC soon. They will return for the first two weeks of Term 4, but their courses have essentially been delivered. They now need to prepare and revise for their exams. They had their final Elevate Education session called the Finishing Line and they also completed a workshop with Gameplan, which focused on their mental wellbeing in the lead up to the exams. This period of revision is extremely important for our Year 12s. I recommend that they continue to follow their school timetable during SWOTVAC. For example, if they had English period 2 on Day 3 then that's what they should spend their time revising. Mr Papoulis, the VCE Exam Coordinator, has emailed the Holiday Practice Exam timetable to the students who will be sitting these exams between September 26 to 29 inclusive.
The General Achievement Test (GAT)
The new version of the GAT was completed by our Year 11 and 12 students in the last week of term. The Victorian Curriculum Assessment Authority (VCAA) has redesigned the GAT to include a more refined focus on literacy and numeracy skills. The GAT is a very important part of state-wide moderation and standardisation of school assessed coursework. The statistical moderation process compares the level and spread of each school's assessment of its students in each study with the level and spread of the same students' scores in the external assessment. They then adjust the school scores, if necessary. We have had several sessions throughout the year on the GAT with both Year 11 and 12 students. The students looked happy at the conclusion and told me it wasn't too difficult.
With the three-week holiday now upon us I wish everyone a safe and relaxing break. If you are travelling within Victoria or heading interstate or abroad, please enjoy and take care.
Term 4 will commence for all students on Monday October 1, and it will be a 'Day One' on the timetable.
Mr Lukas Silver
Assistant Principal, Head of Secondary
Show All
Collapse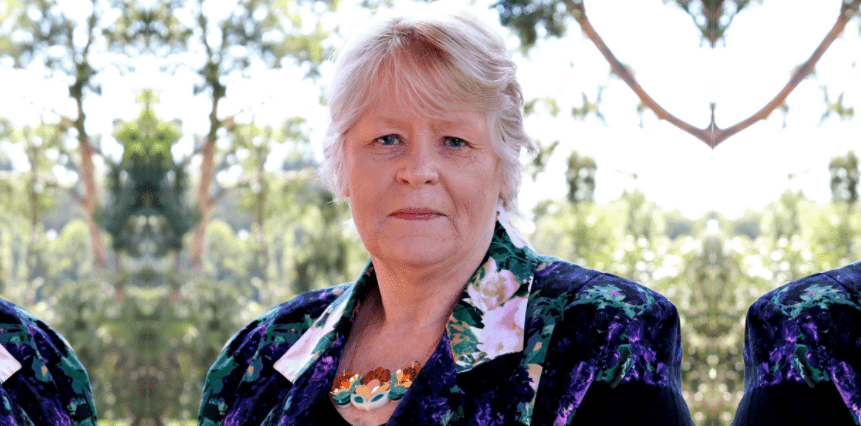 From the Assistant Principal, Head of Primary
It has been a tremendously busy final few weeks of Term 3 right across the school. 
The highly popular Book Week saw the return of the annual Book Parade for the Primary school, while secondary students participated in the various events of EHASS week. Our Primary students and staff dressed up and had an absolute ball parading for our families. We had every character imaginable, and students brought along the books associated with their character as well. As part of book week, the library staff had arranged a series of author and illustrator workshops for students from ELC through to Year 6. These were interactive, informative and inspiring and students of all ages found something to enjoy and learn.
Additionally, selected primary students attended the Melbourne Writer's Festival last Thursday where they had the opportunity to listen and learn from some fabulous storytellers. Please read more details about this event elsewhere in this newsletter and thank you to all Library staff and to Mrs Mare and Mrs Ross for their co-ordinating of book week events.
Last week we also saw the return of the Primary School STEAM show. We had over 200 people in attendance at our evening sessions to view the beautiful artworks and to take part in the Planks workshops. The art, from all students in ELC to Year 6, encompassed various forms of media and represented a wide range of topics and techniques.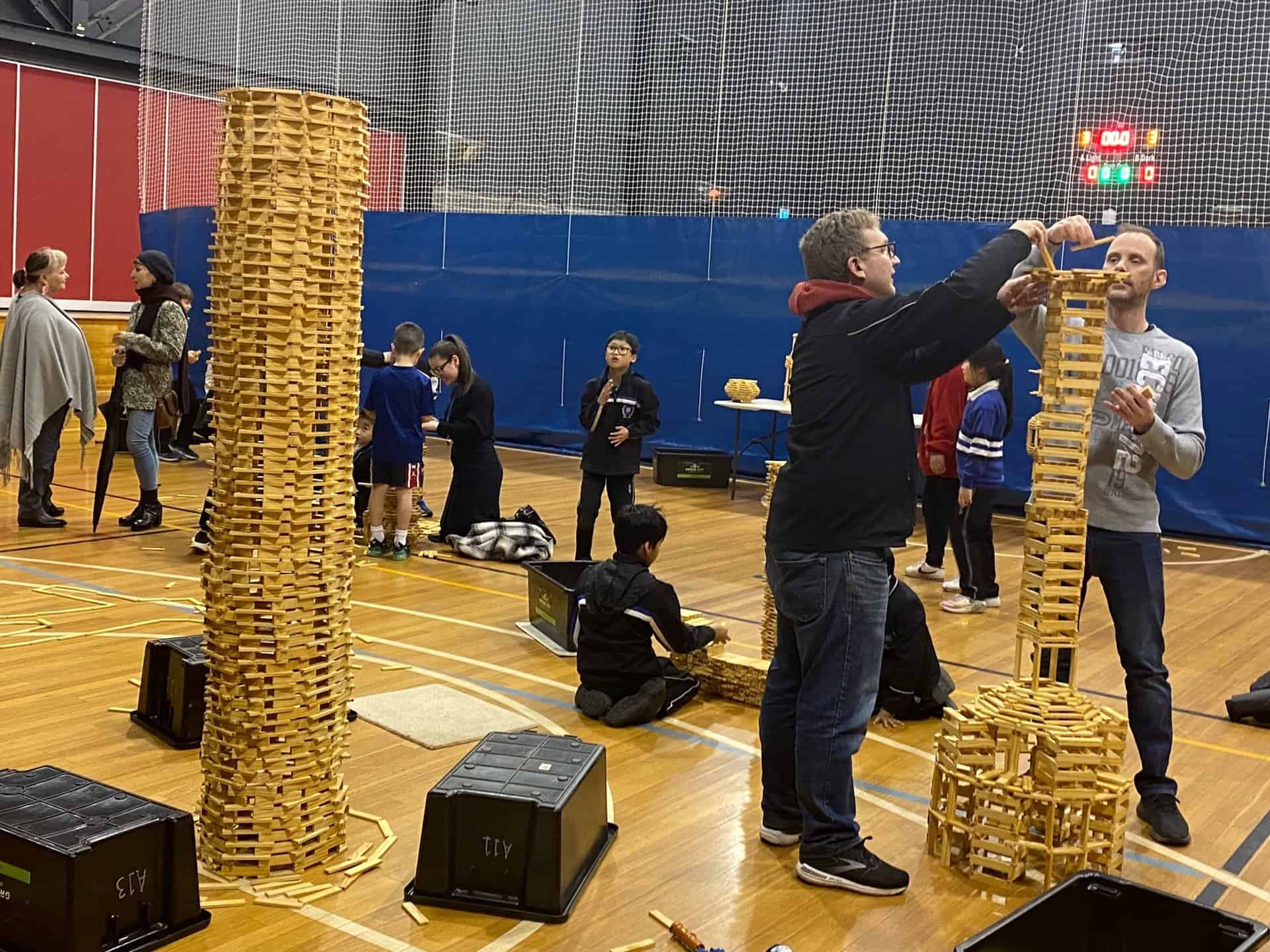 Additionally, many students across the primary school submitted independent STEM research projects and these were on display and very well received by all who viewed them. The free building Planks Workshop was a huge hit with students and parents alike with some very impressive structures created (and then destroyed!). The evening workshops followed on from the daytime event where students in Prep to Year 6 all had the opportunity to develop their construction techniques and learn through free play and experimentation. Although 'height' was often an aim for the participants, others concentrated on stability and intricacy.
Thank you to all staff involved and special thanks to Ms. Katsambanis for curating the artwork and Mrs Downey for the STEM projects. Any families interested in finding out more information about where to purchase the Planks can follow this link: https://greenhatworkshop.com.au/shop/
As part of the final week of this term, our Year 6 students and our staff had a friendly basketball match. Despite the height discrepancies, the teachers did come out the victors, but thank you to all the participants. I am sure there will be a rematch!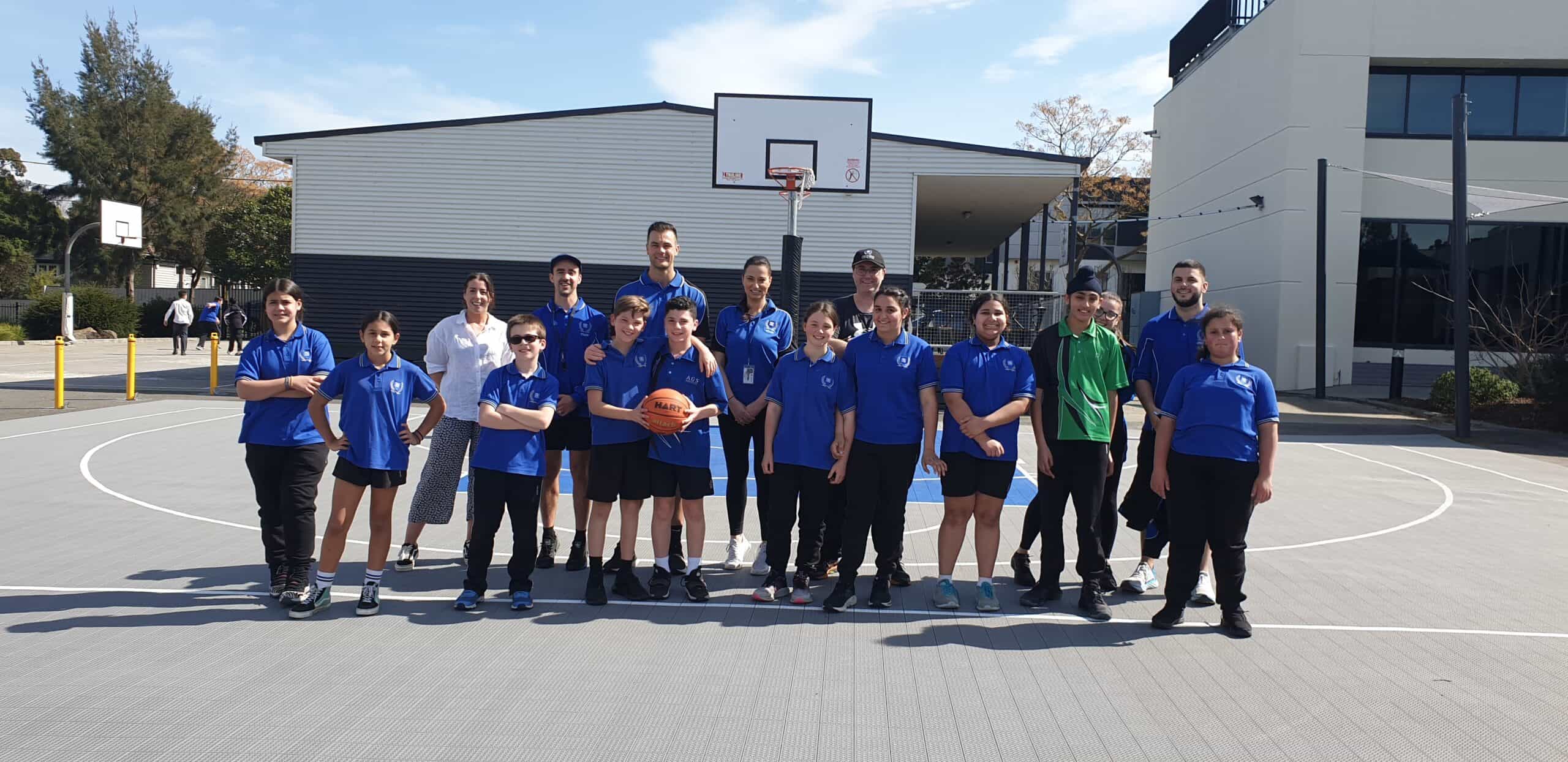 As Term 3 comes to an end, we wish all our students and staff a restful break. Special wishes to three primary staff, Ms. Georgia Vrakas, Ms, Maria Koutrouzas and Ms. Nitsa Katsambanis who will all be taking well deserved long service leave. We welcome Ms. Melissa Mabilia and Ms. Erin Longuet to our staff for Term 4.
I will also be taking long service leave and will leave the primary school in the capable hands of Mr Luke Barnewall. I look forward to seeing you all again in 2023.
Ms Tracey Nicholson
Assistant Principal, Head of Primary
Show All
Collapse
VCE Awards Night Invitation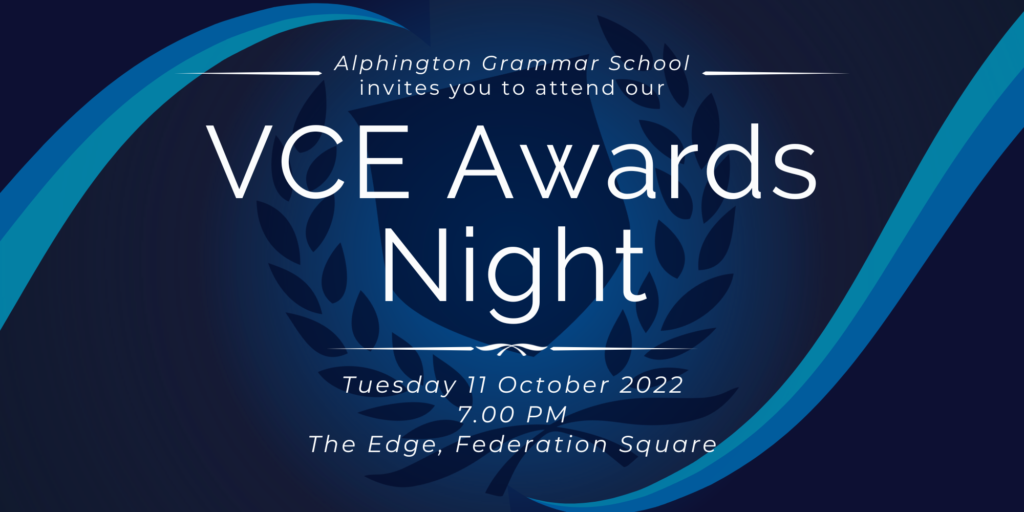 Alphington Grammar School is excited to announce our 2022 VCE Awards Night, which will be held on Tuesday October 11 from 7PM at The Edge in Federation Square. The final Speech Night is the major annual event where we gather to acknowledge Academic Excellence and Service across the School, as well as the contributions of our Year 12 students.
All students in Years 10 to 12 are expected to attend the Awards Night and will be seated with their peers in allocated seats, therefore students do not require a ticket. Tickets for parents of Year 10-12 students are limited to two per student.
Valedictory Dinner Invitation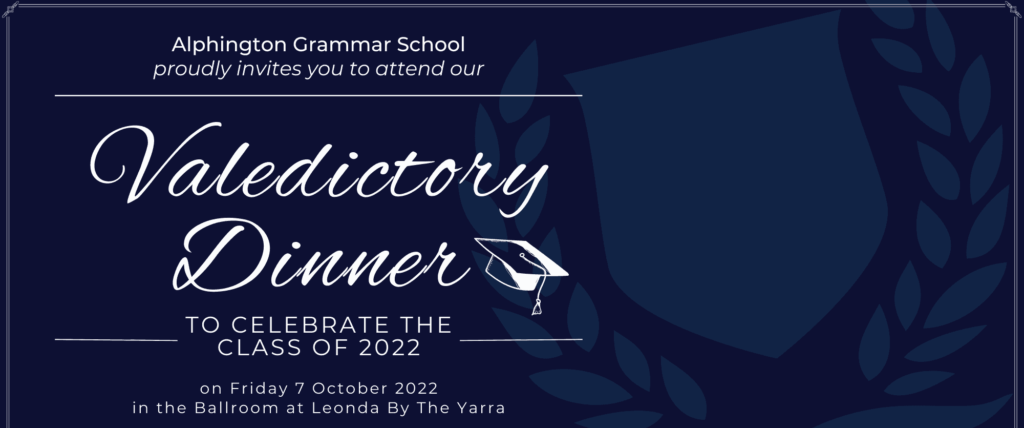 The AGS Valedictory Dinner is an evening of celebration, retrospection and appreciation. Held in the Ballroom at Leonda By the Yarra on Friday 7 October 2022, the night begins at 7.00PM with plenty of food and music provided. We encourage the attendance of family members and anyone who would like to celebrate with us as we highlight the incredible achievements of our Class of 2022 and their journey so far. 
Flowerdale Winter 2022: Community
The most recent edition of our school magazine Flowerdale, Flowerdale Winter 2022: Community, is now available for you to read. Featuring stories of and by alumni, current students and staff, as well as community updates, Flowerdale is not a publication to miss! You can read this latest edition by following the link below or look for physical copies in the school Library or Front Office.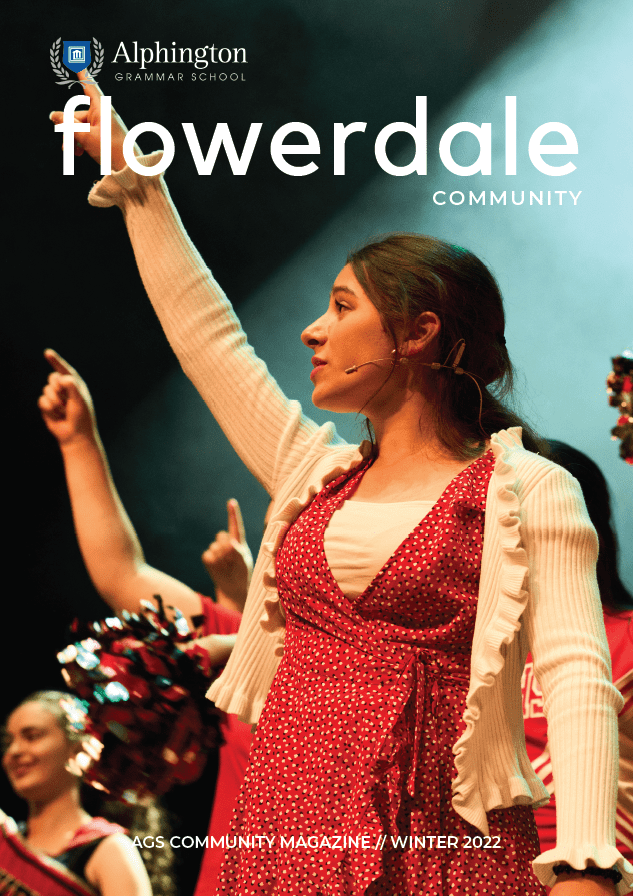 From the Secondary School
Junior Secondary Debating Program
The final two rounds of the Junior Secondary Debating Program have concluded and with them, the Debating season for 2022.  
Our Year 7s performed admirably in their last two rounds, clearly responding to the feedback and training they were provided. 
In the second round, we had one loss and one victory. Congratulations are in order for David Martin, who took home the Best Speaker award.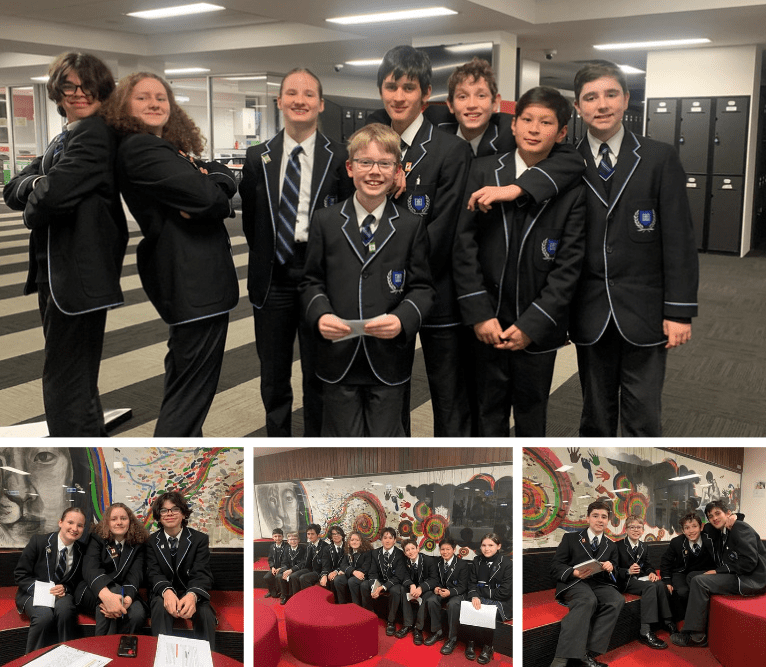 In the third and final round, we also had one loss and one victory. Ben Spaziani performed particularly well, winning the Best Speaker award for his team. However, Zack Tsaklas also did brilliantly as he too was awarded a Best Speaker award, despite being on the losing team.  
The students, as always, represented the school to an excellent standard and whether they were there to debate or to support their peers, their dedication to the program has been impressive. Lunch time clubs, after school debates, and speech writing in between is quite the commitment and one that they undertook with apparent ease.  
Special thanks are also in order for Lukas Silver, Corredina Todaro, Denise Diakodimitriou, and Angela Mare, who were able to step in and keep the program going while Shelby Morwood and I were away on Gateways with the Year 9s and 10s. The students and I are very grateful for their generous help. 
Now we are looking forward to seeing what our Year 7s can do next year, as they step up into the Senior Competition! 
Ms Anna Milburn 
Debating Club Facilitator 
Show All
Collapse
World of Math
On Friday September 2nd, the exciting and educational World of Maths company was at our school during periods 1 & 2 for the whole Year 8 cohort.
The aim was to promote problem-solving in Mathematics through the use of hands-on equipment in a fun way. Students rotated in groups of 3-4 to complete 16 activities. 
 
World of Maths is a guided discovery lesson, some activities had one particular solution, but there were also other ones with multiple solutions. 
It was a fun session indeed!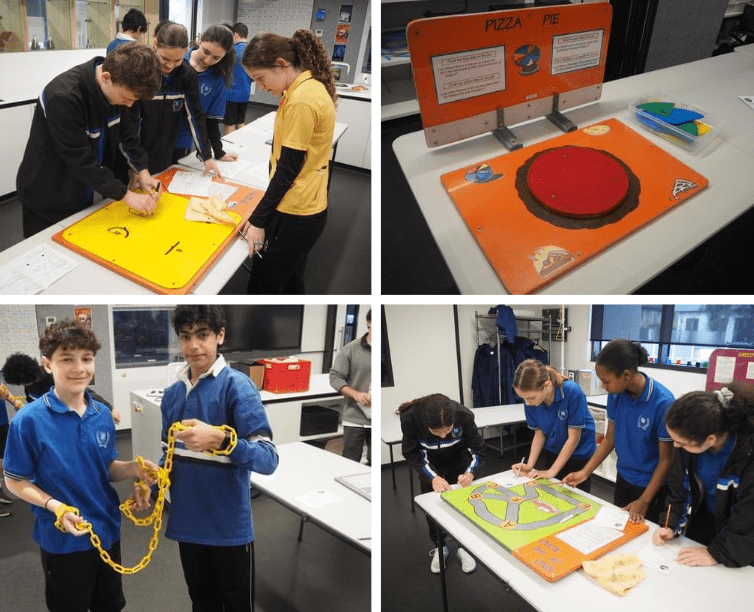 ICAS Competition winners 
In 2022 we have received some great results in the International Competitions and Assessments for Schools (ICAS) which involved testing in Science and Mathematics at Years 7 and 8 levels for selected students.
We are delighted to announce that the following students have received an award:
Top 1% of students receive a High Distinction
The next 10% of students receive a Distinction
The following 25% of students receive a Credit
The next 10% of students receive a Merit Certificate 
SCIENCE (15 students participated)  
Please note: at the time of print, the Mathematics awards were not available yet. 
George HARRISON (Year 7, Aristotle) – Distinction
Bowen JIANG (Year 8, Socrates) – Distinction
Alexander DUNN (Year 7, Byron) – Credit 
Samuel LAVERCOMBE (Year 8, Aristotle) – Credit 
Michael Ooi (Year 8, Pericles) – Credit 
Jiahui ZHU (Year 8, Socrates) – Credit
Sachit Awale (Year 7, Socrates) – Merit
Isaiah HA (Year 7, Socrates) – Merit
Esme JOHNSON (Year 7, Byron) – Merit
Emma SLUITER (Year 7, Pericles) – Merit
Zijian LI (Year 8, Aristotle) – Merit
Congratulations to all the students listed above!  
They will be receiving their certificates soon plus their performance summaries. 
Mr Louis Diamandikos 
Head of STEM 
Show All
Collapse
Melbourne Writers Festival
By Year 5 & 6 students                          
As we arrived, I was feeling very eager to enter. We were at the State Library of Victoria to see four authors at the Melbourne Writer's Festival. The first was Katrina Nannestad followed by Kirli Saunders, Gabrielle Wang and finally Eddie Woo. Fifteen students across Years 5 and 6 were selected to participate in this event.  
 
At the event I learnt that even if you don't enjoy a certain subject when you are at school, you can change your perspective when you are older and you might like it again.
 
Rafe Roberts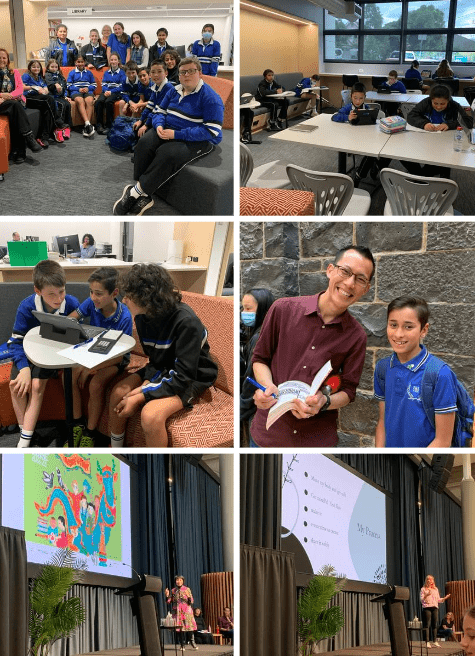 Katrina Nannested 
Katrina Nannestad is an author of several books, including the Travelling Bookshop series, as well as We Are Wolves and Rabbit, Soldier, Angel, Thief. (The latter pair got the CBCA Shortlist 2021, and the CBCA Best Book Awards winner in 2022, respectively). With all of these awards won, it is hard to believe that she used to not like writing! Her philosophy is that you should write about what you love, that character is important, and that inspiration can come from quite a few places, including people, animals, or even just daydreaming. Another tip from her is to write whatever comes into your head, and then choose to put in the best!  
By Anthony Benci 
Kirli Saunders
Introducing us to her Indigenous culture and being both an amazing artist and an outstanding author, Kirli Saunders finds inspiration within life itself. Showing us that caring for ourselves and others is the key to happiness.
By Indiana Griffiths
Garbrielle Wang 
When I heard Gabrielle Wang say that she failed Year 12 English I was amazed at how she fell in love with writing. When I was picked to ask a question, I asked her how the book "The Faraway Tree" by Enid Blyton, inspired her to write stories. She said that the main part of these books that inspired her was the wording of the story and the characters that were used.   
She talked about her childhood, she was shy when she was young and she used to draw and paint a lot. She said she started writing after having a strange dream in 1999. She also wanted to become a zookeeper, an archaeologist, an artist or a film director.  
Gabrielle Wang is an award winning Children's Laureate for 2022 – 2023 and her life story is amazing. To be able to talk and see her was a privilege. 
By Anvee Khan  
Gabrielle Wang had blown my mind of mysteries she had been to, in disguise. Her thorough description of her childhood had made me visualise the significant details in my imagination! Her show of enjoyment to teach kids to be authors or even artists was truly pitched in a persuading manner! 
Thank you to Gabrielle Wang for teaching us to have the funny, weird imaginations young kids all have.
By Aalia Prasad 
Eddie Woo
Eddie Woo is a mathematician, schoolteacher and Youtuber. He is Head of Maths at Cherrybrook Technology High School. He demonstrated a maths problem and taught us how to solve it. He told us how wonderful and delightful maths is. He also has an older brother that he always looked "up" to and always wanted to be like him such as; he wanted to be funny and athletic like him. In Eddie's junior years he didn't really have many companions. But when he was older he developed a liking for maths and became famous on Youtube.  
By Raife Patel, Eli Grills, Aiden Spedding  
He told us about his childhood.  Nobody liked him. He got bullied, was good at nothing and hated maths. He loves it now.🤭. He taught me (writing wise) that writing comes in many ways (including maths). 
Facts about Eddie Woo 
One of his eyes is short-sided and the other is long-sided. 
He is the host of Teenage-boss. 
He has a brother eight years older then him.
By Tiffany Christidis
In the end, we all had a lot of fun to share with our classmates, and we all returned better writers.
By Indiana Griffiths
Thanks to the Melbourne Writer's Festival for creating a special 'Schools Day' that allowed us to get up close and personal to some amazing authors! You can see that the impact these authors had on the students attending, is one of inspiration, that played out in many different ways.
Ms Pippa Ross and Ms Angela Mare 
Literacy Co-ordinator and Head of Library  
 
Show All
Collapse
All current parents, particularly in the Primary School, are invited to experience our campus, meet our staff and explore our school ethos at any of our upcoming Open Mornings. 
Open Mornings are held on various Mondays and Tuesdays throughout the School Year. Any parent can register to attend via the link on our website, here.

Meet the author/ illustrator visit
On Thursday, the Junior primary students were treated to a library visit by the hugely talented author/illustrator, Renee Treml. Her books include board books, picture books and graphic novels.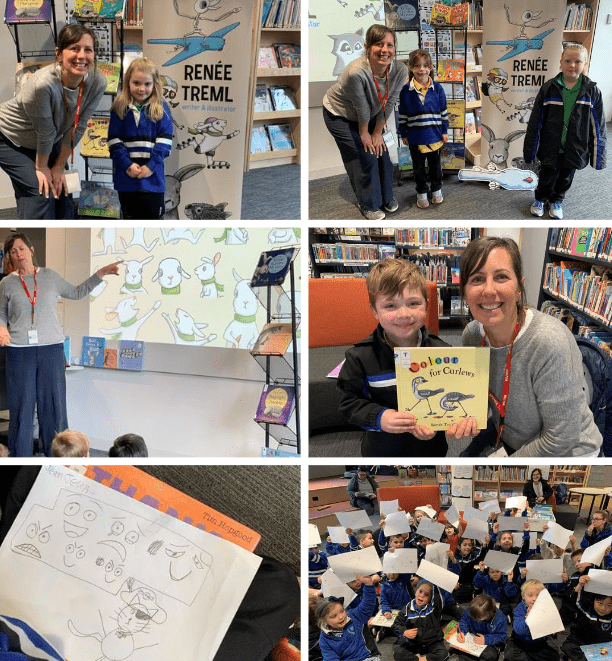 ELC and Prep children enjoyed the repetitive, rhyming text of her beautifully illustrated book about droving, called The Bird in the Herd, where they learnt about cows being moved large distances and hiding behind trees when feeling scared!
Although Renee's books are formed from her imagination, she likes to add some true facts about the animals or environment she has created. There is nothing more entertaining than picture books that include animal poo and the next book shared, highlighted the fact that wombat poo is cube-shaped, to alert other wombats of their territory! The children were then guided through a drawing exercise, sketching a wombat using simple shapes to form the animal.
The following session with Year 1 and 2 focused on the power of illustrations and what an important job they play in telling stories. They tell parts of the story that words don't and can portray emotion simply through facial expressions and body language. This was then explored together by drawing simple circles, dots and lines to create faces. By changing the lines we were able to create different emotions. Renee led a drawing activity where the students drew a cat using simplified clues, such as a long tail, pointy ears and black nose, before adding further clues to turn it into a pirate! 
The wonderful Ollie and Bea graphic novel series was also a focus. Renee shared her inspiration for the owl character, Ollie, and pointed out the simple character drawings which clearly express their emotions, where using simplified facial marks effectively change their feelings. George and Zoe capably took on the characters of Ollie and Bea, using stick puppets, to read through a few projected pages of one of the stories. 
We left feeling inspired to draw more and enjoy the gentle and humorous word play in Renee's books.  
Ms Jo Whiffin  
Primary Teacher Librarian 
Show All
Collapse
Enrichment Club- Greek Radio Theatre
To follow on from the success of our past Greek language radio play of an Indigenous myth, this year's group is preparing a Greek version of the epic Hindi myth of the Ramayana. 
We have researched the myth, written the Greek script, with authenticity checks from Rudra Sekhri (Year 10 Pericles) and are busy practising lines. Some students have more than one role-thanks, Mio Magdalen-Machado (Year 7 Byron)! We hope to have a recording ready in time for Diwali in October.  
Well done to all our students!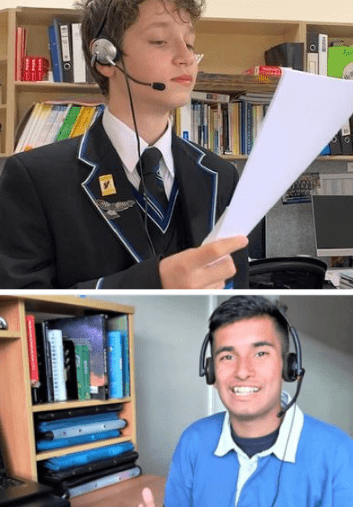 Holiday activity opportunities
Looking for something to do in the holidays? Wanting to practise your Greek language skills and brush up on our drama skills? There are a couple of opportunities coming up during the holidays. 
Hippo Theatre 
Hippo Theatre School have performed at our school on two occasions. They are based in Greece and are now offering online workshops in drama, movement and puppetry. Beginning on 1 October, see the flyer for more information.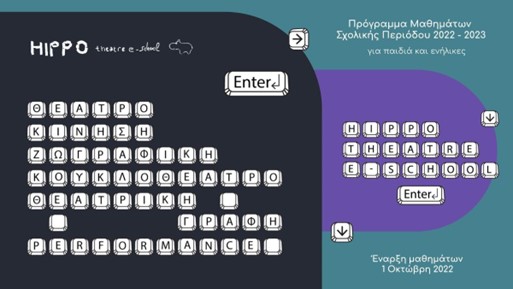 Storytelling Festival 
https://www.trybooking.com/events/landing/945886 
Click on the link to take part in a children's Greek story telling festival on 22 and 29 September. The venue is Alphington Grammar School. It should be a lot of fun!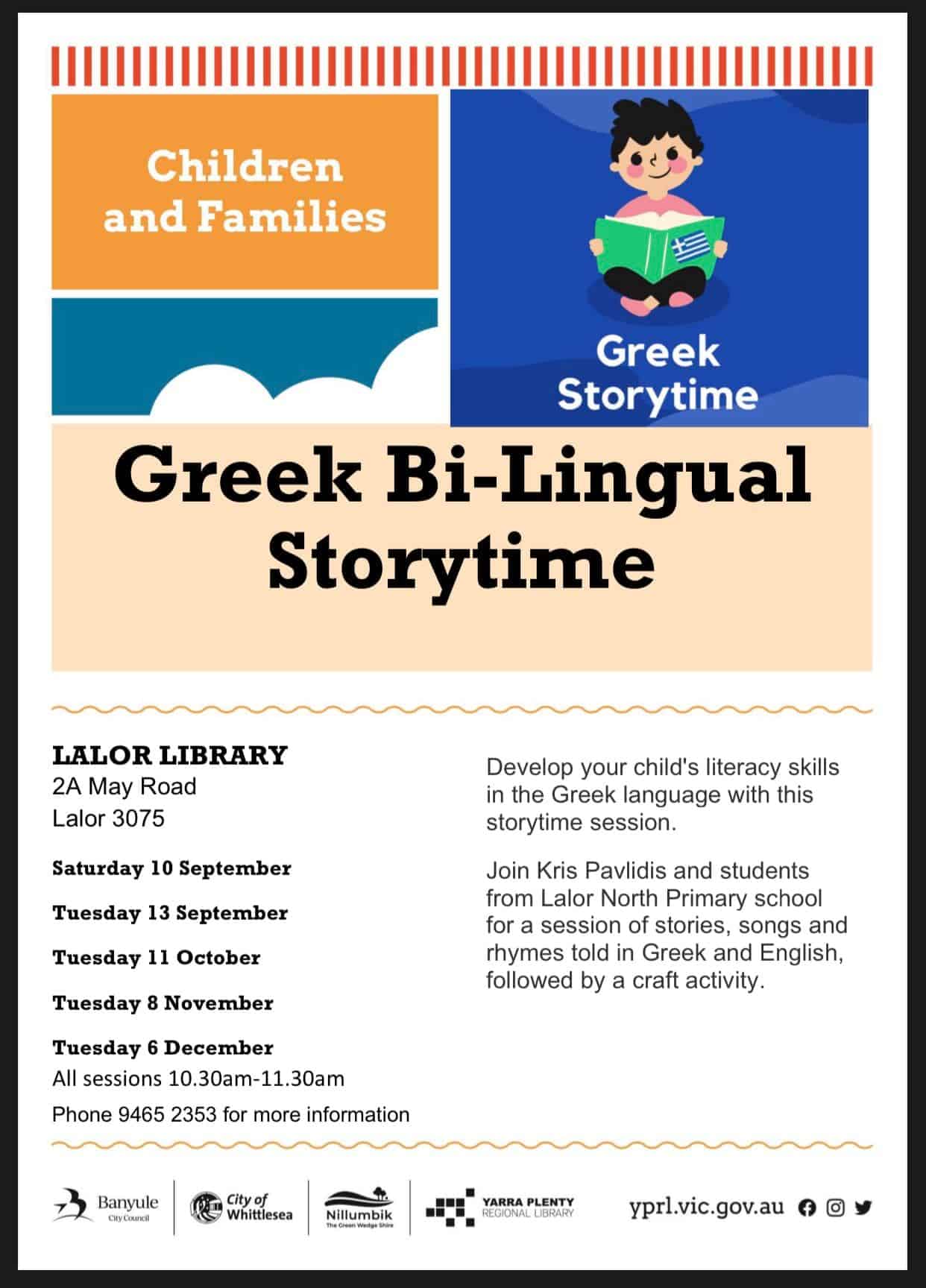 Storytime at local libraries 
Look out for storytelling in a number of local libraries, including a Greek bilingual session this Saturday at Lalor Library.
Ms Effie Bindevis 
Primary Greek Coordinator 
Ms Denise Diakodimitriou 
Head of LOTE 
Show All
Collapse
The finance team would like to remind families that have not yet submitted their payments to please do so as soon as possible.
Please see below for the CSEF financial assistance program information sheet and application form.
Sporting Minds is back!
Sporting Minds is a school holiday program developed by Alphington Grammar teachers Mr Andrew Diviny and Mr Blair Runnalls who are passionate about using sport and physical activity as a medium to improve primary school aged kids' mental health and resilience.
If you're looking for school holiday programs that will educate, engage and excite your children these upcoming school holidays, look no further than Sporting Minds. Improve your skills, have fun, and make new friends whilst learning from qualified teachers and expert coaches. Get your kids moving and making memories these school holidays. Book now!
To find out more, visit the website here.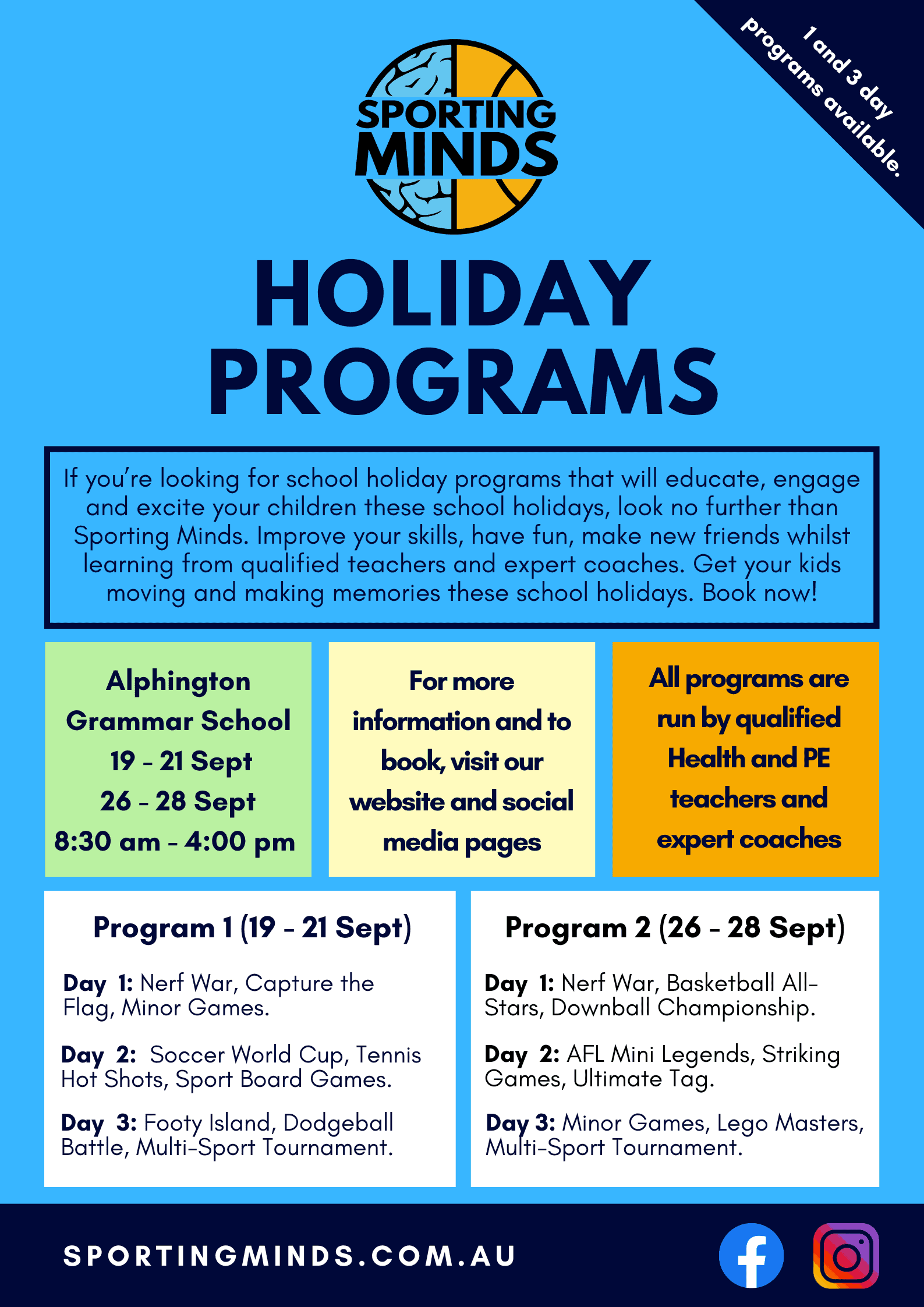 All current parents are invited to experience our campus, meet our staff and explore our school ethos at any of our upcoming Open Mornings.
Open Mornings consist of a presentation and school tour, and are held on various Mondays and Tuesdays throughout the School Year. Any parent can register to attend a tour via the link on our website, here.