As we look to finish-off the current school year, in view to your child progressing to Year 7, please find below a list of their prescribed English texts for 2023.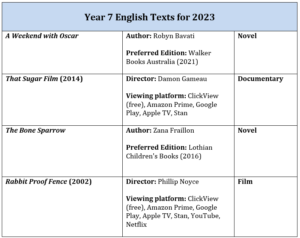 For the print texts, 'A Weekend with Oscar' and 'The Bone Sparrow', please feel free to purchase these in-person from any local bookshop or order from an online book retailer such as www.booktopia.com.au.  Please source these as soon as possible so students can have the texts on-hand during the Orientation Program later this term and prior to the commencement of the school holidays.
For the digital texts, students can access 'That Sugar Film' and 'Rabbit Proof Fence' for free via their student ClickView accounts (www.clickview.com.au). Alternatively, these texts can be watched via any streaming or download service of your choice (as per availability).
The expectation is that students will have read and/or watched all texts at least once over the holidays before the commencement of Term 1 2023.
Should you have any queries or require further clarification, please feel to contact me via cto@ags.vic.edu.au.
Kind regards,
Corredina Todaro
Head of English, Humanities and Social Sciences