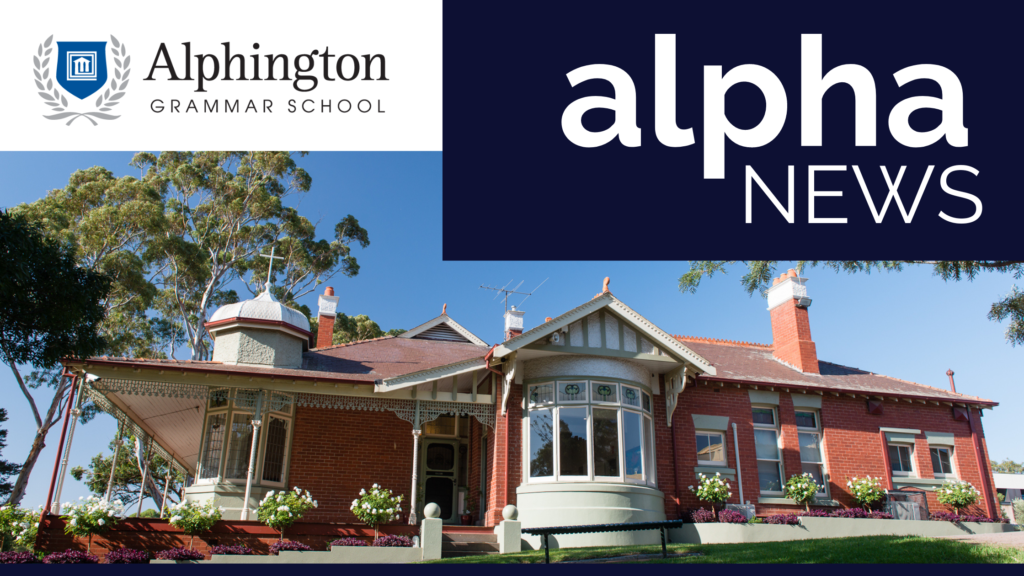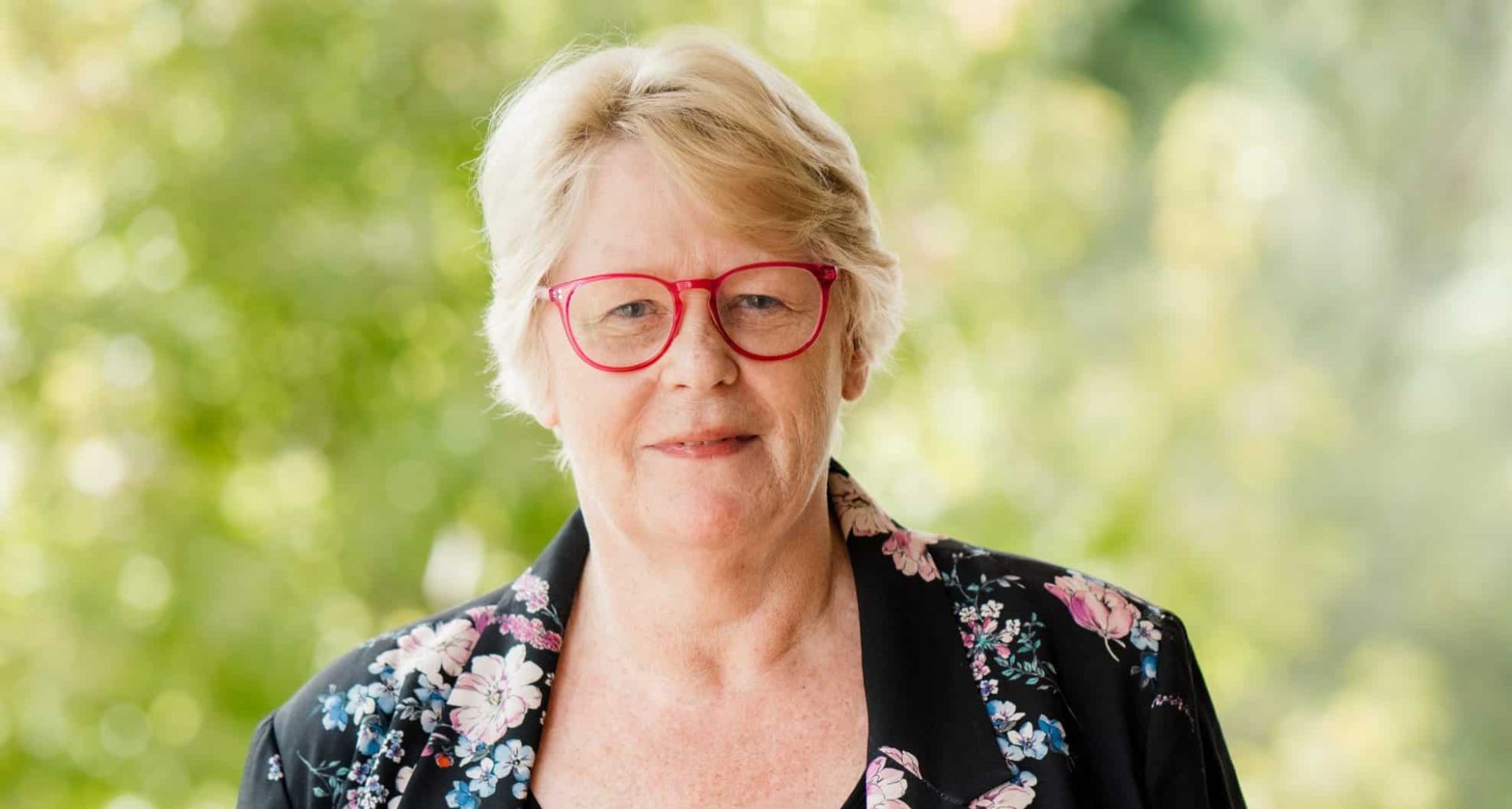 From the Assistant Principal, Head of Primary
We have had a busy start to Term 2 with early highlights being our 'Morning with Mum' event on Monday 8th May for our Primary families, and the PFA Mother's Day Stall for all students on May 11th.
Students from ELC to Year 6 had excitedly prepared for visitors to the classrooms and for the shared morning tea. Activities ranged from trivia quizzes and shared drawings to art and craft activities. Each class had made table centrepieces to decorate the school hall and our Hospitality Liaison and Canteen Manager, Brooke Koutroulis, had prepared a lovely morning tea for everyone. It was a fabulous and fun morning for all involved and a huge thanks to all staff who helped make it happen, and to all our visitors of course.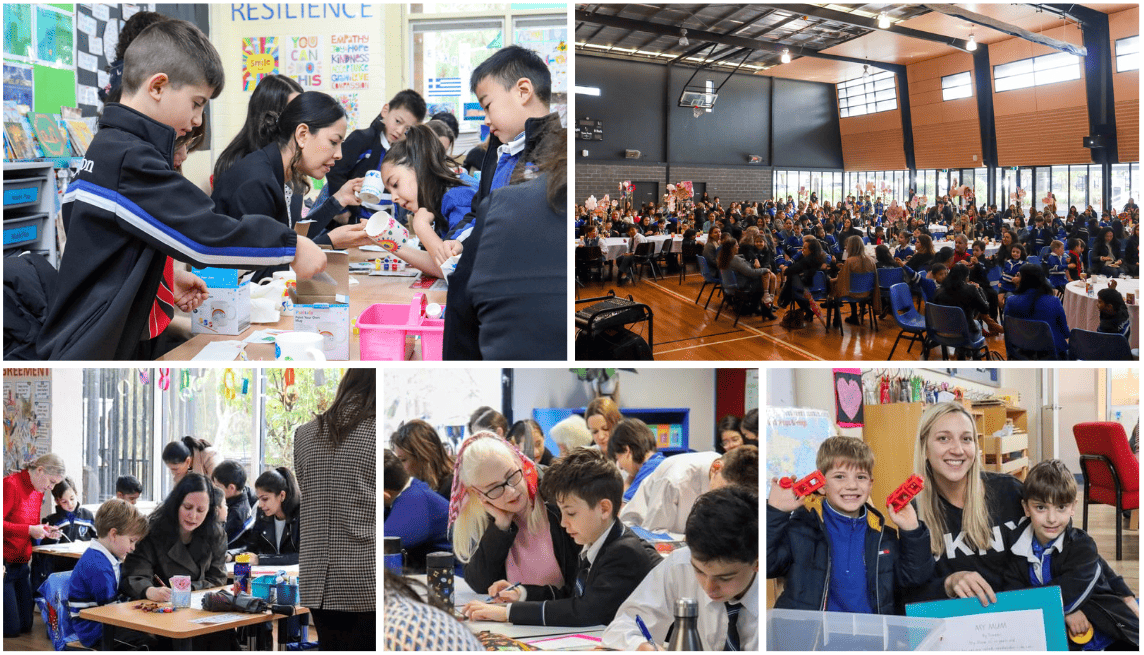 The PFA Mother's Day stall was another successful event thanks again to Brooke Koutroulis and a team of helpers: Caryn Nowell, Christina Polites, Anna Cardamis, Elena Tsioukis, Sandra Burns, Xanthi Sukkarie and Anastasia Eleftheriou. While we are still awaiting the payment of some IOUs, the PFA looks to have raised just over $4000, which is a fabulous effort.
As the term progresses, we will continue to invite our parents and families to school for events and special occasions. On Friday May 26th, parents are invited to attend our inaugural House Poetry Competition. Details are in the school bulletin. Our students in Years 3-6 will be performing 'The Triantiwontigongolope', by CJ Dennis, plus another poem of their choice, as part of the competition to be judged on the day. Additionally, our students in Years Prep to Year 2 will be performing a poem in the Greek language for the entertainment of the audience. I have heard the rehearsals for many weeks now and the excitement is building. Poetry recitation encourages teamwork, confidence and expression and I am sure that the winning house will be well deserving of the trophy. I am looking forward to seeing all our students embrace the 'spoken word' and encourage everyone to come along if they can.
On Friday June 9th we will have two final special events for the term. Our annual 'Grandparents and Special Friends Day' will take place in the morning. Tickets are available via this link:
https://events.humanitix.com/grandparents-and-special-friends-day-2023
That same day, a Primary School Disco will take place in the evening. Details about the can be found below in the upcoming events.
This week is National Road Safety Week and I encourage all families to talk openly about road safety, road rules and safe pedestrian behaviour. The more adults who model safe road sense, the better equipped our children will be to navigate potentially tricky road or crossing situations. Unfortunately, we still have a number of parents who ignore road safety and road rules around the school, despite frequent reminders.
Finally, eSafe week starts on May 22nd. Sponsored by the Alannah and Madeline Foundation, the eSafe mission is to provide education for all technology users, especially students in schools.
For more information please see https://www.alannahandmadeline.org.au/
Mrs Tracey Nicholson 
Assistant Principal, Head of Primary
Show All
Collapse
Flowerdale Autumn 2023: Across Generations
The most recent edition of our school magazine, Flowerdale Autumn 2023: Across Generations, is now available for you to read. Featuring stories of and by alumni, current students and staff, as well as community updates, Flowerdale is not a publication to miss! You can read this latest edition by following the link below. Physical copies are available to browse in the school Library or Front Office.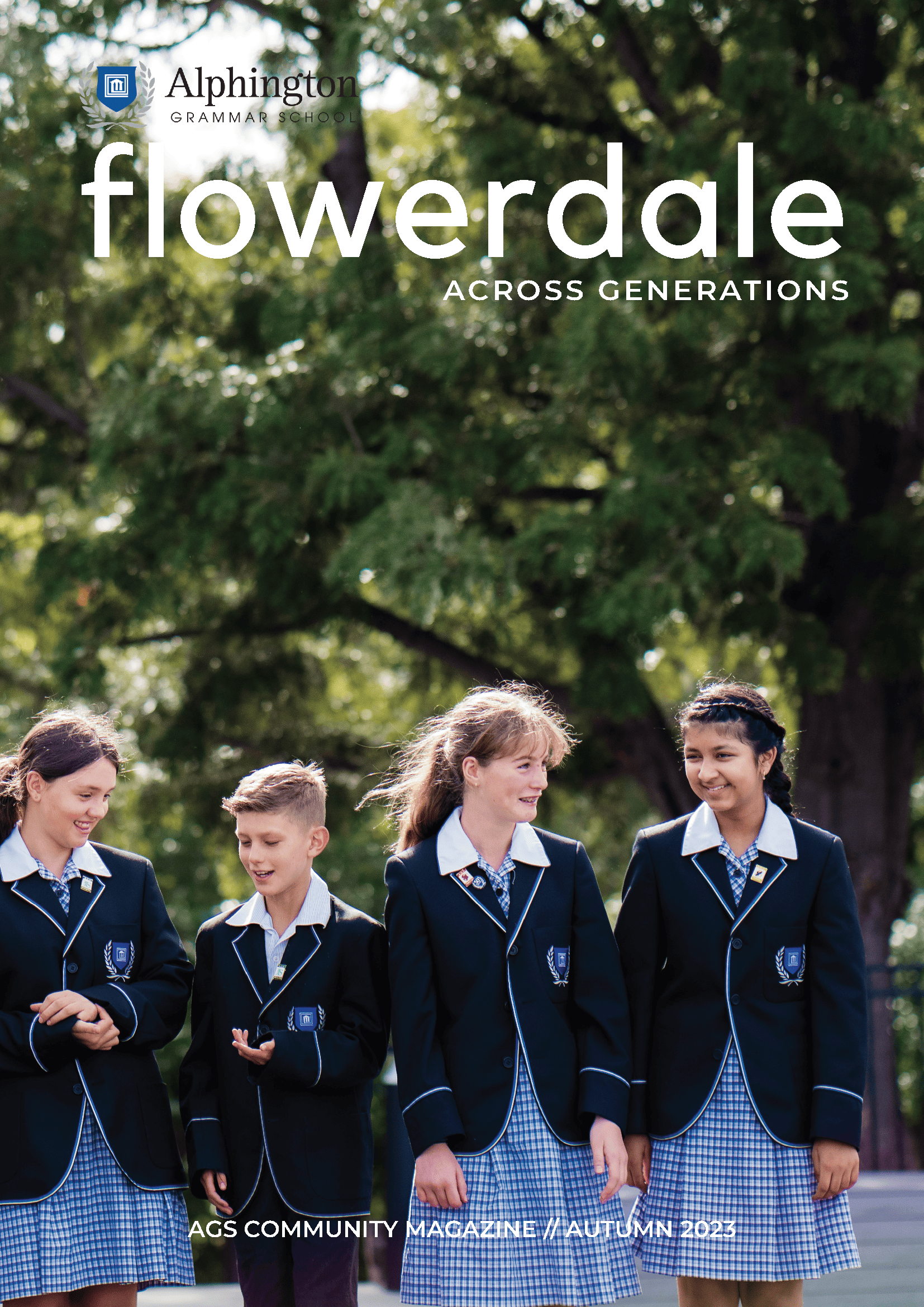 From the Secondary School
From the Deputy Head of Secondary
Somehow, we find ourselves at the end of Week 4 of term. Time is flying by. It is a good point in the term for students to pause and reflect upon what they would like to achieve before its conclusion. Their reflection may focus on their studies, their extra-curricular involvement, their leadership roles, or their well-being. If the latter, students may find it useful to remember the three core pillars from The Resilience Project.
Gratitude
Empathy
Mindfulness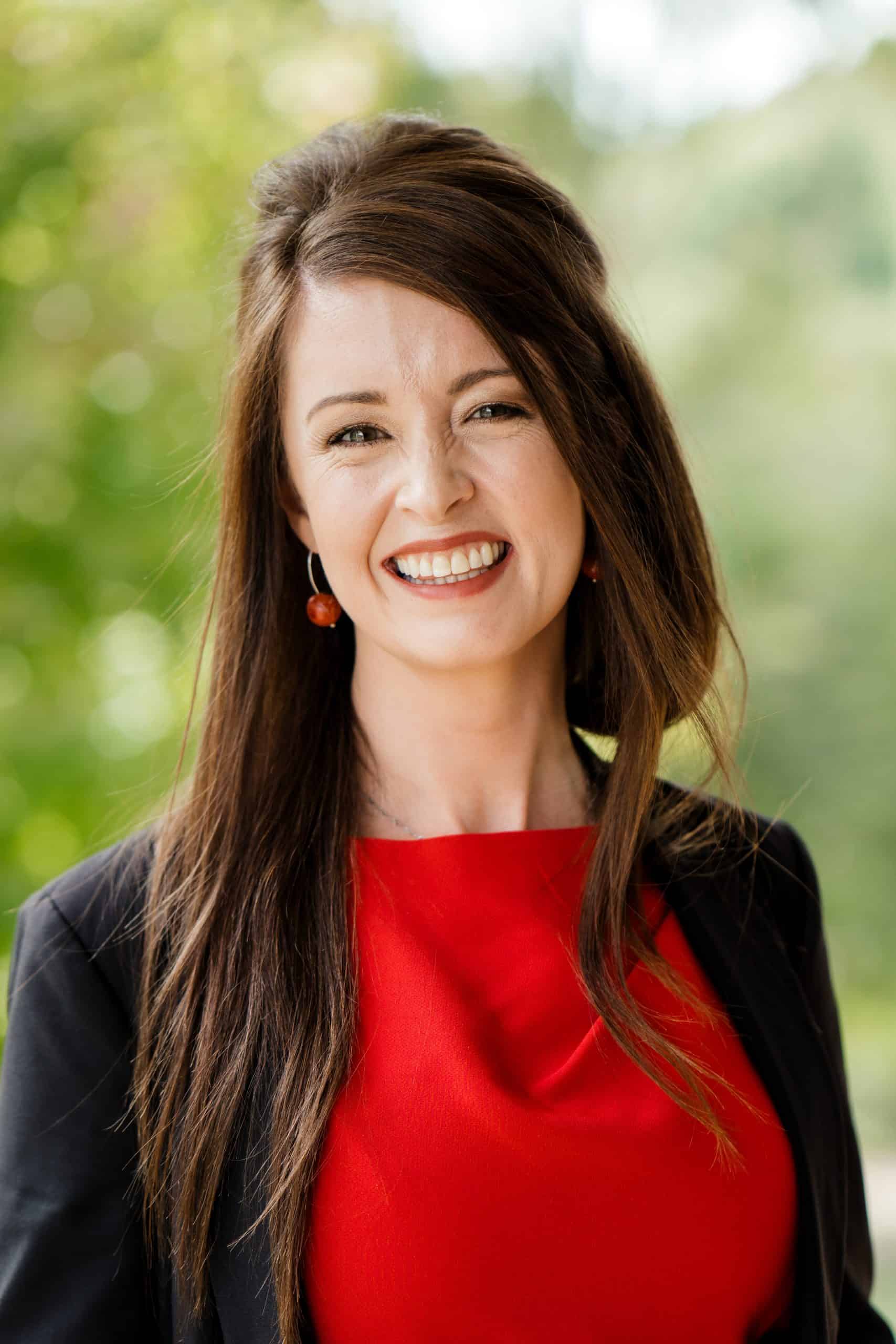 The school musical is just around the corner, and I would like to thank the Music Department who are putting a lot of work into preparing the students. I have booked my own ticket for opening night and look forward to being in the audience when our students grace the stage to sing and dance us Into the Woods.
Year 12 students are now almost halfway through their final year. On Friday, they will make their way to Melbourne Showgrounds to visit the Victorian Careers Show. While there, students will have the opportunity to attend seminars for a range of subjects, ask questions about tertiary courses, and make queries about careers, employment opportunities and general study advice. Thank you to Mr Con Papoulis and Mrs Helen Mallis who have organized this important opportunity for the students.
At the other end of the school, our Year 7 students have had a wonderful experience at Camp Marysville. We were very proud of their efforts to get involved, bond and look out for one another. Both Mrs Priya Wilson and I had the chance to visit the group mid-way through the week and found them to be in excellent spirits, as they had fun with bike rides, rock climbing, camp outs, and ab-sailing to name but a few of the varied activities. They even had me join them in a game of 'Ga Ga Ball!' Thank you to Mr Andrew Diviny who led the camp, and to the other staff members who accompanied the students for the week: Ms Shirley Ke, Mr Pat O'Shea, Ms Olivia Rahme, Mr James Smith, and Mr Max White. Well done, too, to our Future Leaders who acted as mentors to our youngest students. Congratulations James Fokianos, Georgia Bianchin, Isabella George, Jack McLean, Ben Paomancharoen, Travis Le Packham, Samuel Lavercombe, Rocco Spinley and Michael Ooi.
Ms Deirdre Grealish
Deputy Head of Secondary
Show All
Collapse
Secondary Production: Into the Woods
Into the Woods is an entertaining musical that reimagines the world of fairy tales. As the performance dates draw closer, our fantastic production crew and teachers are doing their best to ensure that the audience will fully enjoy the performances. It's truly amazing to see how much work has been put into the show behind the scenes. We can't give too much away, or else it would give away the magic of the show, but tickets are available now and selling fast. We recommend booking early to avoid disappointment.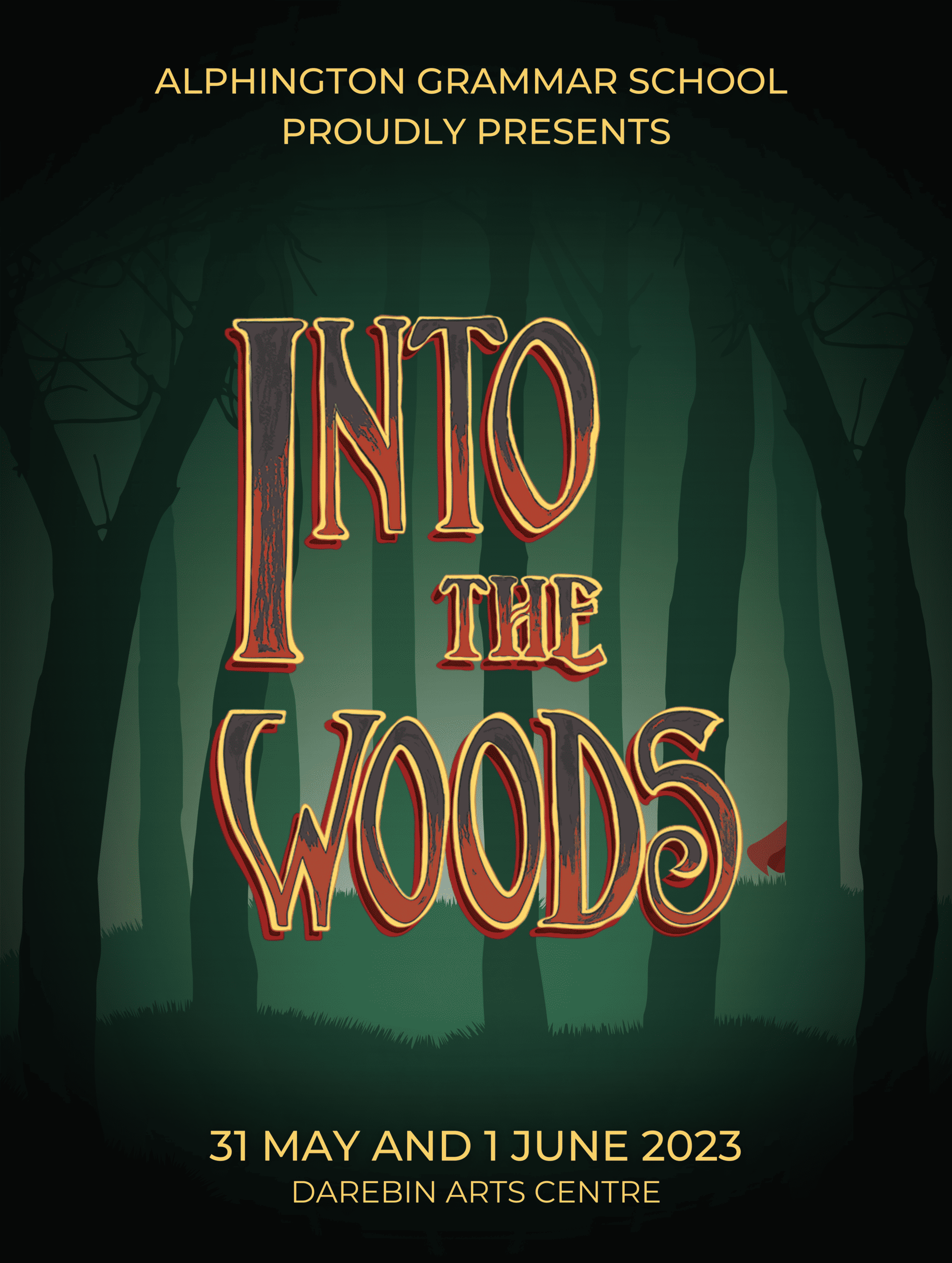 On Tuesday the 9th of May, the Year 10s were fortunate enough to have 'Clothing the Gaps' come to speak to us.  Clothing the Gaps, an Aboriginal clothing company co-founded by Laura Thompson and Sarah Sheridan, is a social enterprise that profits for a purpose. Laura and Sarah originally started the organisation to support health outreach programs in Indigenous communities. However, once they realised the power that their merchandise had in creating change, they shifted into a fashion label that spread messages and spark conversations throughout the Australian community.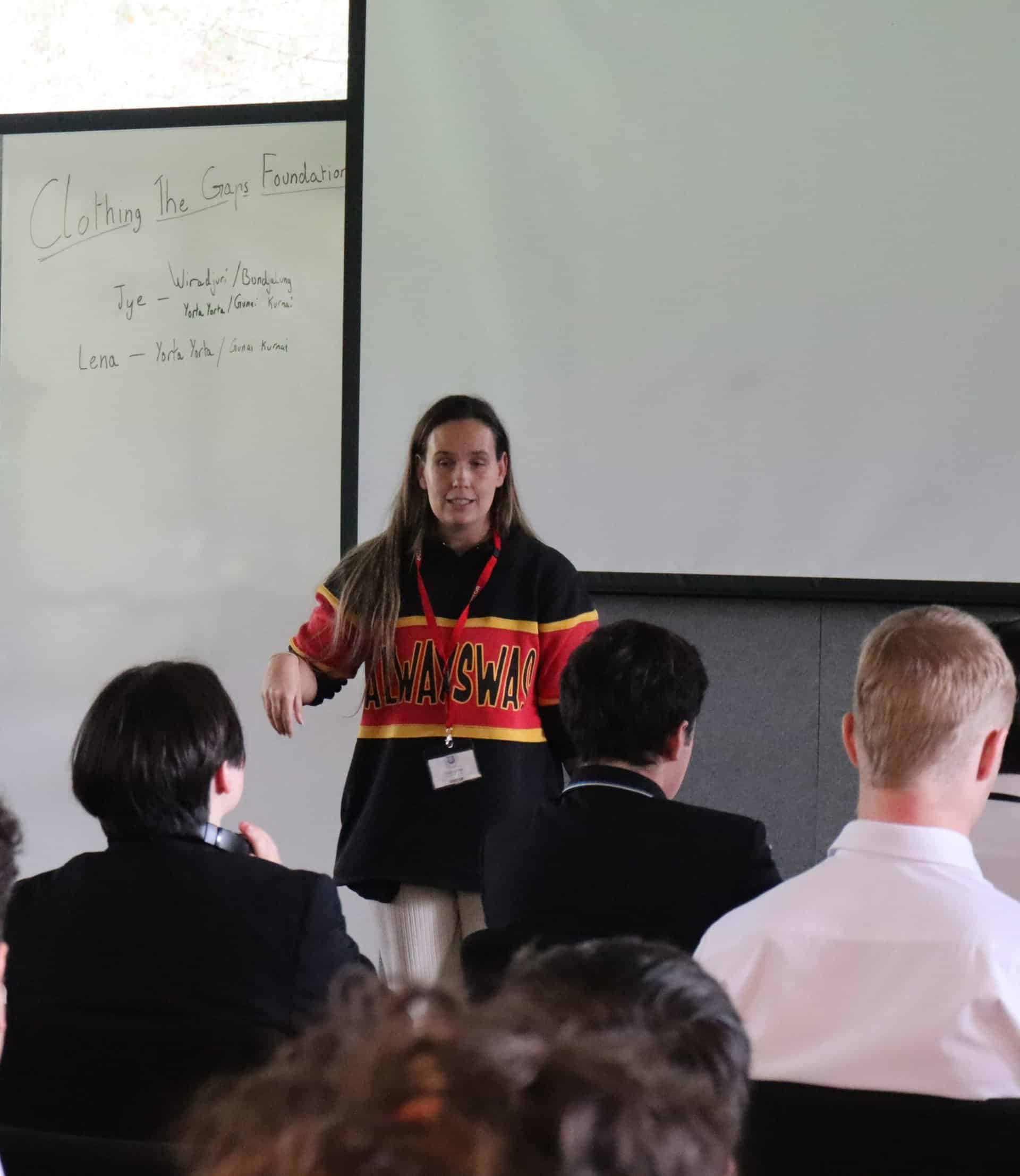 The "Free the Flag" movement began when the business received a cease and desist demanding they stop printing the Aboriginal flag on their merchandise. The flag was created by Luritja artist Harold Thomas, who asserted his right to be recognized as its creator. The inability to use the flag created a lot of emotion and frustration within the aboriginal community, as the flag holds deep cultural significance. The presenters explained that when faced with this issue, the co-founders recognized there were two ways to address the situation, accept and do nothing, or fight back and start change. They chose the latter. Soon after establishing the 'Free the Flag' movement they began writing up petitions, spreading social media awareness, protesting, and gaining support from big public figures.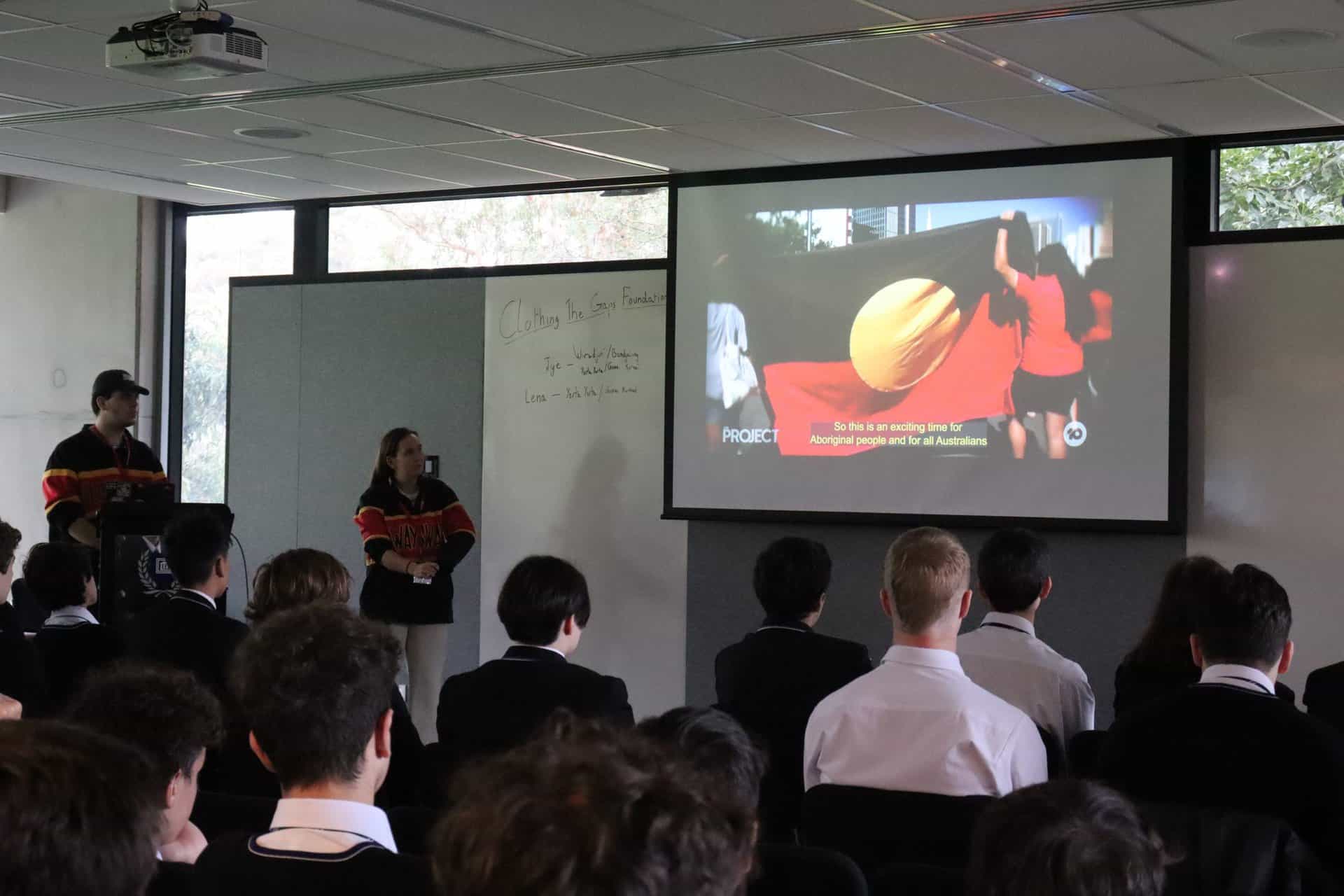 An interesting point that was raised during the incursion was how the organization wants the wording of the 'Acknowledgement of Country' to shift into a 'Honouring of Country'. When comparing the definitions of these two words the need for this change is more apparent.
Acknowledgement: the action of showing that one has noticed someone or something.
Honouring: regard with great respect.
If acknowledgment is just exerting the presence of something and honouring is respecting something, is it then time we 'Honour country' instead of just Acknowledging it?
The main takeaway was that our attitudes and understanding of the Indigenous community must change as they only make up approximately 3% of the Australian population so we must also take it upon ourselves to protect and support them. The incursion ended on a high note with the presenters highlighting that we as the youth of Australia, hold a lot of power and can use it to create meaningful change.
Show All
Collapse
International Gateways: London - Rome - Sicily - Greece
Saturday 26 August-Saturday 23 September
The countdown is on: 100 days to go!
We are now in the next exciting phase of planning our International Gateways program. Preparations are in full swing and there is much excitement amongst the students.
All flights, accommodation, excursions, museum entries etc have been booked and families have received their itineraries. Over the next week, students will be measured for their Gateways tops and the planning continues.
I would like to remind families that the third payment is due soon, on 31 May, and the final payment will be due on 30 June.
I am looking forward to more updates as we get closer to departure.
Mrs Toula Terezakis
Head of House-Aristotle
Gateways Coordinator
On Tuesday the 9th of June, the AGS Environment Club had the wonderful opportunity to meet with ranger Kim from the Darebin Creek Management Committee and look at how the committee is preserving native species along the Darebin Creek, and some of the ways we as a school can help address this problem along our section of the creek. Kim showed us around Napier Waller Reserve, a reserve very close to the school along the Darebin Creek Trail, and gave us a tour of the area, as well as a deep dive into the nesting boxes present in the area. These nesting boxes act as a safe habitats for many animals, such as native birds, possums and other species, and Kim showed us how she does routine check ups on these nesting boxes to see which animals are inside.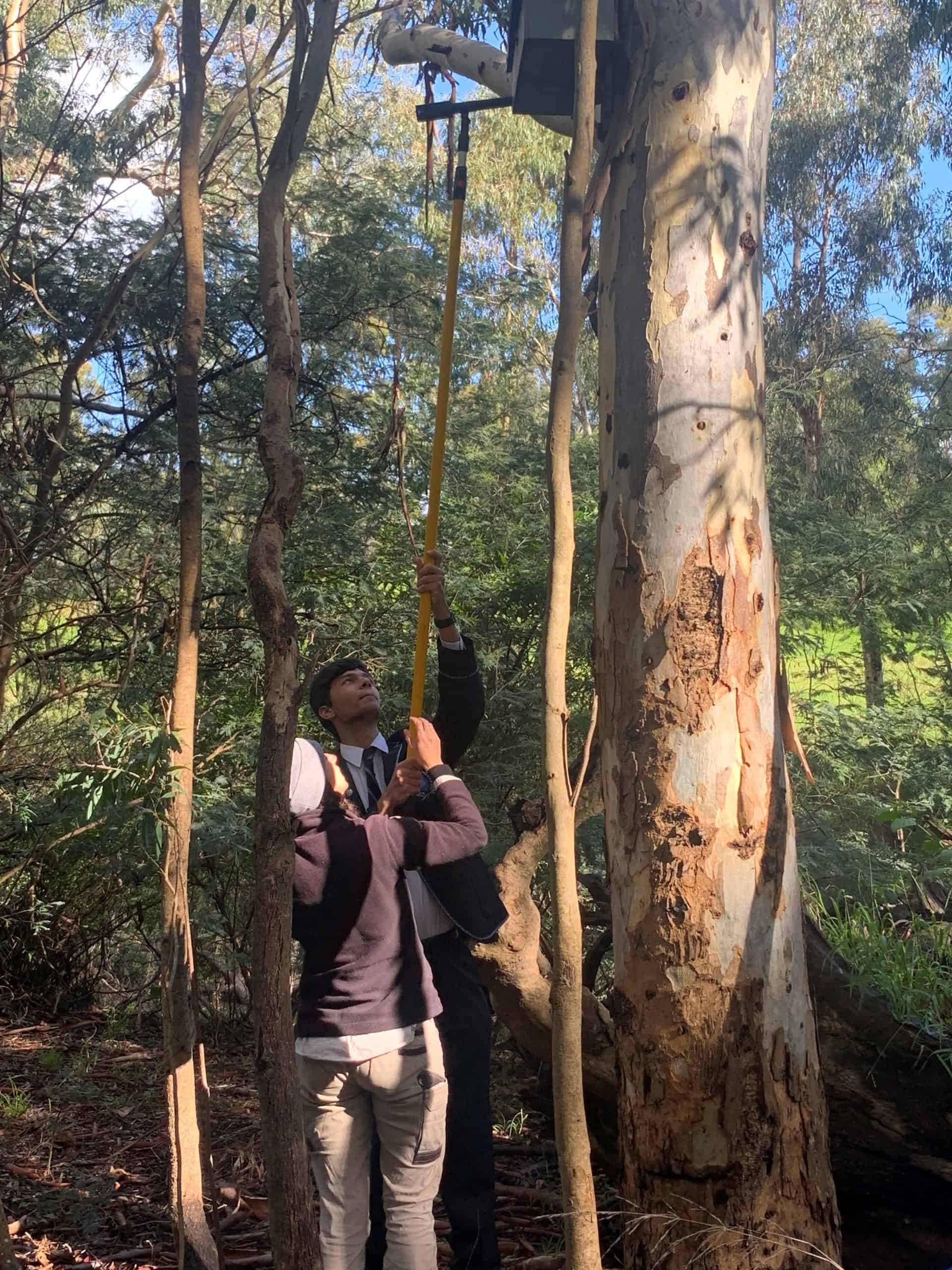 "I found it a very eye-opening experience. It definitely gave us a deeper insight into the nesting boxes and what local species we can use them for. I was a fan of the cameras to probe the nesting boxes to understand the characteristics of species such as ringtail possums, brushtail possums, etc. It was generally a great experience to get to be in nature" – Blake Taylor (Year 11)
The overall experience was fantastic, with us learning a lot about native animal patterns and even being able to identify different species of possums. Not only that, we also had the opportunity to test out the latest monitoring technology to see the animals inside these nesting boxes and even identify unwanted pests
With new knowledge like this, the AGS Environment Club's plan is to install two ringtail possum nesting boxes to promote biodiversity along our section of the creek and monitor them on a regular basis.
Rudra Sekhri (Year 12) and Blake Taylor (Year 11)
Show All
Collapse
Our students have been busy with developing their practical skills this term. Our Year 8s have been exploring energy through designing structure that can give a 100g object 1.45 J of gravitational potential energy (pic 1).
They have also investigated Hooke's Law and elastic energy (pic 2 and pic 3) and are finishing this topic with an experimental write up on thermal energy and insulation.
Our 9s have been studying electricity (pic 4 and pic 5) and are finishing the topic by conducting an investigation into how wire thickness influences resistance. This write-up will also form part of their assessment which helps us, and them, see how they are progressing in terms of report-writing skills such as developing hypotheses, creating detailed methods, graphing results and interpreting data.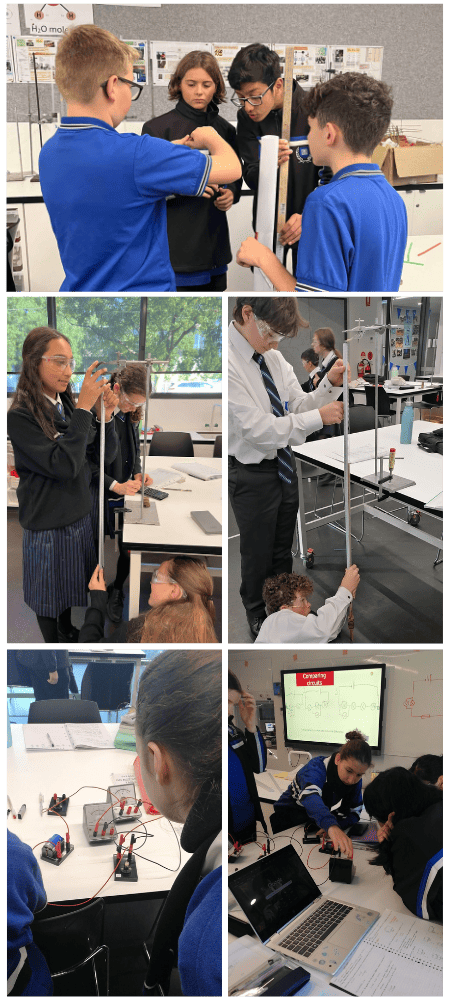 Years 3 and 4 Heritage Walk
As part of our Inquiry unit – Into the Unknown – we are discussing changes that occur and have occurred around us. We have been looking at change and continuity over time in the community, in particular buildings and sites around our own school. We are truly grateful for the vast knowledge and enthusiasm of one of our past teachers – Mrs Anne Billing – who as a local resident of the area since birth has witnessed changes over the years, both in and around our own school as well as the local area.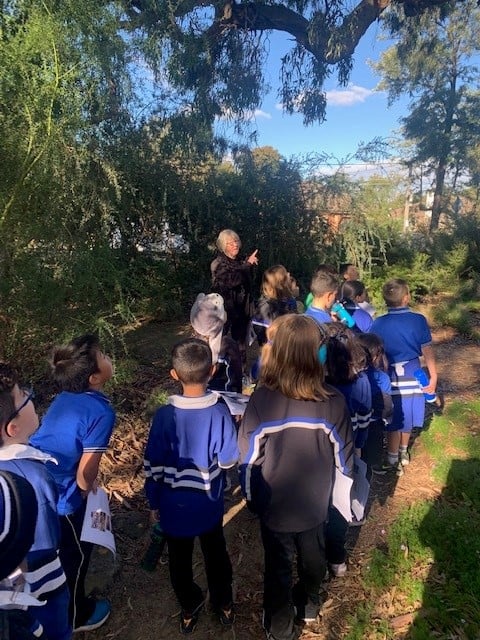 Our Heritage Tour started right here at Alphington Grammar. Mrs Billing explained to the students that Flowerdale is a Heritage listed property which was built in 1911 for Charles Trescowthick. He was a well known business man who during WW1 won the contract to make boots and horse saddles for the soldiers and horses that went off to war. He himself and his son also went to fight in the war. They were some of the lucky ones to actually return home.
Mrs Billing spoke a little about the history of the school. When the Trescowthick family eventually sold the property it became part of the Christian Brother's Parade College and in recent years bought by the Greek Community to establish what we know today as Alphington Grammar School.

Our walk then continued into the neighbouring streets, where Mrs Billing had before and after photos of some of the properties along the way. Students discussed similarities and differences as well as taking note that a lot of the properties need to keep original facades and colourings, while other properties have changed altogether.
One of Alphington's famous artists William Frater lived in one of the houses on Lucerne Crescent. His art work is represented on galleries and private collections across Australia. We were so lucky to meet the current owner of the property who kindly invited us all to have a look at some of William Frater's glass work which is now part of the windows and doors of the house. We were also very privileged to see a piece of authenticated artwork created by Frater before he died which was never completed. This piece of art was found in the garage of the house with the current owners of the house proudly displaying it in their lounge room.
Our walk continued on and we eventually found ourselves on the banks of the Yarra River. Mrs Billing showed us where the locals at the time built a swimming pool in the Yarra (back when the waters were crystal clear) and a wading pool for families to enjoy. We continued up into Alphington Park, visiting the WW1 and WW2 monuments erected to pay respects to the men and women who fought and lost their lives for our country, also residents of the local area. 
After a walk lasting around 2 and a half hours and around 3.7km we returned back to school. The information we received and what we saw was truly amazing. We thank Mrs Billing for being a great tour guide, full of knowledge and entertaining stories.
Ms Maria Koutrouzas
Year 3 Teacher
Show All
Collapse
Bebras Australia Computational Thinking Challenge Results
This year students in the Primary School (Years 3-6) were invited to enter the Bebras Australia Computational Thinking Challenge. This is an online competition which requires students to solve a variety of problems using their computational thinking skills. The questions have varying degrees of difficulty and are designed to test students creative and critical thinking. 
Bebras Challenge round 1 results are now out, congratulations to the following students who scored a Merit or above. Round two will be held in Term 3. Students will receive their certificates at our next assembly.
Hanna Sethi, Year 4: Honour Roll (perfect score)
Willem Griffioen, Year 6: High Distinction
Anthony Benci, Year 6: High Distinction
Ella Burns, Year 4: High Distinction
Yuti Samadhiya, Year 3: Credit
George Kardamis, Year 4: Credit
George Cox, Year 6: Credit
Emma Ooi, Year 6: Merit
William Yu, Year 6: Merit
Payne Lu, Year 5: Merit
Eric Wang, Year 5: Merit
Kiyan Mashtoub, Year 4: Merit
Mrs Downey
ICT/ASPIRE Coordinator
Melbourne Writers Festival Excursion
On the third of May a small group of students from Years 5 and 6 went to the State Library to see well known authors and illustrators. We got to see many authors present their stories and books. They had their books out so people could buy them and even get them signed by the author.
We then got to see an illustrator named Marc McBride and an author named Sofie Laguna. These two collaborated to make a book called The Glow. Marc enjoys drawing dragons and even spray painted one for everyone to see. It was extremely cool! Sofie explained that when she writes Marc can get a feel for the story and create the pictures with ease.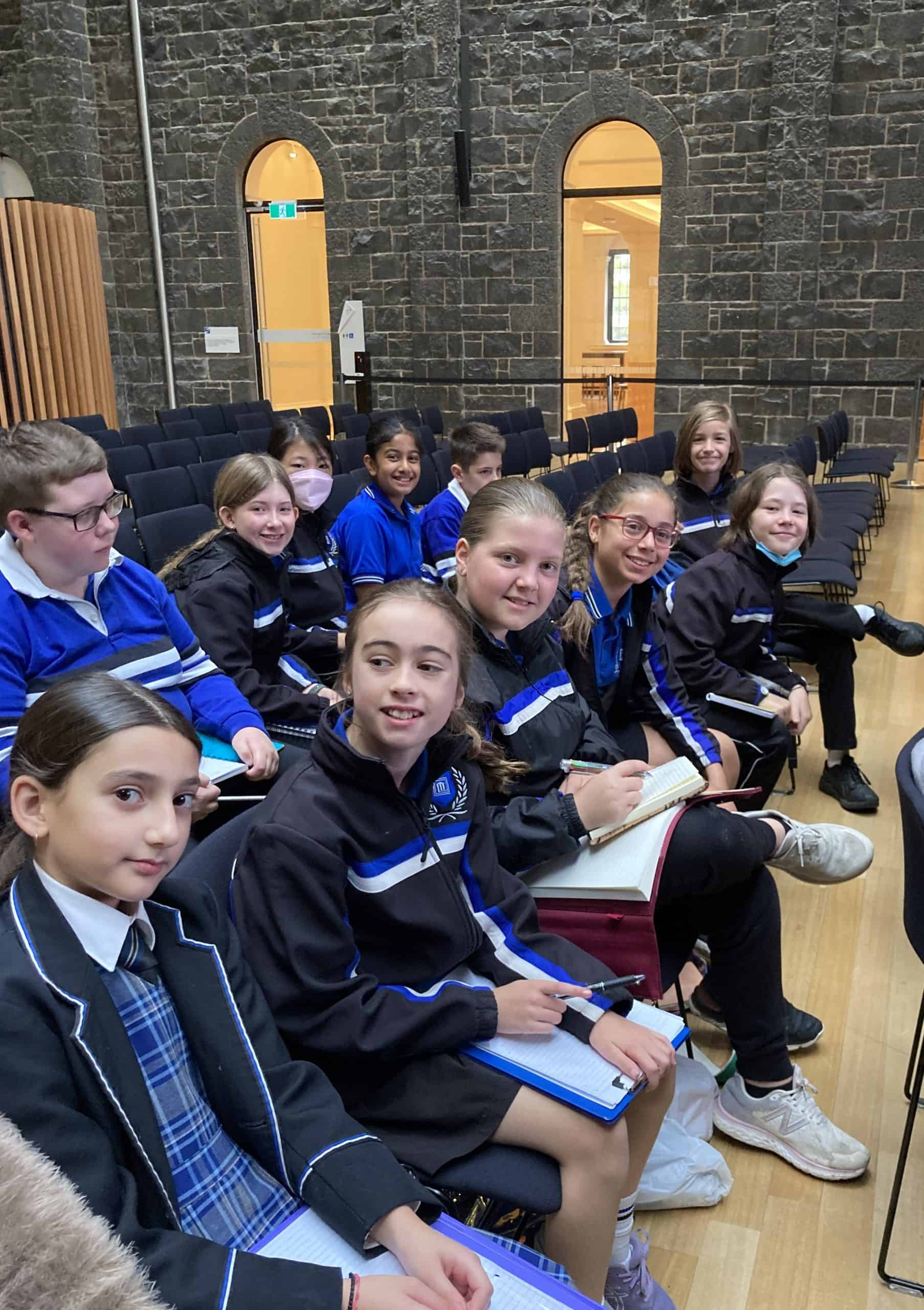 Brenton McKenna, a graphic novel creator who wrote the trilogy Ubby's Underdogs was up next. As a child he had trouble reading and writing but he found a book called Ghost Rider and that inspired him to keep trying. When he was in Year 12 he received a high distinction in Fine Arts and English. He then went to art classes and was the only boy but kept going and received a book on how to draw comic characters.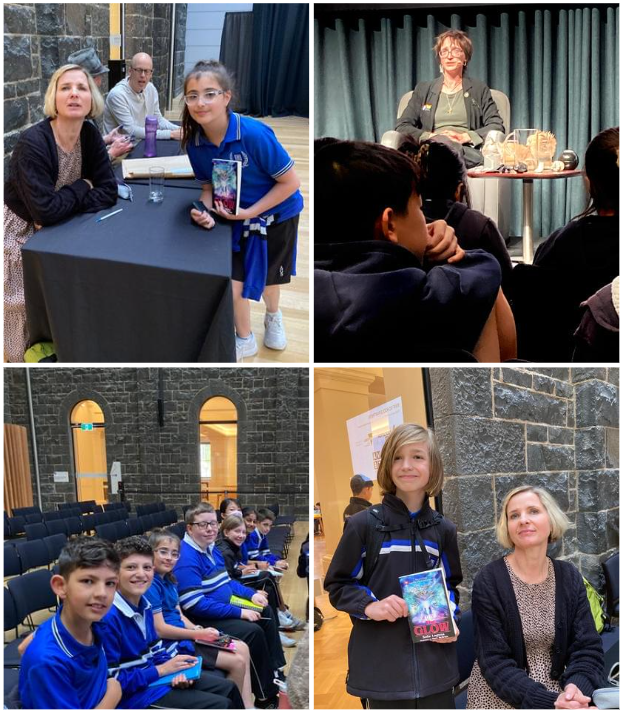 Lastly was Zana Fraillon who wrote The Raven's Song. Everywhere she goes she carries a notebook full of ideas, ready to add another. Her inspiration comes from things around her and she uses props she finds. She brought in a magic eight ball, keys, a skeleton raven and even more. She's very interested in fossilisation and bogs. She also hates the starting part where you must plan out your story.
By Morrison Mercuri, Year 6
Ms Pippa Ross and Ms Di Downey
Literacy Coordinator and Aspire Coordinator
Show All
Collapse
Welcome!
We would like to welcome Mrs. Olga Spyropoulos and Mr. Archie Argyropoulos, who will be replacing Mrs. Anita Kolaitis in the Primary Greek Department while she is on Maternity Leave. Mrs. Spyropoulos is well known by our students and has had experience teaching Greek in the Primary school. Mr Argyropoulos is an experienced Primary Greek language teacher, as well as being an accomplished musician of traditional Greek music. We are excited to have both teachers join our Primary Greek teaching team. They report that they 'have been warmly welcomed by the students and the school community'.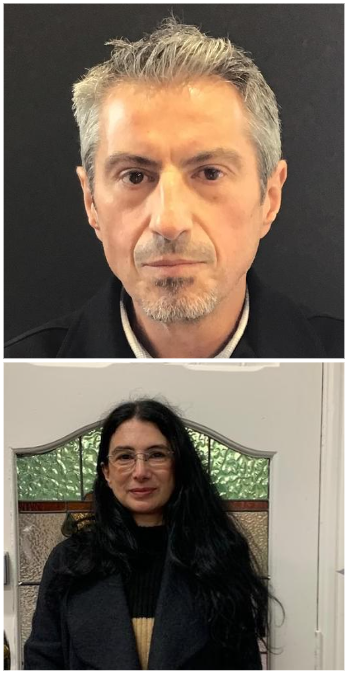 Celebrating our Mothers
Leading up to Mother's Day, our students were asked to think about all the things that make their mother special and to reflect on how our mothers positively impact our lives. Our Year 5 students wrote some impressive descriptive pieces about their mothers and our Year 6 students used their IT skills to produce some amazing  word clouds dedicated to their mothers.  Our youngest students showed their love and appreciation by making some special flowerpots to give to their mothers on Sunday. Junior Secondary students read myths about mothers and created small paper gifts. Senior students reflected on what their mums mean to them, in a thoughtful, personal writing task. Χρόνια Πολλά to all of our amazing mums!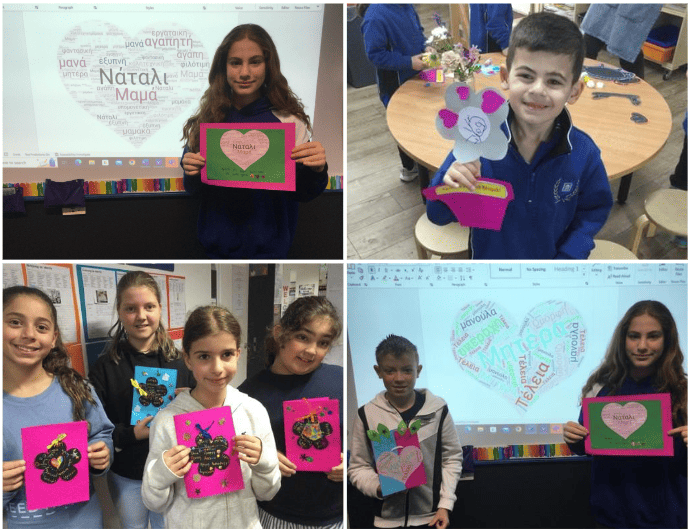 Voula-Melbourne: Building Bridges Across Continents
At the end of 2014, Alphington Grammar began a sister school relationship with the First High School of Voula, a school in an eastern suburb in Athens, Greece.
The program is now into its 5th phase. The students from this year's Year 10 Greek class are enjoying collaborating with the Year 10 students from Voula.
The aim of the program is for the students to become aware of their cultural identity, to familiarize themselves with Greek culture and everyday life, to broaden their mental horizons, to create new relationships with peers and share thoughts and feelings, to express themselves in Greek and to use ICT tools effectively and create original works of various forms (eg videos, presentations, reports) through activities that promote teamwork and cooperation.

To further extend the program, the Year 10 students who will be attending the Global Gateways tour in September will be visiting the school in person. They will have the opportunity to meet with the students and will extend their relationship, while immersing themselves in the language and culture of the country.
The Year 10 students are enjoying the program immensely and are using their Greek speaking and writing skills, whist learning about their fellow students' lives on the other side of the world.
(Report by Mrs Toula Terezakis -Teacher of Greek/Humanities, Head of House and Gateways Coordinator)
Alphington Grammar opens book launch at Hellenic Museum
A group of students responded enthusiastically to an invitation to sing the Australian and Greek National Anthems at a book launch held last week, at the Hellenic Museum. The book was the latest for esteemed local academic, Professor Dr Anastasios Tamis. The title 'The Aegis of Hellas', refers to the important role philhellenes have played over time in promoting the continuity of Hellenic values and ideas.

Our students were wonderful ambassadors for our school; the distinguished guests, including Former Premier The Hon. Jeff Kennett and former Vice Chancellor of LaTrobe University Dr Michael Osborne, commended them on their singing and also stopped to chat.
We look forward to receiving our complimentary copy of the book for our library. We thank Professor Tamis for this gift and for all the support he has shown our school over the years.
Ms Effie Bindevis
Primary Greek Coordinator
Ms Denise Diakodimitriou
Head of LOTE
Show All
Collapse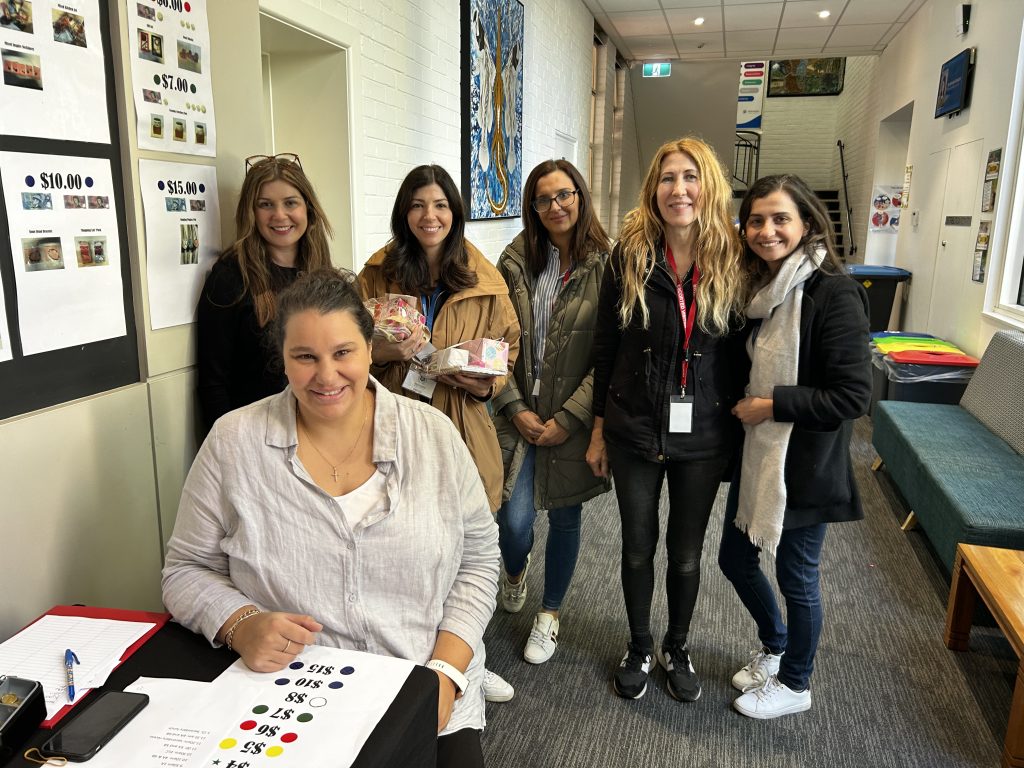 Hello, hope you are well.
It has been a busy year full of events.
On behalf of the Parents and Friends Association I would like to say "THANK YOU", for all your support and volunteering. Also, congratulations to the Uniform Shop Team and to Brooke Koutroulis and the Mother's Day Stall Team for their wonderful work.
Voula Allimonos
PFA President
Semester 1 Key Dates - Secondary
Semester 1 Key Dates - Primary