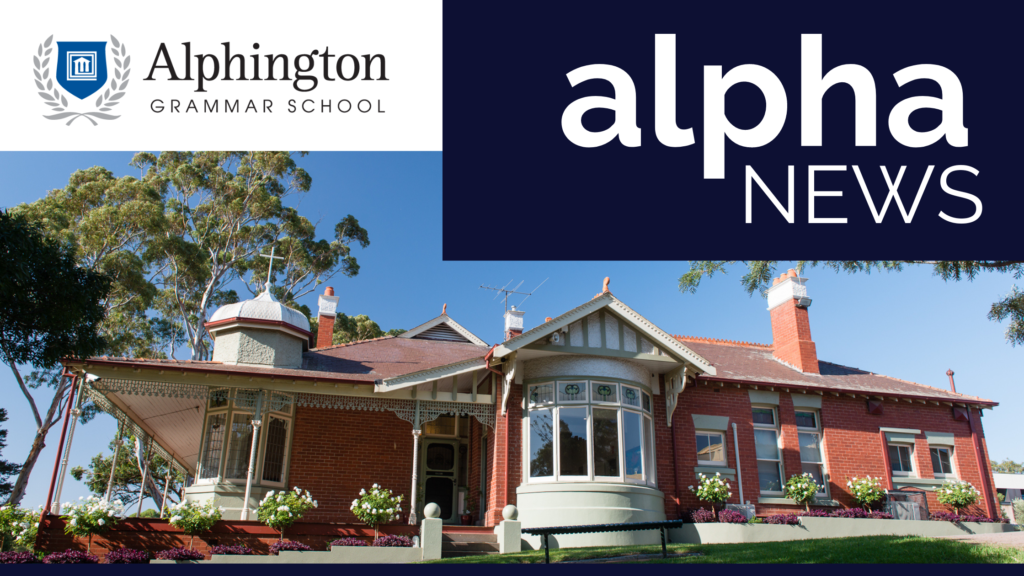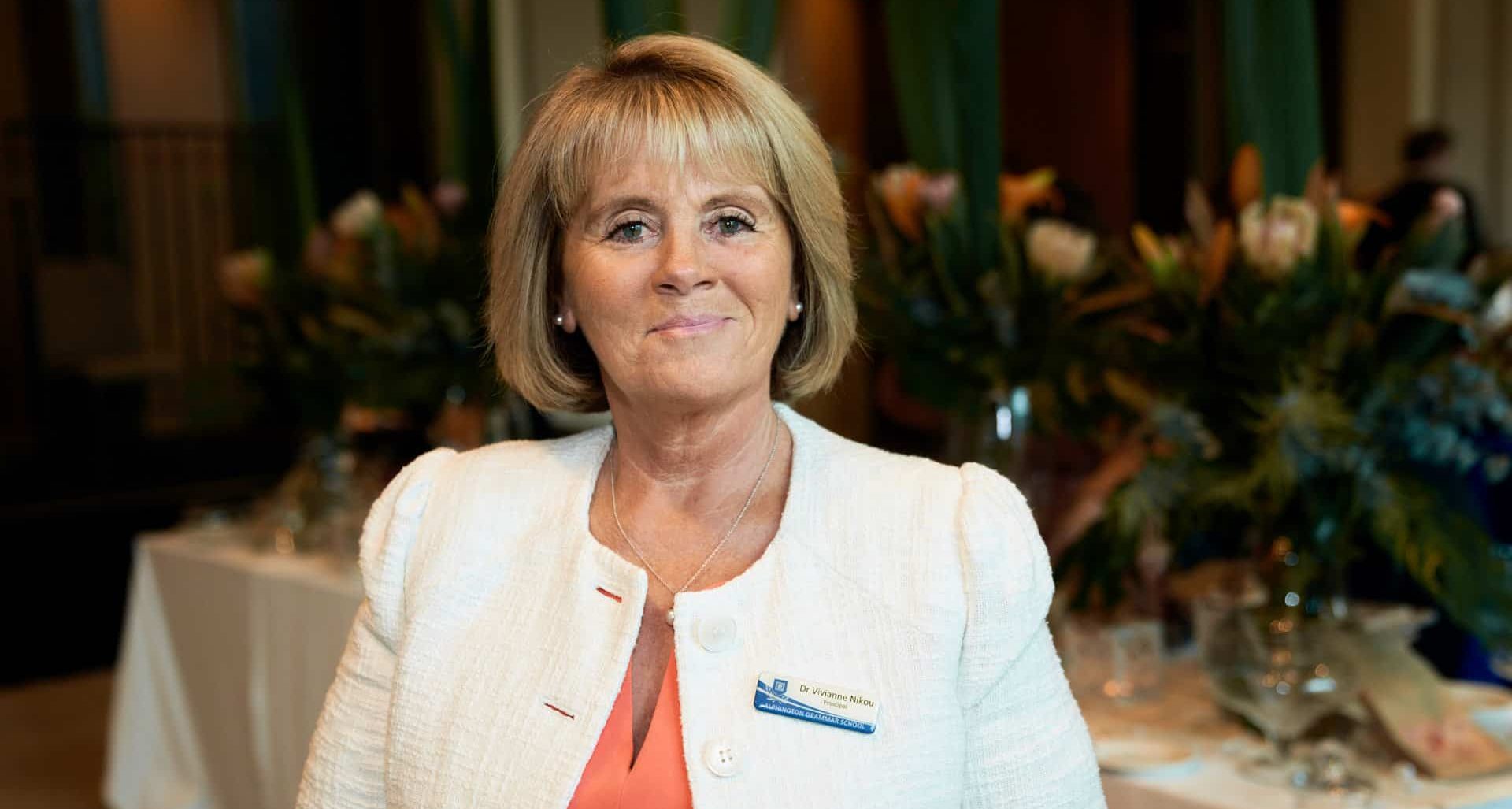 Greek National Day
It's been a big week of events both in and out of school to mark Greek Independence Day (25 March 1821). A special service was held at The Shrine of Remembrance and the following students accompanied me to represent The School: Anastasia, James, and Kyara Fokianos together with George and Sam Tsianakas.
The special service around the eternal flame included dignitaries such as: His Eminence Archbishop of Australia Makarios, several Bishops from around Melbourne, The Consul General of Greece in Melbourne; Mr Kakavelakis.  The Premier of Victoria; The Hon. Daniel Andrews, Leader of the opposition; The Hon. John Pessutto along with prominent members of the Greek Community of Melbourne and the Hellenic Police and Armed Forces.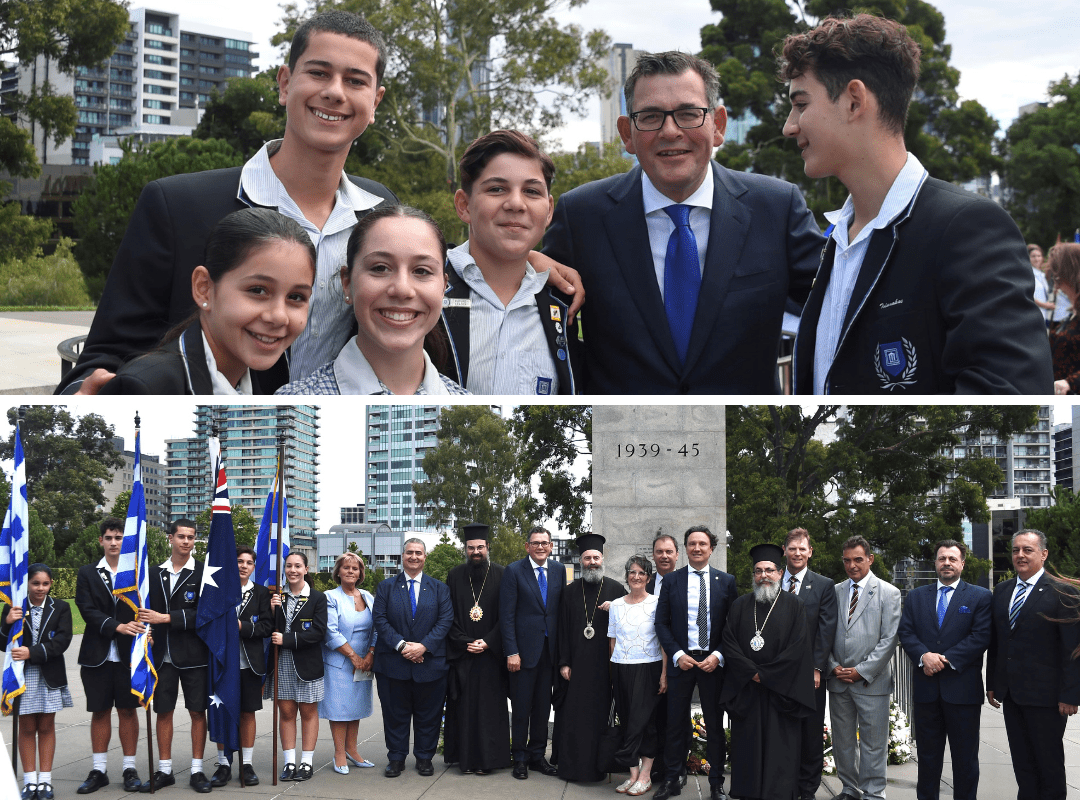 The National Day celebrations continued with one of the biggest community parades ever held.  This year it was held at Lakeside Oval.  The celebration to mark independence and the Greek-Australian Alliance and Friendship was truly a spectacular parade to marvel at The Olympic Games spirit of friendship, peace, and courage.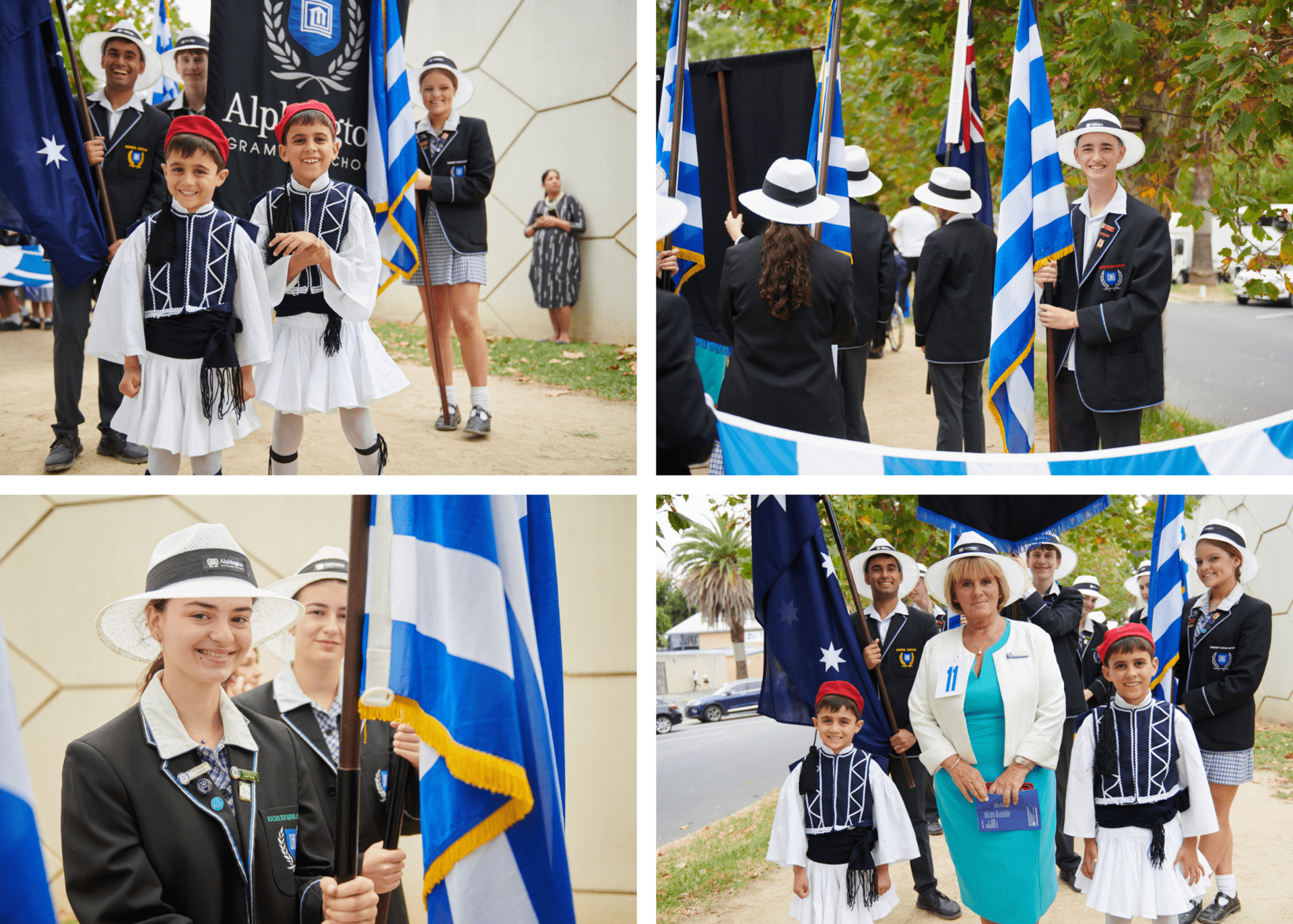 Our school's drumline opened the parade along with drummers from Oakleigh Grammar and St John's College.  The combined schools' drumline played for close to an hour while 50 groups paraded.  The drumline students were accompanied by our drum teacher Mr Andrew Rousche and Mr Ewen Baker.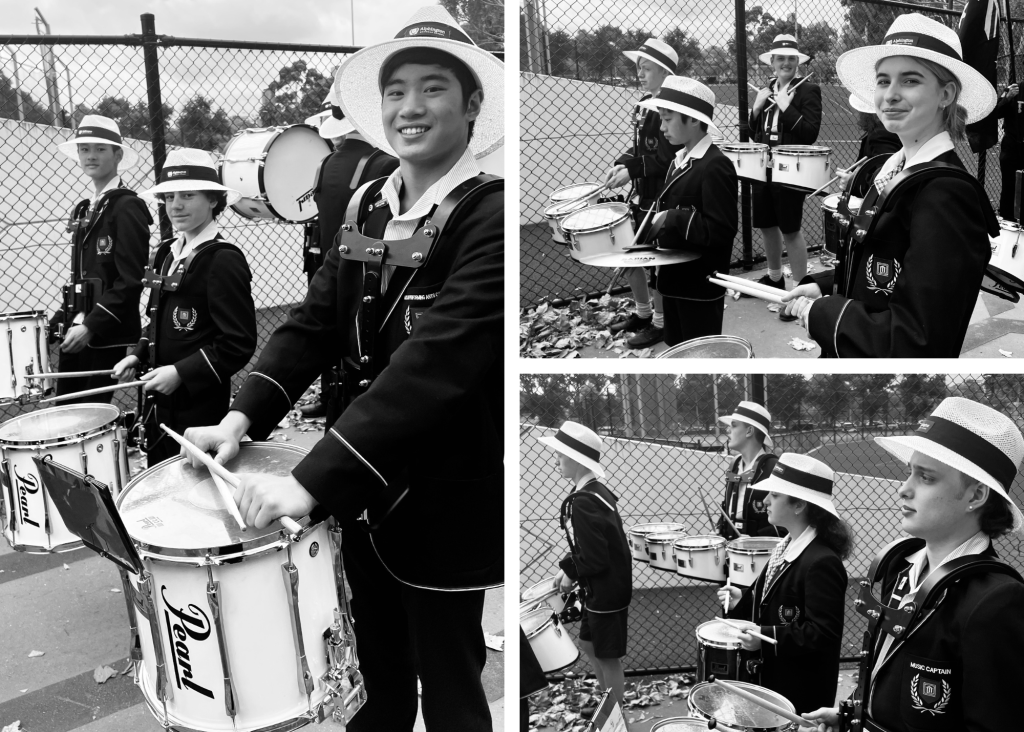 Our small but stylishly dressed school presentation of Primary, Middle Years and Secondary School Leaders in our specially designed braided hats certainly appeared "très chic" as we made our way around the stadium.
A wonderful effort by all.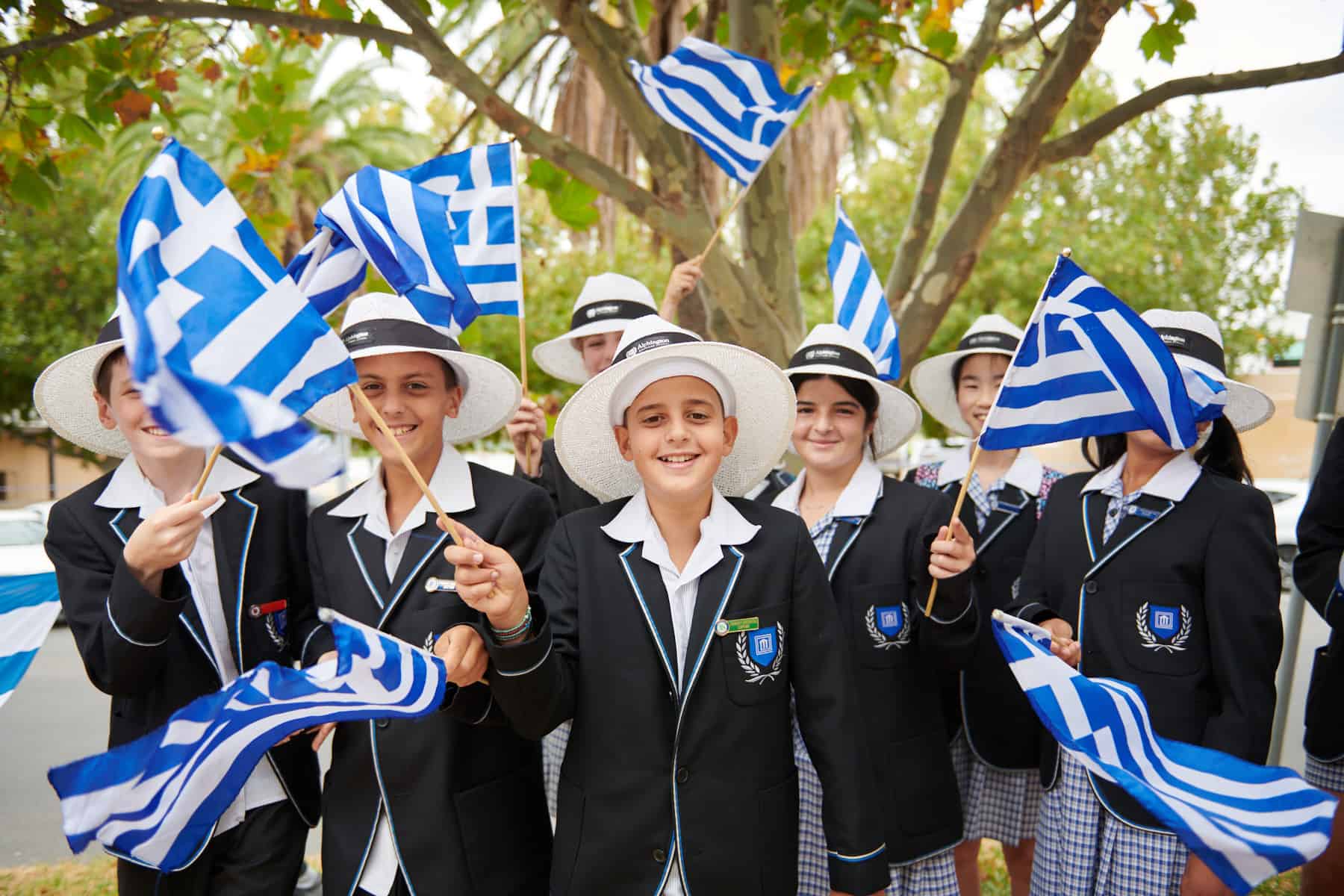 Greek National Day Assembly
As our Founders' Day Service, our whole school assembly this week was to commemorate and celebrate Greek Independence Day.  We gathered to pay respect to our founding forefathers in their struggle to gain their freedom from what was close on 400 years of occupation by the Ottoman Empire.  At the same time, we remember those who have sacrificed their lives for us to enjoy the freedoms we have today.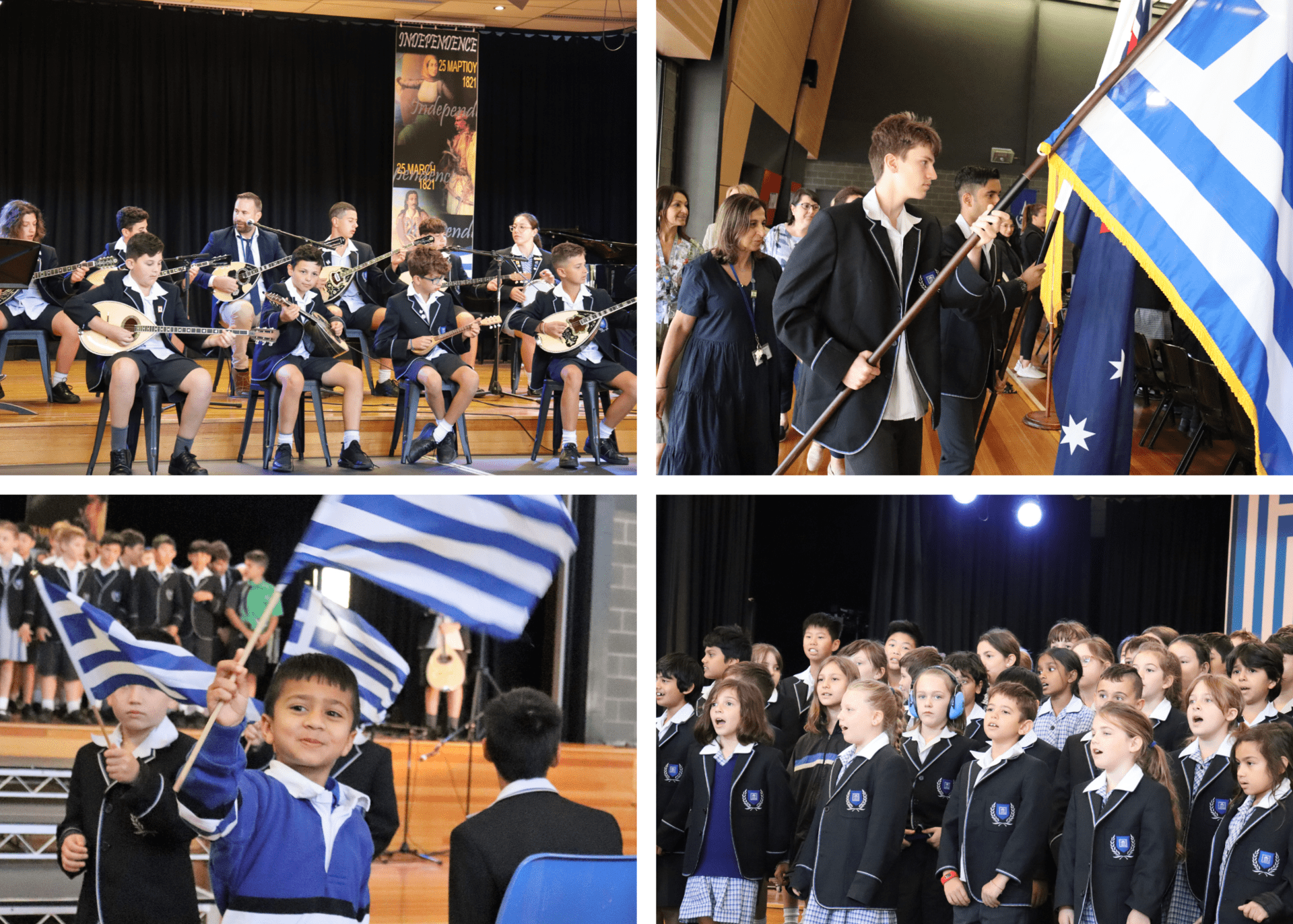 World's Greatest Shave 2023
Hair was falling all over the floor from nervous participants on St Patrick's Day recently, all in the name of a great cause – to help those facing blood cancers and Leukaemia.
This was only our second year at the iconic fundraising event organised by our Community Service Captain's Emmanuella Lettas and Phoebe Simmons, supported by Ms Anna Milburn, coordinator of Community Service and Head of Socrates House. The students have raised over $8,100 as part of the days fundraising efforts.  A terrific amount in support of research projects discovering better ways to diagnose and treat blood cancer.

Dr Vivianne Nikou
Principal
Show All
Collapse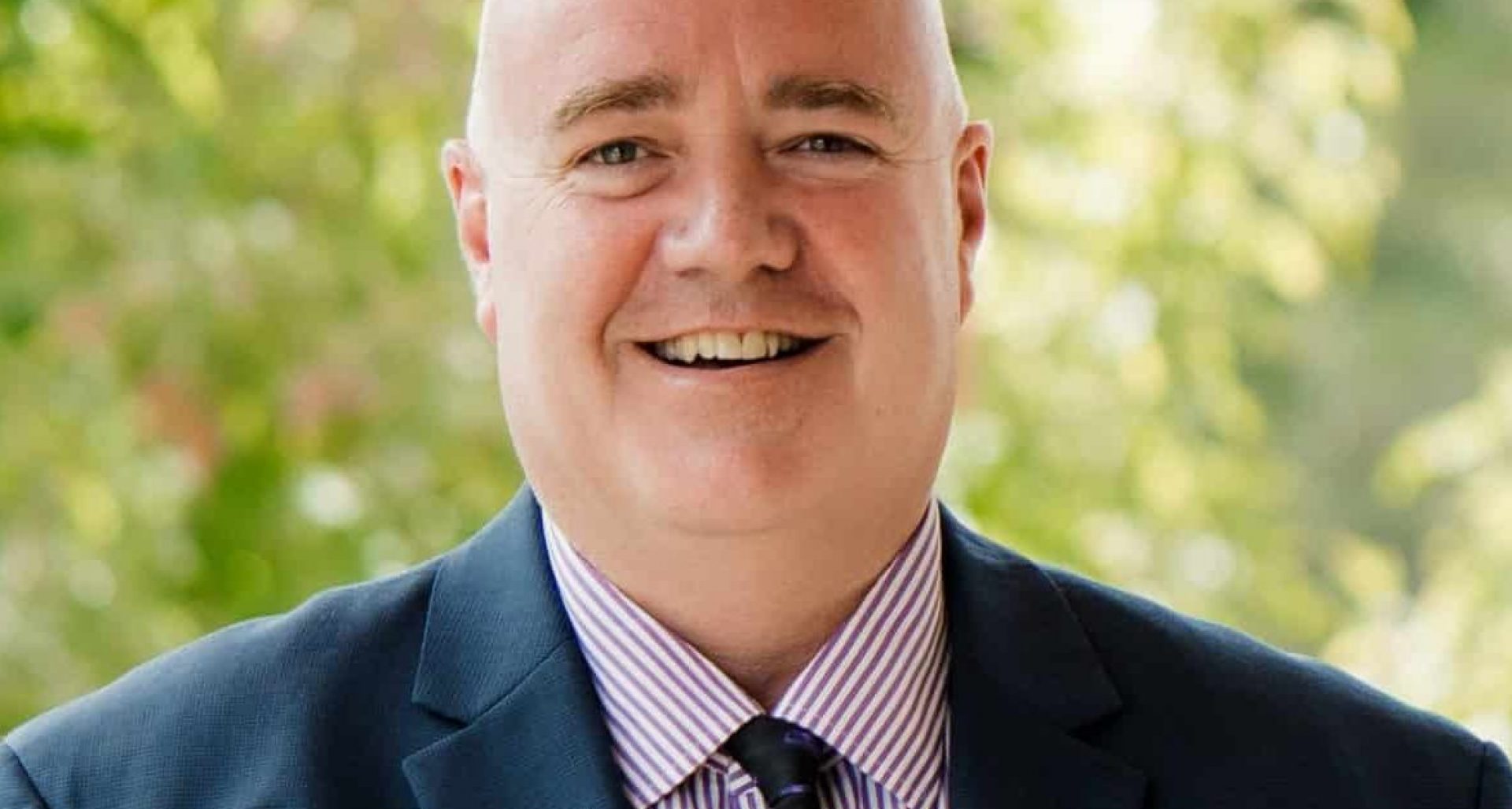 From the Assistant Principal, Head of Secondary
At the beginning of the term I wrote a small newsletter piece on ChatGPT after it made waves in the world of education. Will students use it appropriately? Will it be used to plagiarise work? These were questions we were all asking at the time. As a school, we decided to wait and see how the evolution of this form of Artificial Intelligence would transpire. Last week I met with the Faculty Heads to discuss how the students were using ChatGPT in class and at home
The findings were promising. The students don't seem to be using the platform inappropriately, which is reassuring. As technology continues to develop at such a rapid pace, we are undoubtedly going to be faced with other assistive technologies that have the potential to complement curriculum delivery or hinder it. As always, we will try to educate the students about the use of technology in the modern world and how it can be harnessed to their advantage, rather than allowing it to compromise the authenticity of their work.    
NAPLAN
The National Assessment Program for Literacy and Numeracy (NAPLAN) fully transitioned to an online environment this year. We conducted a practice NAPLAN test in the lead up to the actual delivery where IT requirements were tested and the students were given the opportunity to navigate the online portal before the day of the actual tests. It was a four-day testing period, and I am happy to report that everything went well. The School had to increase the WIFI capacity in order to meet the IT requirements of having 140 students using the system simultaneously. The fact that laptops were used added an additional layer of complexity to the transition, but the students performed brilliantly. All laptops were fully charged and no one forgot to bring their headphones. 
A big thank you to the EHASS department and the English teachers for launching the touch-typing program at the beginning of the year, which has gone a long way to assist our students in the NAPLAN writing paper. We are aiming to get all junior secondary students up to the proficiency level of 65 words per minute.  
Practice General Achievement Test (GAT) 
As you know the GAT has been brought forward this year to Thursday 15 June. All students enrolled in one or more VCE subjects at a Year 12 level sit the GAT. For the first time last year the GAT was broken into two sections to specifically target literacy and numeracy skills.  
Section A is a literacy and numeracy assessment comprised of: 
a 2-part writing task – 30 minutes 
50 numeracy multiple-choice questions – 45 minutes
50 reading multiple-choice questions – 45 minutes 
Section B is comprised of: 
an extended writing task – 30 minutes 
25 mathematics, science and technology multiple-choice questions – 30 minutes
25 arts and humanities multiple-choice questions – 30 minutes 
Not only does the GAT test the literacy and numeracy skills of our students, it also plays a very important role in student moderation and is an essential component of determining a derived exam score if the student is too unwell to sit one of their final exams. It is an extremely important assessment that needs to be taken seriously. As such, on the 6th of April we will be running a practice GAT for all of the Year 12 students. These will be marked by an external group of assessors and the students will receive feedback in Term 2. It is a difficult test to study for as it comprises a substantial amount of multiple-choice questions designed to test the general knowledge skills of the students. 
If parents have any questions about the Practice GAT or the actual GAT please contact our Assessments and Exams Coordinator, Mr Con Papoulis.  
House Night is fast approaching –  Friday March 31st – here is the link to purchase your tickets.
https://events.humanitix.com/2023-secondary-house-night 
Come along and enjoy the fun! 


Mr Lukas Silver 
Head of Secondary  
Show All
Collapse
From the Secondary School
On Tuesday the 14th of March, a variety of students gathered in classroom B208 for our enrichment program on debating. We learnt about what goes into debating and how to successfully persuade someone to agree with your point of view.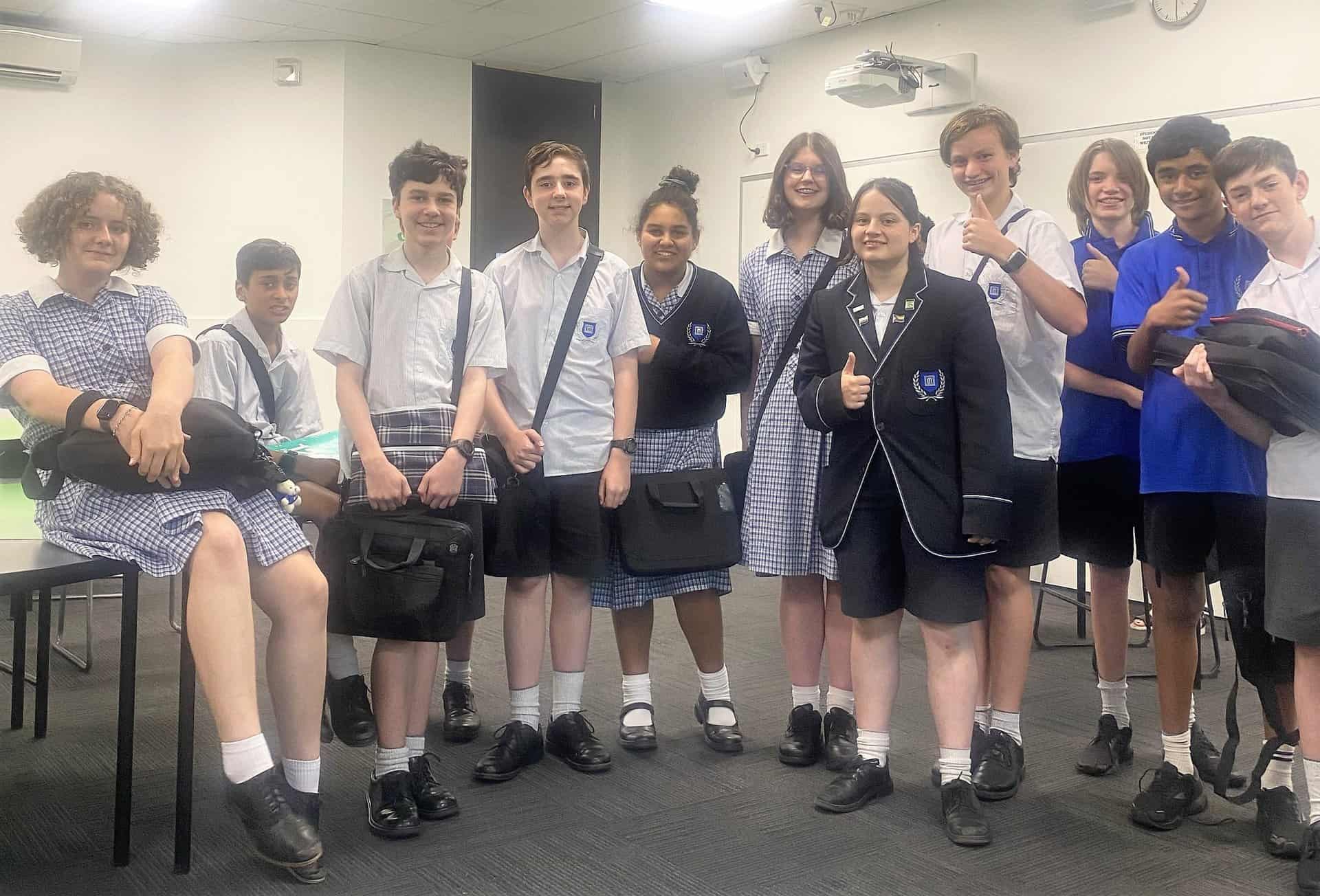 During this lesson we were split into two groups. In one group there were Year 7sto 9s and in the other there were Year 10s and 11s. The juniors learnt about basic rebuttals and how to construct a basic argument. The other group also discussed rebuttals and began planning for their upcoming debate. This was so fun; I can't wait to do it again! 
 Karina Barakia, Year 7A
Show All
Collapse
The World's Greatest Shave
"$2000 seems to be an ideal target," I advised our Community Service Captains, Emmanuela Lettas and Phoebe Simmons. "That's a decent goal for the school to reach and will make a good difference to the Leukemia Foundation."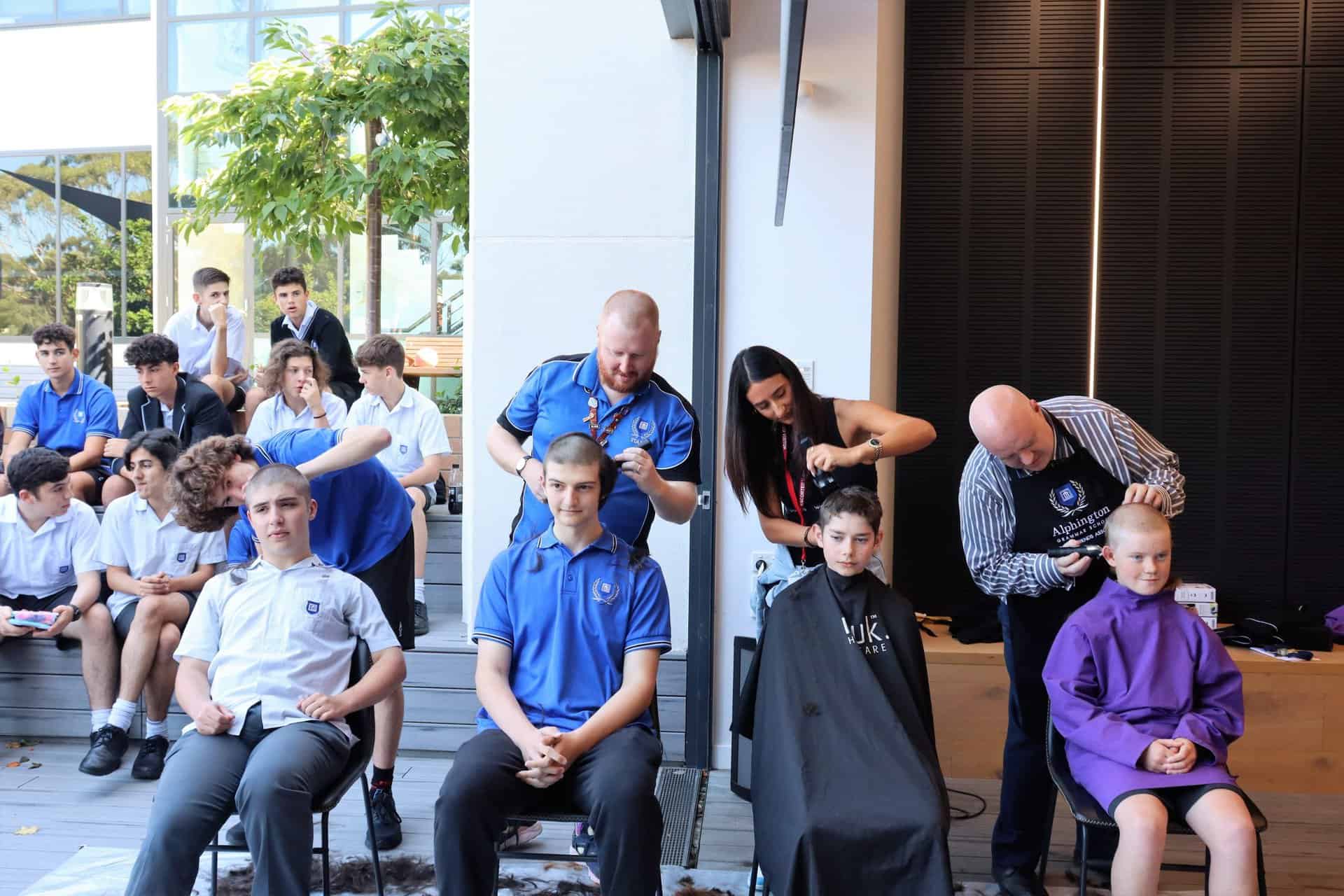 So that's what we did. We set our fundraising target for this year's Greatest Shave to $2000 and began to recruit our team, hoping we would have three or four volunteers willing to brave the shave for this amazing cause.   
We foolishly underestimated the Alphington Grammar School spirit. On Friday 17 March there weren't three or four volunteers. There were 10. We hadn't raised $2000. We had raised over $8100… and counting.  
Most of the secondary school spilled into the Atrium to cheer on our brilliant volunteers. Dr Nikou, Mr Silver, and I were armed with our razors, ready to get going.  
Now, those of you who remember last year's Greatest Shave may remember some… questionable results. There may have been one or two students leaving with just slightly patchy haircuts, with the odd bit of uneven hair here and there. I, of course, mean no disrespect to the haircutting talents of Dr Nikou and Mr Silver, but we really were very grateful to have the wonderful Cinzia Cocca from Cocca Hairdressing there. Despite being surrounded by cheering students and having to cut hair in the middle of the STEM Atrium – a far cry from Cocca's beautiful Station Street salon – she was happy to volunteer her time to help us out with this great cause. While she may have put our attempts at shaving to shame, I know both the staff and students were incredibly grateful to have her there. If anyone is in need of a haircut any time soon, Cocca Hairdressing certainly have our approval!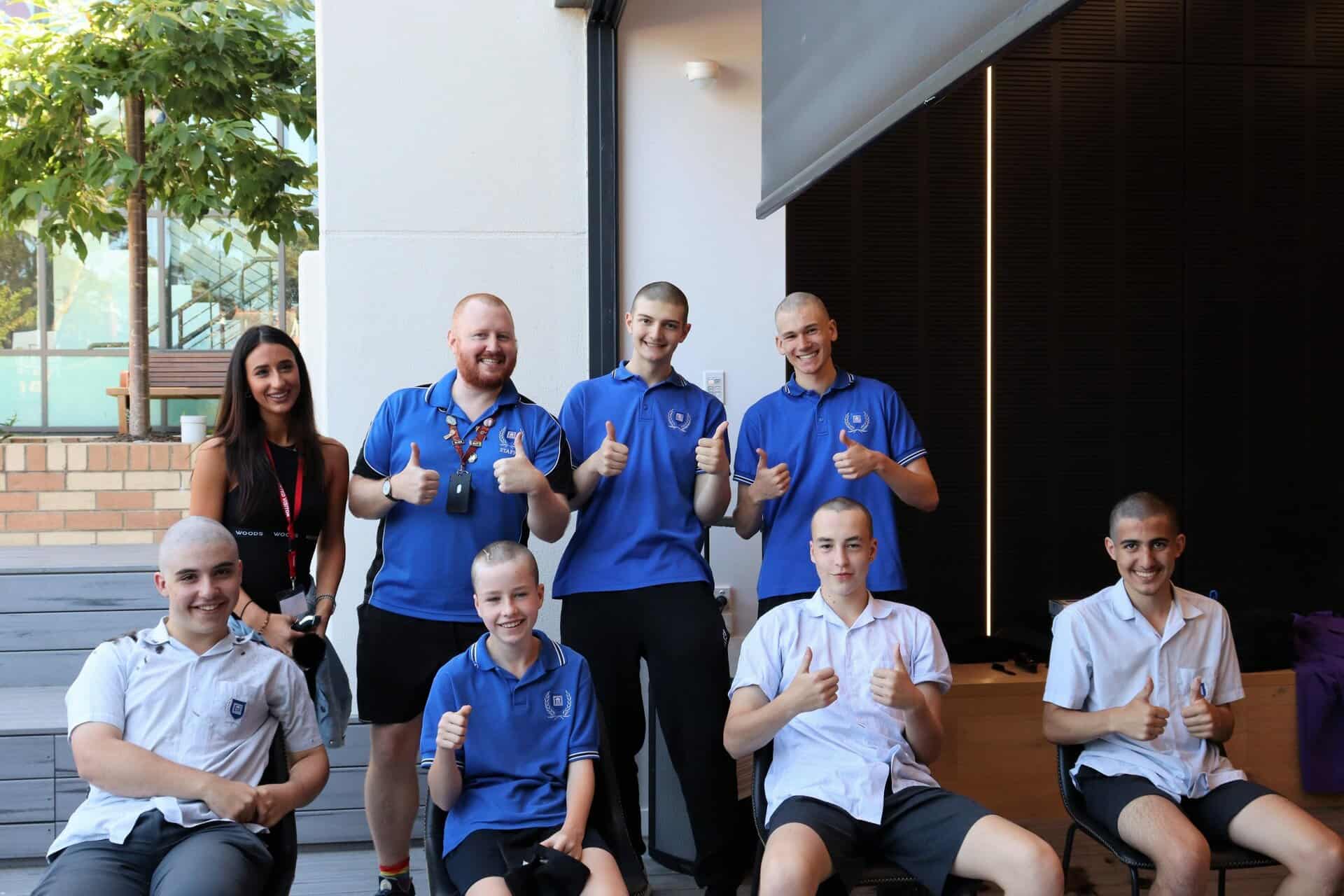 It was a brilliant event and we are incredibly proud of our volunteers: Mr Panara, Thomas Paktitis (12 Aristotle), Ryan Paraskevas (12 Socrates), Joshua Halarakis (12 Socrates), Walter Cockayne (10 Aristotle), James Dyer (7 Aristotle), David Johnson (8 Socrates), Dimitrios Zagkountinos (8 Byron), Ethan Roubos (10 Pericles), and Theo Magiris (9 Pericles).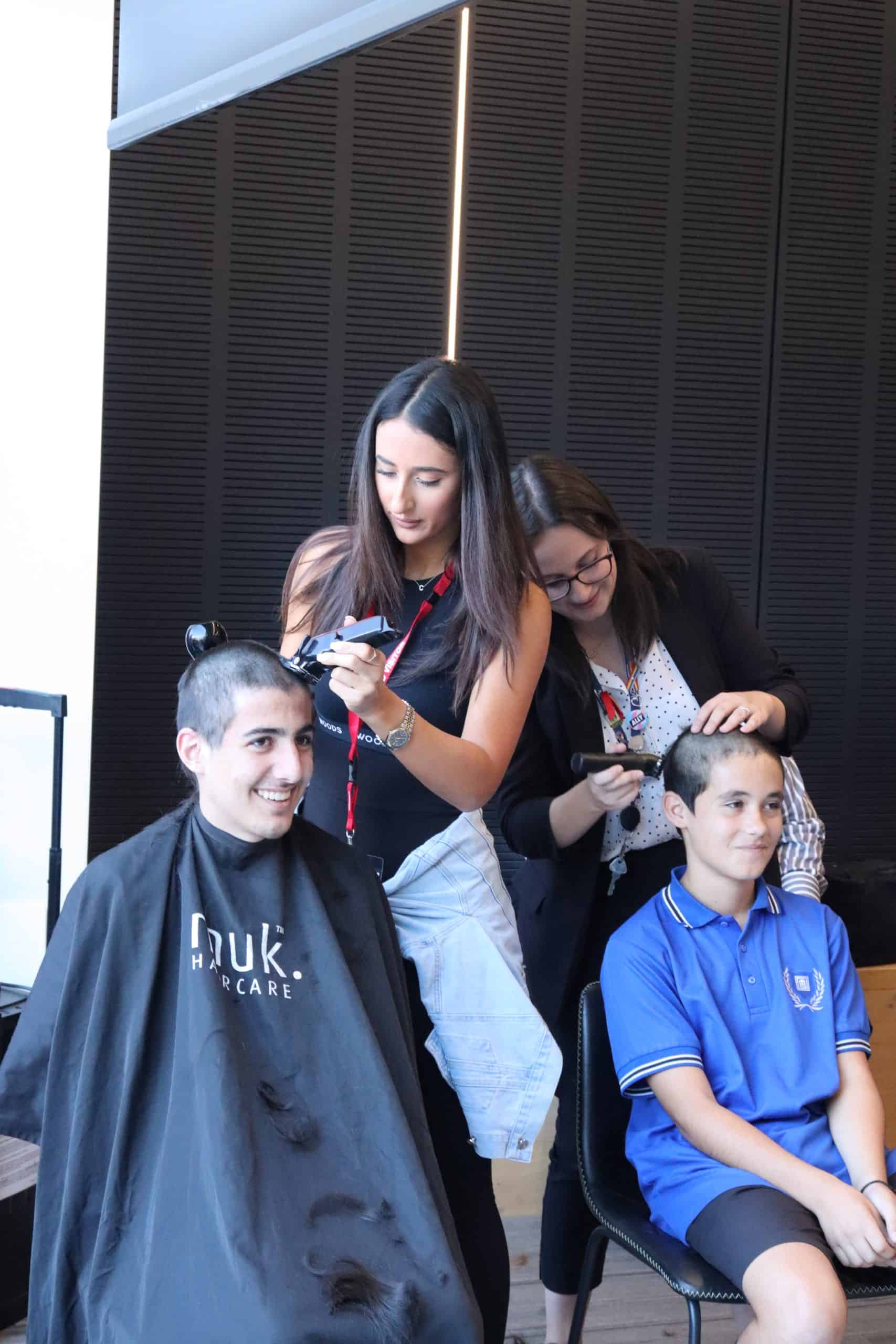 A special shoutout is deserved for David Johnson, who singlehandedly raised over $2900. David has had his own experience with Leukemia and we are very grateful to both David and his mother, Kate, for sharing a little of that story here:  
Until our son David's 3rd birthday, he was a happy, healthy toddler. The only sign that something wasn't right was that he suddenly wanted to be carried everywhere. We were told it was probably his shoes, possibly a virus – but our GP sent us for blood tests just to check. After a second blood test at the Royal Children's Hospital, they confirmed the diagnosis of acute lymphoblastic leukaemia. 
David had a high risk version of the cancer, meaning 3.5 years of chemotherapy, of which the first 7 months were the 'intense' phases of treatment.  Around a month into treatment, he stopped being able to use his left arm and devastatingly brain scans showed that he had a combination of a major bleed in one part of his brain, and a clot in another.  Emergency neurosurgery followed, and we held our breaths for several days while he was in an induced coma in ICU.  He had a part of his skull removed for a few months to allow his brain to swell and recover – which led to the large scar on his head.  We joke that David has just about the hardest and most expensive skull known to man with the amount of titanium used to repair it!   
After coming out from ICU, his cancer treatment had to continue despite his fragility.  A typical day consisted of making sure that he didn't damage his head where the portion of his skull was still missing, injections of blood thinners, and injections / tablets of chemotherapy that made him both exhausted and nauseous. 
Unsurprisingly, his learning was strongly impacted for those 3.5 years, with his brain having to 're-wire' itself to make up for the damage caused by the stroke. Originally, he had to re-learn how to walk and talk again, and then as time has gone on, develop strategies to help him catch up on the years of education that had been interrupted by his treatment. 
Throughout the years of active treatment David had 34 general anaesthetics, 19 hospital admissions, 2 neurosurgeries, 27 emergency admissions, 26 lumber punctures, 117 finger pricks, 54 cannulas, 38 MRIs, CT scans and x-rays, his port was accessed 58 times and he had almost 1,000 doses of chemotherapy. And all before he was seven years old!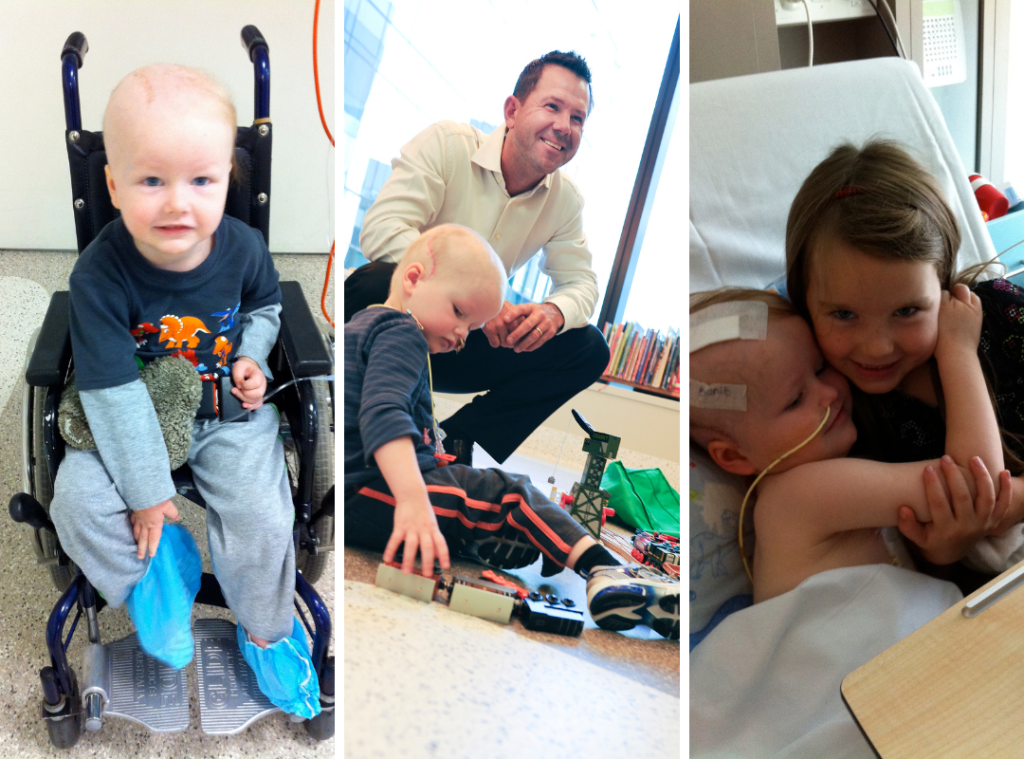 David asked us if he could do the 'World's Greatest Shave' so that he could help raise money for other kids going through their own leukaemia journeys.  We pointed out that this would likely mean a lot of questions, as the scar on his head would be very visible.  But David didn't care – that's the kind of kid that he is.  Needless to say, we're incredibly proud of him, being lucky enough to be his parents, and are also very grateful to the staff and kids at Alphington Grammar who have been wonderful in supporting him as he continues to move forward in leaps and bounds.  Many thanks to the other kids and staff members who also participated in the 'World's Greatest Shave' and/or helped raise funds to support the Leukaemia Foundation and through it, the Australians currently going through their own journeys with blood cancer. – Dr Kate Johnson
Please note, our fundraising page will remain open for another week. If you would like to donate and help us exceed our target by even more, you can do so here:  
http://my.leukaemiafoundation.org.au/ags  
We would like to thank our volunteers once again and all of those who donated. We are already looking forward to the next Greatest Shave!  
Anna Milburn 
Head of Socrates 
Community Service Coordinator   
Show All
Collapse
Harmony Day - Non-Uniform Day
Harmony Week is a time dedicated to celebrating Australian multiculturalism and the successful integration of migrants into our community. It is all about inclusiveness, respect, and encouraging a sense of belonging for all, regardless of cultural or linguistic background.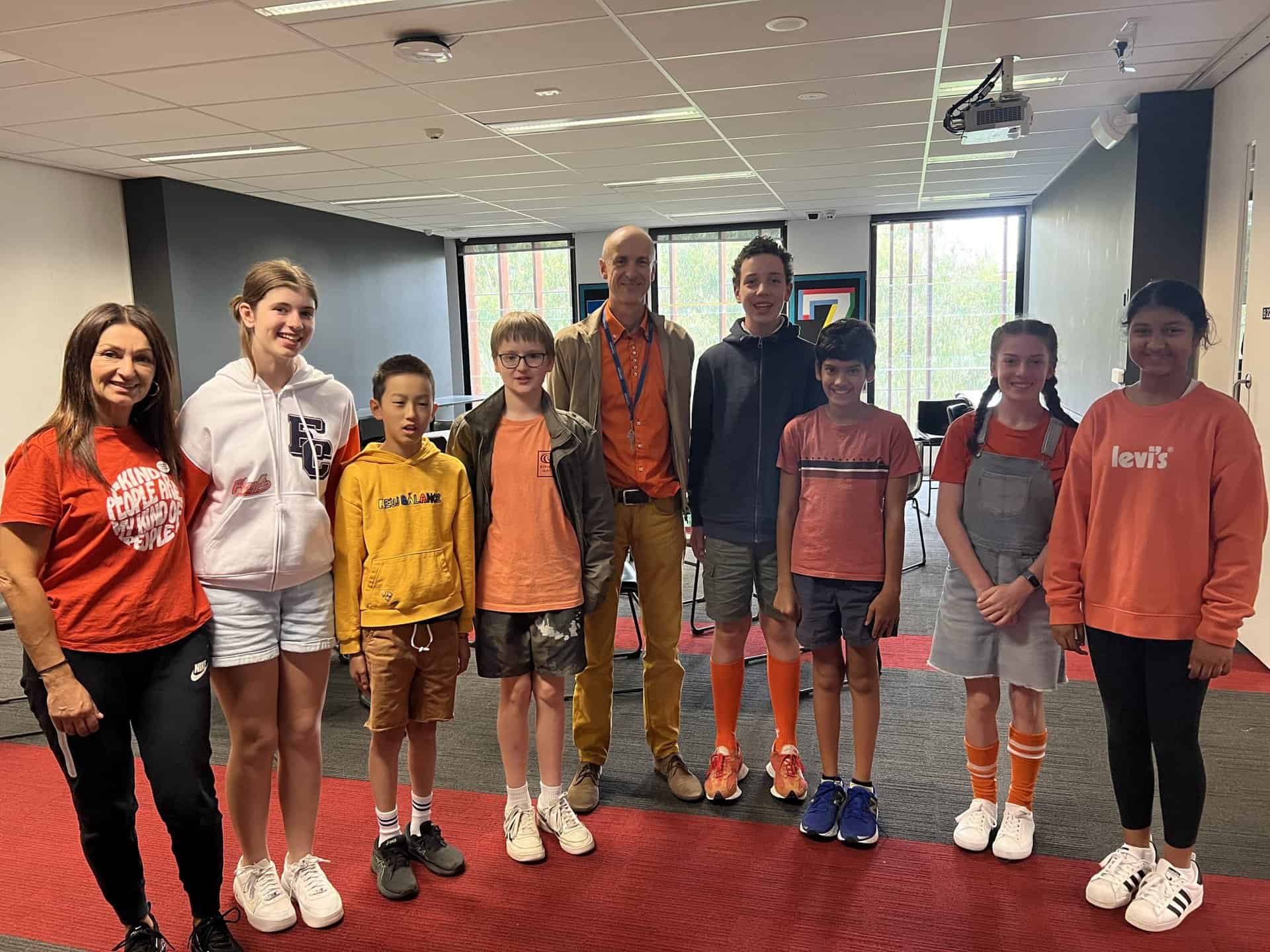 Students have been participating in Harmony Week themed Kahoots and quizzes, and listening to music from around the world during Homeroom. However, it was particularly great to see our school turn into a sea of orange on Tuesday 21 March as our students marked Harmony Day. Adding a splash of orange, as the chosen colour of Harmony Day, the students were able to demonstrate their support for the message behind this celebration.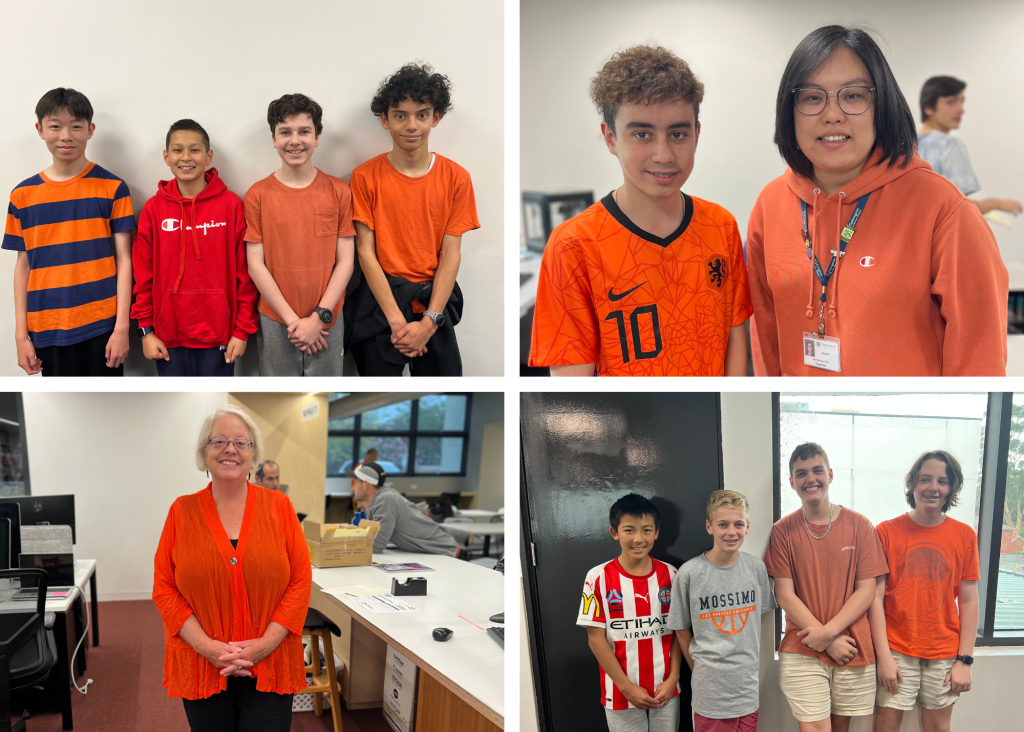 A grand total of $511.95 was raised; an impressive amount that will be donated to the Asylum Seekers Resource Centre, a not-for-profit organisation based in Footscray, that is committed to upholding the human rights of all people seeking asylum.  
A big thank you goes out to all the students and staff who participated and donated to this excellent cause. 
Ms Anna Milburn  
Head of Socrates and Community Services Co-ordinator  
Show All
Collapse
Public Speaking taught us all a lot about how to speak in front of people, from the different techniques to the different styles and manners. A lot of our activities were about the structure of Public Speaking and how your gestures, body language and tone can affect your impact on your audience.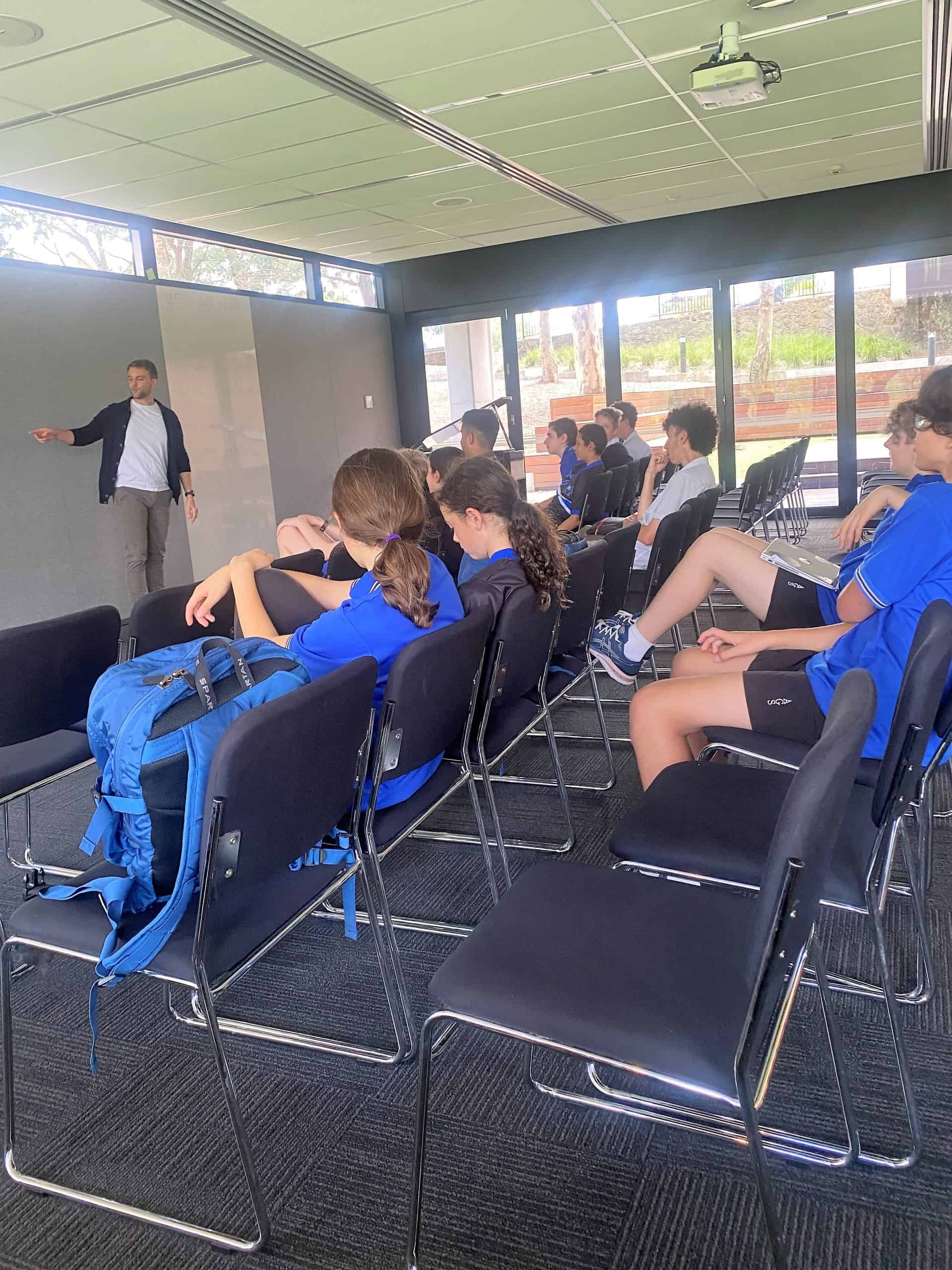 We also looked at how certain people, such as doctors giving bad news or a drill sergeant, spoke and tried to replicate their tones and mannerisms. We looked at different ways to get across your point, such as the Staunch Defense or using Past-Present-Future.  My favorite part was when we were given a prompt and were made to discuss it on the spot because it required you to think quickly, and we always ended up laughing because they ended up silly.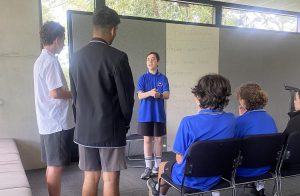 Public Speaking has allowed me to think more about how to speak in front of people and allowed me to get better at it in a fun and interesting way.  
Sachit Awale, Year 8A 
Show All
Collapse
Luna Park Physics Experience
On the 10th of March the whole physics class went to Luna Park to experience motion first hand. Whilst there we all worked as a team to collect data for our sac that was about motion at the park. First we went straight to the Scenic railway, as we knew it would have the largest que throughout the day, and did well avoiding long wait times, as we arrived when the line was small.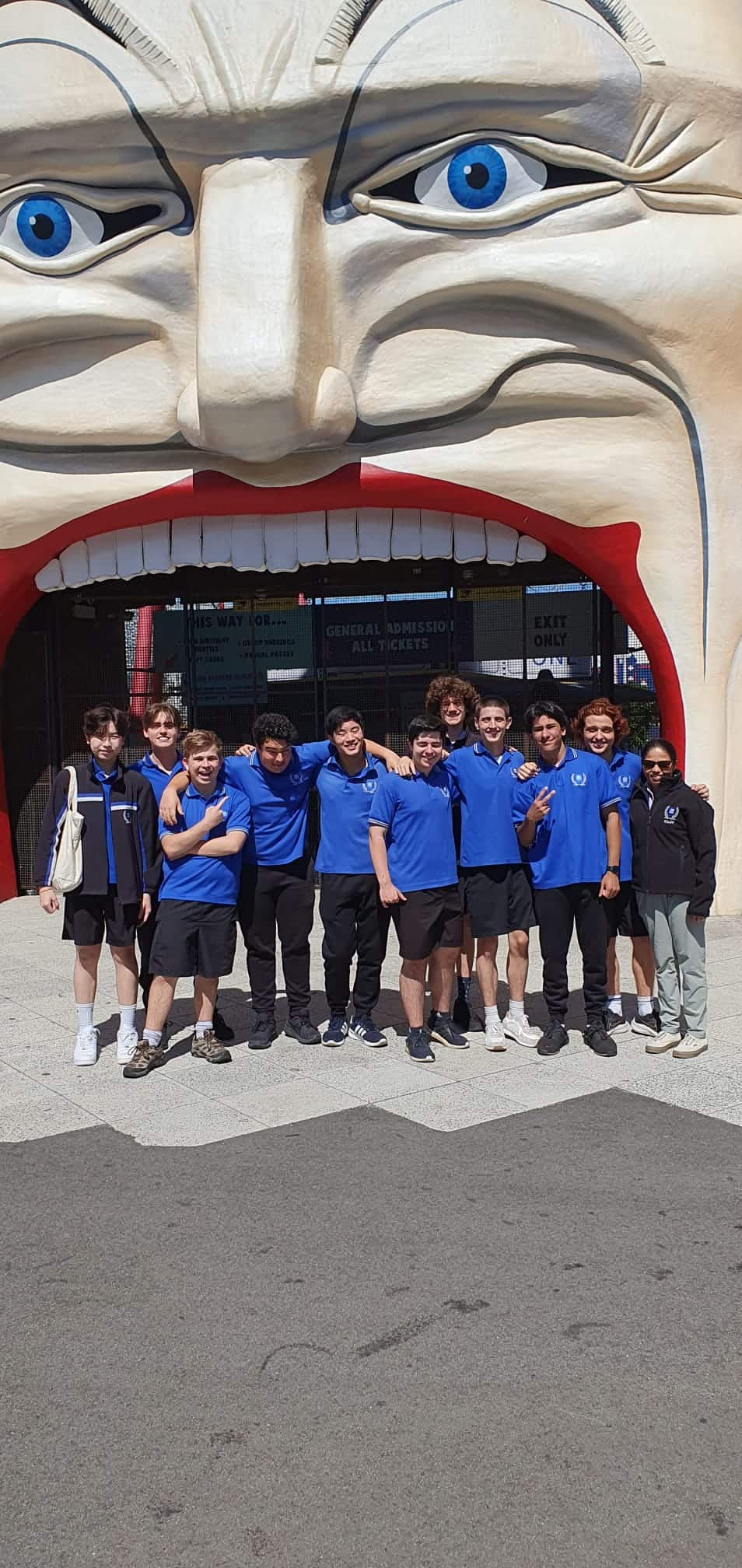 We allocated the timing of different events throughout the ride to each other, amongst whoever had watches with stopwatch functions, as well as other observations we needed to collect data on. Krishan was in charge of timing the entire duration of the ride, Alexander would measure the time it took to travel between 1 vertical post after we has climbed the hill and before the first drop, I timed the time to travel between 3 vertical posts on the ascent up the hill, and Adam counted how many times the operator pulled the brake and when they did so.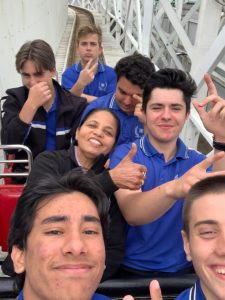 Throughout the day we maintained this clockwork like teamwork and quickly gathered all the measurements we needed, so we could spend the rest of the day enjoying the rides. Overall, the experience was greatly beneficial to further reinforcing my understanding of motion, especially through the experiencing the effects of circular motion, centripetal force, and the effects of low normal force (what is commonly inaccurately described as a 'zero/low-gravity' feeling) first hand. On top of the educational benefits the experience provided, the whole physics class was able to bond and have fun together on all the rides, which is what really made the day unforgettable. 
Costa Magiris, Year 12 
On Friday 10th March the Year 12 Physics cohort were lucky enough to travel to Luna Park Melbourne in St Kilda. The reason being, to collect data and in turn complete our School Assessed Coursework regarding our current topic, Motion. Throughout the course of the day we experienced the thrills of the rides whilst collecting data on the various mechanical feats. For example, on 'The Great Scenic Railway' one of Luna Park's most famous rides being established in 1912, me and other students used stopwatches to measure how long certain portions of the ride took and with knowing the distance found the speed. Some more rides which we collected data from include, the notorious Carousel, Spider, Twin Dragons, and the Supernova. Fortunately for us, we opted to complete all of the data finding at the start of the day allowing us to chow down on some greasy treats and lollies while enjoying the rest of the day.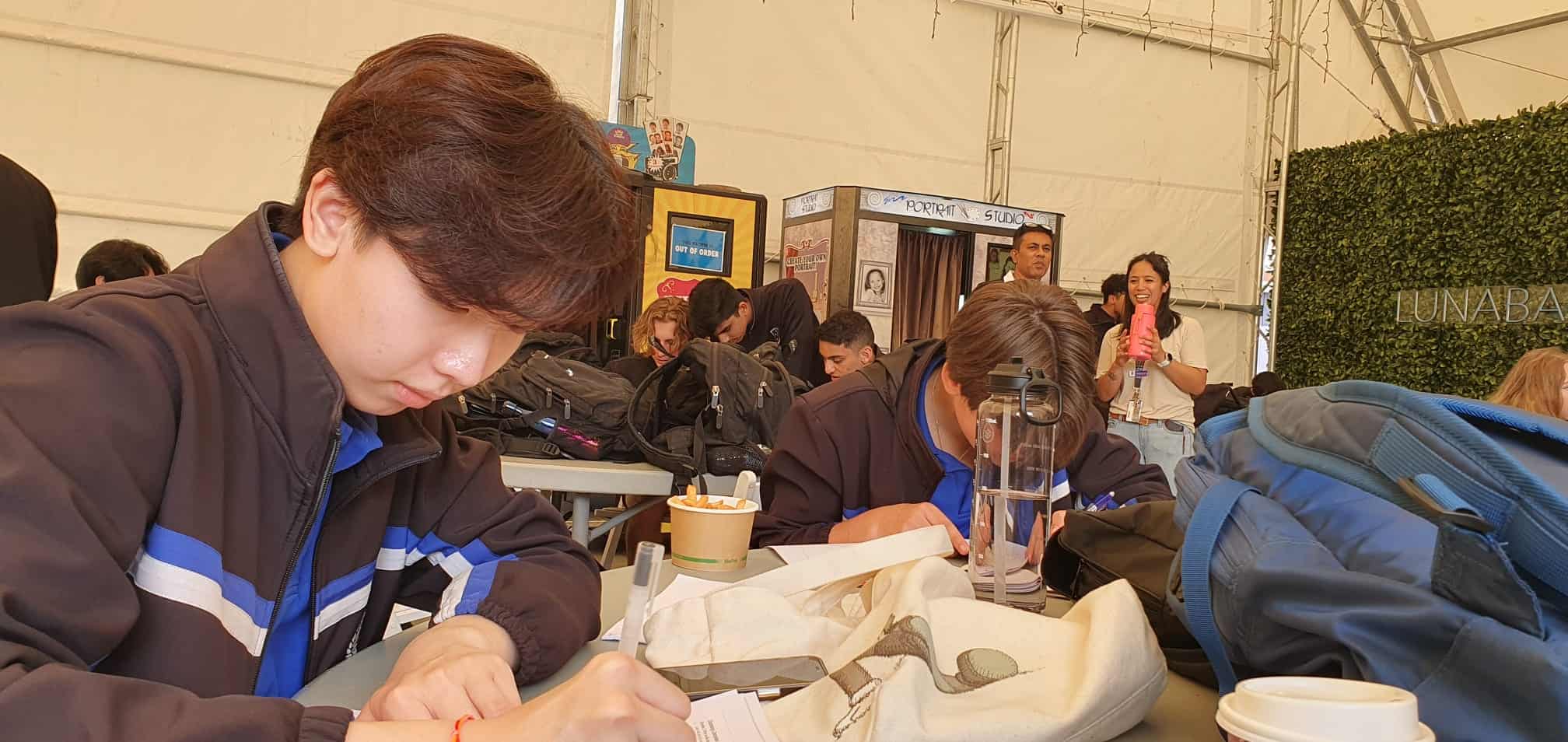 Overall, the experience truly helped us understand the applications of what we were learning in the classroom setting and allowed us to see theory become a reality. 
Alexander Moses, Year 12
Show All
Collapse
Year 7 Indigenous Science Display
In preparation for Open Day, the Year 7 students investigated examples of Indigenous Australian's science knowledge. The result was an informative display of such topics as 
Adhesive making using pine sap
Mat weaving using reeds 
Ochre paint production from clay 
Lemon myrtle oil extraction using steam distillation 
The production of fire using sticks.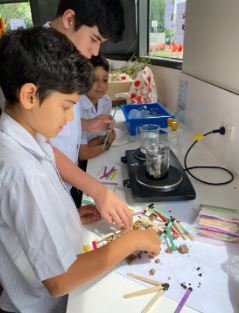 The images provided hopefully convey the involvement of the 
students. I think the students have gained respect for Indigenous 
knowledge from this venture.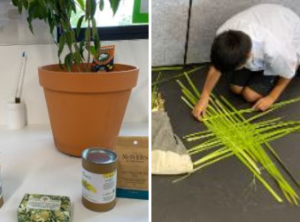 Mr Pat O'Shea
Secondary STEM Teacher
Show All
Collapse
In the Primary School, we believe that the best strategy to teach humanities subjects such as History, Geography and Economics is through an Inquiry-based approach.  The past two years we used a formal Inquiry approach in humanities lessons.   
In Inquiry lessons, teachers go through the process of the Inquiry learning cycle. The first stage is called 'Tuning In', followed by 'Finding Out', then 'Sorting Out', next comes 'Going Further' and finally 'Drawing Conclusions'.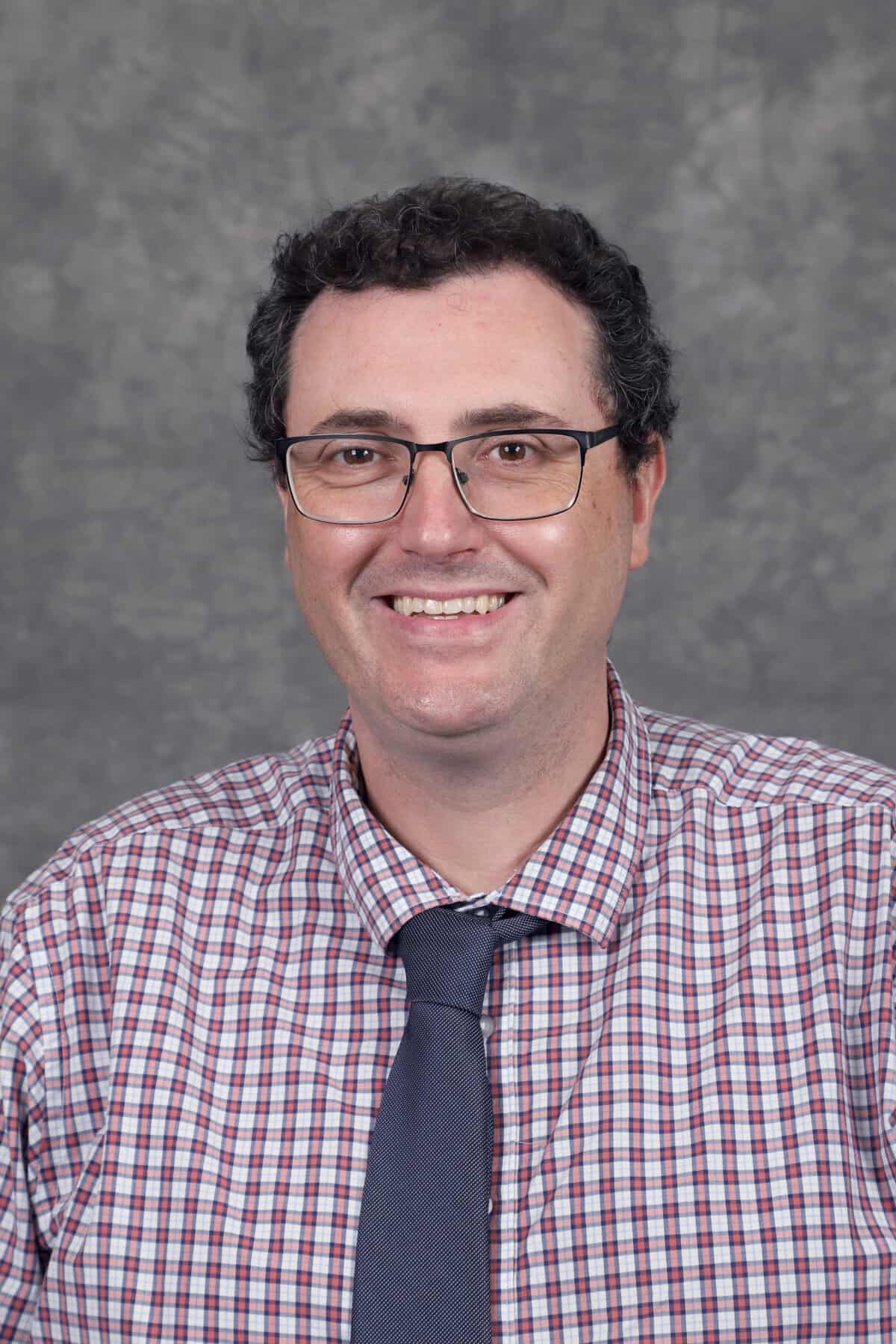 World renowned educational researcher Professor John Hattie has explored the importance of the ten HITS (high impact teaching strategies) to improve student outcomes in the classroom.  Strategy number 5 explores collaborative learning. The Victoria Department of Education explains this strategy as; 
Collaborative learning occurs when students work in small groups and everyone participates in a learning task. There are many collaborative learning approaches, each uses varying forms of organisation and tasks.  Collaborative learning is supported by designing meaningful tasks. It involves students actively participating in negotiating roles, responsibilities and outcomes. 
A key stage of the Inquiry process is students working in groups to find the answers to an Inquiry topic.  Fostering student collaboration in Inquiry tasks is teaching our students important life skills that can be transferred to future solving techniques when they become adults.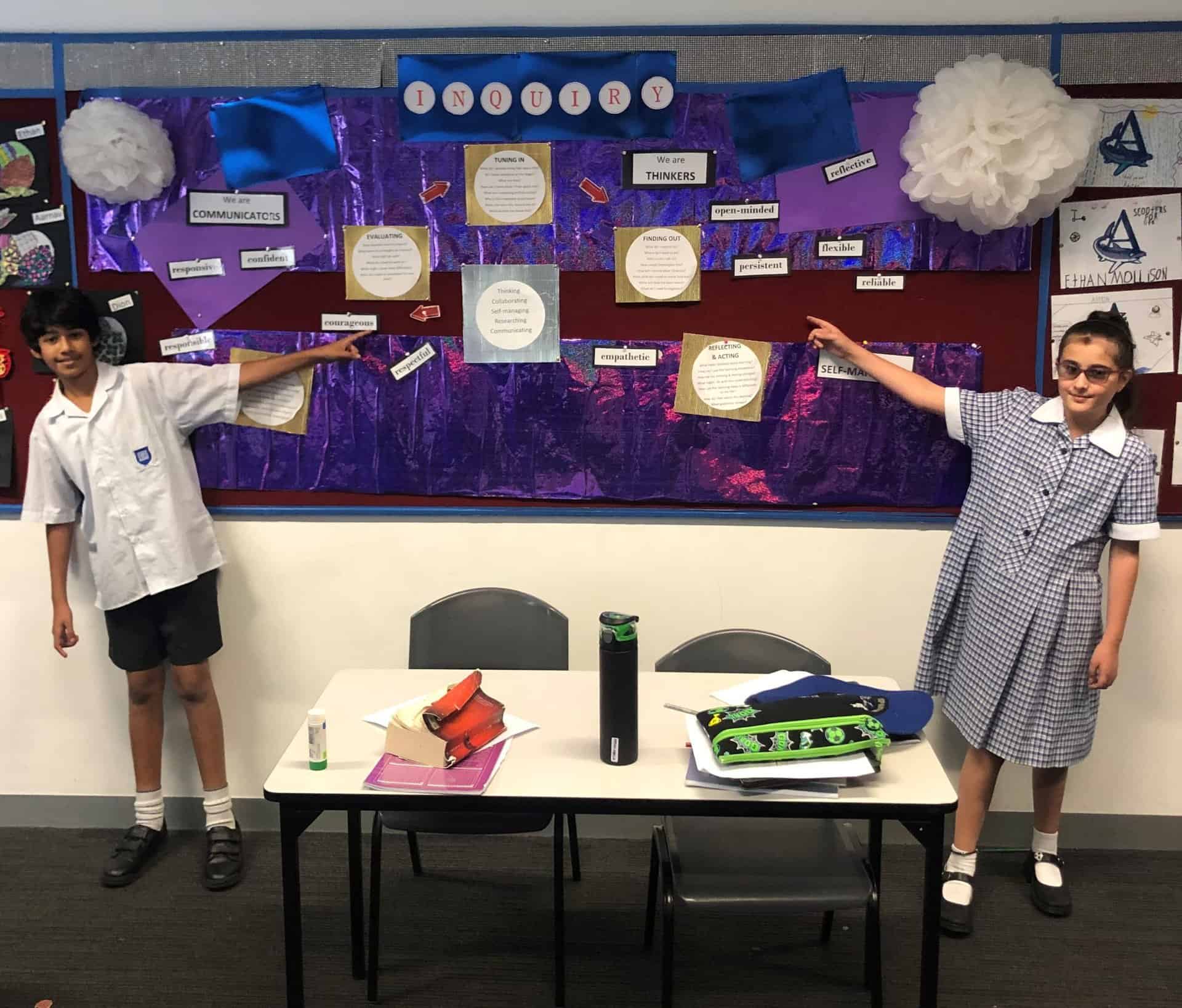 Mr Luke Barnewall 
Deputy Head of Primary  
Show All
Collapse
Harmony Day Hotcakes – Prep M
On Wednesday 22 March, Prep MV celebrated Harmony Day by inviting their families into school to enjoy Harmony Day Hotcakes. Students and their loved ones shared hotcakes with berries and syrup and spent the morning together, catching up and enjoying each other's company. While parents chatted, the students took the opportunity to have some play time on the basketball courts.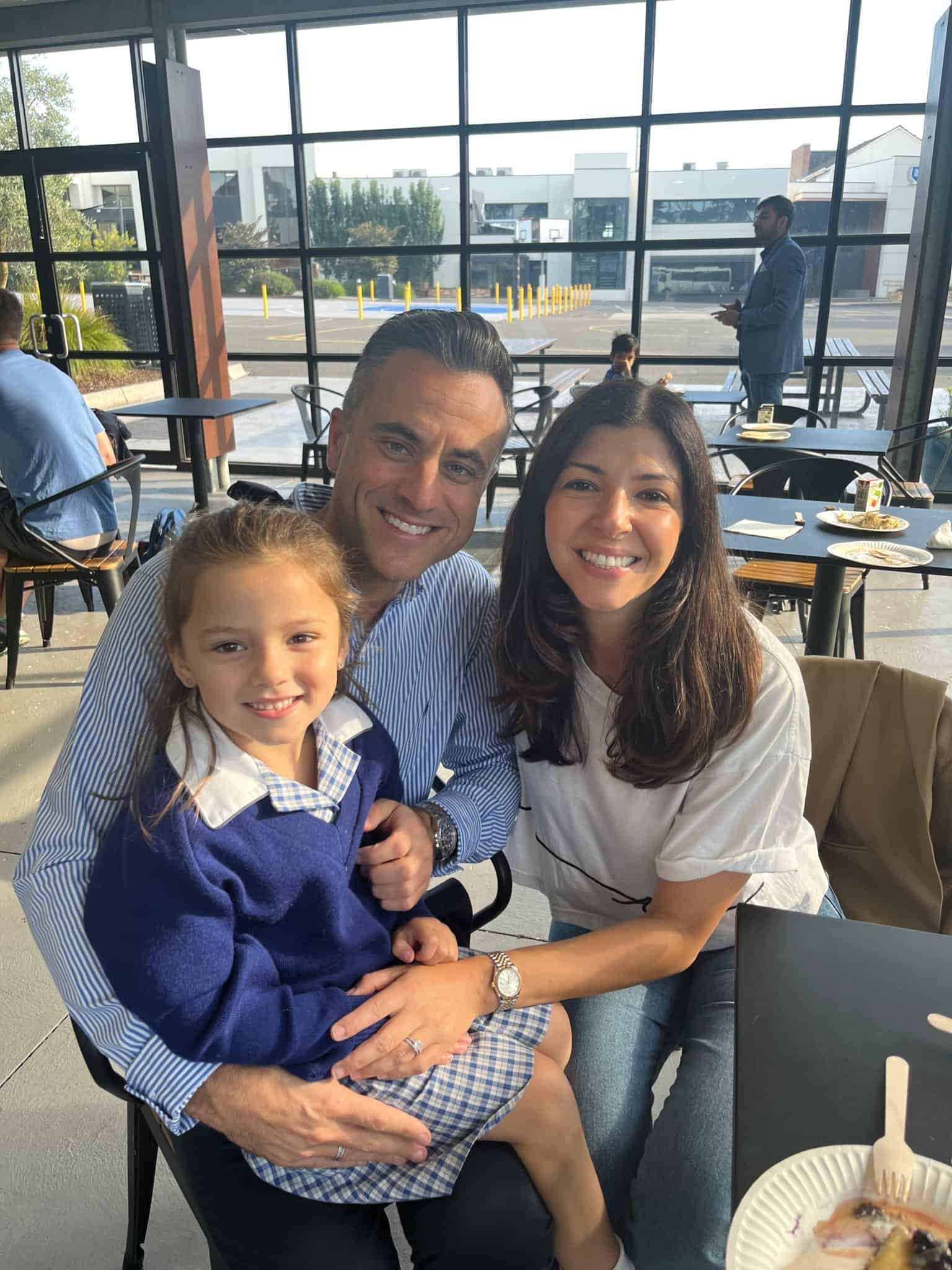 By coming together, sharing a meal and spending time with loved ones, we were able to foster student understanding, inclusiveness and respect for all people, regardless of their cultural background.  
A special thank you to Ms Nana Kerasiotis, Brooke Koutroulis and Marguerite Roberts for your assistance on the day!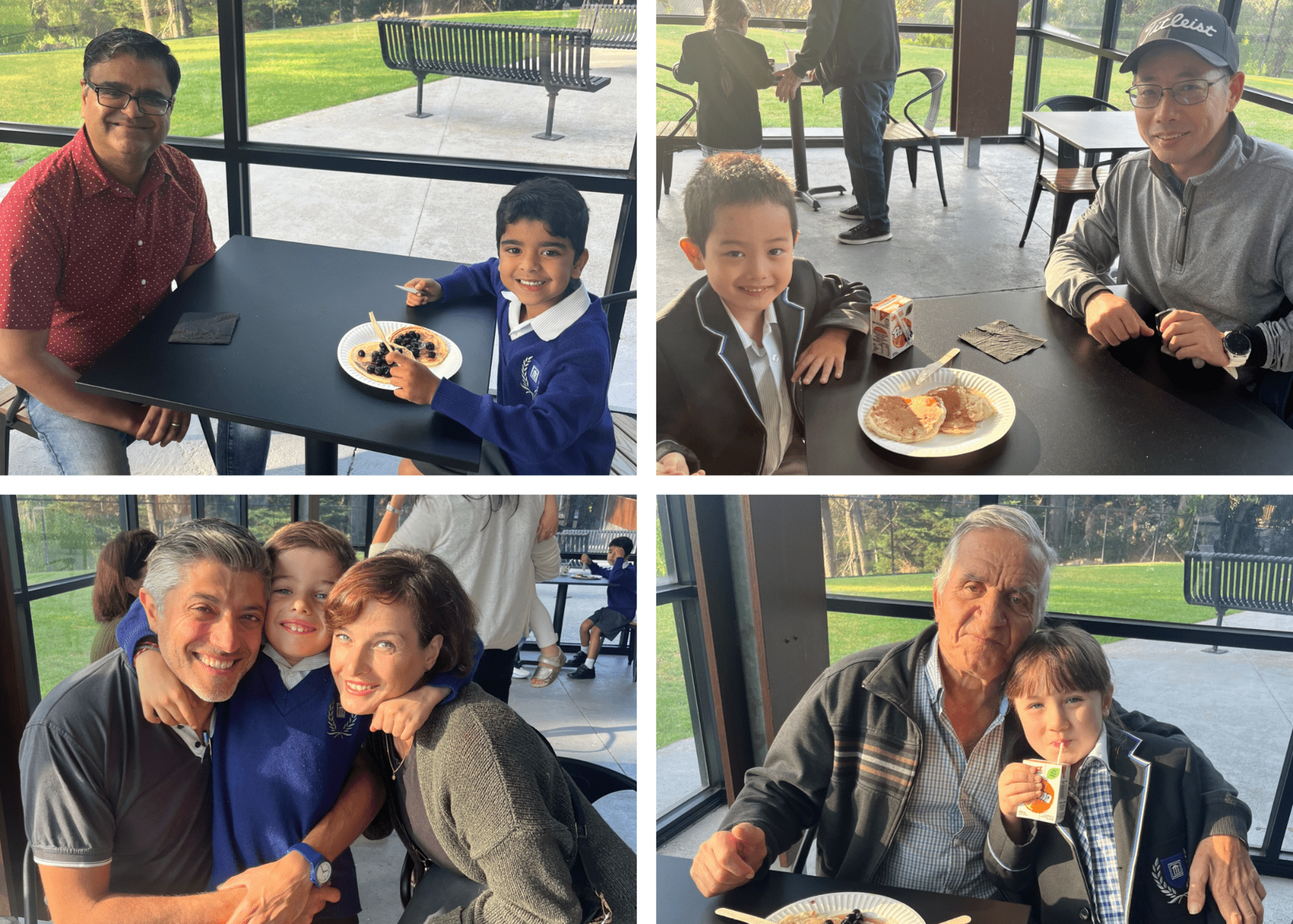 Ms Mikahl Venneri
Primary School Teacher
Show All
Collapse
Fun in Chinese 
It's been a fun couple of weeks in Chinese classes, with students trying a range of Chinese cultural activities. 
The Year 7 and 9 classes, in between working hard at NAPLAN, have been having some fun playing with the Chinese Hackey Sack: The Jian Zi.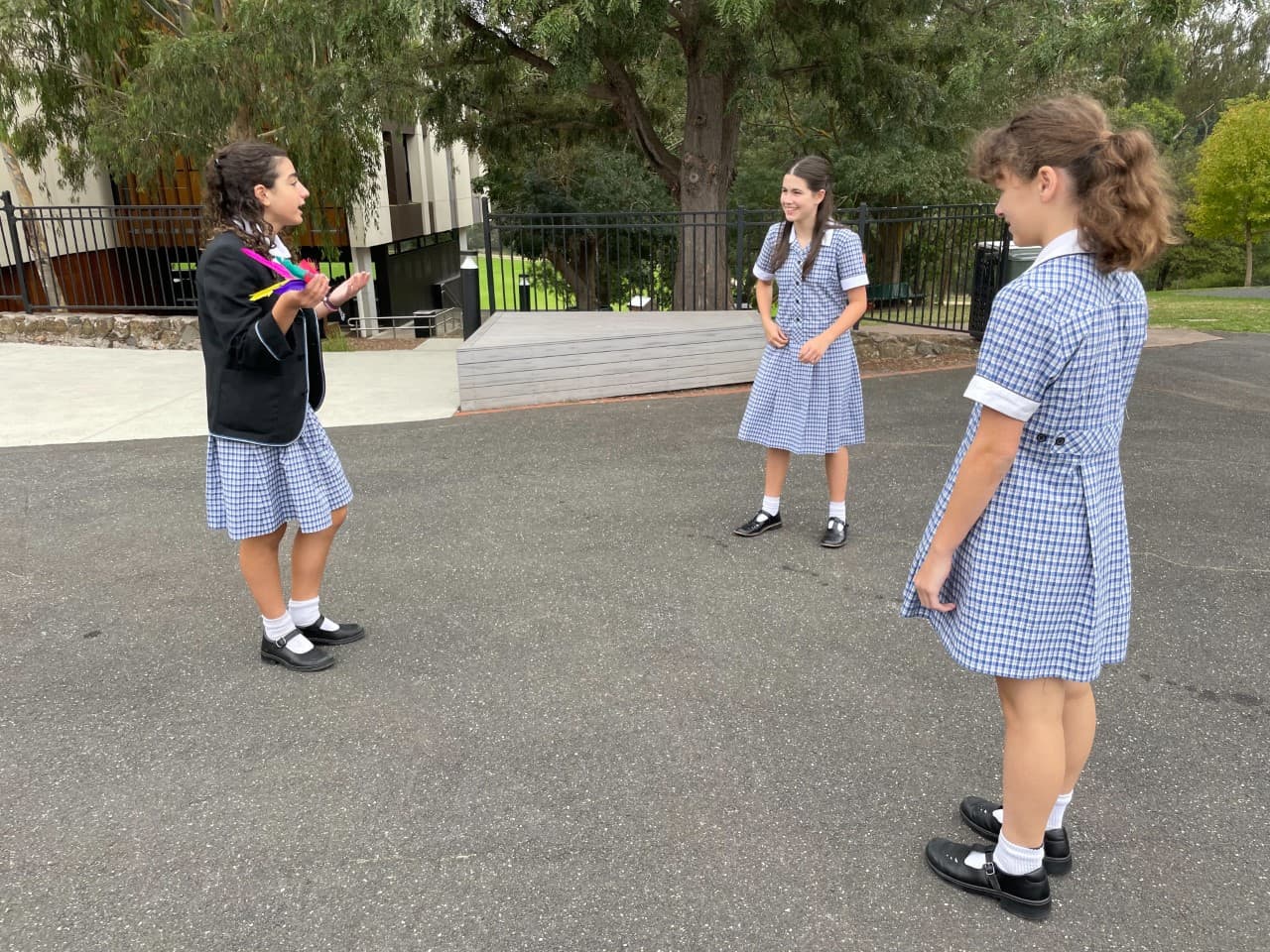 Congratulations to 8A for placing First in Chinese language in the recent Education Perfect Language Championship! To celebrate their win, an afternoon of Chinese snacks and tea was organized, so that the class could celebrate the Chinese way!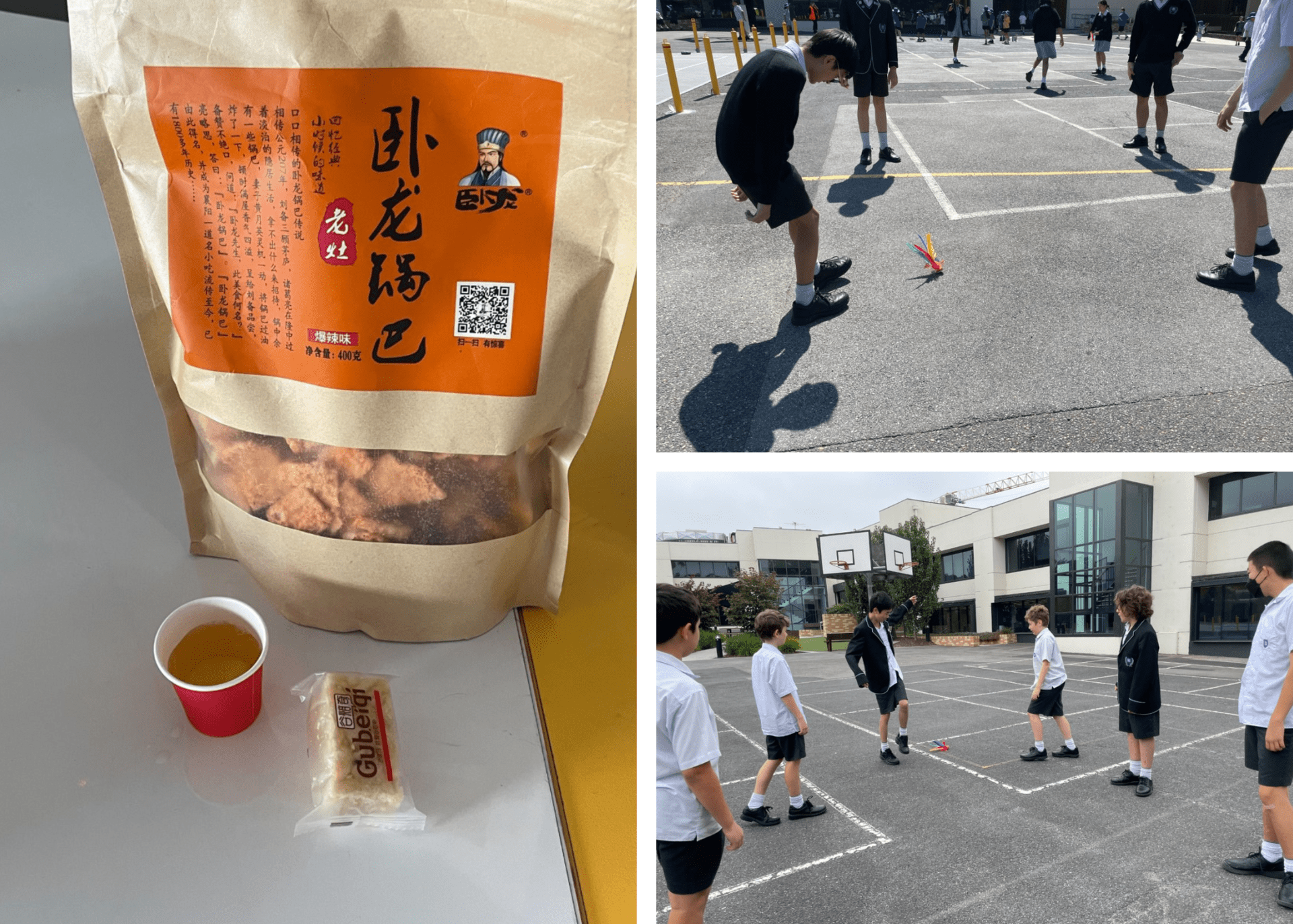 Greek Independence Day Assembly 
Our whole school assembly to commemorate Greek Independence Day took place this past Monday morning. It was a moving tribute to the events and people of 202 years ago. 
Dr Nikou set the historical context for us and our MCs Costa Magiris, Anastasis Mouratidis and Pantelli Saris introduced the program and gave us more information about the songs and music which were performed. 
Well done to all students who participated in the assembly. Whether you sang, delivered a speech, played drums or performed with the Greek band, you were wonderful!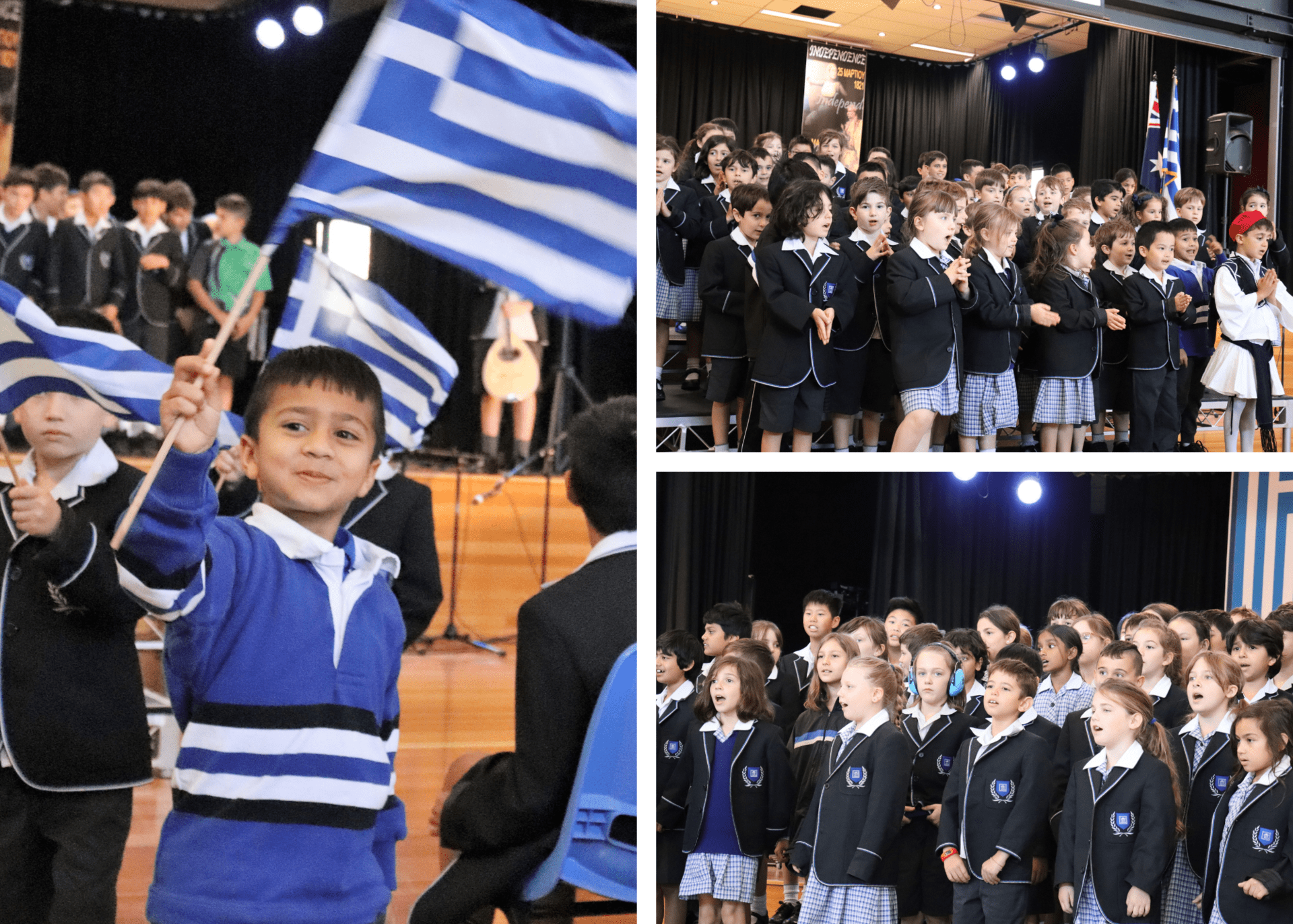 Education Perfect Languages Championship 
Each year, the people at Education Perfect organise a worldwide language competition, to promote language learning, while taking part in an exciting competition. The EP Languages Global Championship has now ended. 
There were so many Alphington Grammar students competing during the week-long competition, practising languages from Chinese to Greek to Latin. We hope students found it an exciting and worthwhile way to practise and learn languages.  
Final results for our school: 
103,601 questions answered 
39,938 points earned 
190 hours spent online 
1st in the world in Greek out of 537 schools 
50th in Chinese out of 1,107 schools 
51st in Latin out of 661 schools 
Brandon Lam 6th in the world for Greek 
Christina Lablache 7th in the world for Greek 
Zack Tsaklas 8th in the world for Greek 
Emerald 5000+   
Gold 3000+    
Alexander Dunn
Michael Ooi 
Bronze 1000+   
Sophia Bush 
Thalia Lewis 
Zack Tsaklas 
Sachit Awale 
Christina Lablache 
Rishi Chauhan 
Ella Spiteri 
Mio Maglen-Machado 
Credit 500+    
Evangeline Mead 
Karina Barakia 
Sarah Dicker 
Jade Rann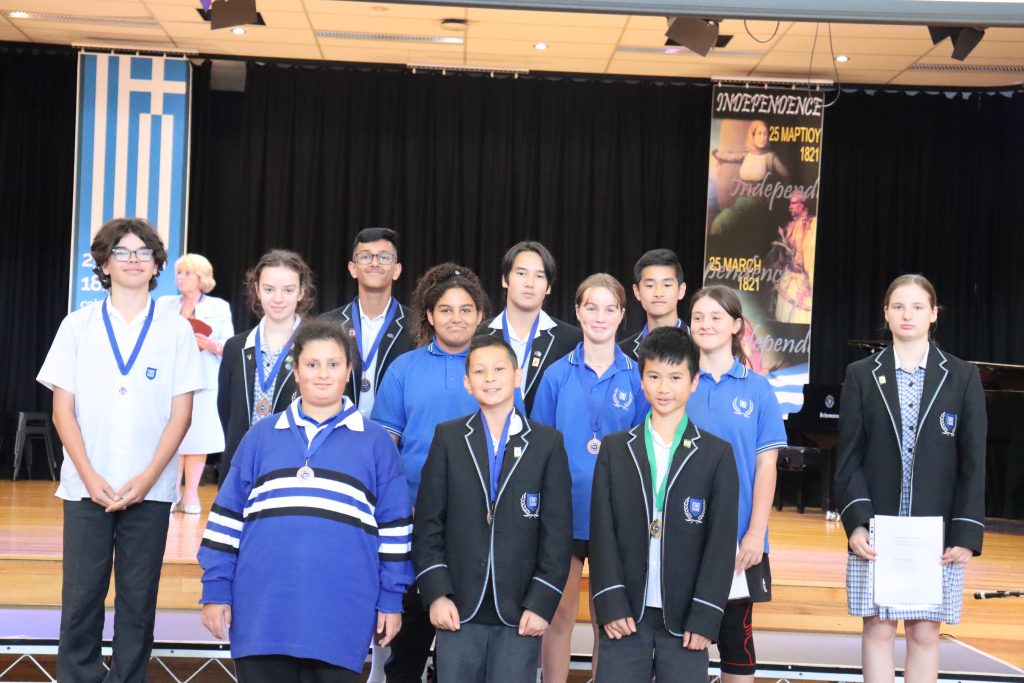 House results: 
Byron          13,614 
Socrates      12,053   
Pericles       9,385 
Aristotle      4,375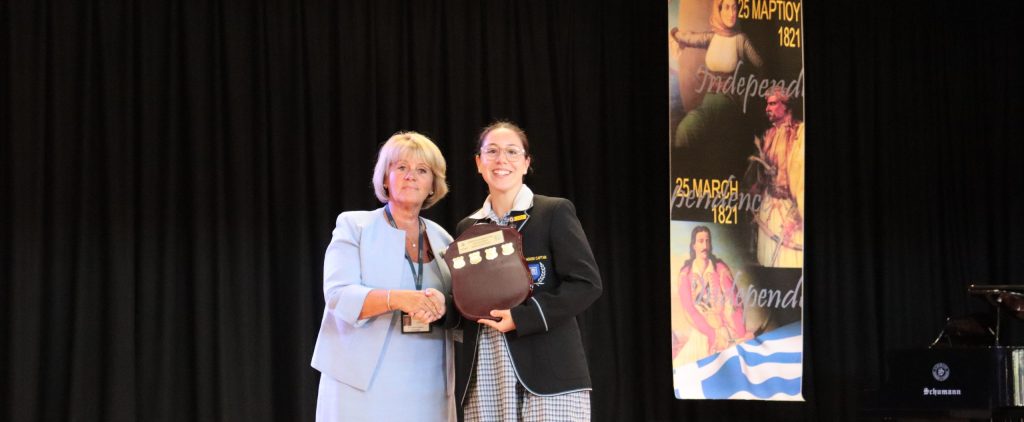 Well done to everyone. See you in 2024! 
Ms Effie Bindevis 
Primary Greek Coordinator 
Ms Denise Diakodimitriou 
Head of Languages 
Show All
Collapse
Environment Club
This term at the AGS Environment Club, our focus has been learning more about the Darebin Creek that passes right behind school grounds. On Tuesday the 14th of March, The AGS Environment Club had the opportunity to meet Peter Grenfell from the Darebin Creek Management Committee (DCMC).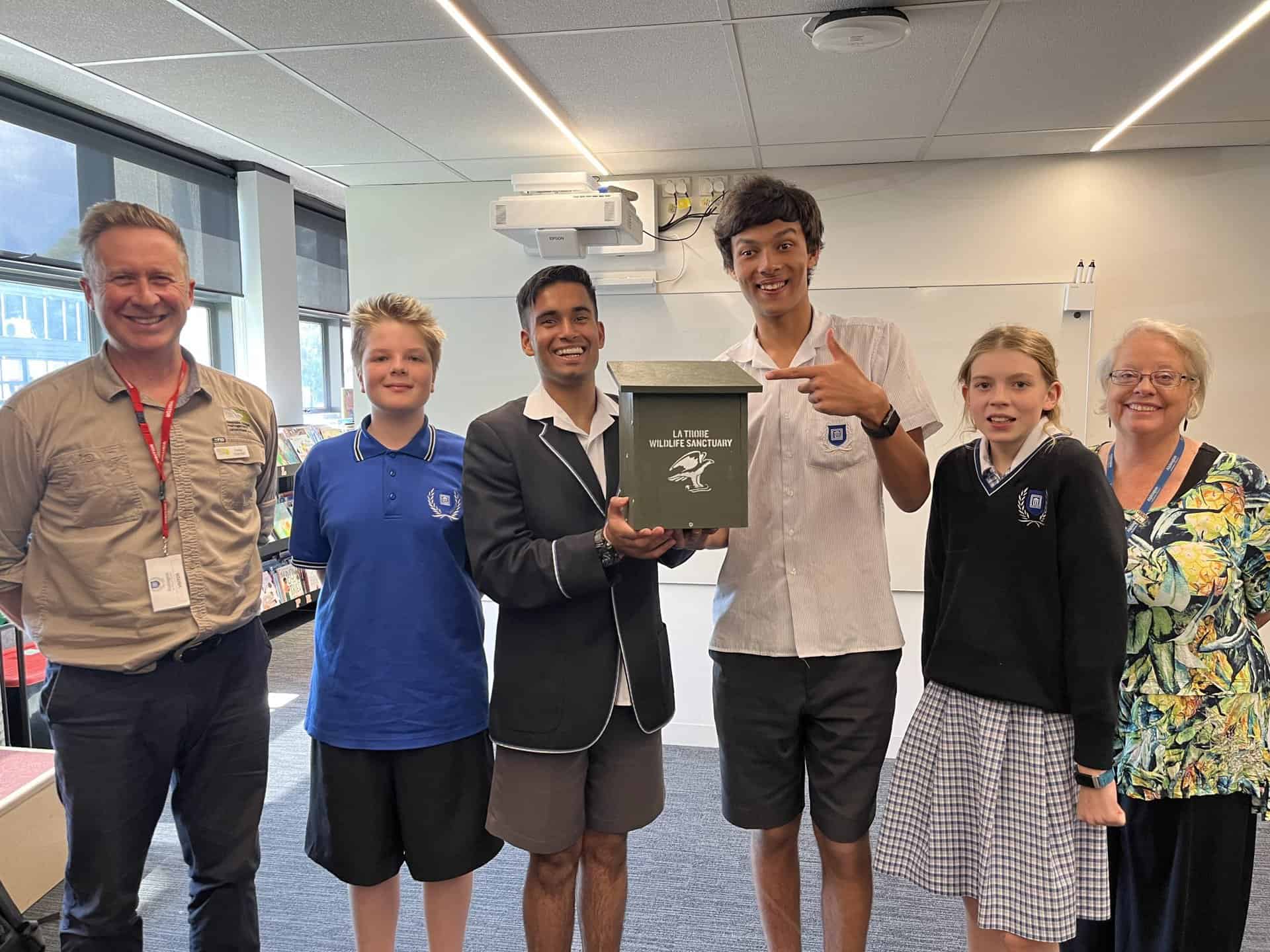 DCMC's role is to conserve biodiversity along the Darebin Creek, and educate students about how they can get involved in protecting the creek. Peter gave all of us a great insight about some of the species they are protecting in the Darebin Creek, such as brushtail possums, feathertail gliders and how other species' survival is been challenged. Peter also talked about some of their revegetation initiatives along the Darebin Creek to encourage a population of small birds and even their water quality monitoring projects across the Creek. However, the main purpose of the visit was to inform us about the nesting boxes the DCMC has installed in the Darebin Parklands. These nesting boxes are designed for a variety of animals to encourage them to return to the area after the deforestation and urbanisation of the area.  
It was a great meeting and the AGS Environment Club is going to be taking strong action to protect our section of the Darebin Creek. The idea is to purchase nesting boxes and have students monitor the animals that take up residence in these boxes. We have been researching which animals we want to encourage into the area and will be meeting with one of the rangers who is responsible for the monitoring the nesting boxes just outside the school grounds.  More information about this project to come. 
Rudra Sekhri, Year 12
School Captain 
Show All
Collapse
From the Sport Department
EISM Swimming Division 3 Carnival  

On Monday, March 20th, the EISM Division 3 swimming carnival was held, and it was a day full of excitement and enthusiasm. The carnival was hosted at MSAC in Melbourne, where students from various schools across the region gathered to compete. 
The Alphington Grammar School students performed exceptionally well and left an impression on everyone present. The team displayed their swimming prowess and demonstrated outstanding teamwork, winning the title of 'Most Improved' school of the day.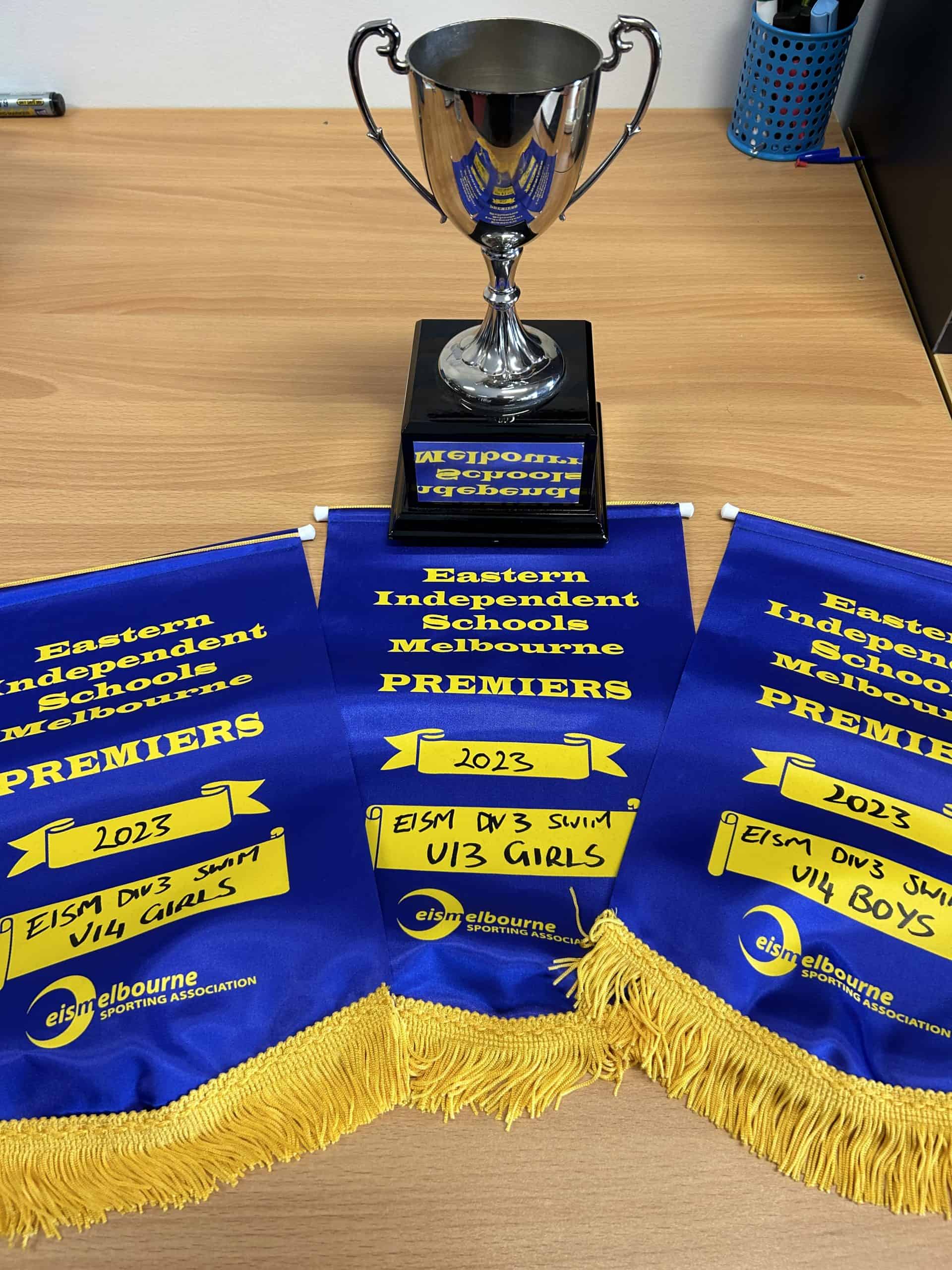 Alphington Grammar school performed well in the EISM Swimming carnival, but unfortunately, they were overtaken by other schools in the final few races, resulting in a third-place finish overall. This result was one of the best results the school has had in a while, students and staff will use this experience as motivation to continue to work hard and improve their performance for future events.
The event featured a range of individual and team events, such as freestyle, breaststroke, backstroke, butterfly, relays and many more. The students competed against each other in a friendly and supportive environment, displaying great sportsmanship throughout the day.
The carnival was a great opportunity for students to showcase their swimming abilities and to compete against other schools. It was also a fantastic way for the students to build camaraderie with their fellow peers.
Individual and team highlights for the day:
Ella Spiteri 1st in Freestyle, 1st in Backstroke and 1st in Breaststroke
Jeremey Spiteri 1st in Freestyle, 1st in Backstroke and 1st in Breaststroke
Liam Murphy 1st in Backstroke
Angie Songsungkhan 1st in Freestyle and 1st in Backstroke
Ellaina Arabatzis 1st in Freestyle, 1st in Backstroke and 1st in Butterfly
U13 Girls Medley and Fresstyle Relay team
U13 Boys Medley and Freestyle Relay team
U14 Boys Medley and Freestyle Relay team
U15 Girls Medley Relay team
We would like to extend our congratulations to the following students who won their age group pennants.
U13 Girls team consists of Ella Spiteri, Amaya Mahon Jade Rann and Georgia Skliros
U14 Girls team consists of Ellaina Arabatzis, Clara Bielenberg, Esme Johnson and Siena Mirabile
U14 Boys team consists of Liam Murphy, Joel Paraskevas, Dimitri Zagkountinos and Reuban Hay
The carnival was a great success and demonstrated the commitment and dedication of the students who trained hard in the lead-up to the event. Congratulations to all the students who participated in the carnival, and special congratulations to the Alphington Grammar School team for their outstanding performance and winning the Most Improved team title.
We look forward to seeing more inspiring performances from these talented young athletes at the next event, which is on Monday 27 March at the EISM Swimming Championships.
Primary Division Tennis Competition
Athanasia, a young tennis player from Alphington Grammar, put in a great effort at the division tennis competition on Monday 20 March. Despite her best efforts, she was ultimately defeated by more experienced opponents.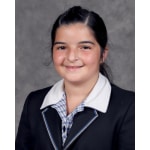 The experience of competing in a division tennis competition will undoubtedly serve Athanasia well as she continues to pursue her passion for the sport.
We can all be proud of Athanasia for representing Alphington Grammar with such enthusiasm and commitment. We look forward to seeing her continued growth and success in the future.
Upcoming Sports Events:
EISM Swimming Championships Monday 27 March 9:00 – 3.30pm
Primary Soccer Round Robin Competition Friday 31 March 9:00 – 3:30pm
Primary House Cross Country Tuesday 4 April Prep – Grade 6 Various Times
Ms Olivia Rahme
Head of Sport, Health and PE
Show All
Collapse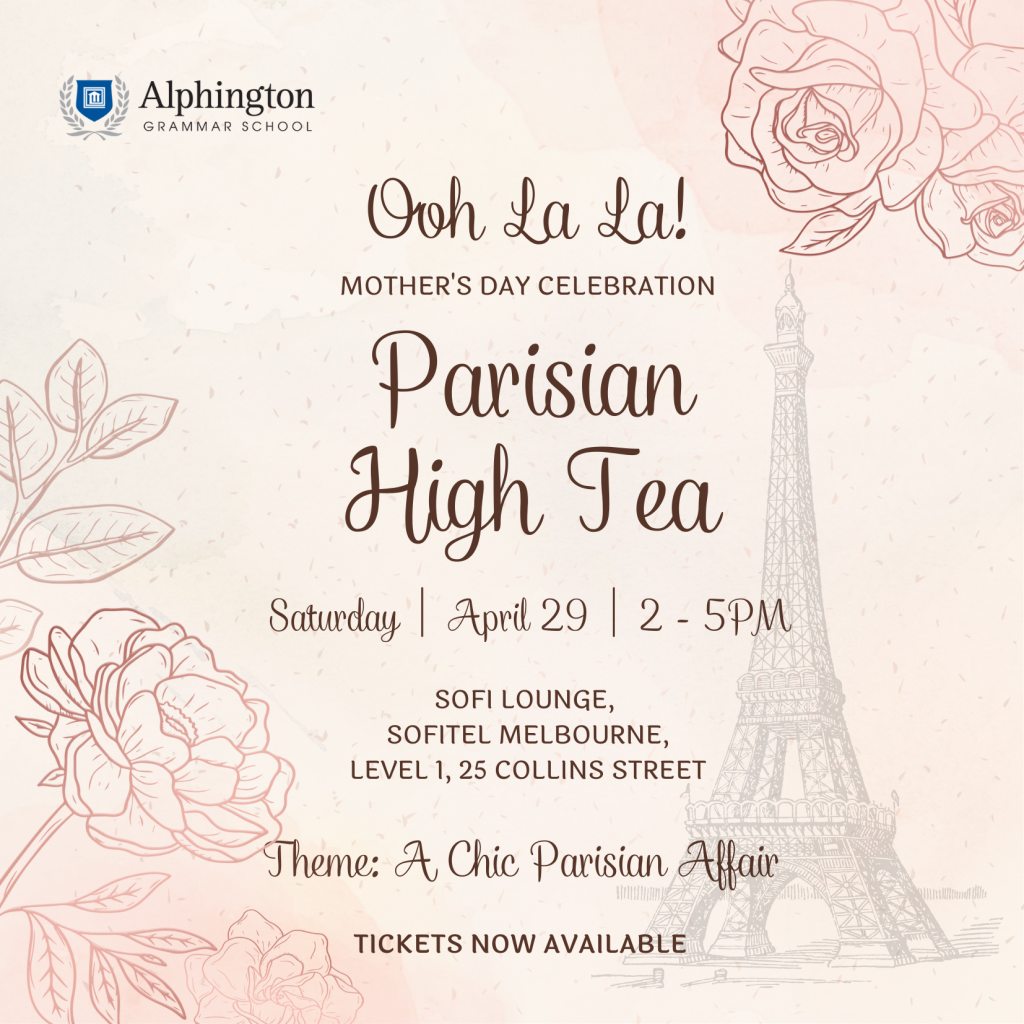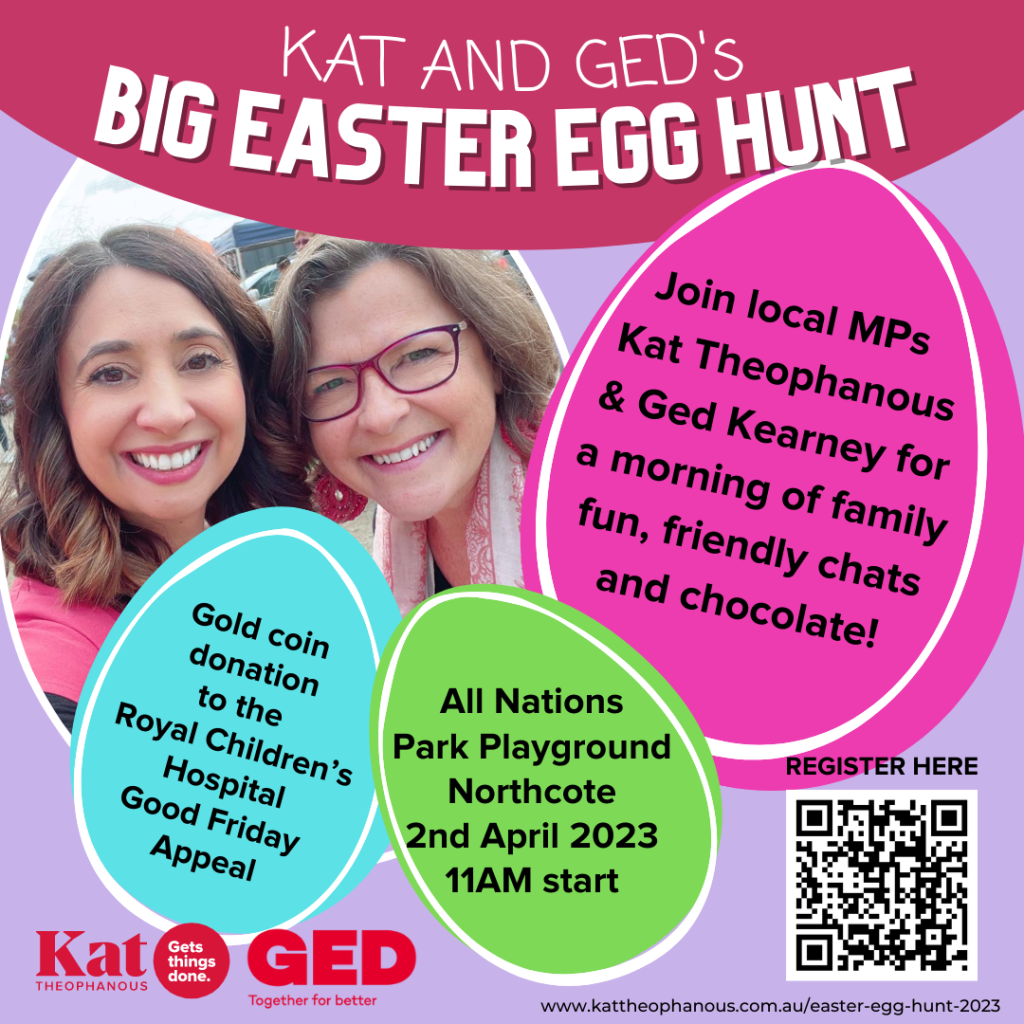 If you're looking for school holiday programs that will educate, engage and excite your children these upcoming school holidays, look no further than Sporting Minds. Improve your skills, have fun, and make new friends whilst learning from qualified teachers and expert coaches. Get your kids moving and making memories these school holidays.  
Program 1: 12 – 14 April 
Program 2: 19 – 21 April 
All programs are run by Alphington Grammar PE teachers Andrew Diviny and Blair Runnalls.  
To find out more or to book, visit the website: http://www.sportingminds.com.au 
Semester 1 Key Dates - Secondary
Semester 1 Key Dates - Primary
3,404 total views, 6 views today