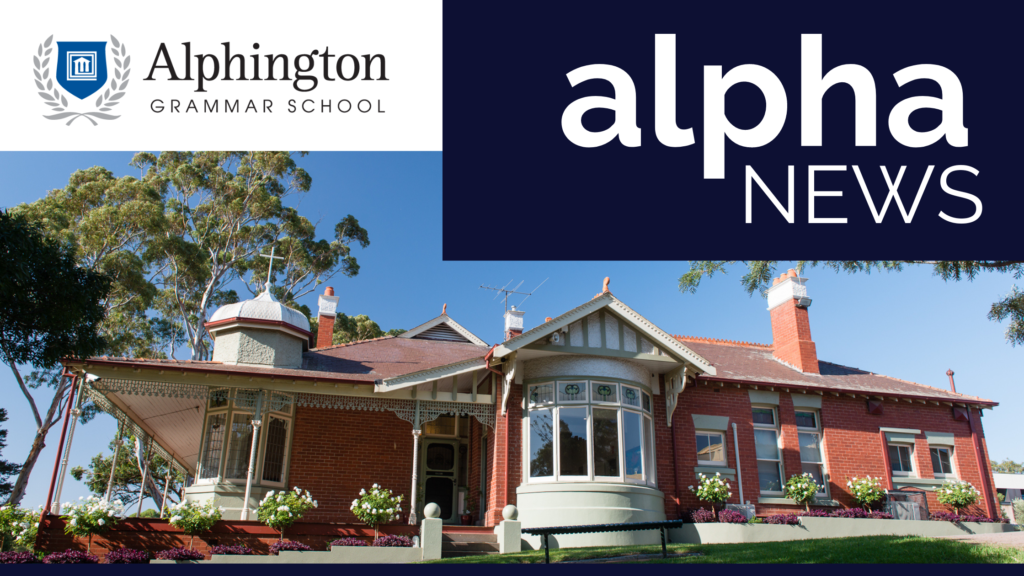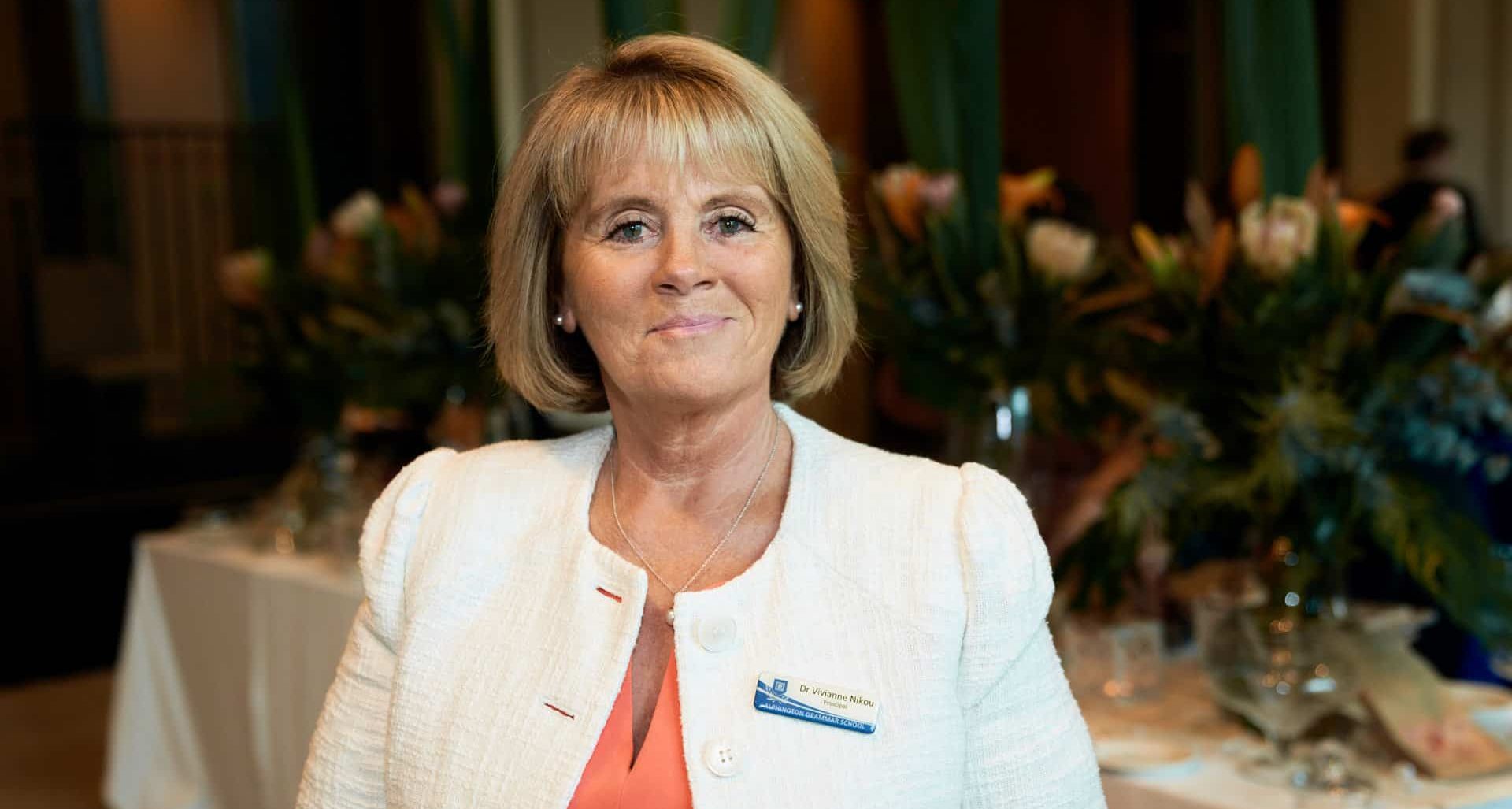 I hope the recent 3-week break has provided everyone with the chance for some rest and relaxation. Many families have used the opportunity to take a break in the sun travelling up north to Queensland, Darwin, Gold Coast and Noosa while some have been able to head to Europe to see family and friends after almost 3 years of separation.
The recent break allowed me to also undertake some of my sabbatical and to participate in a trek to the most northern tip of Australia going through magnificent rainforests and some of Australia's most unique remote settlements.  From Cooktown (the oldest place settled by Europeans) to Weipa, with its enormously rich bauxite deposits leased to Rio Tinto, travelling along the Old Telegraph Track to Fruit Bat Falls Cape York to the Northern Peninsula and then the Torres Strait Islands. The Trek included learning more about the conservation work of Steve Irwin. 
The vastness of this country and the diversity of the terrain never ceases to amaze me. To enter remote Indigenous communities and to learn firsthand of their deep understanding of the fauna and flora of Australia was deeply moving. There is clearly much we all could learn from our First Nations people.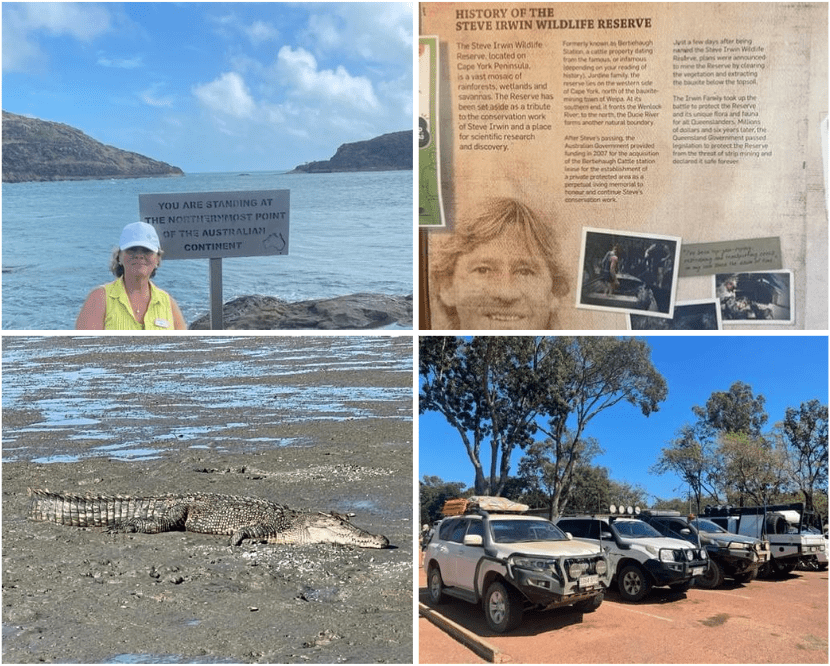 VCE Years
The vacation period marked the start of the countdown for our most senior students with practice exams in all subjects. I thank all the staff who help supervise these exams in the holidays to allow our students the opportunity to get and early run into the reality of what awaits them in a month's time as well the chance to get honest feedback from external reminders.
Valedictory Dinner
Our Year 12 students have been able to mark the end of this phase of their educational journey with a beautiful dinner dance at Leonda by the Yarra, celebrating their years at school with family, friends, staff and members of School Council. It was wonderful to see everyone together once again. 
Students also returned to school for their Year 12 Celebration Morning. Please enjoy some photos below.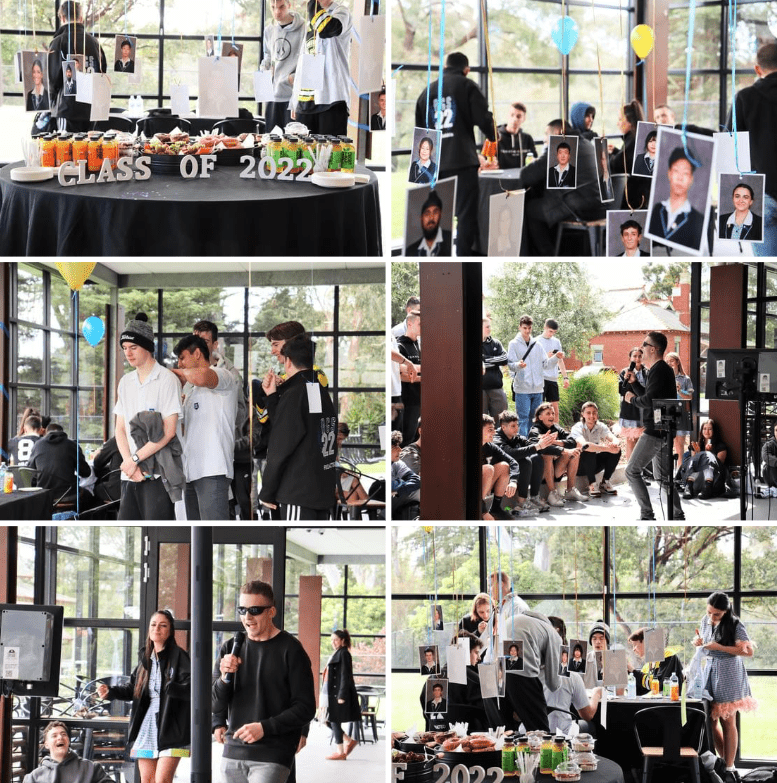 VCE Awards Night
The major awards night for Years 10-12 students took place this week at The Edge, Federation Square. The night recognises and celebrates our Year of Achievement, Academic and Service awards, School Colours for achievements and contribution to School and community as well as a formal graduation ceremony for our Year 12 students. We were also able to induct our 2023 School Leaders. It is the major event in the school academic year which recognises achievement in a formal setting with families present. Congratulations to all who were recognised at this event. While a full list of recipients will be published in this year's Grammarian, I am pleased to announce the Senior Student Leadership Team for 2023.
School Captains
Aristea Papax
Rudra Sekhri
School Vice-Captain
Keppel Gordon
Sport Captains
George Andriotis
Marcus Chatzitrifonos
Music Captain
Krishan Gurdon
Music & Performing Arts Captain
Zach Choo
Community Service Captains
Emmanuela Lettas
Phoebe Simmons
Visual Arts Captains
Christina Sistanis
Aaliya Sachon
Aristotle Captains
Simran Sood-Saleem
Alec Iddon
Byron Captains
Chloe Portoglou
Anastasia Fokianos
Pericles Captains
Pantelli Saris
Joudy Sallam
Socrates Captains
Mariana Galanopoulos
Louiza Francezchini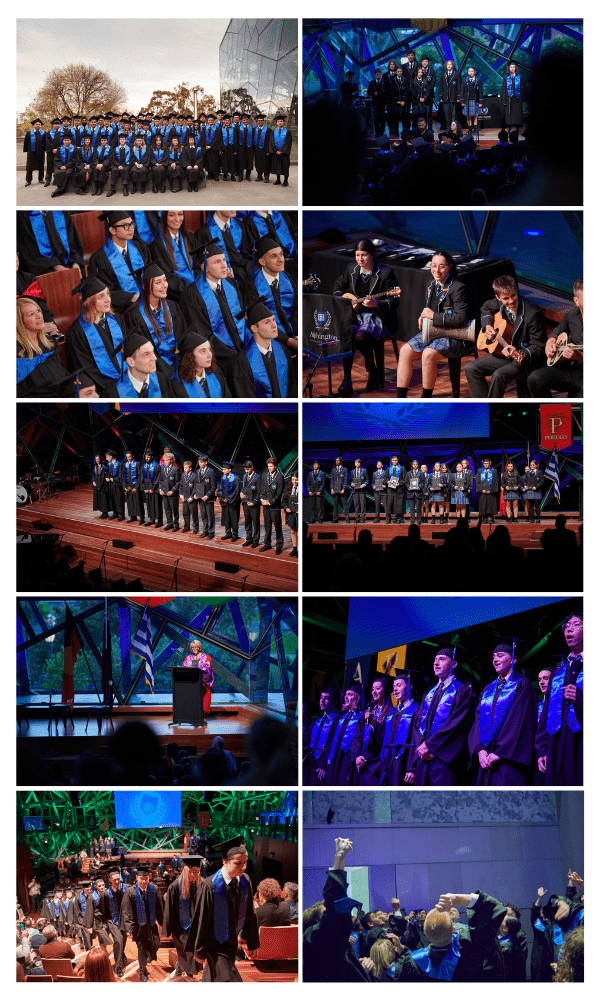 Parents and Friends Events
Our Parents and Friends Association and Classroom Coordinators have organised various events over the year and this term I highlight some special events for us all to participate in.
Ten Pin Bowling Afternoon ($15.00 per bowler)
Sunday 6 November: 3.30pm – 5.30pm
Heathways Mont Albert North
How to Thrive – Fundraiser ($25.00 pp)
Save the Date! Wednesday 9 November
Westgarth Theatre: 6.30-8.30pm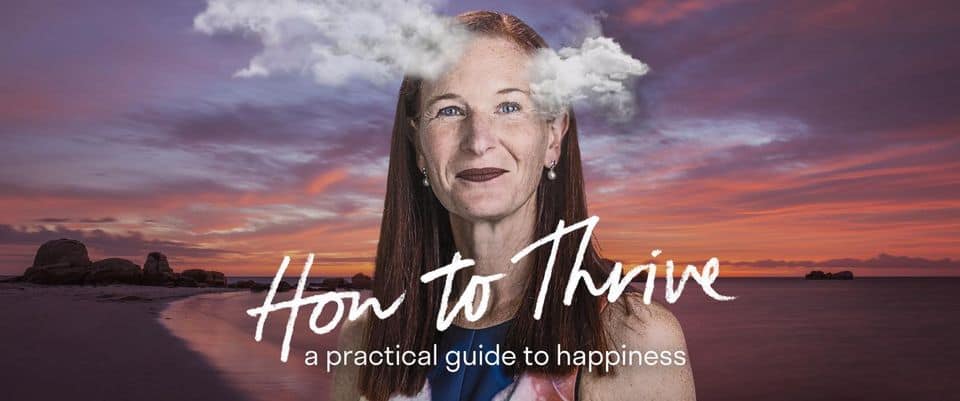 Good mental health is integral to the healthy development and wellbeing of every child and helps children's ability to deal with challenges and adapt to change, so they can feel good about themselves, and enjoy life. In 2021, about 1 in 7 children and adolescents aged 4 to 17 experienced a mental health disorder in Australia – more needs to be done. 
At AGS, the mental wellbeing of our students, staff and broader school community is of critical importance, as we continually to learn more about the tools and support necessary to ensure we can all thrive.
To start this conversation, we are proud to be able to schedule an exclusive fundraiser film screening for the AGS community of a social documentary: 'How To Thrive'.
How to Thrive is a very powerful documentary film about the lives of 7 people making incredible journeys during times of personal emotional struggles. The people are so relatable to each of us no matter where we are in our life journey what our relationship status is or family life. Having seen the film before its public release it is a raw, intimate, heartfelt and a hopeful film that explores the transformative journey to learn "How to Thrive:" Can the science of happiness be taught?
We have 100 seats available at the Westgarth Theatre for our exclusive use.
At the conclusion of 'How To Thrive', there will be a Q&A Panel Discussion with the film's Director, Duy Huynh, and Positive psycho-therapist Marie McLeod (who's featured in the film).
More information to come next week.
Rock Star Family Night
Save the Date! Friday 25 November:  6.30pm-10.00pm ($25.00 Adults, $15.00 Students)
Held in the Andrianakos Centre
The Rock Star Family Night is a chance for everyone to dress like a rock star and have some fun before the Christmas rush. Bring the family for an evening of fun and dancing with a live band. Dinner will be supplied. Adult drinks will be available for purchase at the PFA stall.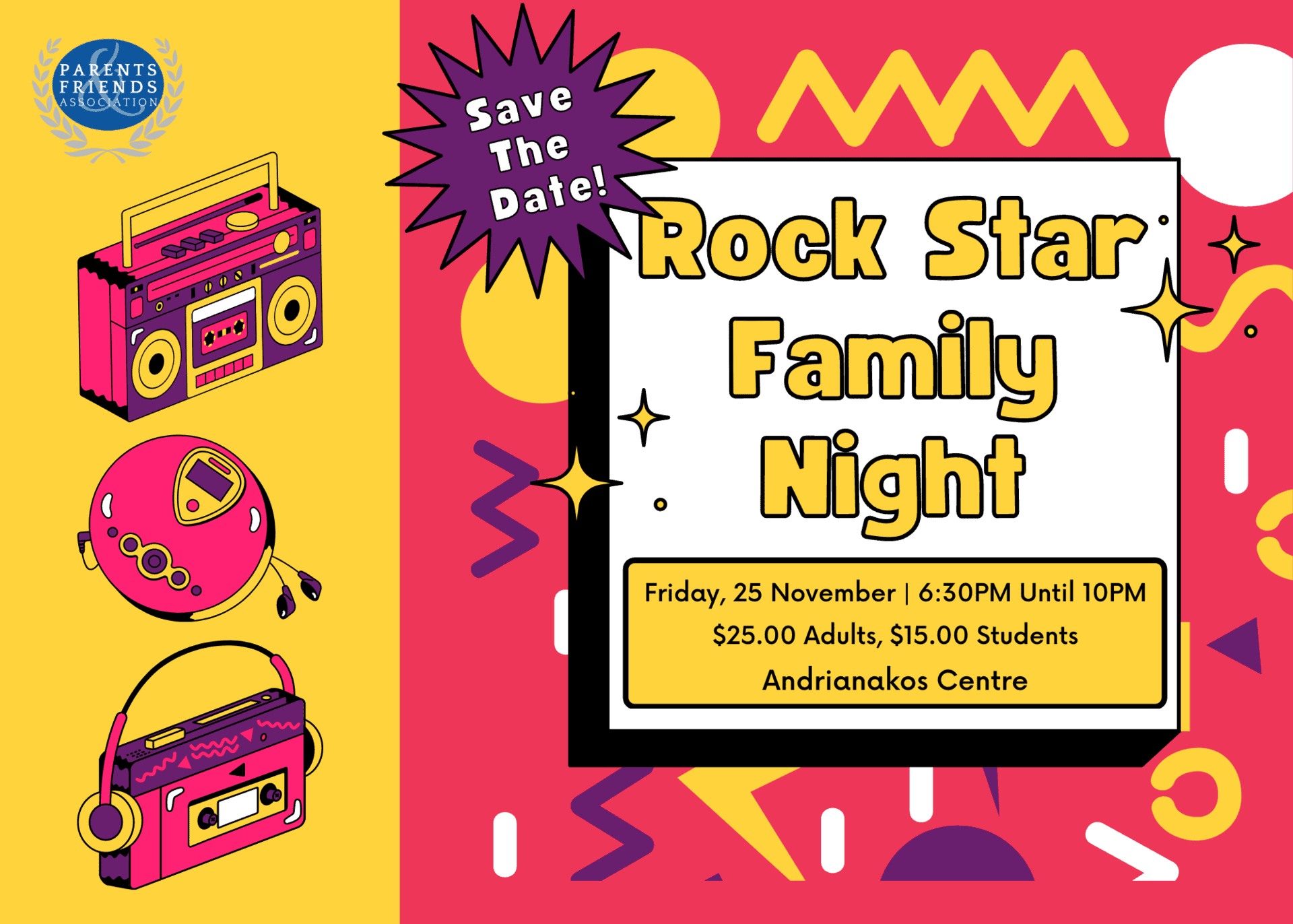 Dr Vivianne Nikou
Principal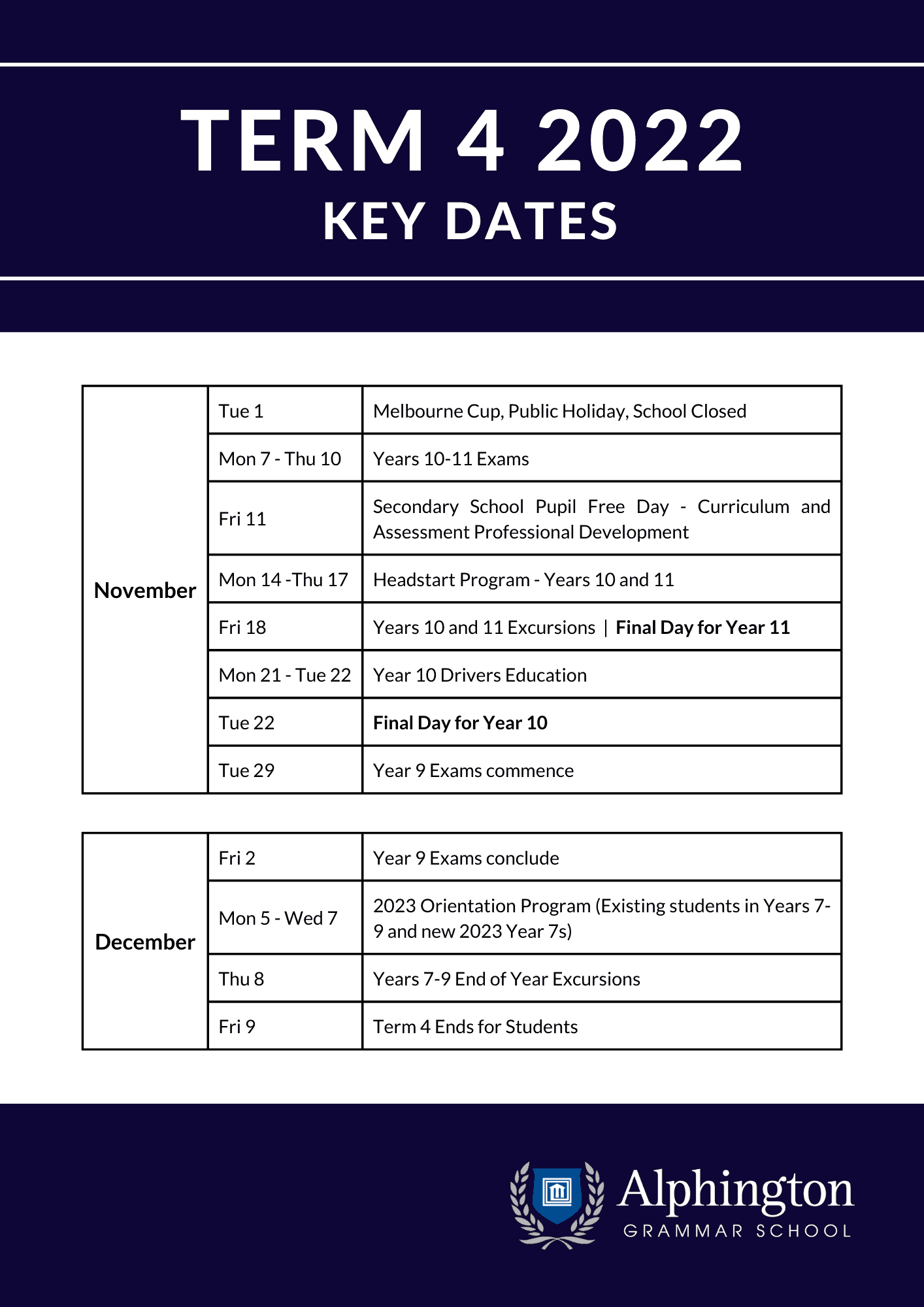 Show All
Collapse
Flowerdale Winter 2022: Community
The most recent edition of our school magazine Flowerdale, Flowerdale Winter 2022: Community, is now available for you to read. Featuring stories of and by alumni, current students and staff, as well as community updates, Flowerdale is not a publication to miss! You can read this latest edition by following the link below or look for physical copies in the school Library or Front Office.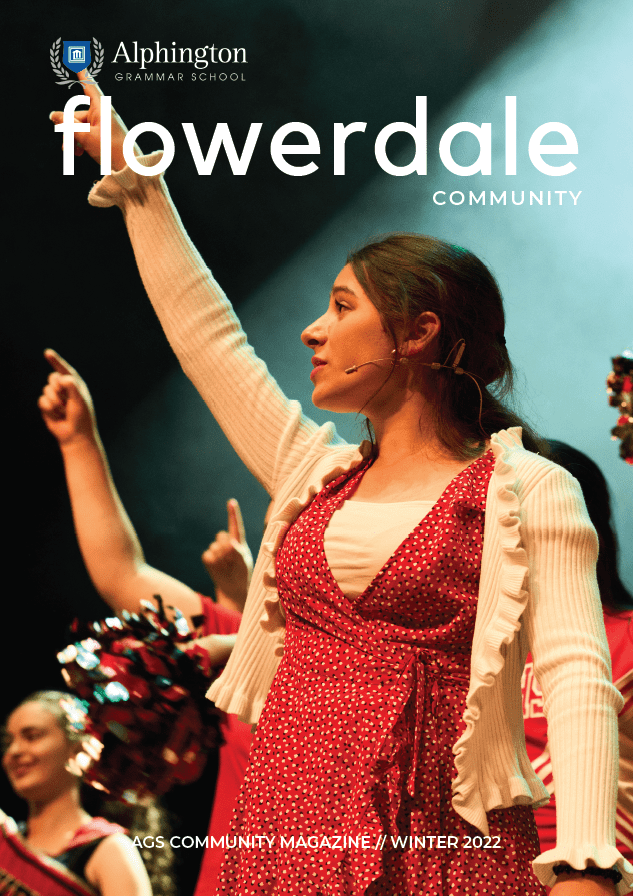 From the Secondary School
Secondary Debating Program - Swannie Awards
Every year the Debaters Association of Victoria announce a regional 'Swannie Award', to the speakers in each grade with the highest average score. This award is named after Alan Swanwick, a long-time member of the DAV and a pioneer of debating in Victoria.
We are thrilled to announce that Year 11 student Chloe Portoglou has been awarded this prize for the Ivanhoe B Grade category for 2022.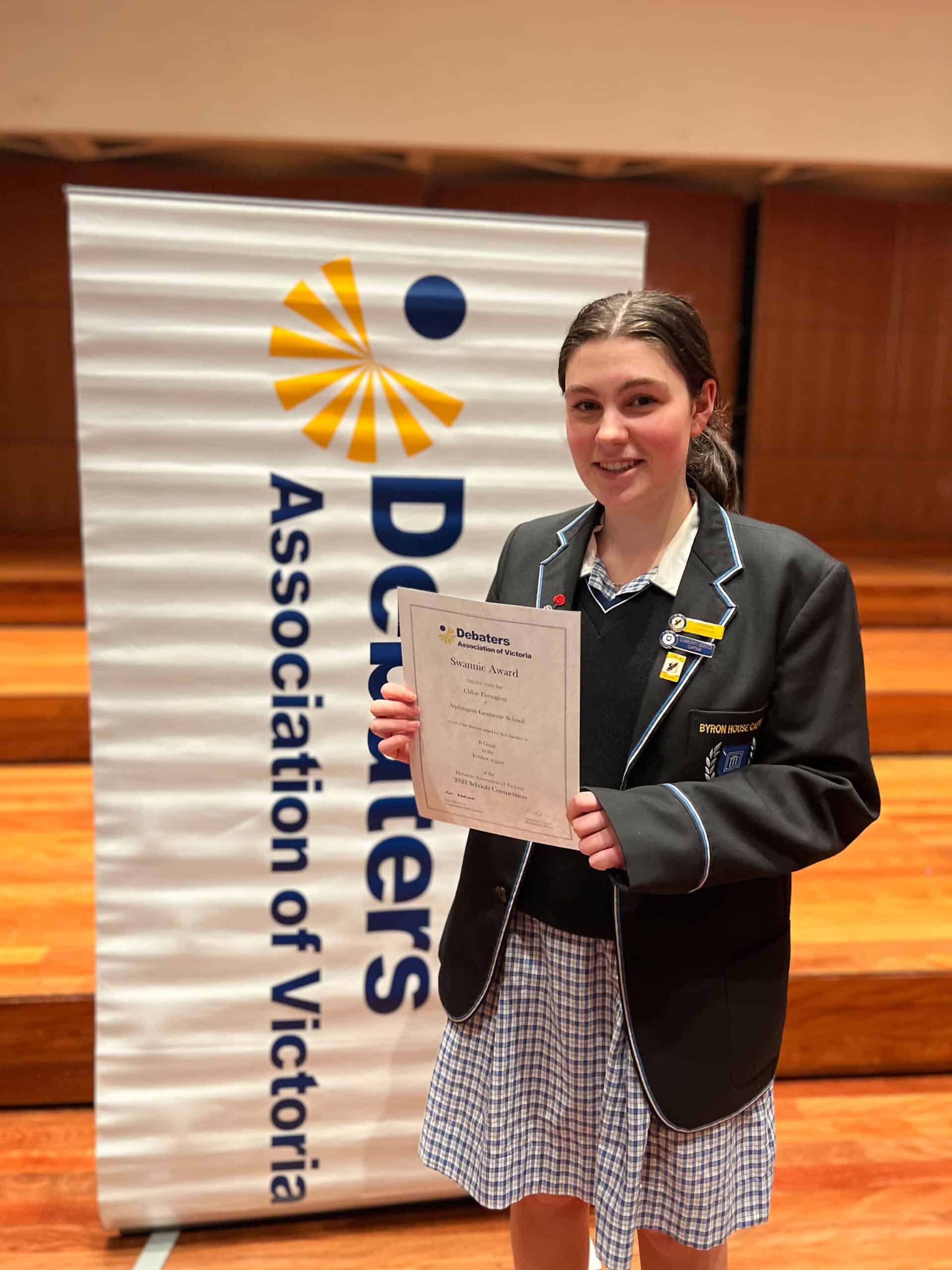 It is an incredible achievement and a reflection of Chloe's impressive debating skills. Alongside official recognition for her skills and talents, also came an invitation to apply for Victoria's State Team.
It was a pleasure to be able to celebrate Chloe and the other award winners in person this year at Methodist Ladies' College. Congratulations Chloe: this is well deserved recognition of all of your hard work, and we can't wait to see what the next year of debating brings you.
Ms Anna Milburn
Debating Club Facilitator
Show All
Collapse
Model United Nations Incursion
On Thursday, October 13 Year 9 students engaged in a model United Nations incursion. Students were split into pairs to represent one of the fifteen member-states of the United Nations Security Council. Students were required to research their country and form a stance on the current humanitarian crisis in Yemen.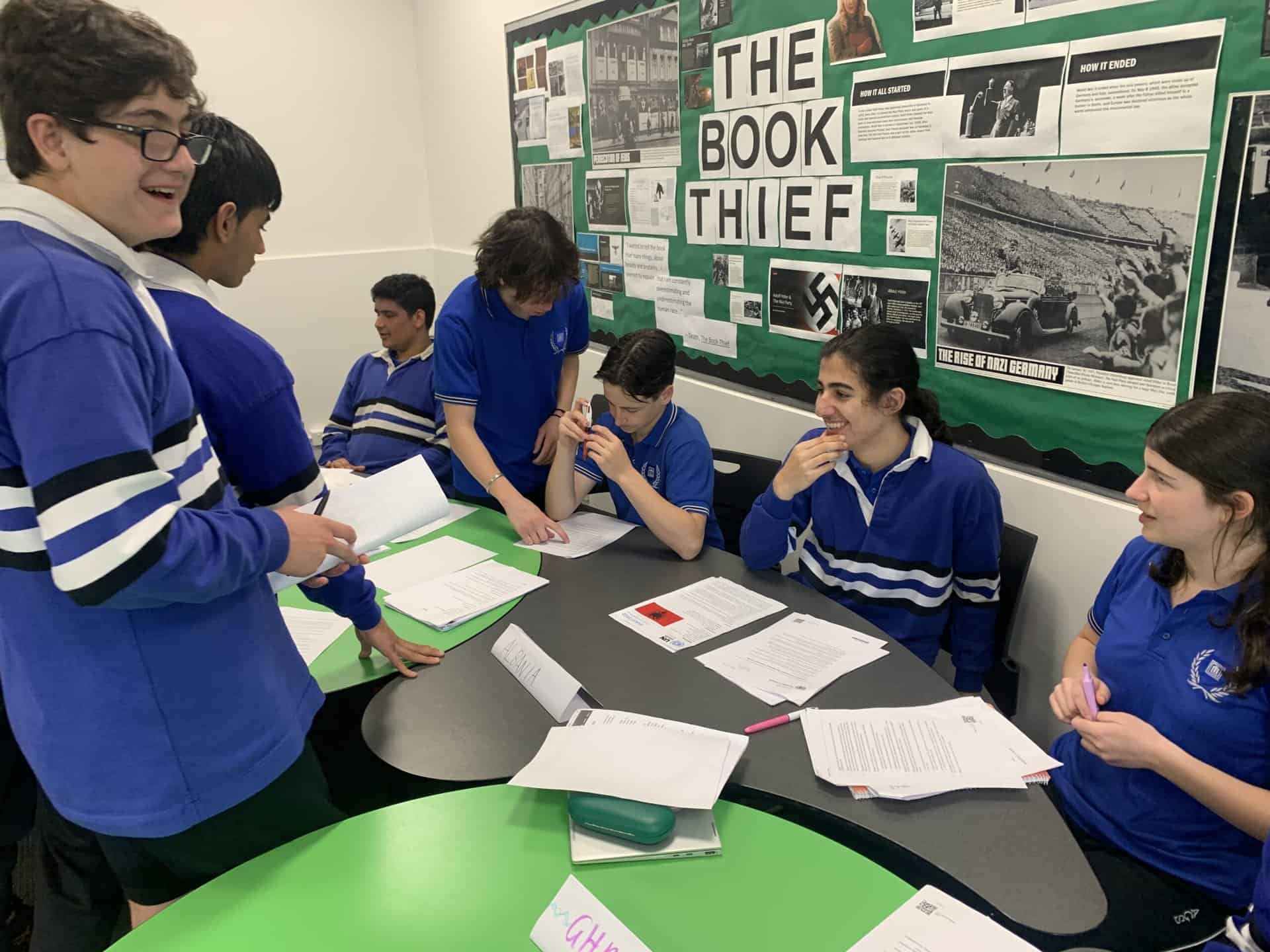 As part of this activity, students participated in debating, amending and altering two resolutions on the crisis. Some member-states formed coalitions that would make worldwide news if happened today, such as the USA, China, Russia and the UAE Alliance. Unfortunately, the students found out that diplomacy is an easier concept in theory than in practice, as when the United Kingdom and Norway were bombed!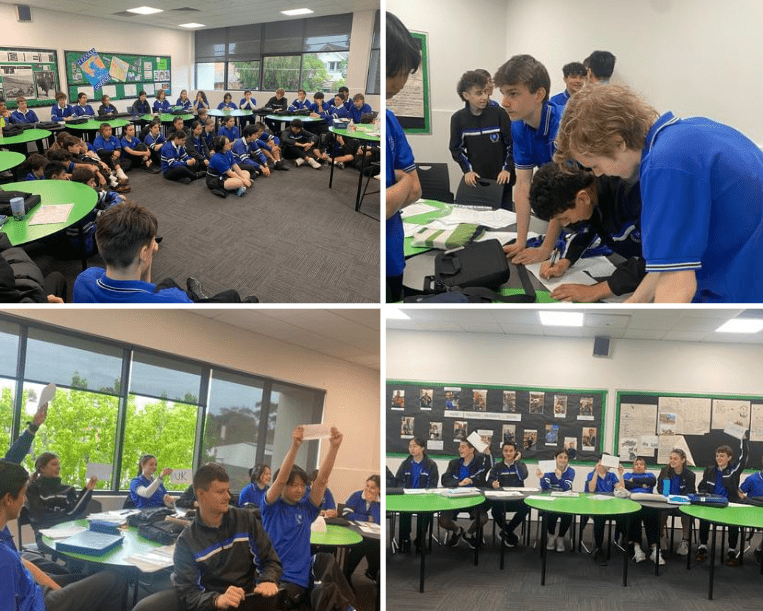 Ultimately, students learnt the power of negotiation and the complex nature of global politics.
Mr Robert Panara, Mr Con Papoulis and Ms Shelby Morwood
Show All
Collapse
ICAS Mathematics competition winners
We have received some great results in the International Competitions and Assessments for Schools (ICAS) which involved testing in Science and Mathematics at Years 7 and 8 levels for selected students.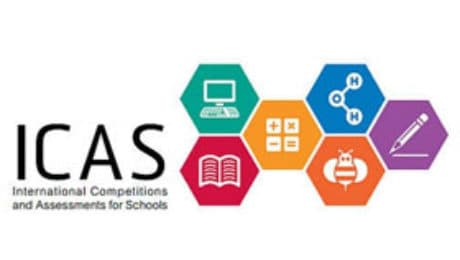 We are delighted to announce that the following students have received an award:
Top 1% of students receive a High Distinction
The next top 10% of students receive a Distinction
The following 25% of students receive a Credit
The next 10% of students receive a Merit Certificate
Mathematics awards (17 students participated)  
Please note: The ICAS Science awards were published in the previous Alpha edition (late term 3). 
George HARRISON (Year 7, Aristotle) – High Distinction
Bowen JIANG (Year 8, Socrates) – Distinction
Ari PATEL (Year 7, Byron) – Distinction
Jiahui ZHU (Year 8, Socrates) – Distinction
Alexander DUNN (Year 7, Byron) – Credit 
Isaiah HA (Year 7, Socrates) – Credit
Esme JOHNSON (Year 7, Byron) – Credit
Norman LI (Year 8, Socrates) – Credit
Zijian LI (Year 8, Aristotle) – Credit
Michael Ooi (Year 8, Pericles) – Credit 
Oscar Purcell (Year 8, Socrates) – Credit
Angeliki SIAMIDIS (Year 8, Pericles) – Merit
Congratulations to all the students listed above! They will be receiving their certificates soon in addition to their performance summaries.
Mr Louis Diamandikos
Head of STEM
Show All
Collapse
During the September holidays, the Year 12 Studio Arts Students attended an excursion to see the Picasso Century Exhibition at the NGV, the Vivianne Anderson Gallery in St Kilda Road, Top Arts and Light Works from the Tate's Modern Collection also at the NGV. The Year 12's were able to prepare for the Studio Arts Examination which requires you to compare a public Art gallery with a private one.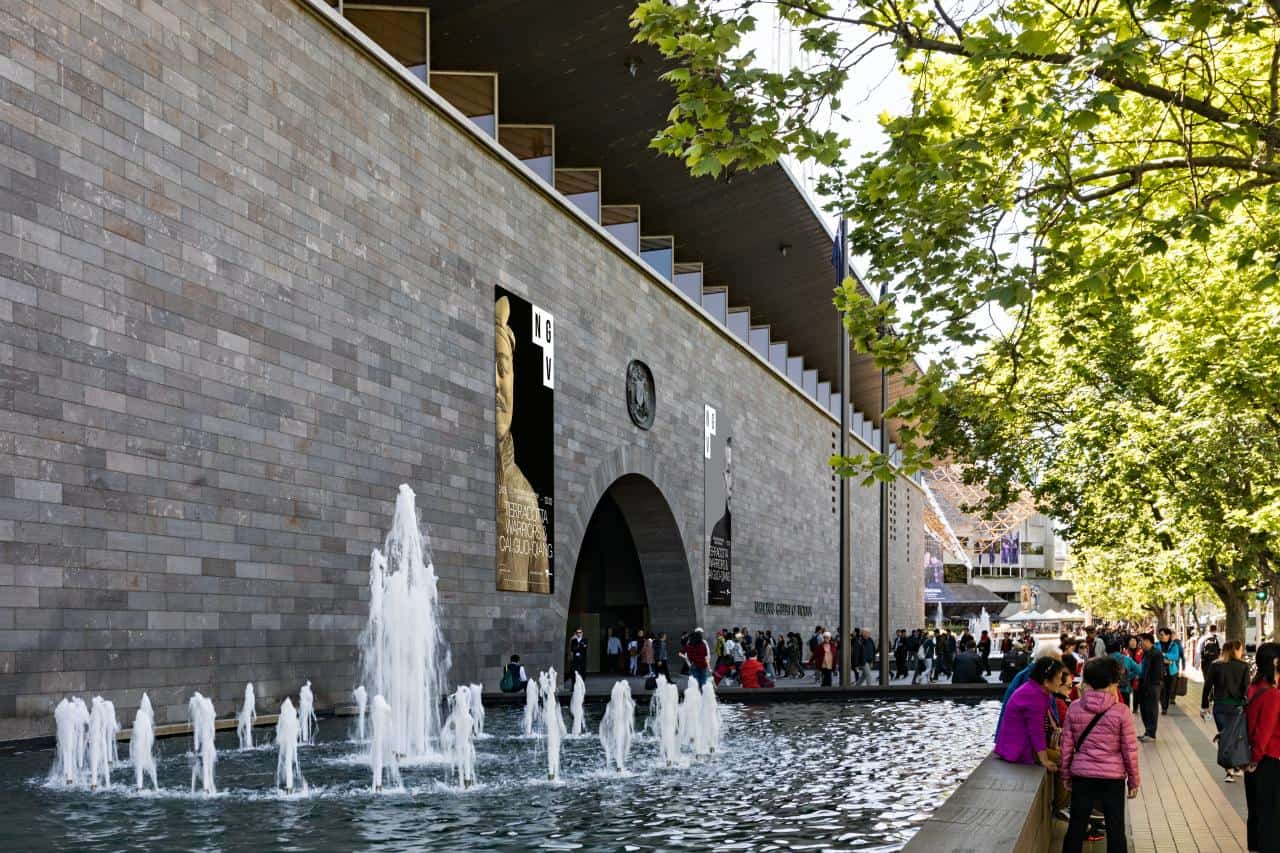 The Picasso Century was an outstanding exhibition which was developed for the NGV by the Centre Pompidou and the Musee national Picasso – Paris, the exhibition featured over 80 works by Picasso alongside over 100 works by more than 50 of his contemporaries with the many artists, poets, and intellectuals with whom he interacted throughout the 20th century. Georges Braque, Salvador Dali, Henri Matisse and Albert Giacometti were all inspirational to Picasso and formed his artistic milieu.
We then travelled to St Kilda to view an exhibition called Banumbirr at the Viviene Anderson Gallery in St Kilda which has exhibited Contemporary Indigenous Art for the last 30 years. Banumbirr is the Morning Star, Venus, which rises in the east each day just before dawn, heralding the daylight, bringing the sun and warmth to the earth, generating life.
Paul Buwangbuwang's Morning Star Poles – with their crowns of feathers representing the Morning Star, the painted poles reflecting the shifting light during the dawn, and feathered tendrils connecting family, clans and country – are exquisitely rendered works of art as well as ceremonial objects. The students had many questions for the curator and learnt how the gallery presented and conserved such delicate works of works of art transported from Arnhem land. We then went back to the NGV to view Top Arts and The Tate's Modern Light works. We as a group learnt a great deal from our day out together and the Year 12's had a wonderful day out.
Mrs Helen McCaughey
Studio Arts Teacher
Please see below a reflection by Ethan Maratheftis, from the Year 12 Studio Arts class.
On the 14th of September we all took a trip to the city to explore and visit both public and private galleries as a part of our Unit 4 Studies in Studio Arts. It started with a 9am meet at Flinders Station, and a quick stop at Brunetti's for breakfast. Following that we headed over to the National Gallery of Victoria, to view the Picasso Century Exhibition. It was beautiful to be able to experience and see first-hand the multitude of artworks, and impact that Pablo Picasso had on art forever.
After finishing up at NGV, we then caught a tram down to Lygon Street and grabbed some lunch before heading to Vivien Anderson Gallery in Saint Kilda! This was a private gallery which looked at displaying and appreciating Aboriginal Art, and despite it's small size, still packed a large amount of artwork. It was here where we learned a range of curatorial techniques, how exactly Lux, Humidity and Temperature worked, in relation to the display and showcasing of different kinds of artworks. After spending some time at the Vivien Anderson Gallery, we then made our way back to Federation square, where we explored the 'Light' exhibition at ACMI, which showcased how beautiful the effects of light can really be!
To conclude the excursion, we visited Top Arts, which celebrates and shares the works of the previous year's Unit 3 and 4 student's ranging from all over Victoria. It was amazing to see the talent and creativity of people who were aged very close to us. Overall, it was an amazing excursion, and definitely a brilliant way to celebrate our progress and achievements in Studio Arts.
Ethan Maratheftis
Year 12
Show All
Collapse
Marc McBride Illustrator Visit
On Wednesday 5 October the Year 5 and 6 classes were most fortunate to have Marc McBride, illustrator, visit the Library to show us how he creates the illustrations for the books we know and love. Marc has always loved to draw dragons and created one in front of us for the Library to keep.
The most famous and popular book he has illustrated is The Glimme written by Emily Rodda, which is available to borrow from the Library. However, currently there is a waiting list for our copies.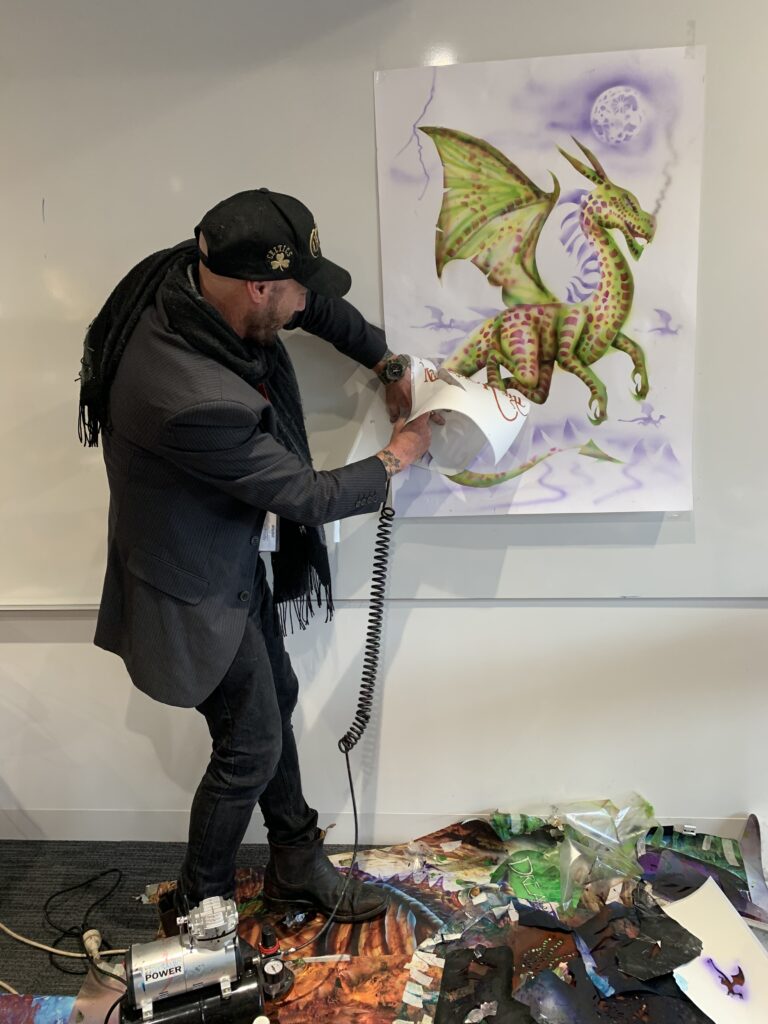 The Glimme was the CBCA award winner in the Books for Younger Readers category in 2020. He has also illustrated the covers and pages of many other books by Emily Rodda.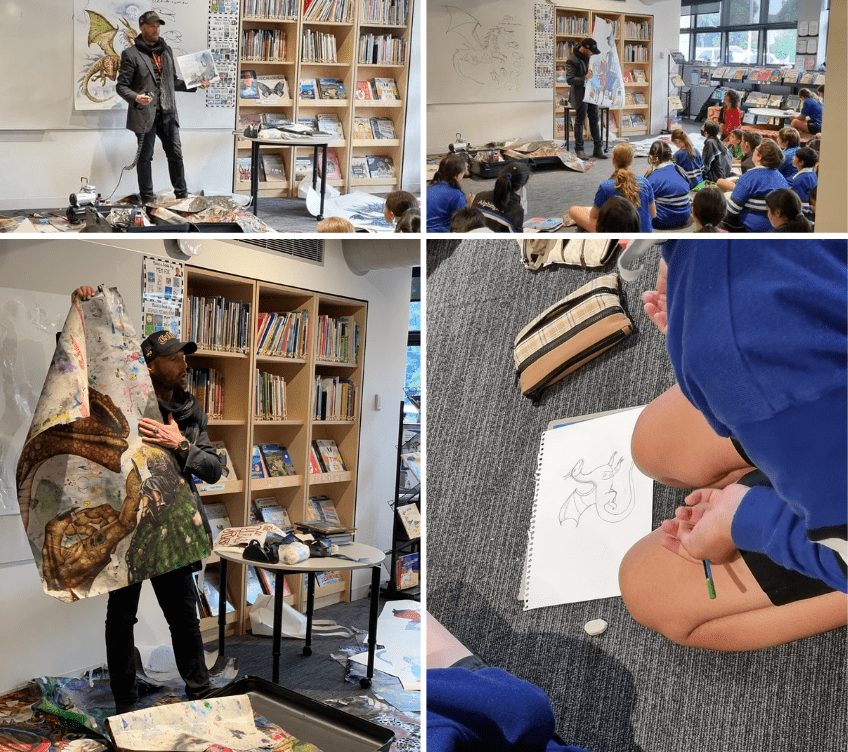 The students really enjoyed listening to him as he created a large dragon and then guided the students in drawing their own dragons, which they all enjoyed. He airbrushed a small dragon or his signature on the students' work.
It was a most memorable afternoon.
Ms Janet Stewart
Library Teacher
Show All
Collapse
Ioannina-Melbourne – ELC Friends Forever
Our Primary Greek Coordinator and much loved teacher, Ms Effie Bindevis, is spending the first two weeks of Term 4 on a professional learning activity in Ioannina, Greece. While there, she is collaborating with the staff and students at Mystiko Kleidi (Secret Keys) kinder and pre school. Ms Bindevis has made a presentation about our ELC Greek Immersion Program and is learning about the centre's approach to English language immersion.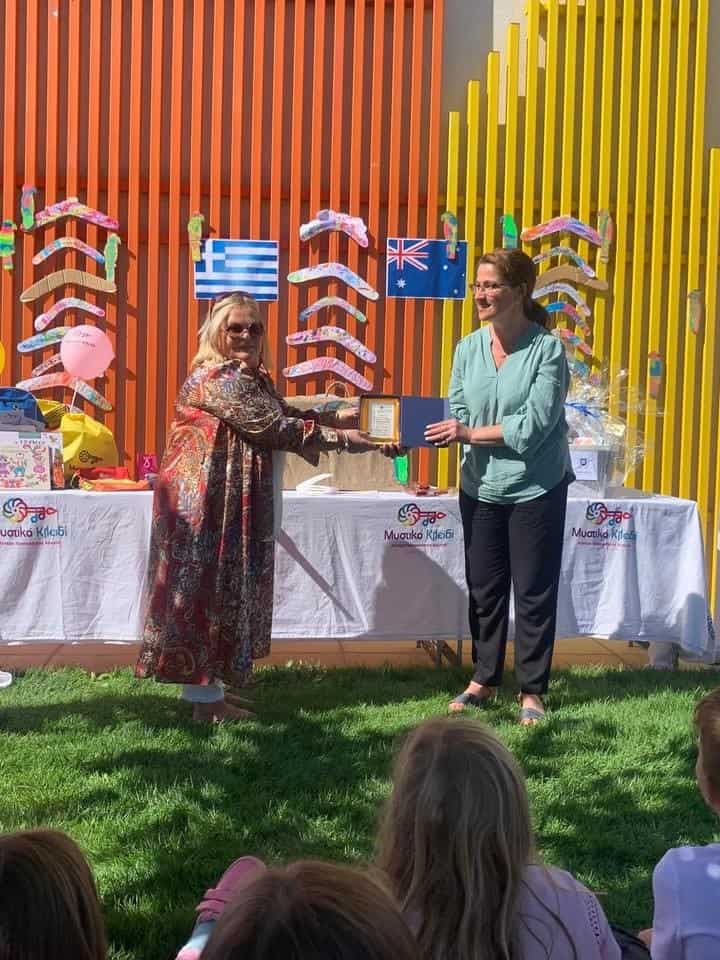 She has been planning with the staff to deliver a sequence of lessons all about Australia. As a token of gratitude, the children have created a friendship quilt for our ELC students.
We can't wait for her to return and to hear all about her experience!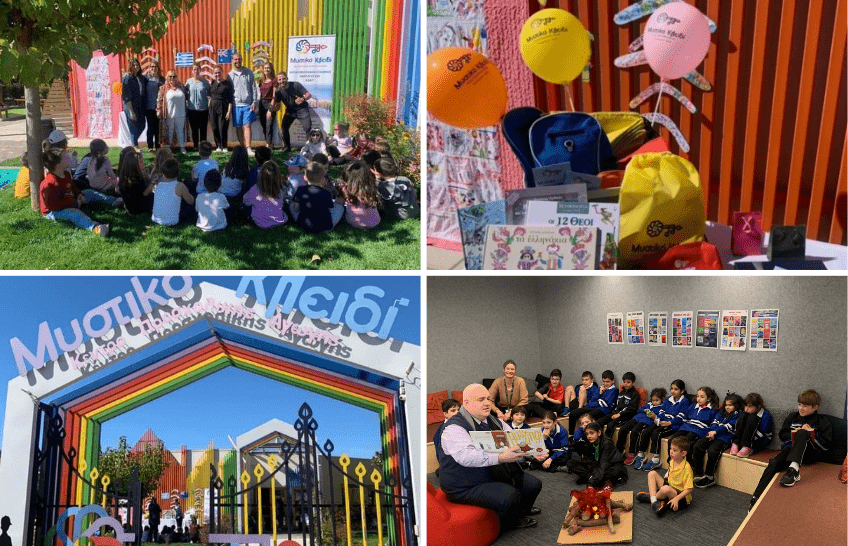 You can follow the preschool via their Facebook page.
Greek Public Speaking Festival
A huge congratulations to all of our students who participated in this year's Greek Public Speaking Festival, hosted by the MGTAV.
From creating videos reciting poems to writing and presenting their own speeches on a particular topic, Alphington Grammar students represented their school with pride. Aside from gaining confidence in their Greek language skills, many students also received First, Second or Third place in the whole of Victoria for their particular age group.
YEAR 3/4 POETRY
1st place – Erofili Marinos
2nd place – Anastasia Sousamlis and Alisha Prasad
3rd place – Sophia Mead
YEAR 5/6 DEMOSTHENES (SPEECH)
1st place – Elena Sousamlis
2nd place – Aalia Prasad and Christina Lablache
YEAR 9/10 DEMOSTHENES (SPEECH)
1st place – Marianna Galanopoulos
Well done in particular to these students, but also to all students for their huge effort!
Thank you to Ms Anita Ladas for the write up.
YOU REAP WHAT YOU SOW!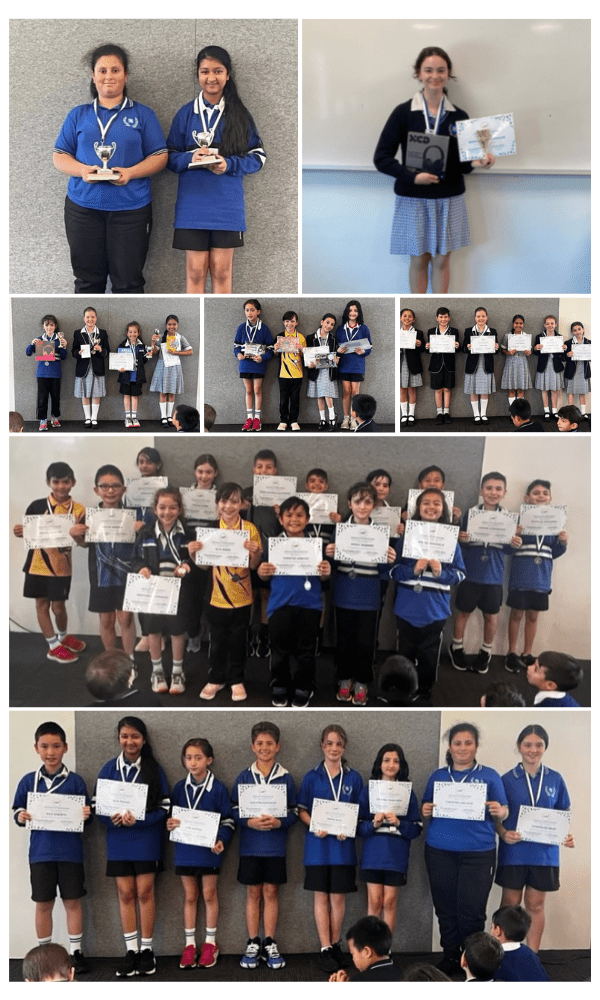 ELC Gardening
After waiting very patiently for our celery to grow, our ELC friends helped to harvest it for a special tasting, including Greek dips "tzatziki" and "tarama" (as well as some cream cheese). Children enjoyed the process of picking the vegetables they had planted earlier in the year and delighted in the opportunity to try new flavours.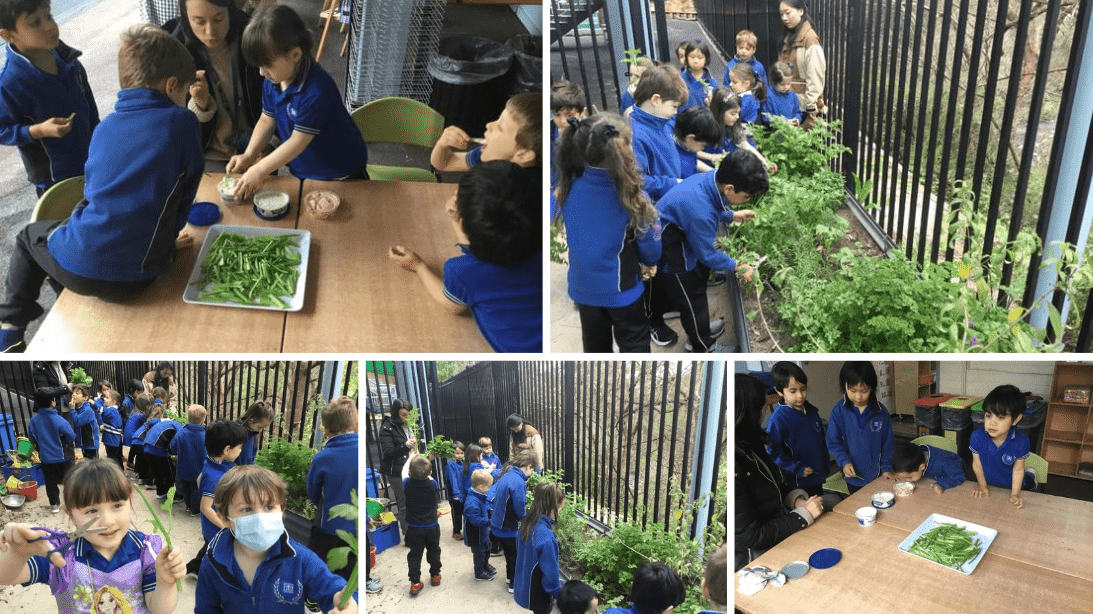 Greek Film Festival Melbourne 2022
After a hiatus of several years, the Greek Film Festival is back again in Melbourne. The festival runs from 13 October to 30 October and features a range of films and documentaries. Please check classification for suitability for younger viewers.
We are pleased to say that we have 5 student films entered into the Student Film Festival, which is part of the larger festival. These and all other entries will be screened at Cinema Como on Sunday 30 October, with winners announced on the day. More details will follow.
Good luck to all entries!
Ms Denise Diakodimitriou
Head of LOTE
Show All
Collapse
To the graduating class of 2022: Click here.
Work Experience
While on work experience with the Greek Herald our Year 10 student Anastasia Fokianos was given the opportunity to write articles as part of her placement. Her articles were so good they were published! Please take the time to read Anastasia's excellent work as a budding journalist below:
Nicholas Kapralos on Mentoring Young Bouzouki Players
Mrs Hellen Mallis
Careers
The finance team would like to remind families that have not yet submitted their payments to please do so as soon as possible.
Please see below for the CSEF financial assistance program information sheet and application form.
Semester 2 Soloist Evenings
This October we are showcasing the fantastic progress made by our instrumental students this year in our Semester 2 Soloist Evenings.  Details are below:
Tuesday 18 October
6.00pm – Senior (Years 9-12) Soloist Evening
Tuesday 25 October
5.00pm – Lower Primary (Years 1-4) Soloist Evening
6.30pm – Middle Years (5-8) Soloist Evenings
These free events are non-ticketed and will be held in the Drama Studio and Lyceum. We welcome all parents to come along and support our students. This is a great opportunity to hear performers of all ages demonstrating the wide variety of instruments on offer through our Instrumental Program, and to meet some of our instrumental teachers.