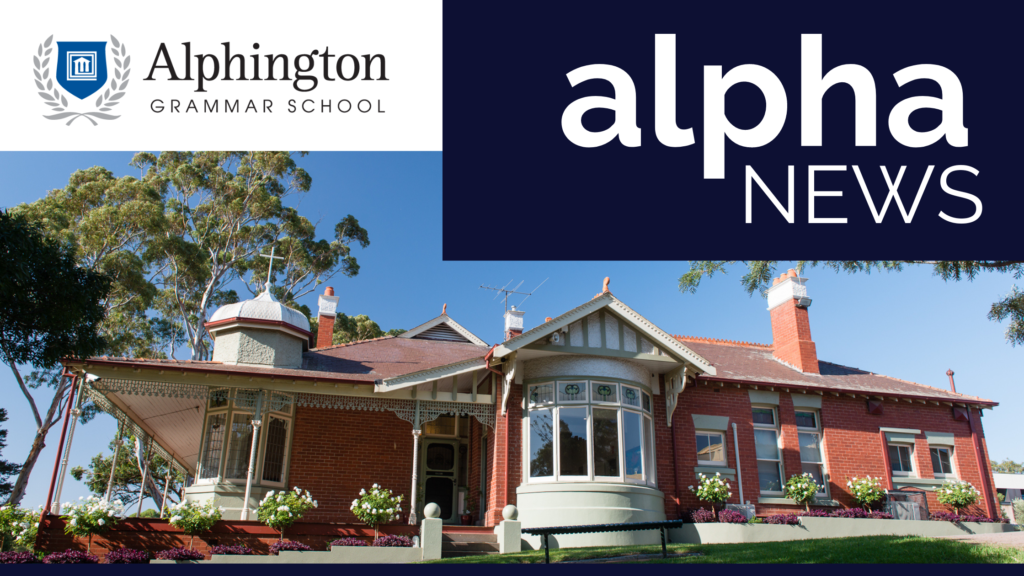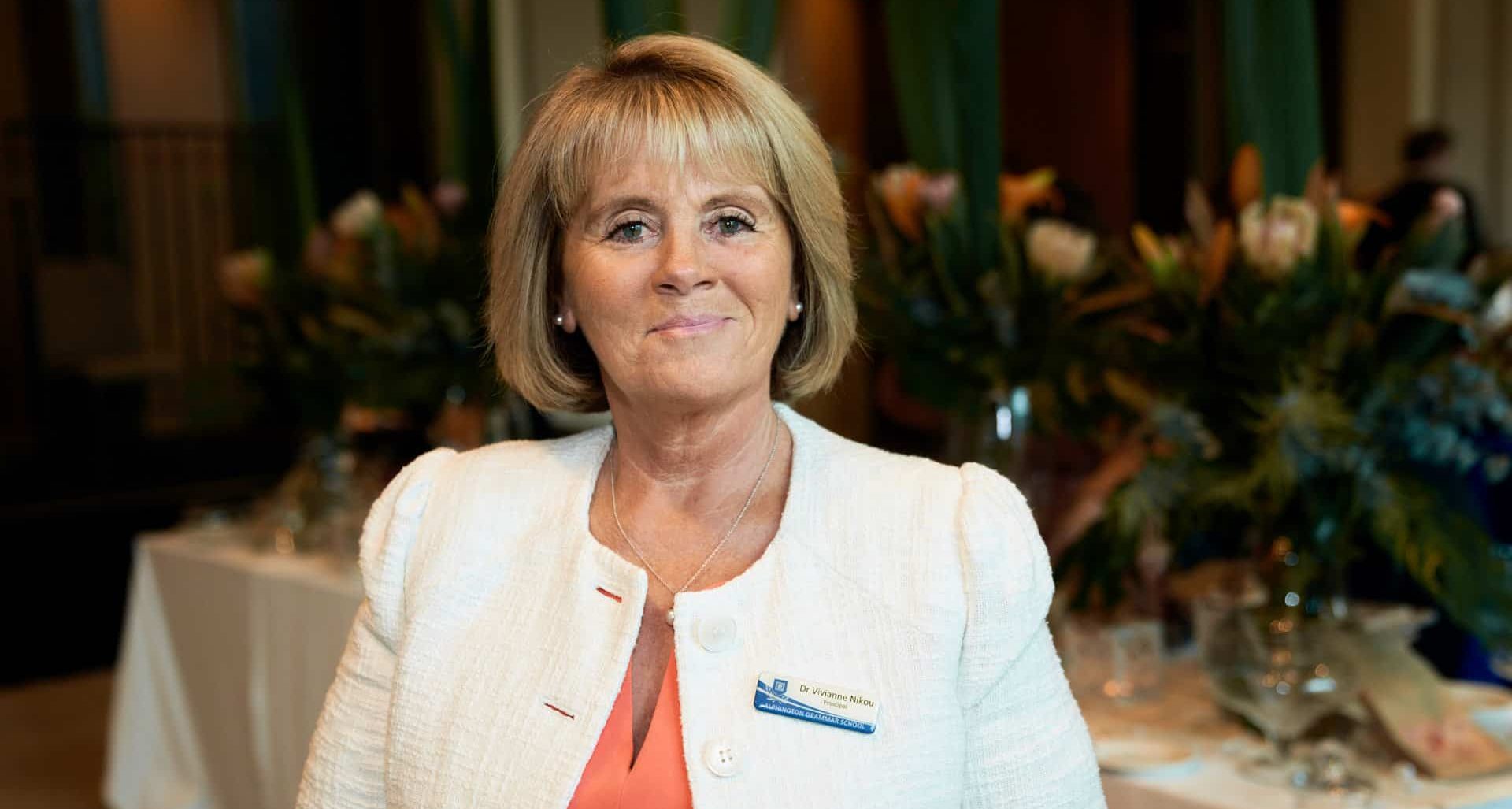 Annual School Concert
It has been 3 years since we have been able to gather to enjoy live music as a school.  Classical, Latin, Greek, Country and Heavy Metal tunes all filled the Centre Ivanhoe for the Annual School Music Concert recently.
The melodic sounds of the Alphington Chorale opened the night and set the tone for a wonderful evening of exceptional music. While performance opportunities have been limited for many of our students, some overcame an initial bout of nerves and then performed like consummate professionals.  A full report appears elsewhere in the newsletter however I wish to congratulate all the bands, ensembles, school orchestra and performers on their skills as musicians and professionalism as performers.
Thank you to Mrs Priya Wilson, Head of Music and Performing Arts, Classroom Music Teachers, Ms Stephanie Atwa, Mrs Felicity Wallace, Mr Ewen Baker and all the Instrumental Staff, Ms Ceri Hills, Mr Nicholas Kapralos, Ms Kristina Lang, Ms Amy Lynch, Ms Cinzia Posega, Mr Ollie Rolfe, Mr Andrew Rousch, Ms Sheena Shi, Mr Alex Spicer, Ms Carla Tomisich and Mr Adrian Whyte on showcasing the wonderful talent in our School.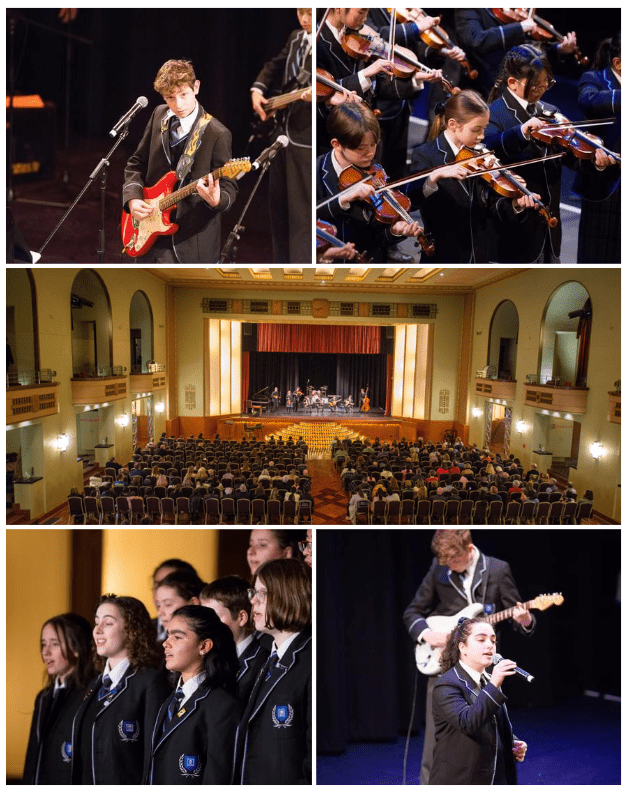 Literacy and numeracy activity weeks
Much research has come out about the impact the last two years has had on our young who have spent a disproportionate amount of their lives inside bedrooms, attached to technological devices. Co-lead researcher Dr Sybil Nolan from the university of Melbourne said that "many parents believe their children's use of screens have come at the expense of book reading". The evidence is suggesting that the devastating impact of the lockdowns is that our children are most likely to stop reading.
After a huge week of celebrating all things STEM, how wonderful to see such a huge focus on literacy and reading across the whole school this week. Many activities took place in both the Primary and Secondary Schools with an absolute highlight being the Book Parade and the chance to read a story myself to the Primary students.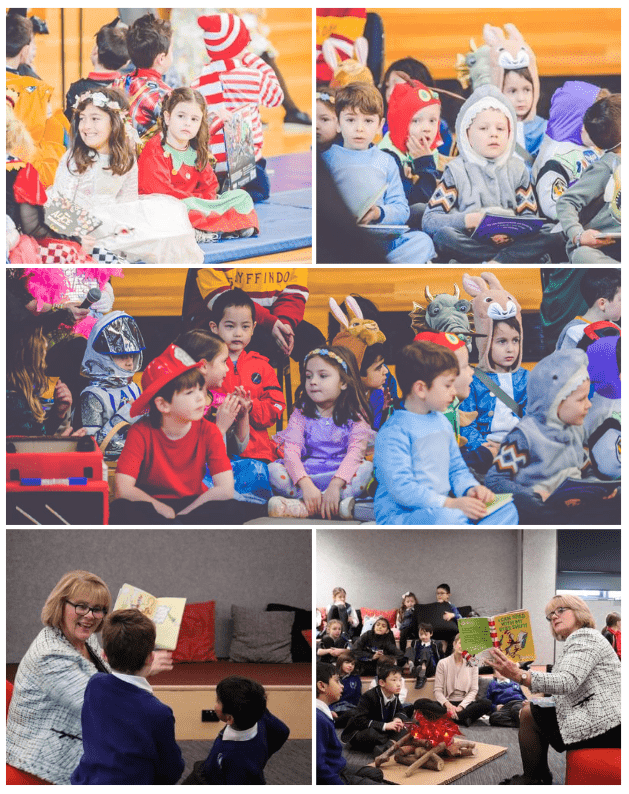 Gateways Departures
I wish all Years 9 and 10 students and their teachers leaving for Gateways experiences to Central Australia and the Northern Territory the very best for their experiential programs. We look forward to seeing the photos and hearing of their experiences over the next two weeks.
Enjoy the reports throughout this week's newsletter.
Dr Vivianne Nikou
Principal
Show All
Collapse
VCE Awards Night Invitation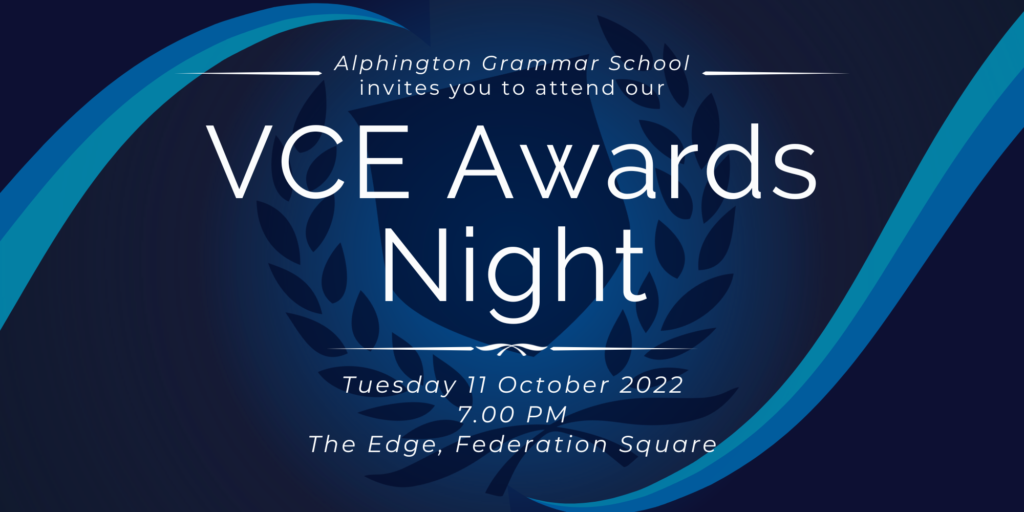 Alphington Grammar School is excited to announce our 2022 VCE Awards Night, which will be held on Tuesday October 11 from 7PM at The Edge in Federation Square. The final Speech Night is the major annual event where we gather to acknowledge Academic Excellence and Service across the School, as well as the contributions of our Year 12 students.
All students in Years 10 to 12 are expected to attend the Awards Night and will be seated with their peers in allocated seats, therefore students do not require a ticket. Tickets for parents of Year 10-12 students are limited to two per student.
Valedictory Dinner Invitation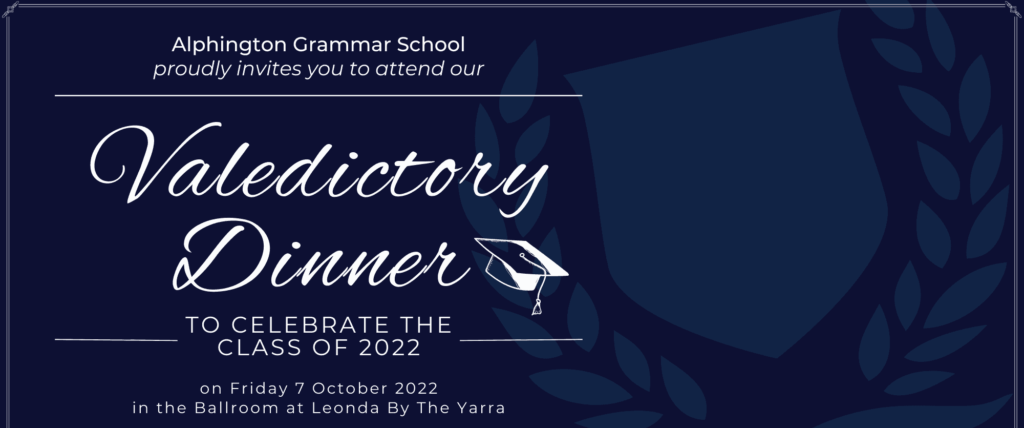 The AGS Valedictory Dinner is an evening of celebration, retrospection and appreciation. Held in the Ballroom at Leonda By the Yarra on Friday 7 October 2022, the night begins at 7.00PM with plenty of food and music provided. We encourage the attendance of family members and anyone who would like to celebrate with us as we highlight the incredible achievements of our Class of 2022 and their journey so far. 
Flowerdale Winter 2022: Community
The most recent edition of our school magazine Flowerdale, Flowerdale Winter 2022: Community, is now available for you to read. Featuring stories of and by alumni, current students and staff, as well as community updates, Flowerdale is not a publication to miss! You can read this latest edition by following the link below or look for physical copies in the school Library or Front Office.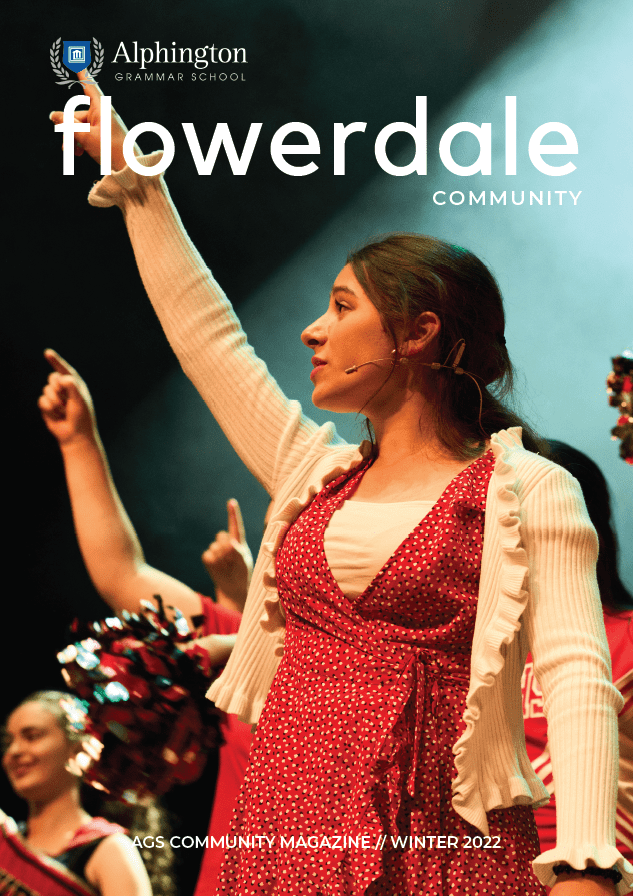 From the Secondary School
From the Deputy Head of Secondary
Gateways
With most of us craving a return to blue skies having spent the past few weeks dodging raindrops and giant hailstones, I am sure that our Year 9 and 10 students are very excited indeed about the adventure (and warmer climes!) that they are about to enjoy. We wish all of our Year 9s and Year 10s a safe and fun trip.
EHASS Week and STEM Week
From flower dissections to dreamscape karaoke to gravity defying potatoes to a highly competitive Staff V Students 'Family Feud', the STEM and EHASS Faculties have energised our classrooms, hallways and assemblies over the past two weeks.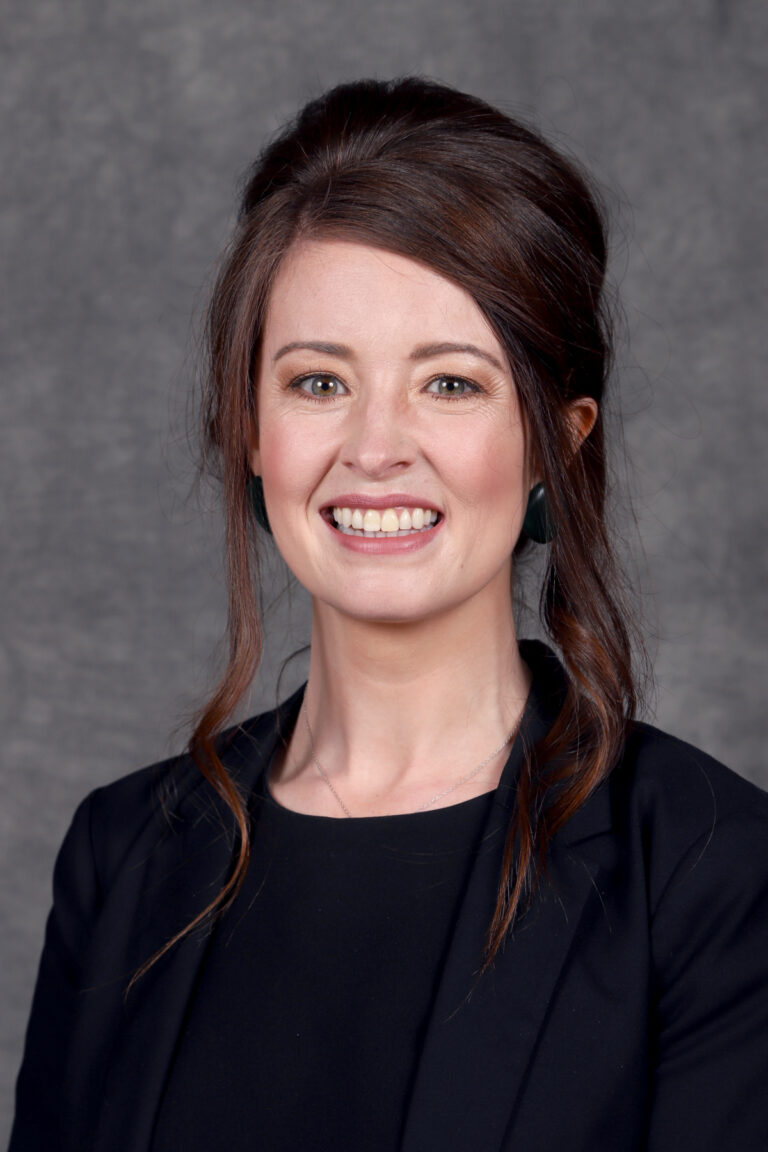 Thank you to the teaching staff who came up with many creative activities and congratulations to the students who emerged victorious in the challenges.
In sporting news
Both our Senior Boys AFL and our Senior Boys Indoor Soccer teams reached the Grand Final stage of the EISM competition, playing against Eltham and Kingswood respectively. Unfortunately, when the final whistles blew the scoreboards did not look quite how they wanted them to. However, their efforts in reaching this stage of the competition must be commended. Well done for doing us proud and progressing so far. The result will sting, for our Year 12 students in particular, but the memories they have built by playing together over the years and throughout this season will stay with them for life. Congratulations to Balhaar Singh (12 Socrates) who was awarded MVP for our AFL team and Manis Tsolakis (12 Pericles) who received the same honour for Indoor Soccer. Well done, too, to our sports coaches, Ms Olivia Rahme and Mr Kimon Doufas for leading our teams to the final stage of the competition.
Wear it Purple Day and Minus 18
Today, as I am sure many of you are aware, is Wear it Purple Day. Our school always strives to be a safe, supportive, empowering and welcoming community for all students and staff every day… but today we got to do so donned in purple and rainbow attire!
On Tuesday, all secondary staff took place in a very useful training webinar hosted by Minus 18. While some of the statistics we were exposed to were gutting to say the least – 66% of Australian LGBTQIA+ youth experience bullying or harassment based upon their identity— the team also led us through some very positive and practical ways that we as a school can show support to our LGBTQIA+ young people.
House Points
The House Competitions are coming through thick and fast this term. However, a couple of months away from the House Cup being awarded, here is what the scoreboard looks like.
May the best House win.
Aristotle: 1760 House Points
Byron: 1335 House Points
Pericles: 920 House Points
Socrates: 1635 House Points
Ms Deirdre Grealish
Deputy Head of Secondary
Show All
Collapse
11 Business Management - Marketing Melbourne Skydeck Excursion
The Business Excursion was amazing!
We started off our day meeting at Flinders Street Station, and then made our way to the Eureka building at Southbank. Not only did we get to learn about Melbourne Skydeck's rebranding, we also got to experience what they had to offer, including the Skydeck itself, the VR Voyager Theatre and The Edge.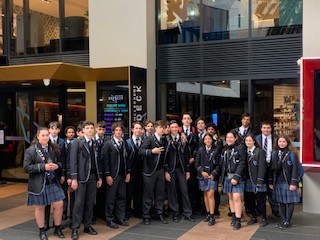 Having that extra freedom to then explore Melbourne Central as part of our SAC, also gave us a deeper insight into the marketing techniques used in brands we see on a daily, including Cotton-On, David Jones and Myer. I really enjoyed the fact that we were able to work independently towards the end of the day, which provided us with the opportunity to problem solve and work with our other classmates.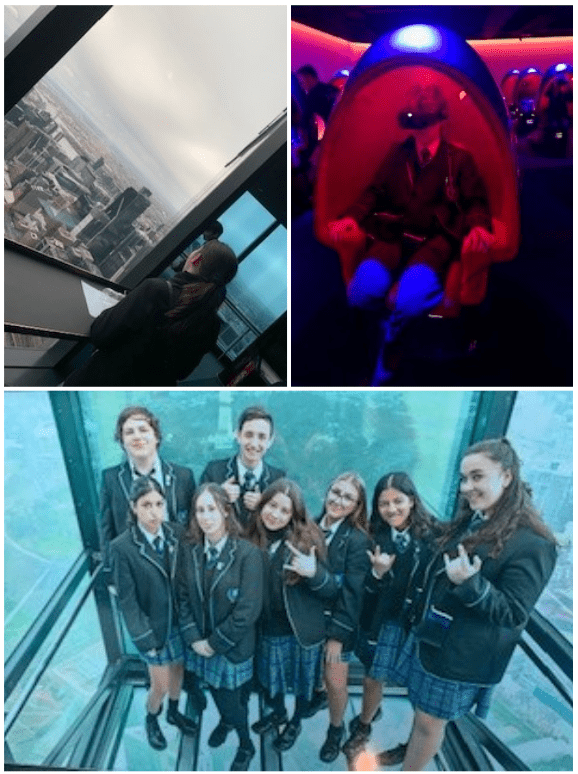 Overall, it was a great experience which provided us with much knowledge about marketing and the importance of it in a business setting.
Anastasia Fokianos
Year 10 (Year 11 Early Entry BM student)
Show All
Collapse
Junior Secondary Debate Program
The Junior Secondary Debate Program started this term. The Debate Association of Victoria started the program with a Training Evening. Alex Dunn, one of our Year 7 Debaters, had the following to say about this session:
"On the 16th of August 2022, members of the Junior (Year 7) debating club of AGS travelled to Ivanhoe Grammar for a debate training session ahead of their first real debate, which will be held on the 23rd of August. Adjudicators from the Debating Association of Victoria came along to teach students what a debate is, how debates are structured and how debates are analysed by the adjudicators.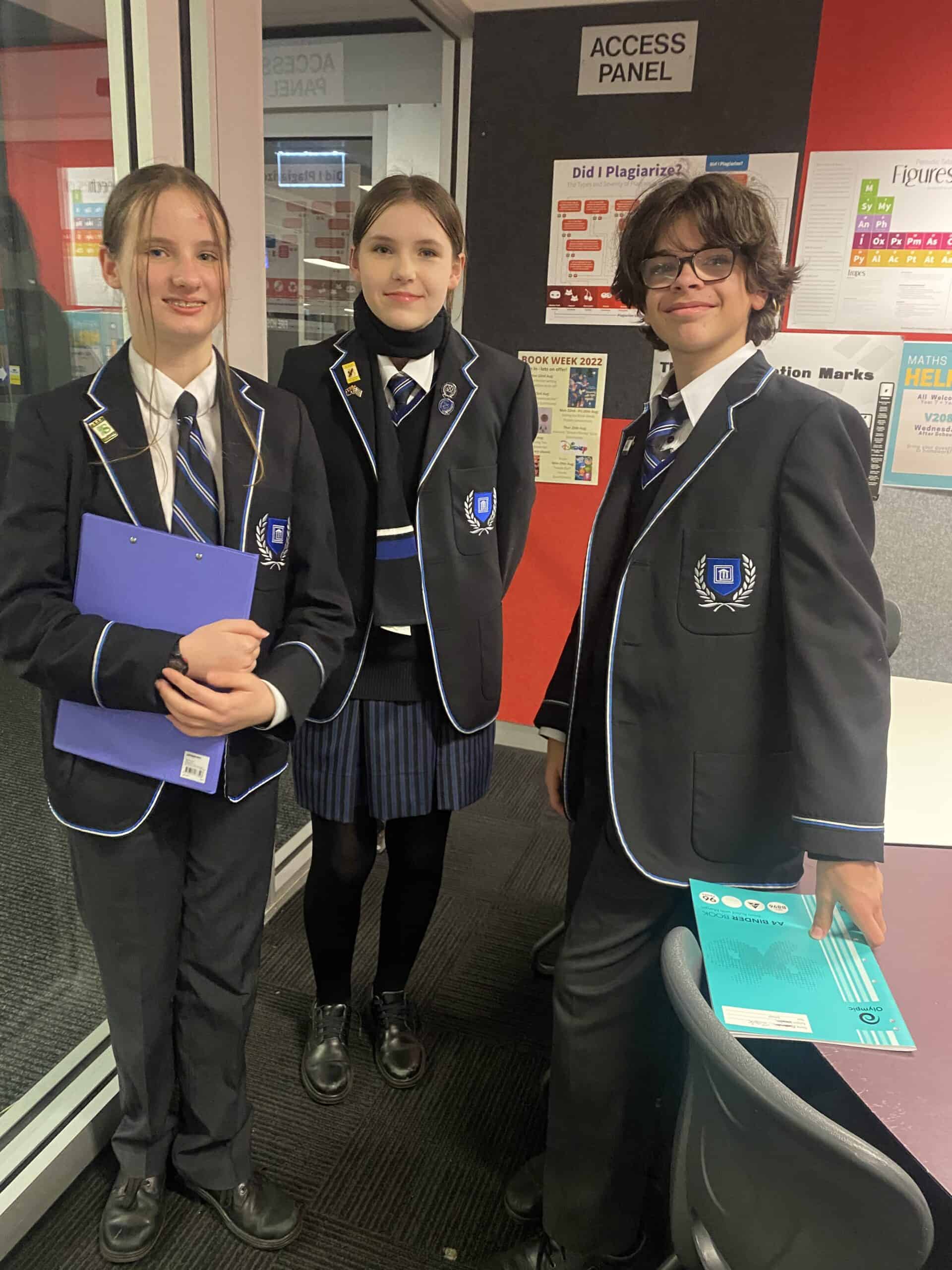 This year of debating is shaping up to be very enjoyable for our debate club and lots of fascinating topics will be brought up. Big thank you to Ms Shelby Morwood for coming along to supervise our Year 7 students that night and also a shoutout to the DAV adjudicators for also coming along that night."
This training session was followed by an exhibition debate and the first debate of the season. The exhibition debate was a great way to kick off the evening; it gave the students the chance to see a high standard of debating in action and even how humour can be used to great effect. Once this was over, it was on to the debate.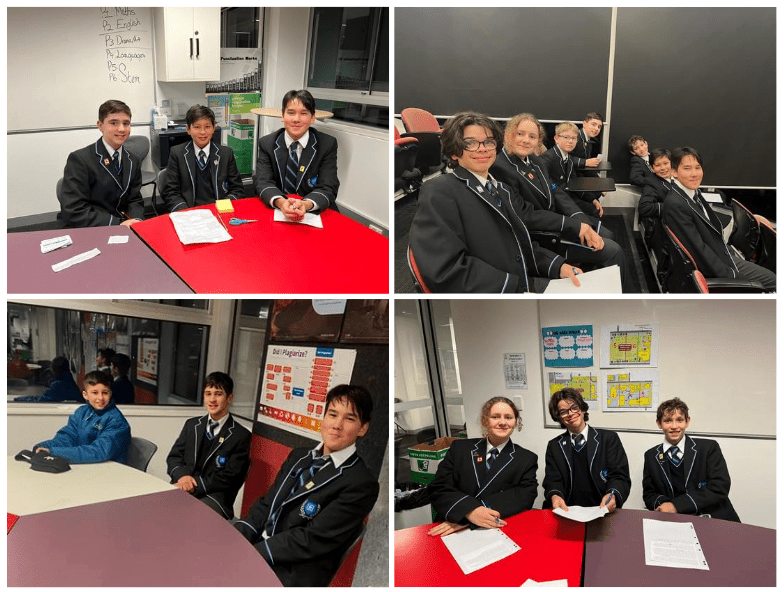 The topic for this was a relevant one for today's society: 'That we should ban smoking and vaping in public spaces.' With one of our teams debating in favour of the statement and the other one against it, it certainly made the preparation sessions interesting! The students all performed admirably; it was amazing to think that for most of them, it was their first 'proper' debate. It was also encouraging to see their teammates, who weren't debating this time round, show up to offer support and last minute advice.
Well done to all of our speakers; you did superbly.
Ms Anna Milburn
Debating Club Facilitator
Show All
Collapse
EHASS Week - Secondary Dress-Up Day
What a fantastic turn-out we had for the "Dreams and Nightmares" EHASS dress-up day! Bananas in Pyjamas, Men in Black, pirates, soccer players, Leonardo Da Vinci, the Phantom of the Opera, guest stars from Jurassic Park, oodles of oodies, Pennywise, Zeus and many, many more creative costumes certainly livened-up our hallways!
This made judging our House Competition very difficult, but in the end results were as follows…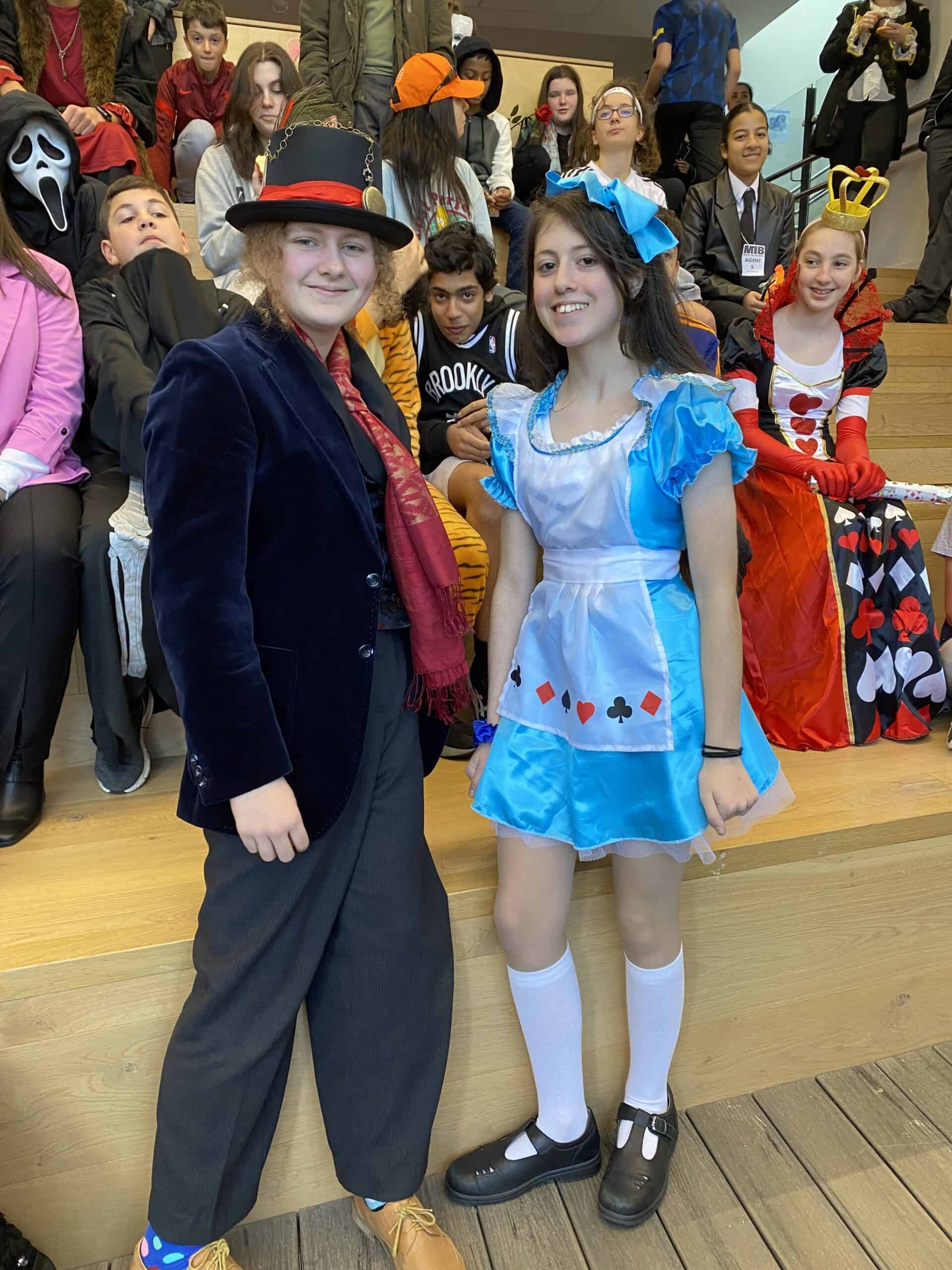 House competition results:
Socrates – 1st Place (100 points)
Byron – 2nd Place (80 points)
Aristotle – 3rd Place (60 points)
Pericles – 4th Place (40 points)
Honourable mentions:
The STEM department – who managed to out-EHASS the actual EHASS department with their costume game this year! What an upset! Challenge accepted for 2023 😉
Dr Samantha Hockey – whose PhD in bats translated into one of the most original and mechanically spectacular costumes we've seen during an EHASS Week. Expandable and retractable bat-wings?! Whaaaaat?!!! 
Ethan Maratheftis (Year 12) – for his exceptional Clark Kent, with every detail accounted for right down to the last glossy black curl
The Year 7 Alice in Wonderland crew – who pulled-off a group costume in impeccable style
Anastasia Fokianos (Year 10) – for the "need to look twice to realise it's not the real thing" mini-me version of Ms Milburn
Billie Lampard (Year 7) – for their creative costuming craft; complete with creepy, dangling button eye to really sell the 'look'!
Mary Fernandes (Year 10) – for a truly regal Queen of Hearts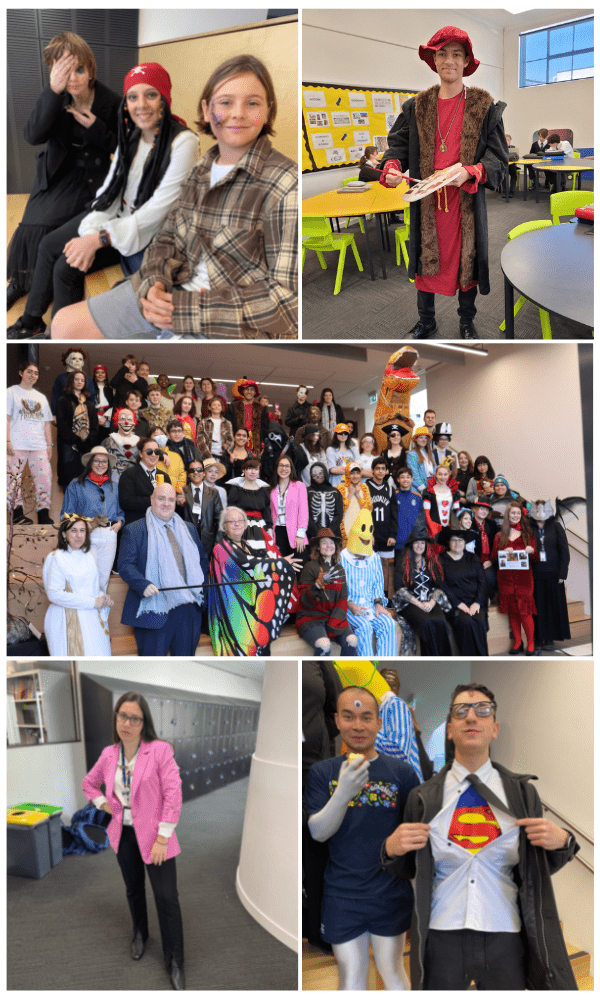 Finally, thank you to EVERYONE that dressed-up for their effort in helping make the return to our Popular Culture Dress-up day an exciting and memorable one.
Ms Corredina Todaro
Head of EHASS
Show All
Collapse
From the Deputy Head of Primary
Uncle Yarra visit                          
On Friday 19th August Years 3 and 4 were treated to a visit by Stan 'Uncle Yarra' Yarramunua. Uncle Yarra is an internationally renowned Indigenous artist and performer. During our session Uncle Yarra played the digeridoo, or 'yidaki', which is the Indigenous name for this amazing instrument. Uncle Yarra used the yidaki to mimic many famous Australian animals.
Another highlight of the visit was the two Indigenous paintings Uncle Yarra brought in. Uncle Yarra made an outline of several Indigenous symbols in the paintings. He has set the Year 3 and 4 students a challenge: to continue the landscape, which will form a collaborative art piece between Uncle Yarra and the students of AGS.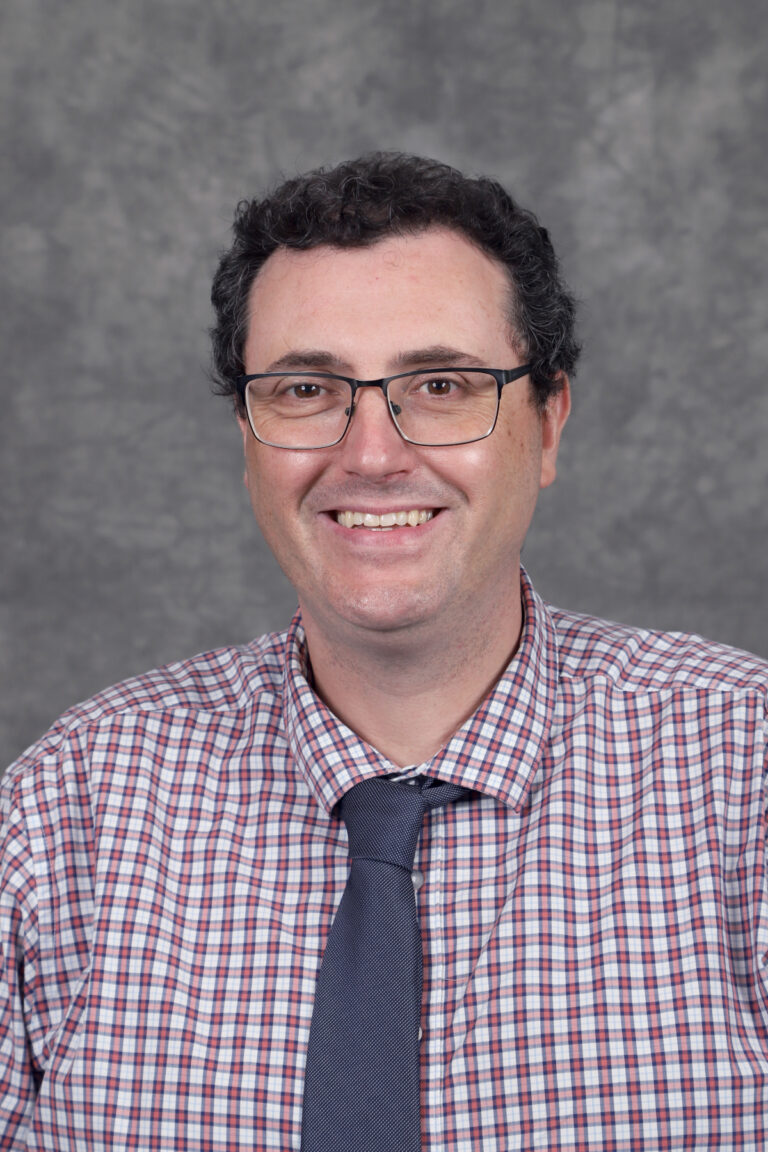 In the coming weeks, class teachers will spend some time in the art room finishing off this fantastic artwork. Please stay tuned for the finished product!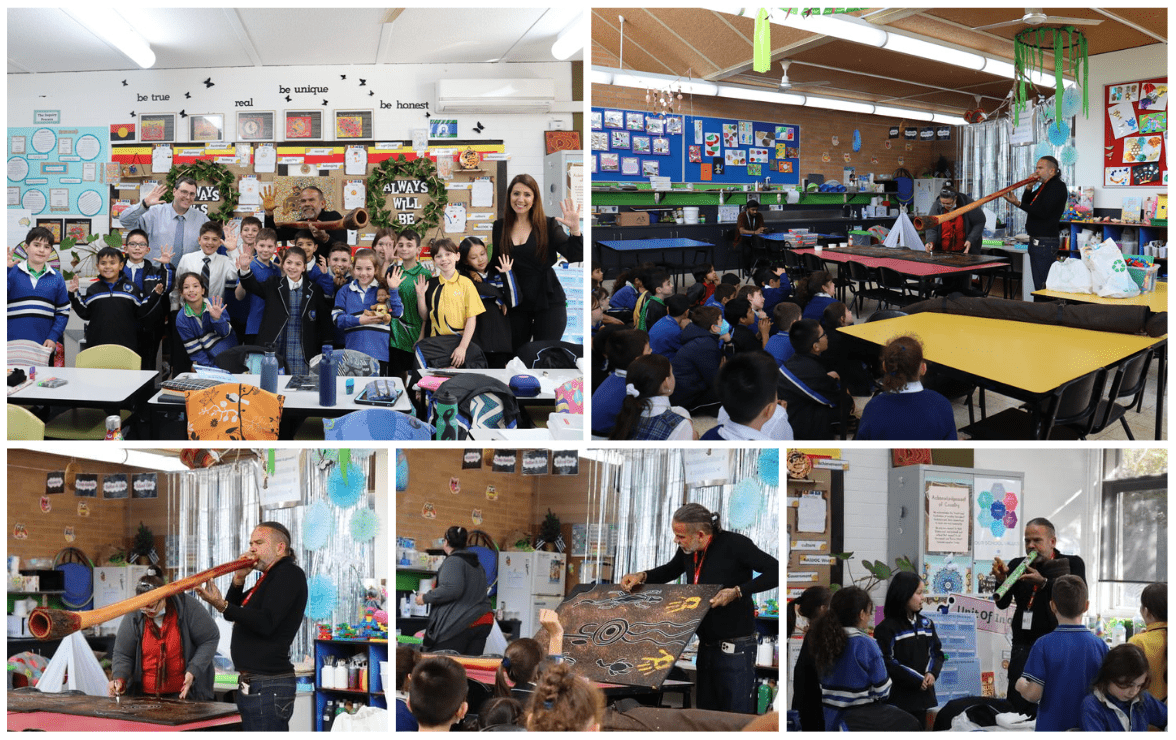 Book Parade
The theme for our book parade this year was 'dreaming with our eyes open'. It was brilliant to see all the colourful costumes ranging from ELC to Year 6. A special thanks to the 'white rabbit' aka Mrs Nicholson for organising the parade and play list. Some memorable group costumes at the parade included; Minions, Where's Wally, Birds, Princesses, Harry Potter, Marvel Characters and Sports Stars!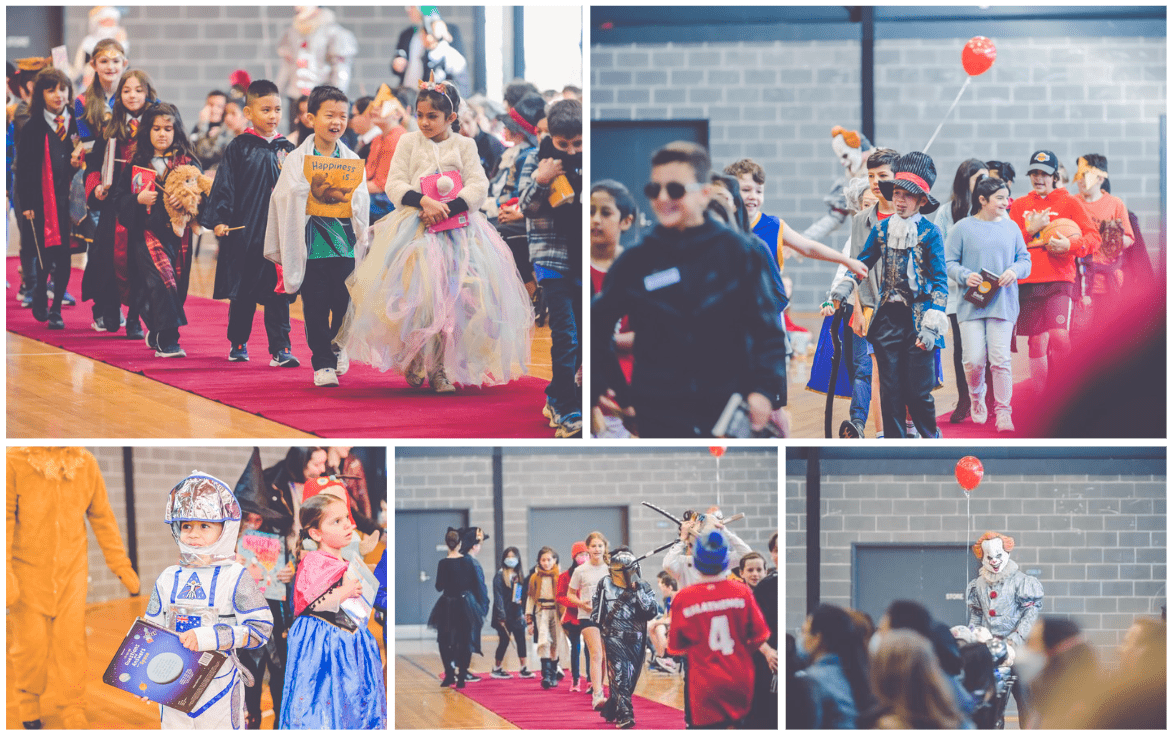 Mr Barnewall
Deputy Head of Primary   
Show All
Collapse
Primary Writing Competition
It is absolutely amazing to see the progression of writing across the school from our earliest writers in Prep, up to the amazing narratives produced by our Year 6 writers in our Primary Writing Competition. This year it was conducted in classrooms across all year levels in Week 4 of this term.
Picking winners in each Year level was painstakingly hard, as there were so many outstanding writing samples. The theme of Book Week was used to inspire the students, 'Dreaming with Eyes Open'.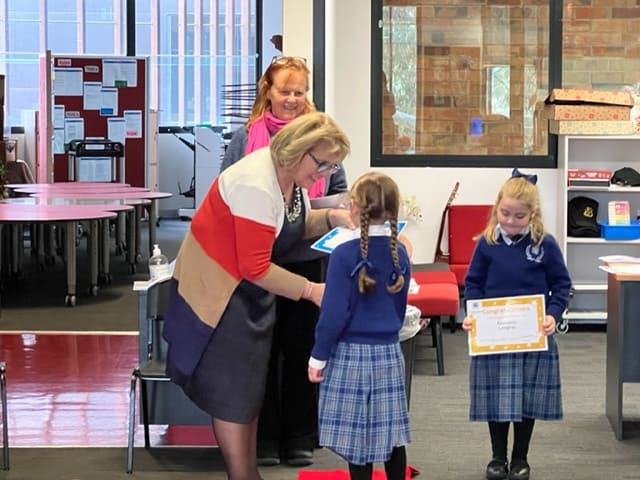 The winners of the competition have had the opportunity to 'Meet and Greet' the different authors that have been visiting our school, spending precious time with people who have written the books they are reading!
Awards were given out in Friday's Assembly, with a special visit by Dr. Vivianne Nikou. She loved the range of writing from across the school and we have promised to publish the finalists' writing pieces in the blog 'Student Eye', over the coming weeks.
Keep your eyes peeled to read the inspiring texts from across the school.

WINNERS
Prep
Raphaella Lamprou
Year 1
Ava Burns
Year 2
Demetra Mead
Year 3A and 3B
Ella Burns
Runner Up: Yashar Assaran Darban
Year 4
Yana Horn
Year 5A and 5B
Anthony Benci
Runner up: Anvee Khan
Year 6
Zoe Fowler
Ms Pippa Ross
Literacy Co-ordinator
Show All
Collapse
All current parents, particularly in the Primary School, are invited to experience our campus, meet our staff and explore our school ethos at any of our upcoming Open Mornings. 
Open Mornings are held on various Mondays and Tuesdays throughout the School Year. Any parent can register to attend via the link on our website, here.

Annual Music Concert Report
Last Tuesday 16 August saw the return of our Annual Music Concert to the beautiful Centre Ivanhoe, after a long break of two years.
This wonderful evening featured an array of choirs, bands and ensembles and showcased an amazing range of musical styles, which is a strength of the AGS Performing Arts program.
Highlights included the Year 4 and 5 massed violin ensembles, our energetic Secondary bands and two special massed items "Sing" and "Benedictus" that brought together all of our performers across both Primary and Secondary schools.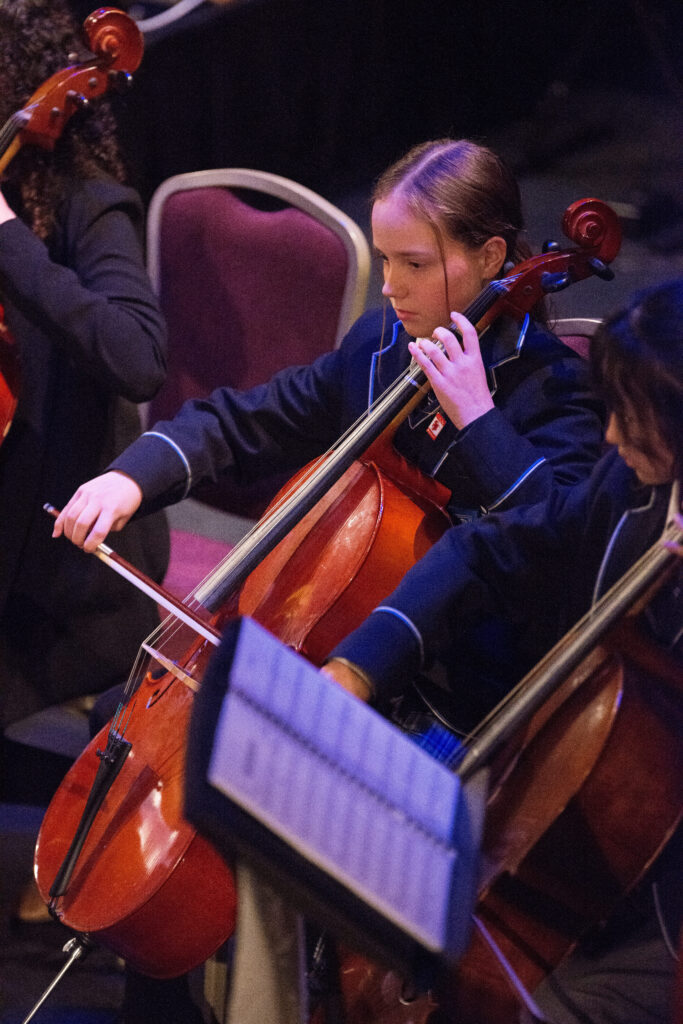 Congratulations to every one of our hard-working and spirited music students.  Special thanks should also go to our instrumental teachers and ensemble directors who worked tirelessly to bring together this very special performance.
AGS Music Department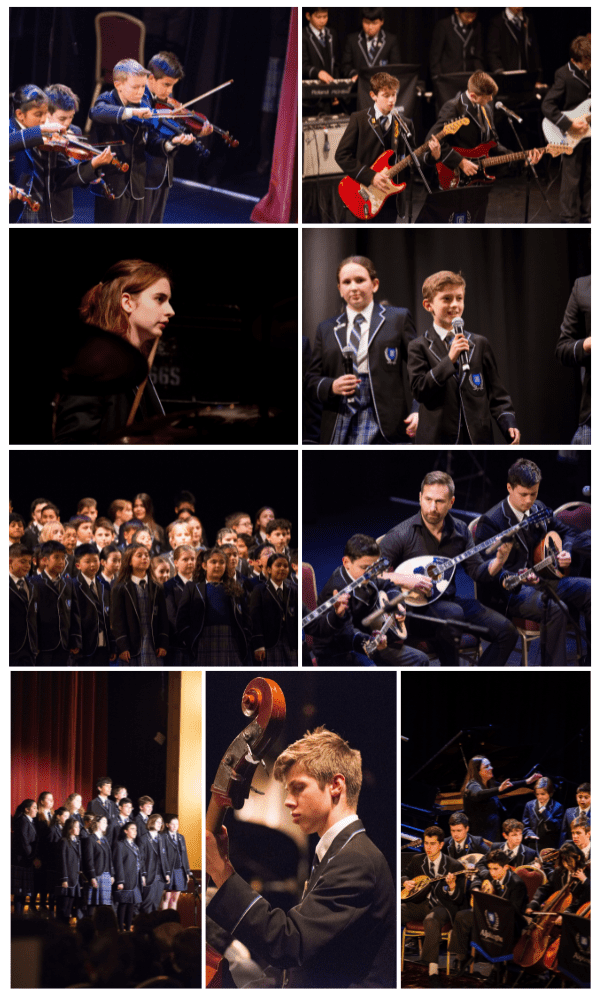 Show All
Collapse
Book Week is the one week in the whole school year where libraries take centre stage, as do the creators of books for our children, tweens and teens. CBCA Book Week is a national celebration of all things literary for kids and teens and the one week where readers shine.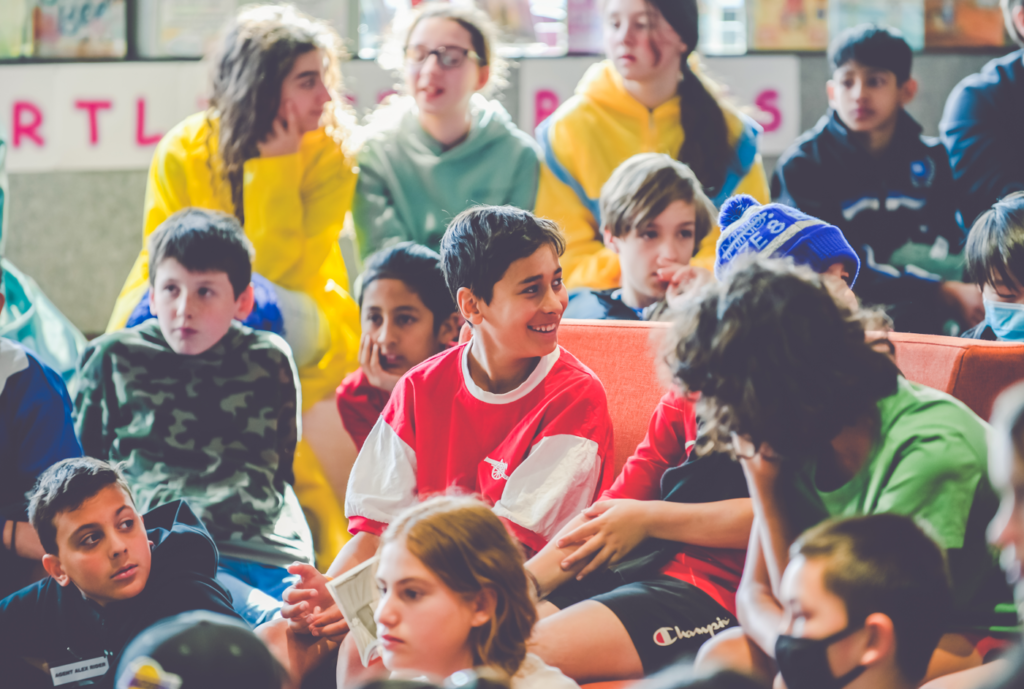 Meet the author and Year 9 Author visit
Book Week came early for some of the students. Last week Jack Heath visited the school and was available for a Meet and Greet session at lunchtime for whoever was interested in attending. This was followed by a talk with Year 9 students.
The lunchtime session was a highly informal, humorous and entertaining session at the same time informative. He was available to answer questions about the things that have influenced him with his writing. He read examples from his books and even discussed how to get students who are reluctant writers, or you can never find anything to write about, find that perfect story. This discussion came after a question from Mr Barnwell.  Students were effusive in their praise of Jack and even told Mr Barnwell that they thought it was going to be boring but were surprised to find that they thoroughly enjoyed it.

Jack then changed speed and spoke to the Year 9s about the inspirations of his adult novel and the main protagonist, who is a flawed antihero. Jack had challenged himself to create the most reprehensible but brilliant character possible. Interestingly this character is based on many of the traits that Jack feels he is lacking himself.  The rest of the session explored editing because Jack spends most of his time editing – not writing. Many students found this the most interesting and instructional part of the session. 
Ms Angela Mare
Head of Library
Year 3/4 Author Visits
It was a huge pleasure to welcome R A Spratt (Rachel) to Alphington Grammar on Wednesday morning, particularly as Covid had previously kept our other authors & illustrators restricted to Zoom presentations!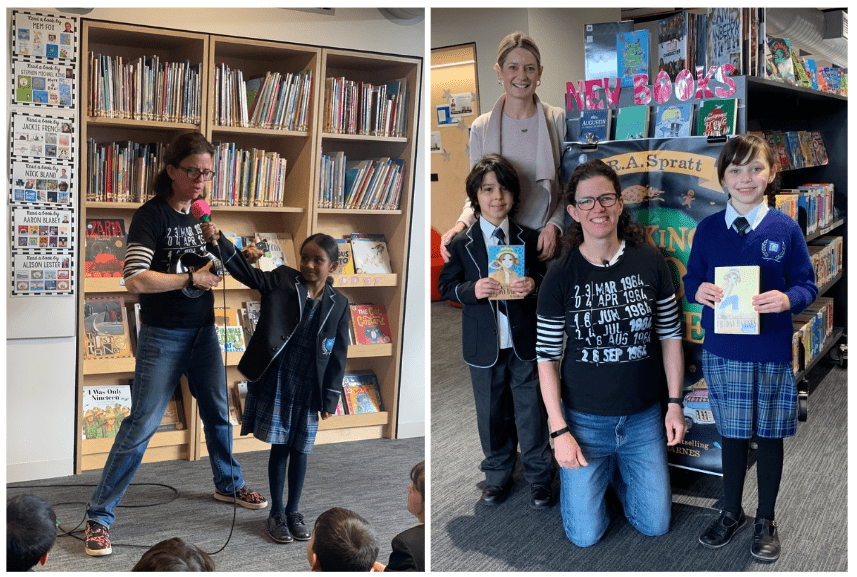 R A Spratt is the author of the Nanny Piggins series, the Friday Barnes series, the Peski Kids series and two books of short stories – Shockingly Good Stories and Astonishingly Good Stories. These two books of short stories are based on her podcast – Bedtime Stories with R A Spratt – and were written to cheer children up over the long Covid lockdowns. She currently has a total of 26 published books, with four more on the horizon.
 She caught our attention from the start, with a trombone opening and then 'read' a chapter from The Nanny Piggins Guide to Conquering Christmas – without even looking at the words.
Nanny Piggins is such a wonderful character – a pig obsessed with chocolate-cake, witty, cheeky and a great believer in literacy. She sees reading as something very important, because it means you can read RECIPES and be good at making cake! She reads each night to the three children that she nannies – fairytales, adventure novels, stories from her own journal and of course recipe books!
Rachel shared her love of learning and inspiration for her books, which come from a range of real-life situations, reading widely, podcasts and newspapers.
To end the session, we were entertained with a short musical performance with Rachel strumming her ukulele and singing a song about why we should be reading!
The students left the library with a hunger for reading R A Spratt's books and perhaps, if we're honest, a slice of chocolate cake too!
Oliver Phommavanh is an author who loves to make people laugh, whether it is through words on a page or performing as a comedian. Connecting children to books through humour is something Oliver does superbly well.
He also enjoys sharing his passion for writing with students through writing workshops, such as the two he facilitated on Thursday with the Year 3 and Year 4 classes. He uses his experience as a primary school teacher to inspire children to write funny stories.

Students were guided through a series of highly engaging brainstorming activities, involving coming up with their favourite food, game, place, job and animal. They then created an idea of what could go wrong for each choice and finally made that trouble double!
'Two truths and a lie' and 'Opposites' were two other activities to get students thinking about ideas they could use in their writing. These exercises encourage including elements of surprise through unexpected ideas!
Inspiration to become a writer stems back to Oliver's school days and the teachers who encouraged him with his writing and offering feedback. He also loved reading books written by Paul Jennings, Morris Gleitzman and Andy Griffiths.
Oliver's advice and number one tip for becoming a good writer is simple – read lots of books. Everyone has passion, so start from the heart and share it in your stories.
Ms Jo Whiffin
Primary Teacher Librarian
Year 5 6 Performance Poet Visit
Years 5 and 6 were most fortunate today to celebrate Book Week with an Author visit from Joel McKerrow.
Joel is an award-winning slam (or performance) poet, who engaged everyone from the very beginning by performing and explaining some of his own poetry pieces. He answered many questions and encouraged everyone to view writing, and poetry writing in particular, in a completely new light.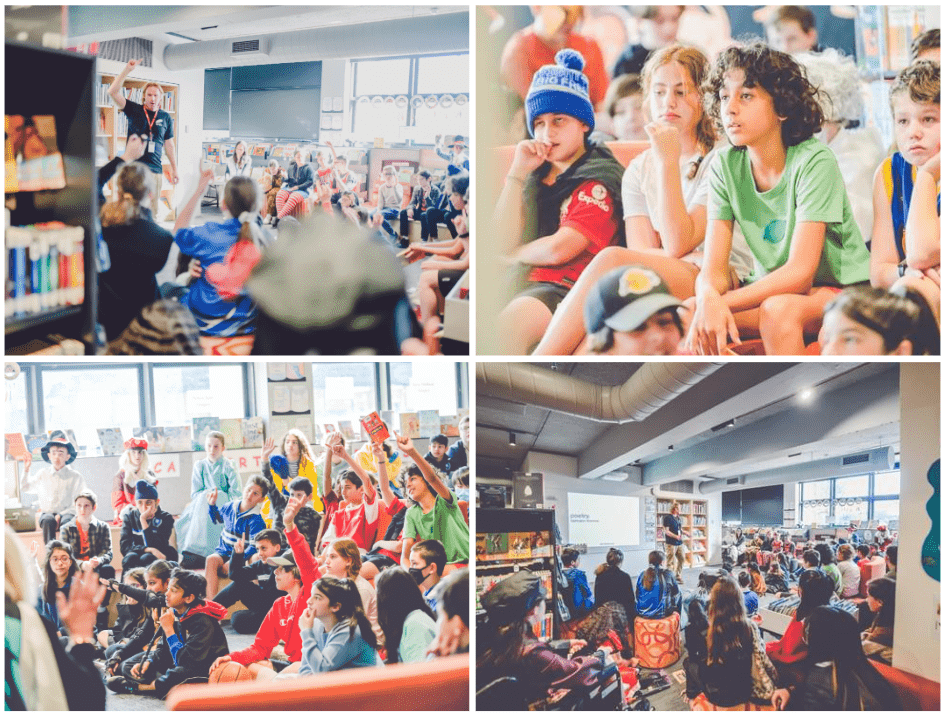 The sessions began with Joel speaking to the whole year 5 and 6 group where he outlined the importance of creating a Poetry writing toolbox or checklist that focuses on the following;
The intended message of the writer,
How to engage the senses,
Build imagery,
Add humour,
Include actions and or facial expressions
To use repetition, volume and pace
To deliver our own ideas in a powerful and individual way.
The whole group session was followed by Joel conducting a practical Writing Workshop for each individual class where he also introduced a thinking process for writing. The sessions today were a wonderful opportunity for students to learn a variety strategies and ideas to enhance their own writing.
Janet Stewart
Teacher Librarian
Fireside Readings and Dream Karaoke
A favourite lunchtime activity for the primary students were the Fireside Readings. A campfire was created, the room darkened, chilled music played and the atmosphere was warm and inviting. The perfect setting for storytelling. Guest readers were invited to share a book of their choice by the campfire.
It was such a joy to share these reading experiences with a variety of different staff, including Dr Nikou, Mrs Nicholson, Mr Silver, Ms Wang and Ms Grealish, and the students loved their personal book choices. The books selected were books that they enjoyed as children or more recently, or books they knew would resonate with the children. The students were thrilled to have staff and it is something that we plan to have more occasions in the future.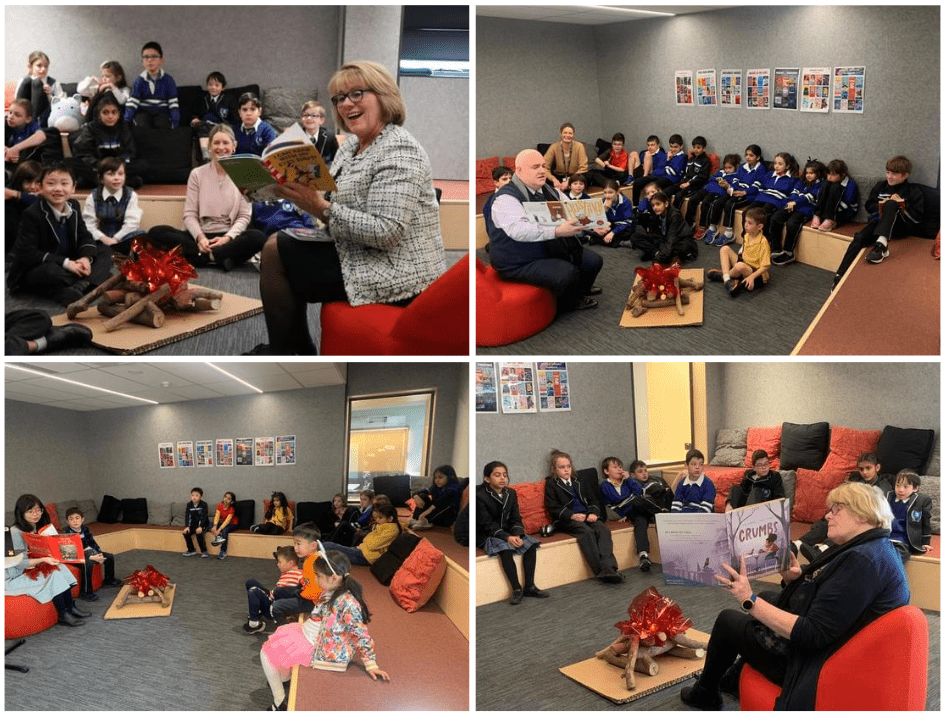 A lunchtime activity for the Secondary students was Dream Karaoke. With the theme of Dreaming with your eyes open (CBCA) and Dreams and Nightmares (EHASS) the students were able to select from songs from different decades all consistent with the dreaming theme.

Although it later changed to party songs, many students got into the spirit of the activity and either bopped along or were brave enough to get up and sing. A good time was had.
Ms Angela Mare
Head of Library
Show All
Collapse
Year 8 Greek excursion to the Greek precinct of Oakleigh
On Friday 12 August, Year 8 students visited Oakleigh's Greek precinct, to experience Greek culture and practise their language skills. The students, were impressed with the foods and sweets and were grateful for the warm welcome they received from the various businesses in and around Eaton Mall, especially from Mythos Gyros Bar, Delphi Bank and Monastiraki.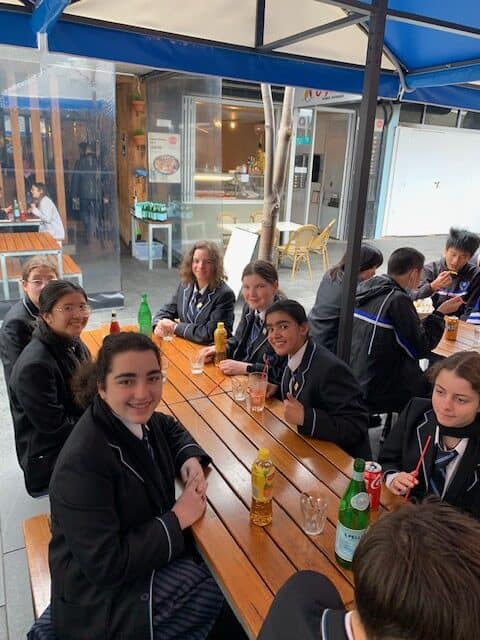 Student reflections:
Today Melbourne is a very diverse and multicultural city. It wasn't always like this though. With the establishment of shops in places we now know as Chinatown or Eaton Mall in the Greek area of Oakleigh, people in Melbourne get to experience more cultures than ever before.
Samuel Lavercombe
Some of the benefits of having shops and services for the Greeks in Melbourne is that it helps Greeks feel as though they are still in their home country if they are missing it. For non-Greeks, it gives them a chance to learn about a new culture.
Rayyan Mashtoub
Having a variety of precincts shapes multicultural Australia by introducing different traditions to some and allowing others to feel closer to their country.
Elly Baulch
Overall, Mythos Gyros Bar was a really good restaurant, the food was delicious. Next, I visited a lot of Greek shops, all of them were very beautiful and unique. Overall, it was a good experience.
Norman Li
Having many shops and services for Greeks such as the φαρμακείο, φούρνος, τράπεζα, provides services they would receive in Greece and the people who own them are probably Greek so they can further connect with people. This appeals to non-Greek people because it gives an experience similar to being in Greece, without going on a plane.
Rhea Gupta
Ms Denise Diakodimitriou
Head of LOTE
Show All
Collapse
The finance team would like to remind families that have not yet submitted their payments to please do so as soon as possible.
Please see below for the CSEF financial assistance program information sheet and application form.
Primary Footy Colours Day Lunch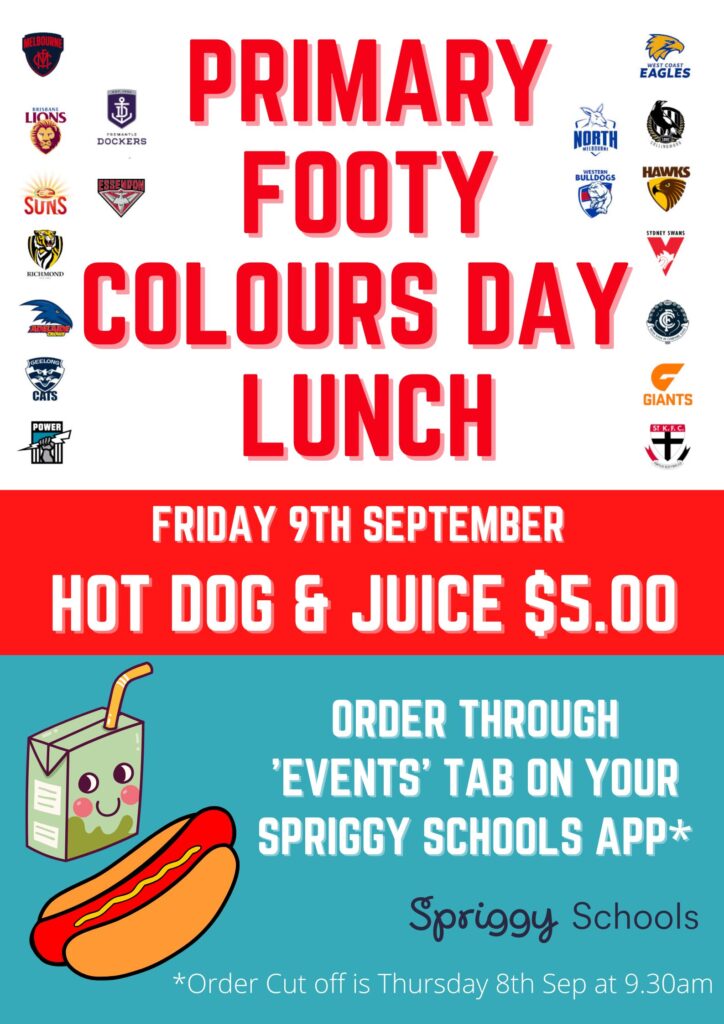 Sporting Minds is back!
Sporting Minds is a school holiday program developed by Alphington Grammar teachers Mr Andrew Diviny and Mr Blair Runnalls who are passionate about using sport and physical activity as a medium to improve primary school aged kids' mental health and resilience.
If you're looking for school holiday programs that will educate, engage and excite your children these upcoming school holidays, look no further than Sporting Minds. Improve your skills, have fun, and make new friends whilst learning from qualified teachers and expert coaches. Get your kids moving and making memories these school holidays. Book now!
To find out more, visit the website here.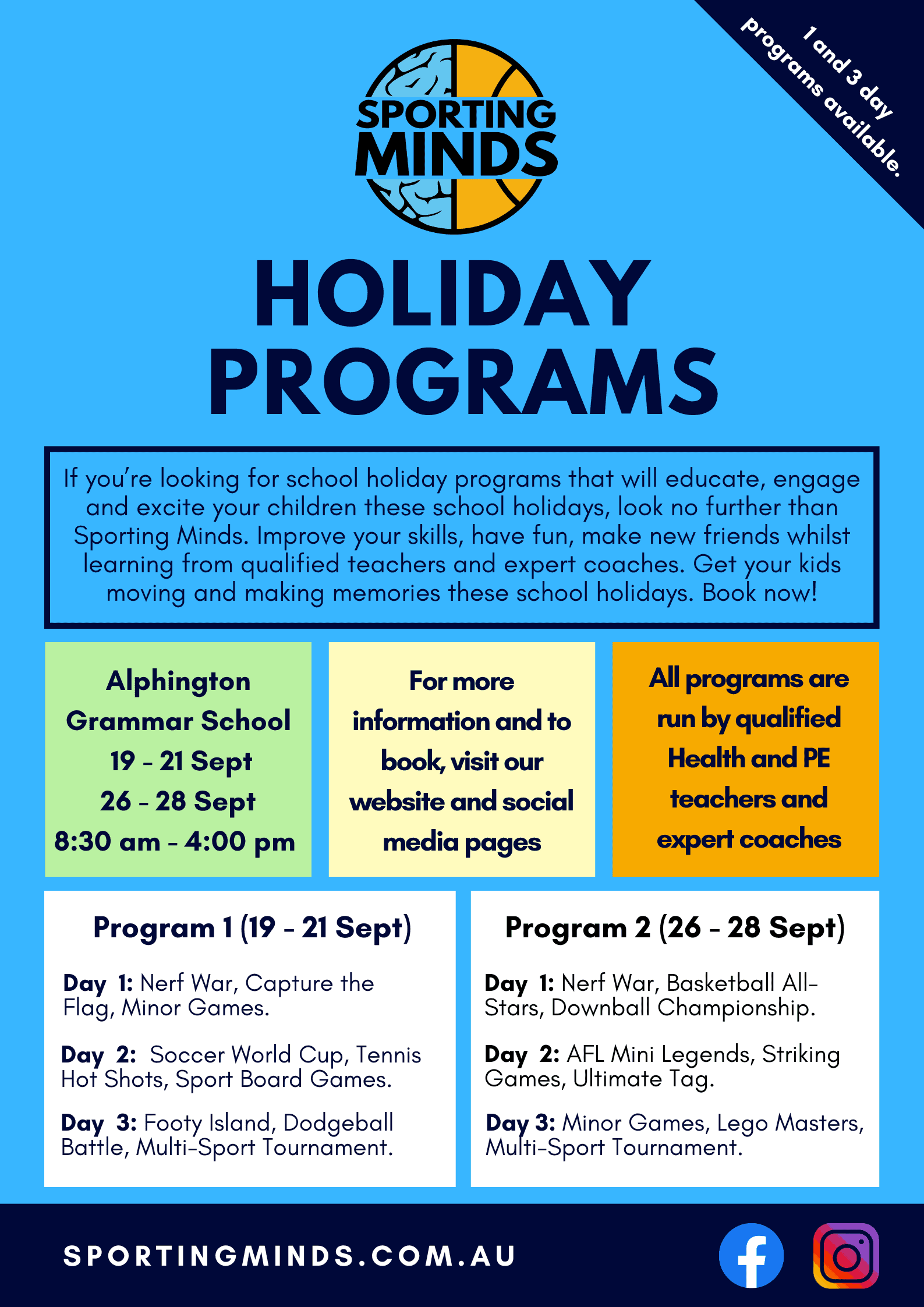 All current parents are invited to experience our campus, meet our staff and explore our school ethos at any of our upcoming Open Mornings.
Open Mornings consist of a presentation and school tour, and are held on various Mondays and Tuesdays throughout the School Year. Any parent can register to attend a tour via the link on our website, here.