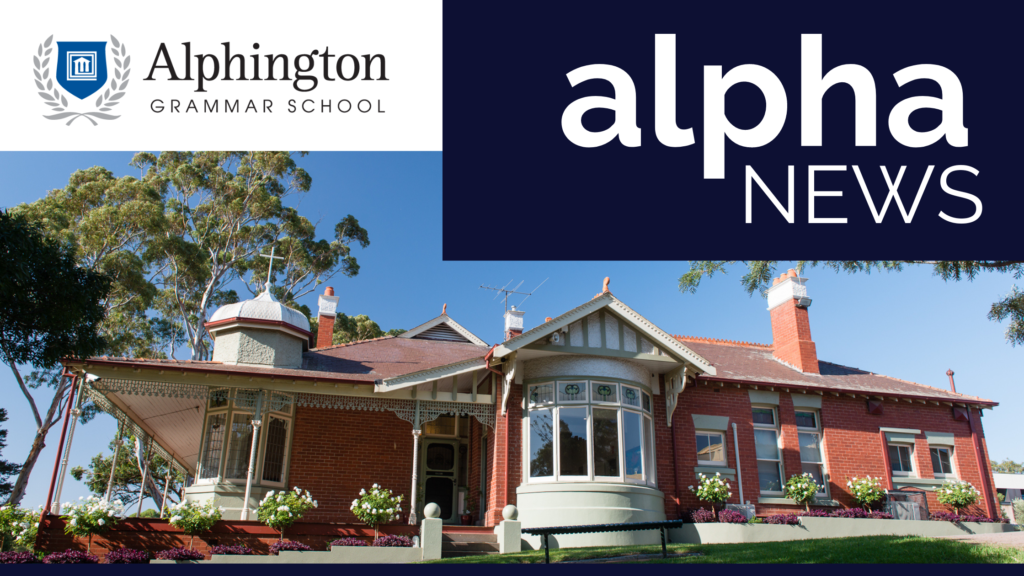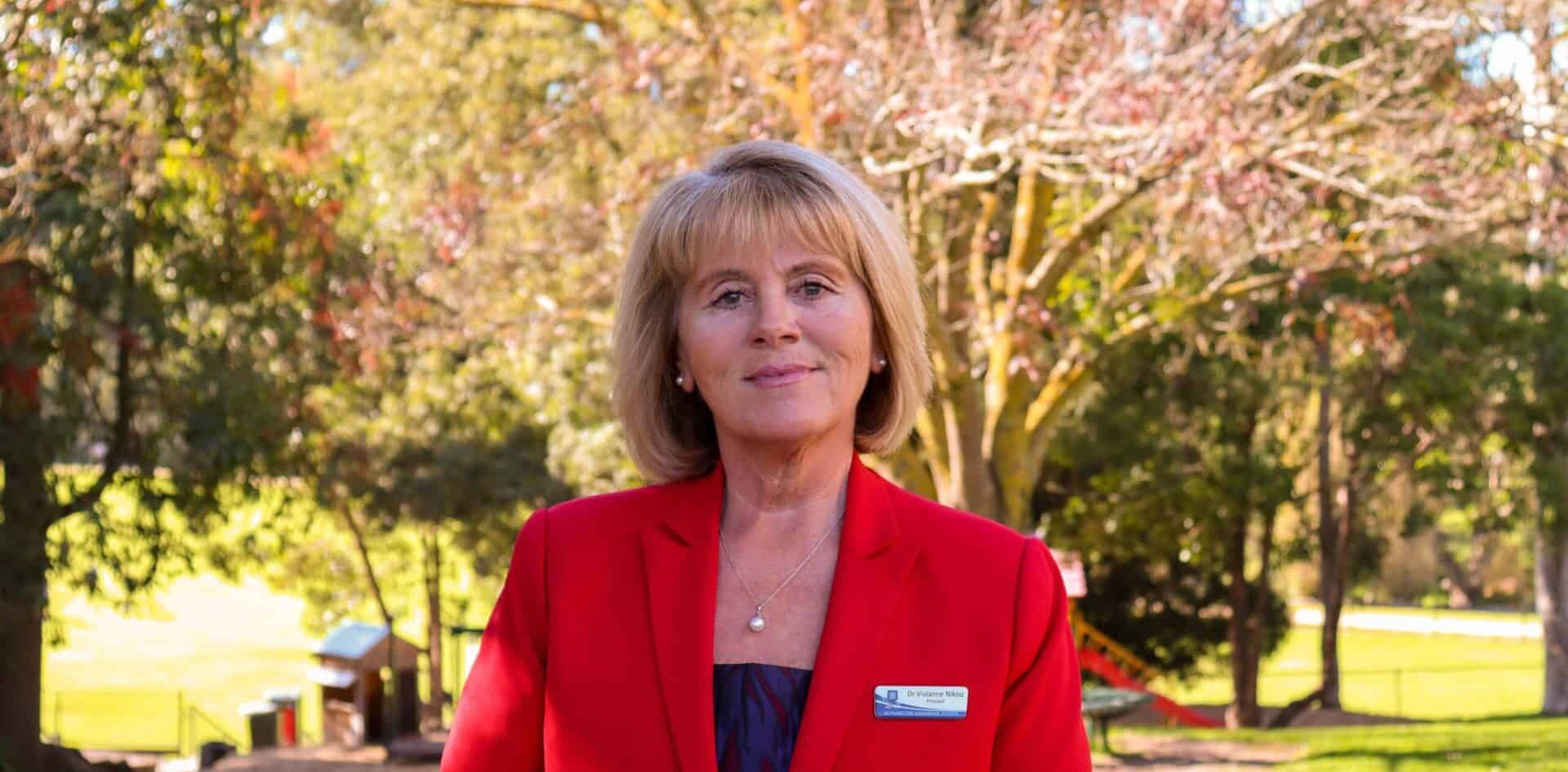 Welcome Back
I hope the mid year break has given everyone the chance to rest and enjoy some time with their families.  As we head into Term 3 we no doubt will be faced with the usual coughs and colds and some amongst us will be exposed to the impact of COVID-19 variants still plaguing our communities.
While the past mandates about mask wearing and vaccinations have eased, the Government has announced that they will provide additional RAT kits for families so that monitoring can continue at home. These will be distributed shortly by our School Nurse, Clare Burns. I ask all families to be vigilant with their own monitoring of symptoms and please keep students at home if they are unwell and are displaying the flu like symptoms we have all come to recognise. 
School Nurse
Many will be aware that Clare Burns and her partner Matt are expecting their first child shortly; hence, Clare will be taking a years Maternity Leave commencing 25 July. We all await the news of baby's safe arrival.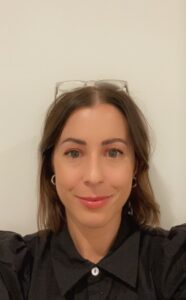 I am pleased to welcome our new Nurse Jessica Orreal who joined us this week for a handover.
Jessica has most recently been working at the Children's Hospital having much experience with young people of all ages whose medical conditions range from mild and easily treatable through to complicated medical, social and emotional conditions that need long term treatments. Jessica has also worked with a number of schools delivering training programs to staff and targeted pastoral and relationships to students. Jessica's warm and approachable disposition will make her an easy addition to our Pastoral Team. Jessica can be reached in the usual way.
We all welcome her to our School.
Dr Vivianne Nikou
Principal
Show All
Collapse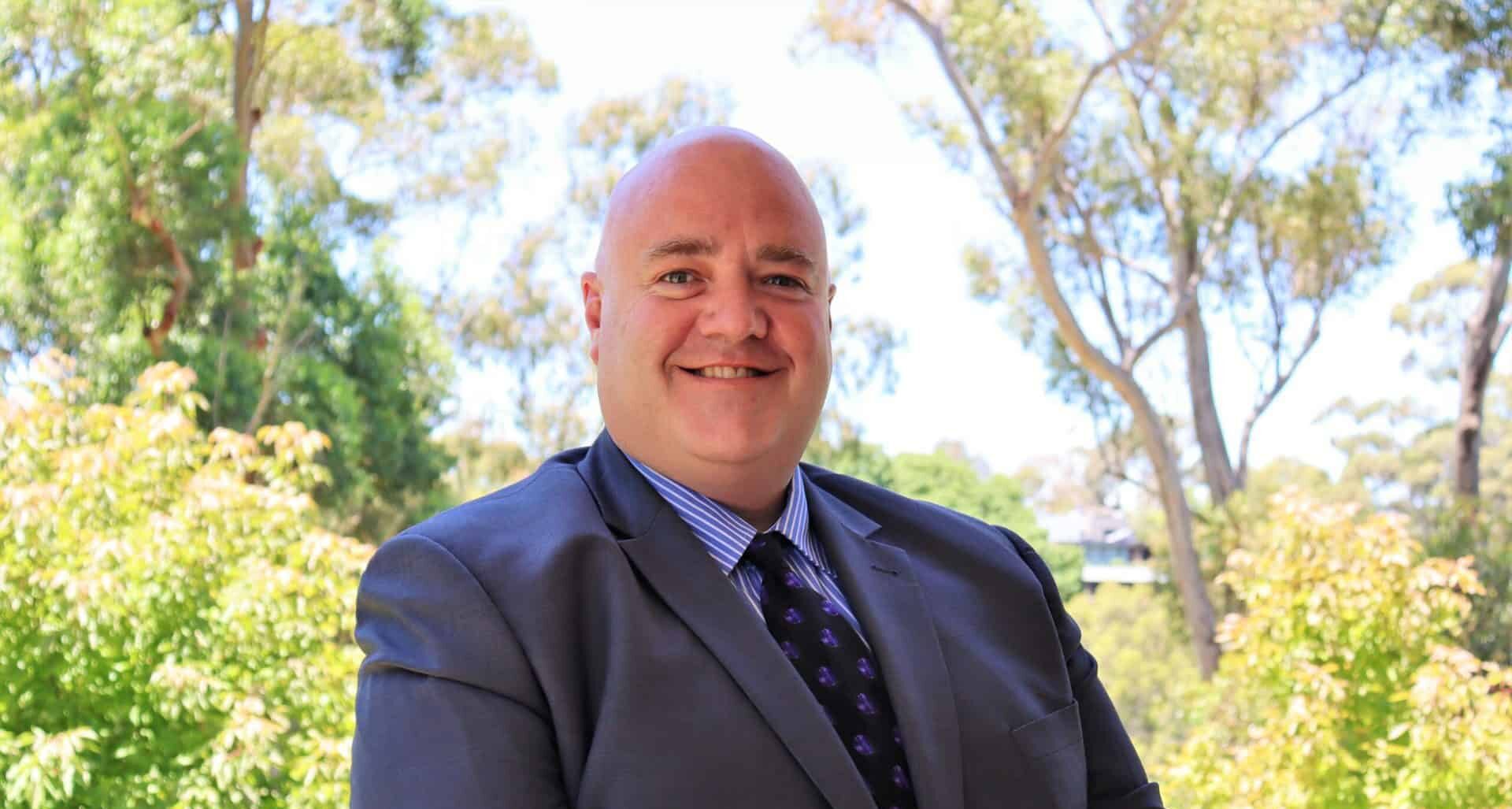 From the Assistant Principal, Head of Secondary
I hope families have had an opportunity to relax over the holidays. After meeting with all the year groups on the first day I was glad to hear that many families decided to brave the queues at the airports and head abroad. India, Turkey, Greece, China and Bali were some of the destinations. It is great to see the world getting back to normal.
The end of Term 2 is always a busy period with Semester Exams, reporting and wrapping up curriculum in preparation for Semester 2. During this period, we also run the Year 9 Experiential Learning Program: Metropolis. There is a Metropolis article featured later in the newsletter, but I would like to thank Ms Corredina Todaro for her organisation of the Metropolis Program. The Year 9 students enjoyed a week-long city experience, where they had their first taste of true independence, navigating parts of the city in groups without teacher supervision. This is a preparatory program for the Gateways Experience which takes place in late August, where they will continue to develop these newly acquired skills of independent learning, resilience and formulating a more profound understanding of their own involvement in their education. This is the developmental stage where students need to start taking more responsibility for their own learning; they need to become more intrinsically motivated, and these programs are designed specifically to facilitate this.
I would also like to congratulate the Year 10 students on completing their Work Experience Program at the end of Term 2. It is a very difficult time to secure work experience placements, due to COVID staffing shortages in all industries, and a general reluctance to welcome strangers into workplaces. Mrs Helen Mallis worked hard to ensure that all students either secured an onsite placement or completed an online work experience program. The students enjoyed their time in the 'real world' and they gained some valuable insight into the workplace.
The new ban on mobile phones started at the beginning of this term and Ms Deirdre Grealish and I met with every year group on day one to reinforce the message given to them in Homeroom at the end of last term. I have to say that the students have done a brilliant job at adapting to the new policy. I would also like to thank parents for helping us by discussing this with their children and helping them to understand how this move might improve their learning outcomes. The support from the parents has been overwhelming. In fact, I have never seen parents so excited about a new school rule!
Parent Teacher Interviews have just been completed and for the most part parents were already fully informed of their child's progress due to keeping a very close eye on their progressive reporting. Can I please remind parents that progressive reporting forms the bulk of our reporting in the Secondary School. Our Interim and Semester Reports are just a snapshot of progress and attainment. The diagnostic marking and live feedback take place throughout the term and are pushed out via Schoolbox. This is where parents and students receive feedback and data that will facilitate progress. It is essential that parents are logging into Schoolbox to check their notifications and progressive reporting.
Semester 2 Key Dates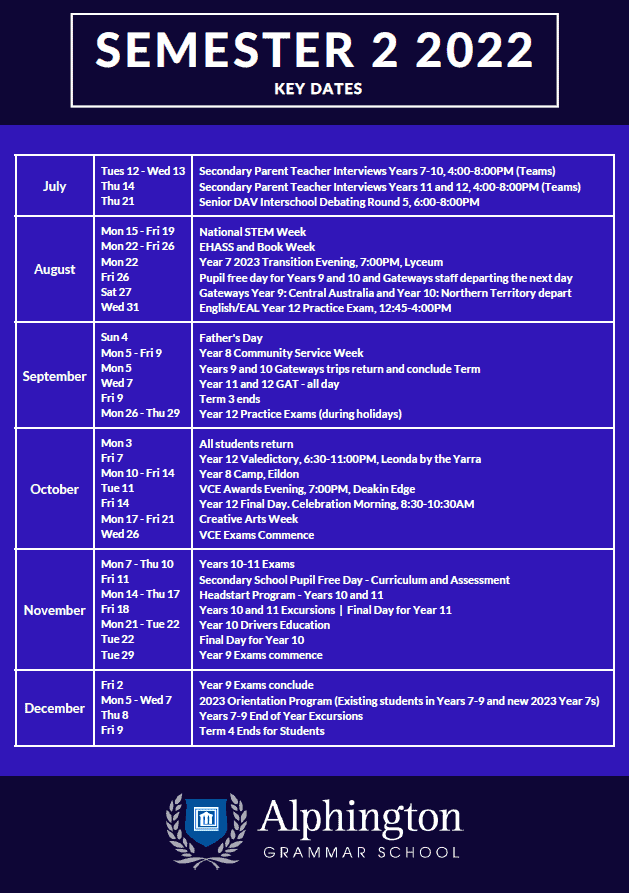 Have a wonderful term.
Mr Lukas Silver
Assistant Principal, Head of Secondary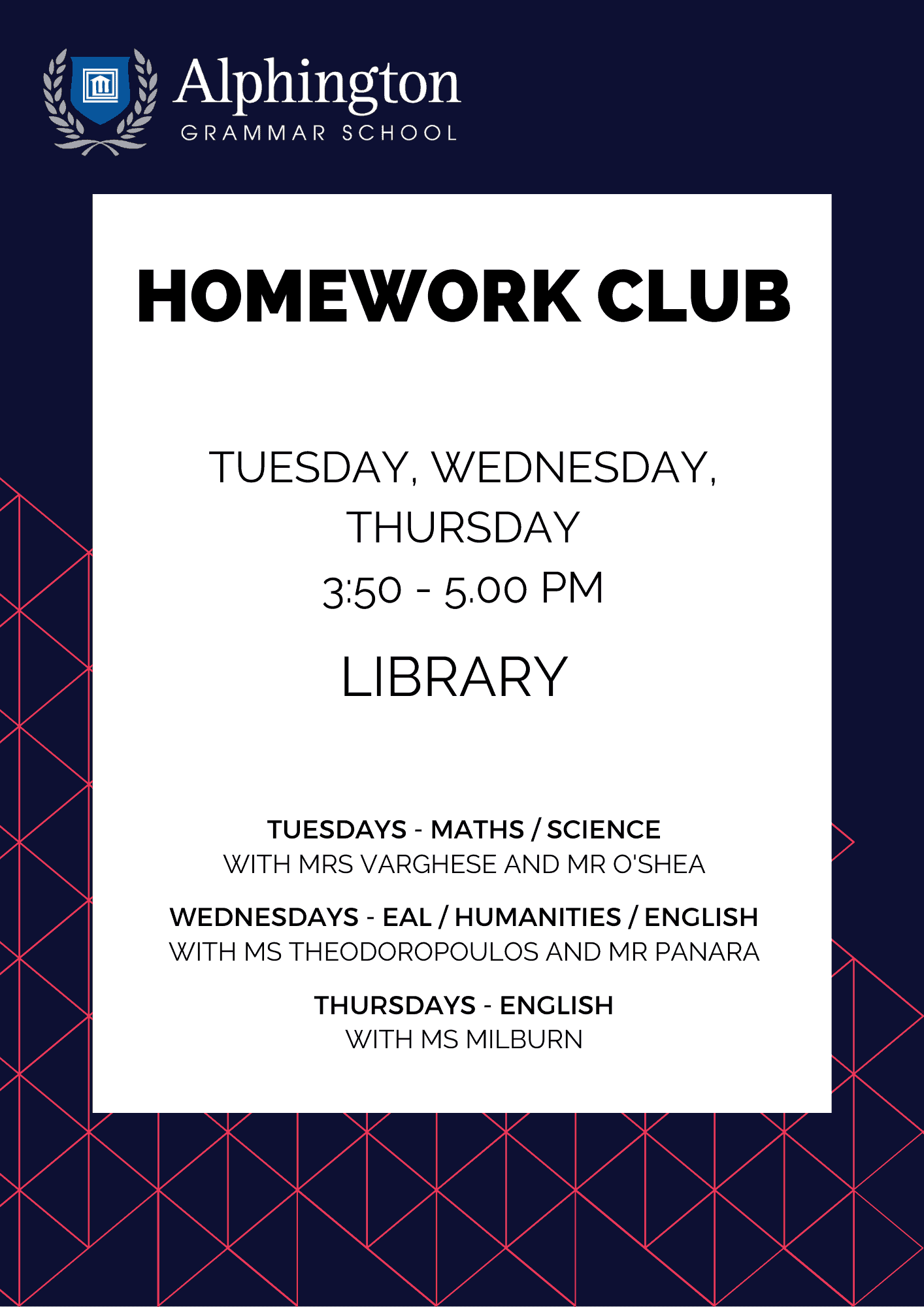 Show All
Collapse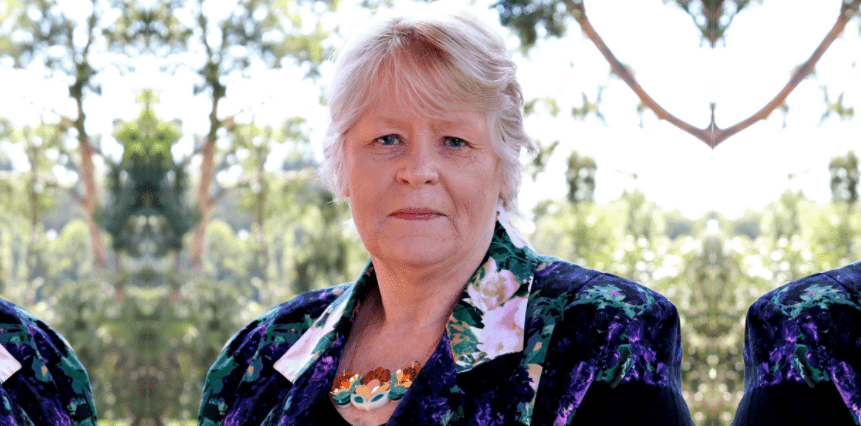 From the Assistant Principal, Head of Primary
We are already halfway through the year, and it is both amazing and alarming given how quickly the months have flown by.
Semester One has been very productive, as evidenced in School Reports issued in June, but student growth is not just measured by those reports. As the year progresses, I see many positive changes in our students daily. On our first day of Term 3, our students came back to school refreshed and enthusiastic and keen to get back to classrooms. After the interrupted learning of previous years, we really do treasure every moment. I look forward to seeing our students continue to thrive throughout this coming semester.
At the end of last Term, Year 4 student Juliana Evmorfias announced the winners of an Art Competition she had organised entitled 'A Picture is Worth a Thousand Words'. Congratulations to the winners: William Kallianiotis in Year 5, Sophia Mead in Year 4 and Dustan Roberts in Year 3. A huge 'thank you' to Juliana for organising this competition.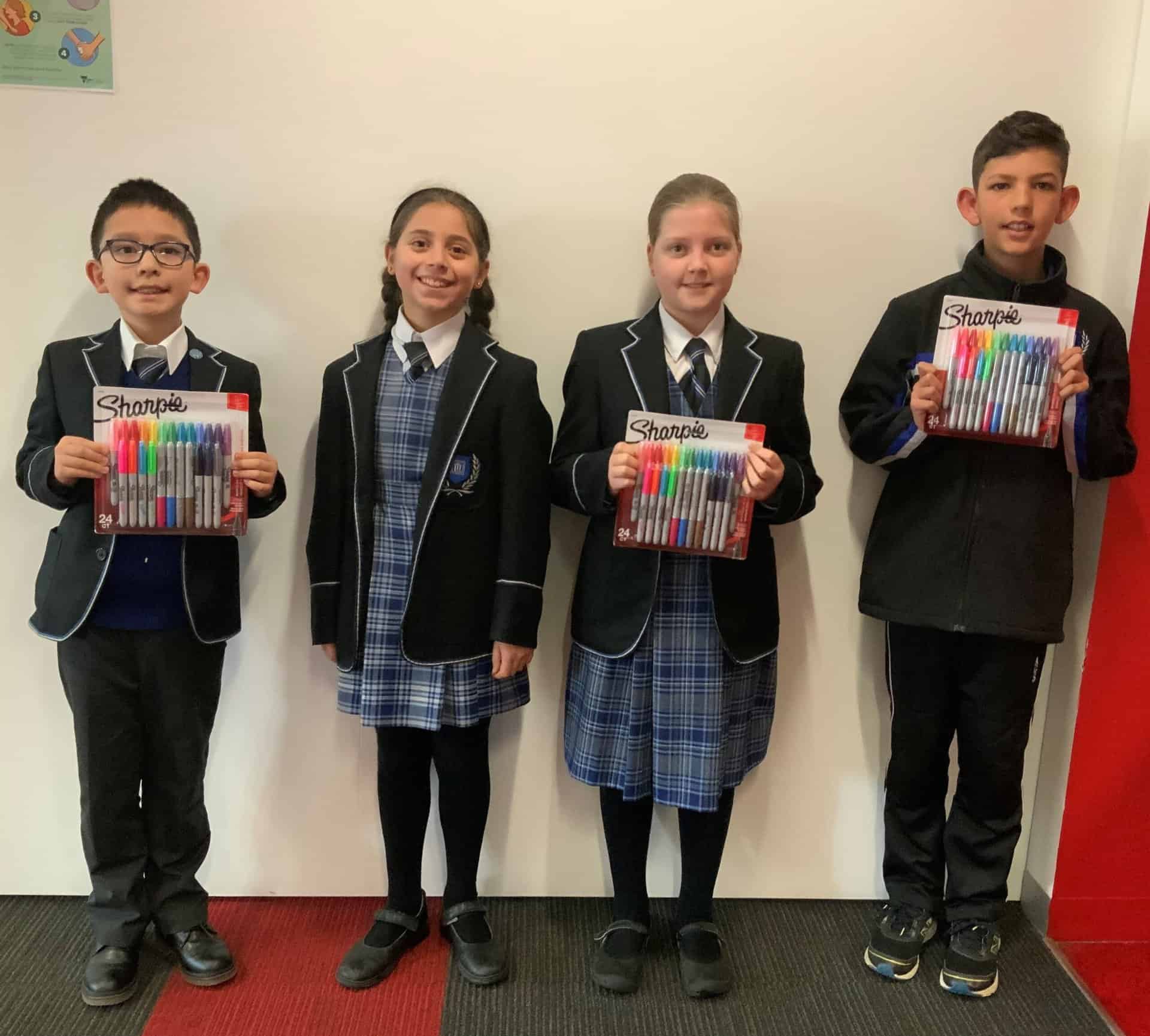 We have a very busy term ahead with lots of learning and lots of events. Please make sure you read the bulletins and the newsletters, so you know what is happening.
Two 'whole Primary School' events to watch out for are: the 'Primary School Book Parade' , on Tuesday 23rd August. The theme this year is 'Dreaming With our Eyes Open' and we look forward to a fabulous dress up day and a traditional book parade that parents will be able to attend. Week 9 sees the return of the 'Primary School STEAM Show'. 'STEAM' is an acronym for Science, Technology, Engineering, Arts, Mathematics. We will be holding our Art show, Art Auction, Family workshops and Student STEM project display. More information about all of these things will be sent home as the term progresses.
Finally, we are thrilled to announce the arrival of Matteo Colosimo, born 27th June 2022 to Anthea Koloskopis and her partner Jacob. Welcome to the world little man… we look forward to meeting you soon!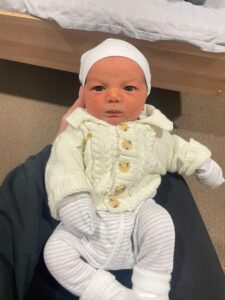 Mrs Tracey Nicholson,
Assistant Principal, Head of Primary
Show All
Collapse
From the Secondary School
Biology Activities
The last few weeks of term 2 involved Year 8 students completing some hands on practical lessons involving plants. Students grew their own plants, made predications about growth as well as collected and analysed plant samples.
The Year 8s were not the only ones studying plants at the end of last term; VCE biology continues their study on plants and the conditions that affect plants. The Year 11s completed 2 experiments looking at how different environmental conditions affect the rate of water lost from a plant. This is then used as part of their assessment.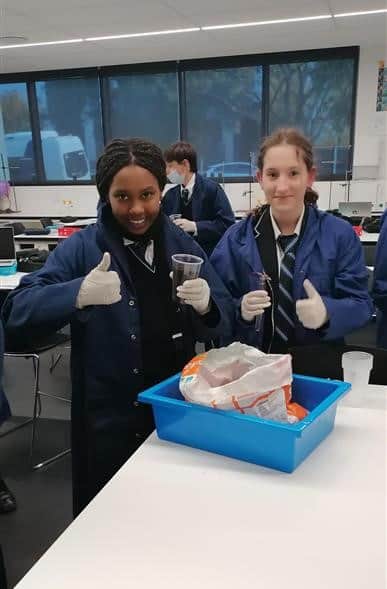 All students worked incredibly well and achieved some fantastic results.
Please note: these were experiments that did not involve hazardous materials and therefore the wearing of lab coats was optional and not all students pictured are wearing lab coats.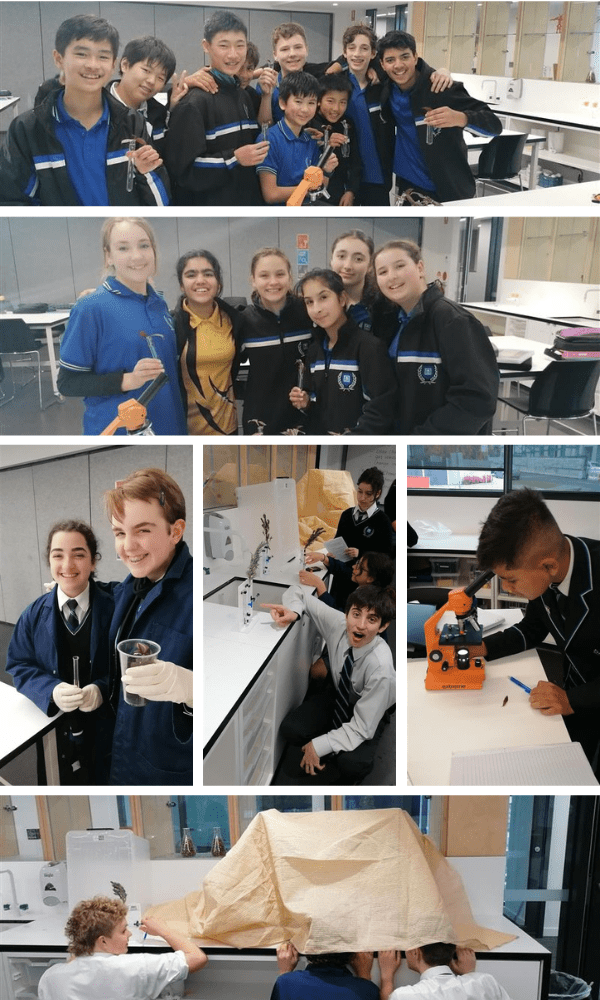 Ms Lily Potocnik
STEM Teacher
Winners of the Computational Algorithmic Thinking (C.A.T) test
In late term 1 this year, twenty students (mixed from years 7-9) participated in the C.A.T. competition. This involved a higher order of logical thinking and reasoning in the context of a set of challenging problems.
We are very proud to announce this year's winners.
A Distinction is given for the top 10% of the State, and a Credit for the top 40% of the State.
Distinction: Francis HOGAN (Year 7)
Credits:
Clara BIELENBERG
Year 7
Alexander DUNN
Year 7
Lucinda HOOTON
Year 7
Oscar LINDSAY
Year 7
Ben SPAZIANI
Year 7
Bowen JIANG
Year 8
Norman LI
Year 8
Michael OOI
Year 8
Jiahui ZHU
Year 8
George MOURATIDIS
Year 9
Congratulations to this group of winners!
Their certificates will be presented during S.T.E.M. assembly in week 5 of this term.
Mr Louis Diamandikos
Head of S.T.E.M
Show All
Collapse
Book Club Excursion to Dymocks and State Library of Victoria
On Wednesday the 22nd, the AGS Book Club headed into the city in search of new books for the school library. The trip included a visit to the Collins Street Dymocks, as well as a visit to the 'World of the Book' exhibition at the State Library of Victoria. The students also had time to visit the Ned Kelly exhibition that was also being presented at the library.
The trip started early in the morning when the students and staff took a train into the city.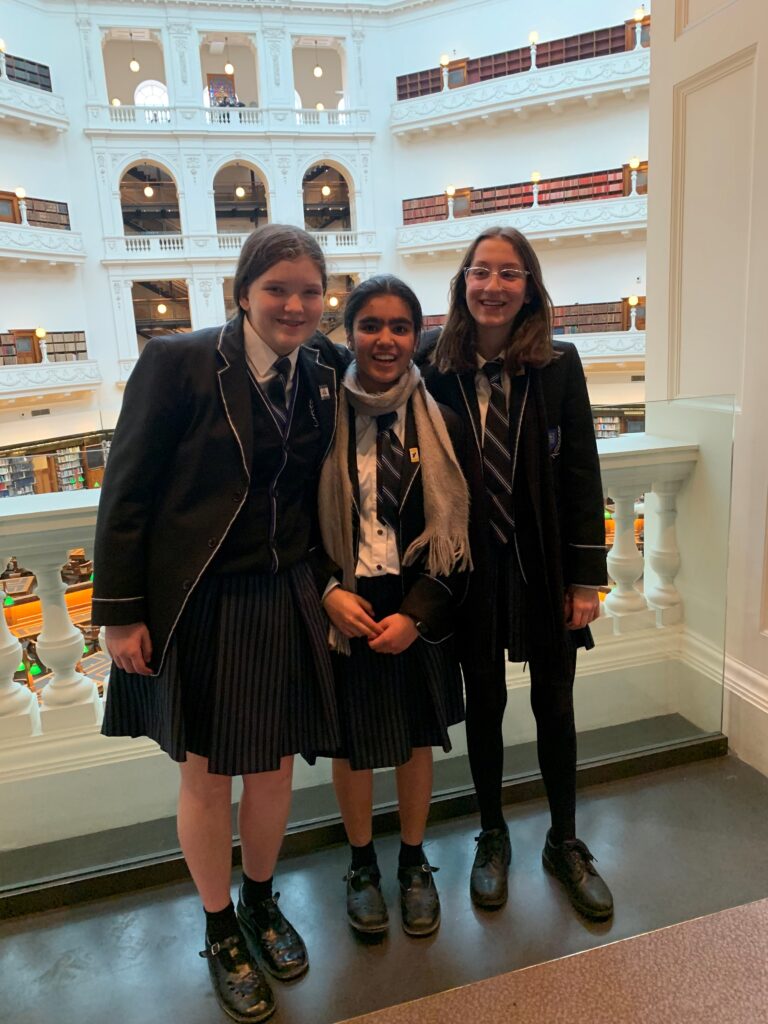 Everyone was excited and wanted to see the beautiful array of books that they could choose from. And we were not disappointed. As we entered the Collins Street Dymocks, the faces of the students lit up. The massive book shop covered a whole storey of the shopping centre and had every book imaginable. The students were tasked with selecting books that would be of interest to themselves and their peers. In total, the students selected forty books including books from the series A Murder Most Unladylike and books by Alice Oseman (author of the Heartstopper graphic novels).
After Lunch, we headed to the State Library with a spring in our step. The library consisted of six floors, each having their own magnificent views of the dome and the architecture of the building. We headed into the 'Dome Reading Room' and up to the fourth floor where the 'World of the Book' exhibition awaited us. The exhibition contained the history of book design, production and illustration, all the way from the first conceived book to modern stories like 'Peter Rabbit'. With concepts such as the invention of the 'printing press' and production of 'dictionaries' showing up along the way, it was a unique experience for the group that can only be truly appreciated in person.
We moved to the Ned Kelly exhibition that had Ned Kelly's original armour. The room also contained some explanation as well as lines from the original letter written by Kelly himself. Across from the Kelly exhibition was the 'Newspaper Reading Room'. Inside here is where one of the students was able to view a newspaper from 1922 on microfilm. The content of the newspaper fascinated her as well as the other students about the medium of microfilm.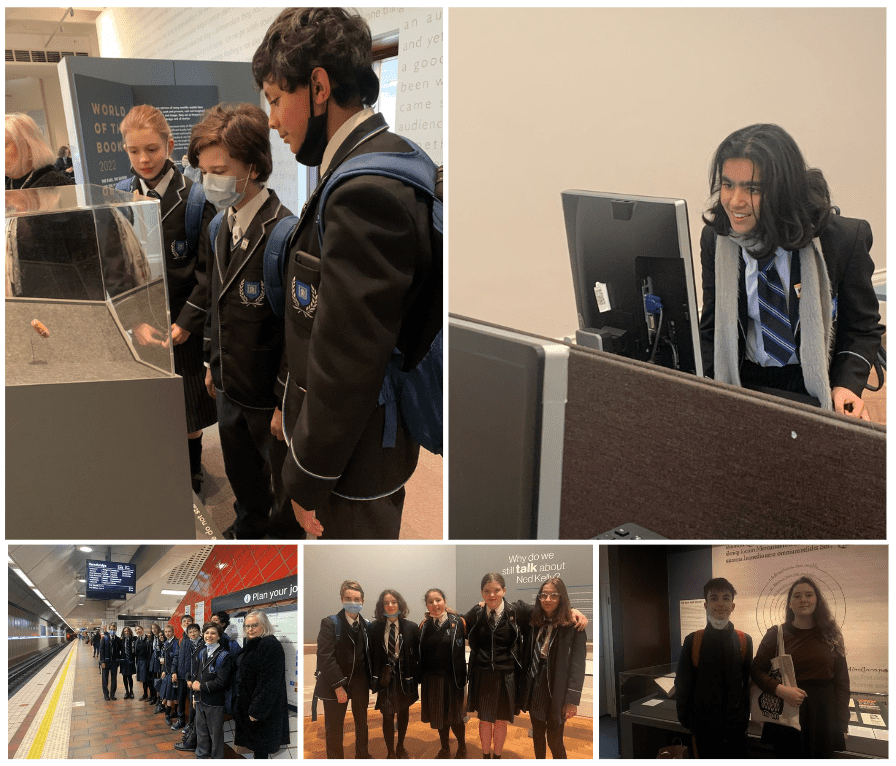 The day came to an end as the students arrived back at school, the work experience students departed, and reflections were made. Special thanks to Ms Stewart and Ms Mare for organising the trip, as well as the students for being good listeners and making the trip fun for everyone.
Ari McGillivary
Year 10 student
Show All
Collapse
From admiring the famous cobblestone street art lanes; enjoying the hot jam donuts at The Queen Victoria Market; tapping on and tapping off on trams, trains and buses; appreciating art, media pieces and historical artefacts at ACMI, NGV and the Melbourne Museum; to experiencing life as prisoners in the Old Melbourne Gaol…. Metropolis was a week full of fun, learning and problem solving around our city.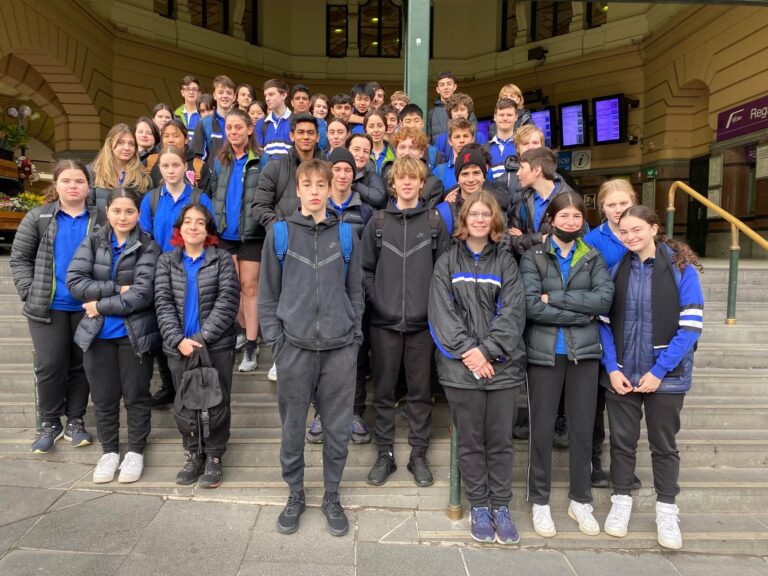 Getting out of the classroom, we not only saw the City of Melbourne from 'new heights' (thanks to Melbourne Skydeck) but also kept our bodies moving by navigating on foot to famous landmarks, getting our 'Game On' at the Melbourne Cricket Ground and finishing the week with indoor rock-climbing at Hardrock Climbing Melbourne. Overall, it was an engaging experience to end the term and spark excitement for our Gateways trips later in the year!
Mariana Galanopoulos,
Year 9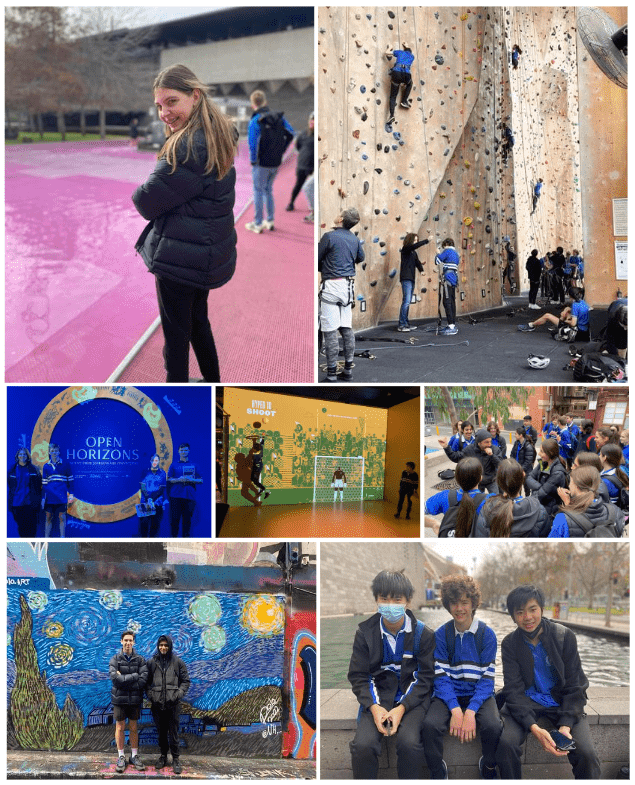 Show All
Collapse
Town Squared – a game to build maths confidence
An opportunity is available for you to try a new game-based platform that helps your children to better understand maths, builds their confidence, reduces maths anxiety, and provides you with insights and tips along the way.
We are excited to announce that the whole platform is currently free!
Download here.
Developed by Playlunch Games with The Mathematical Association of Victoria, Town Squared is a game that immerses children in a beautiful multiplayer world that weaves maths concepts and financial literacy learning into gameplay. Children play interesting scenarios in a collaborative and encouraging environment with their friends, applying the maths they learn in the classroom as they go.
The game also provides families with access to the MAV Family Portal, with resources including articles by MAV that explain maths concepts, and home activities to encourage children's interests and maths skills.
Help change a conversation about maths from one of avoidance and fear, to one of curiosity and skill-building.
Town Squared is a safe environment for children and families:
kidSAFE certified
No advertising to children
No cyber-bullying
Designed with screen time in mind
Your data is safe and secure
Ms Dianne Downey
Primary Numeracy and ICT Coordinator
Show All
Collapse
All current parents, particularly in the Primary School, are invited to experience our campus, meet our staff and explore our school ethos at any of our upcoming Open Mornings. 
Open Mornings are held on various Mondays and Tuesdays throughout the School Year. Any parent can register to attend via the link on our website, here.

Years 3-6 Open Horizons Exhibition Excursion
On Thursday the 23rd of June all Year 3-6 students attended the Open Horizons Exhibition at the Melbourne Museum. This remarkable exhibition was a once in a lifetime opportunity to see some of the most extraordinary items from the National Archaeological Museum in Athens. Students were excited and fascinated by an impressive marble sphinx depicting a female head with the body of a winged lion which was on view for the very first time outside of the National Archaeological Museum.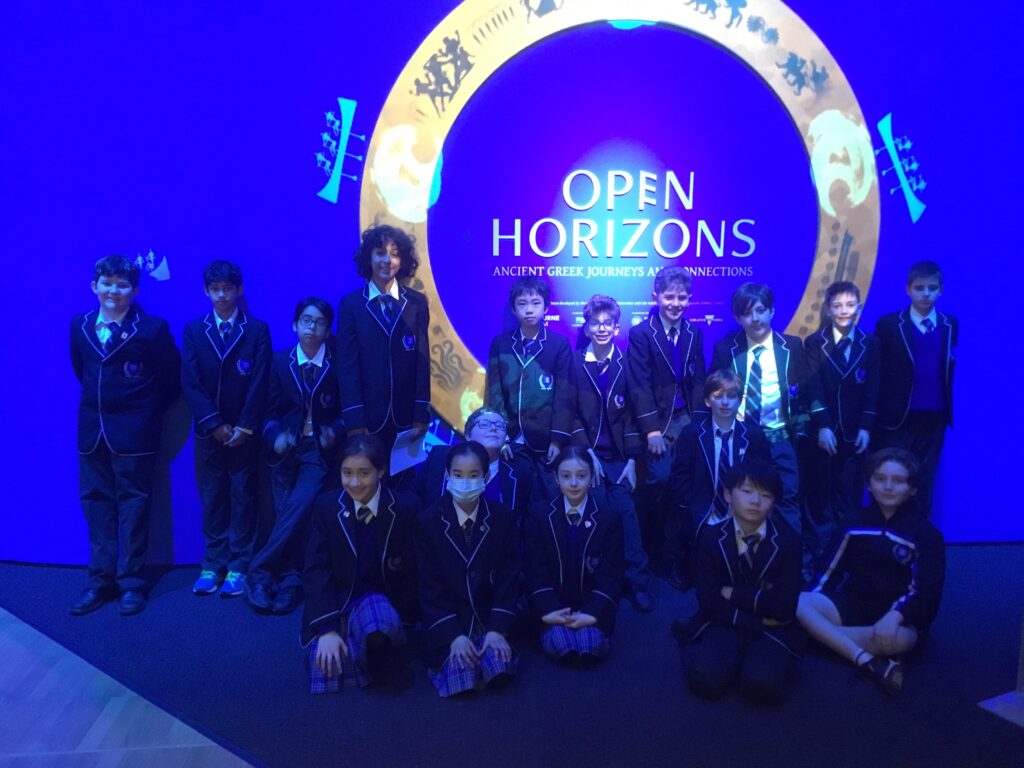 The exhibition took students on a journey through Ancient Greece exploring how the trade of ideas and goods influenced Greek culture, and in turn influenced the ancient world. The exhibition featured 44 ancient works that date from the Early Bronze Age to the Roman period representing periods of economic and cultural trade between Greece and its neighbours. This excursion has provided stimulus for learning experiences and discussions about life in ancient Greece, myths, heroes, and mythological creatures depicted in the works.

Winners of 'Cards Galore' Multilingual Card Design Competition
As part of our LOTE week activities last term students were asked to design birthday greeting cards in a language other than English including an original design which can be used by anyone. The winners of this competition were announced during our final assembly. The winners were ……
Nikoletta Koljatic– Year 2
Evangelos Goulianos– Year 3
Chengrui (Payne) Lu– Year 4
Juliana Evmorfias– Year 4
Sophia Mead– Year 4
William Kallianiotis– Year 5
Evan Kondys– Year 6
Elly Baulch–  Year 8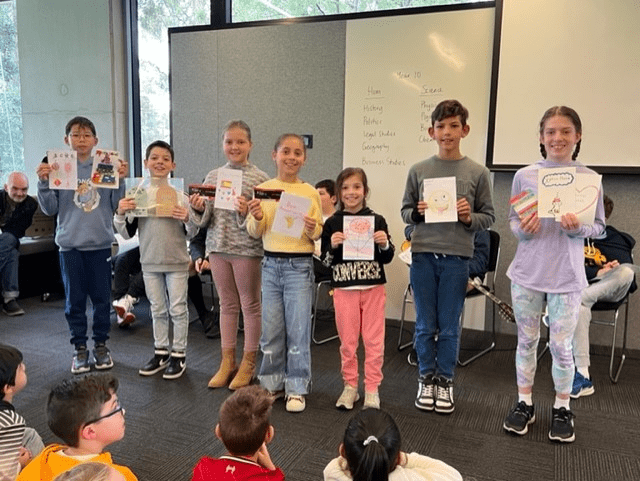 Primary Greek Awards
The following students showed excellence in their Greek studies last term and were acknowledged with an award for their efforts during our Primary Assembly:
Prep
Steven Sun – Effort
Year 1
Mason Holdinghausen – Amazing work
 Year 2
Colin Scott – Effort
Evan Di Giovine – Reading in Greek
Year 3
Siddharth Shankar – Reading in Greek
Erofili Marinos – Amazing work
Year 4
Constance Mihailidis – Improvement
Stephanie Haralabidis – Improvement
Year 5
William Kallianiotis – Effort
Athanasia Kerasiotis – Improvement 
Year 6
Alexander Bassett – Effort
Zander Ioannou – Speaking in Greek
Well done to all recipients on their certificates and awards!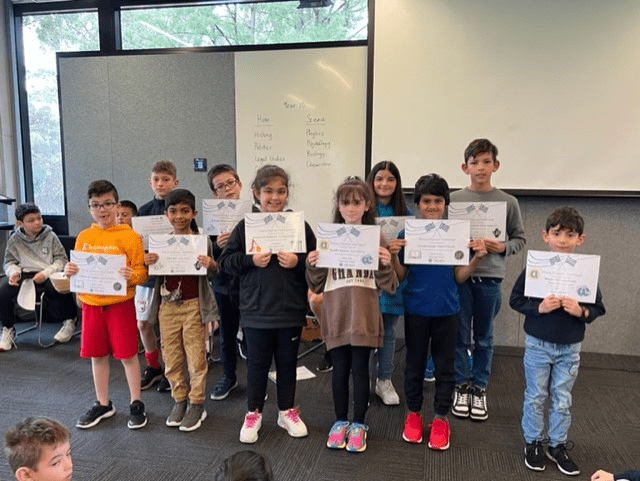 Greek Public Speaking Festival
We are pleased to promote the annual Greek Public Speaking Festival for students, organised by the Modern Greek Teachers' Association of Victoria. 
The Festival aims to give students the opportunity to engage with the Greek language, by either reciting a classic poem (Poetry Recital) or delivering an original speech in Greek (Demosthenes competition). Public speaking was a respected art in ancient times and equally important in today's world. Many students will be working on entries in class, and all students are encouraged to take this opportunity to extend their skills.
The festival will be promoted in Greek classes and students are encouraged to talk about it with their families. Students are also welcome to prepare their own submissions outside of class.
These are the categories:
Poetry Competition
Years 3 and 4
Years 5 and 6
Years 7 and 8
Years 9 and 10
Demosthenes Competition
Years 5 and 6: Why I'm learning Greek
Years 7 and 8: He who rushes falls over
Years 9 and 10: Technology today- friend, or foe?
Years 11 and 12: My world
Due to the pandemic, entries will be submitted as recordings. These are due by 22 July.
For further details, please speak to your child's Greek teacher or visit this link. We have had wonderful entries in the past and look forward to continued enthusiasm for this year's festival.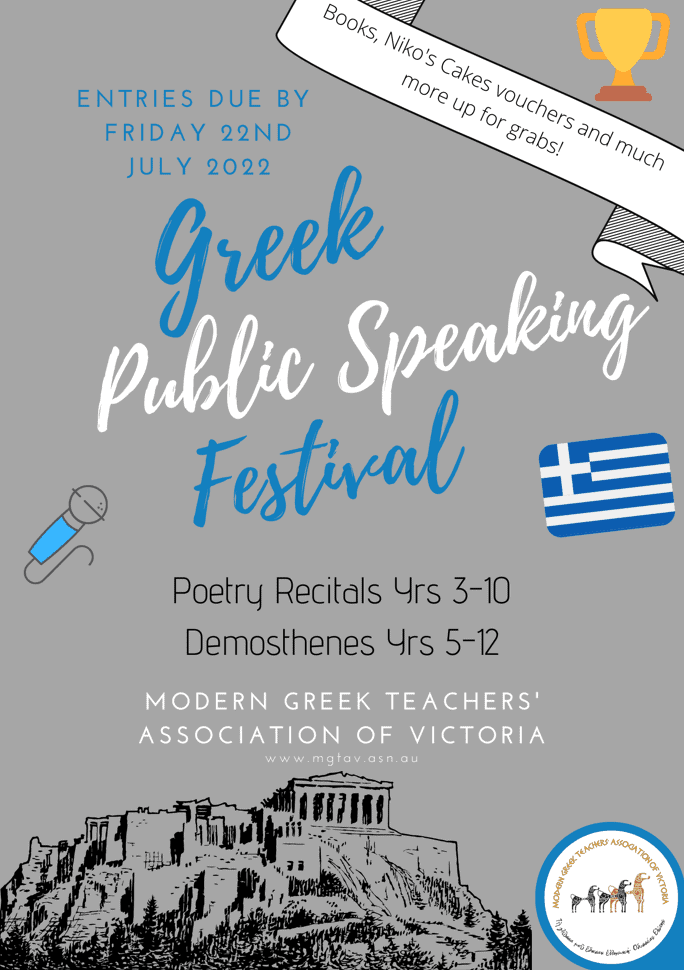 Good luck to all students!
Ms Denise Diakodimitriou and Ms Effie Bindevis
Head of LOTE and Primary Greek Coordinator
Show All
Collapse
Please add to your calendars the opportunity to attend the Melbourne Career Expo, 15 to 17 July at the Melbourne Exhibition Centre South Wharf – Entry Door 7.
Below are the links, firstly, for information about the Expo and the Exhibitors and second the link to access and print your ticket for FREE ENTRY.
For more information, click here.
The finance team would like to remind families that have not yet submitted their payments to please do so as soon as possible.
Please see below for the CSEF financial assistance program information sheet and application form.
AGS Environment Club Fundraiser
There will be a whole school fundraiser organised by the Environment Club to raise money for Trust for Nature.
What are we doing: Casual Clothes Day (gold coin donation) and a Bake Sale
When: 29th July which coincides with National Tree Day
Why:  Trust for Nature is conservation organisation helping owners of private land protect and conserve the diverse range of native plants, animals and habitats.
The food we will be selling will be nut-free. Some of the other food will be egg-free, lactose/dairy-free, gluten-free, and vegan. I hope everybody can buy something or donate so we can help save our planet.
More information can be found in this brochure.
A GoFundMe has been set up. If you wish to donate click HERE.
Sarah Dicker,
Year 7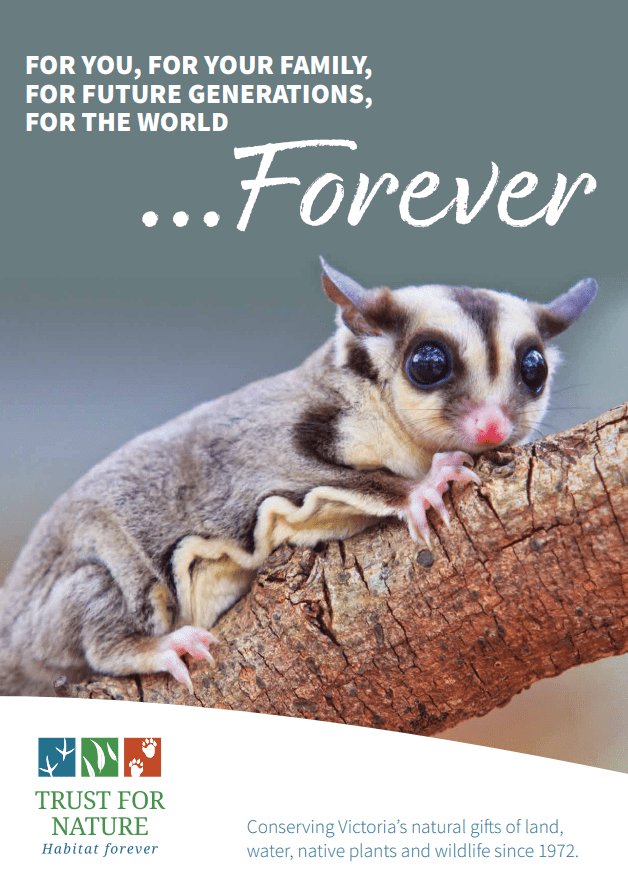 We are delighted that after two years, the Annual Music Concert will finally be returning to the Centre Ivanhoe at 7.00pm on Tuesday 16th August.
All students in Years 4, 5 and 6 will be performing, as well as students from all year levels across Primary and Secondary schools that are involved in our many ensembles at AGS.
Tickets are now on sale for this event which is the highlight of the musical calendar at AGS. They can be purchased here.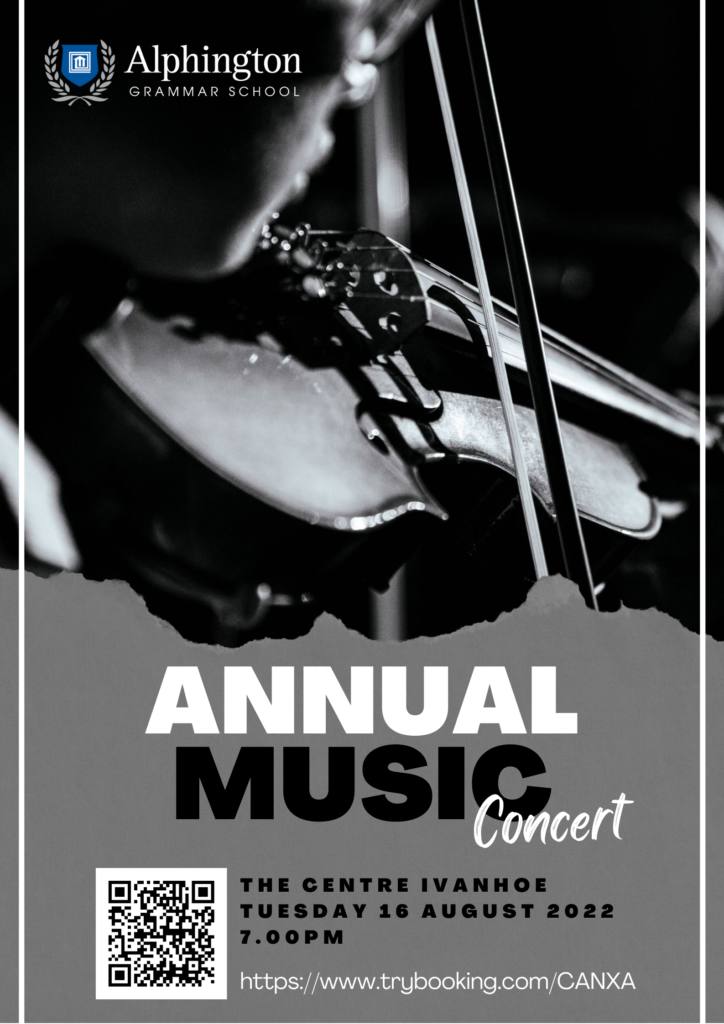 All current parents are invited to experience our campus, meet our staff and explore our school ethos at any of our upcoming Open Mornings.
Open Mornings consist of a presentation and school tour, and are held on various Mondays and Tuesdays throughout the School Year. Any parent can register to attend a tour via the link on our website, here.

4,484 total views, 1 views today