Parking around the school
Please be aware that Parking Inspectors are frequently in the vicinity of the school and will be enforcing parking regulations.
Please find attached Menu for Term 3 in the canteen. 
AGS will be hosting an Interschool Chess Tournament in collaboration with Northern Star Chess on Tuesday 6 September in the Andronakos Centre.  The event will run in the gym from 9:30am to 2:15pm. Entry fee will be $10 for AGS students.
The tournament will feature both a Secondary and Primary division, so all AGS students are welcome to participate.
Format of the tournament as follows:
*  Individual based tournament
*  Every student plays 7 games against players of similar skill, regardless of how many games they win or lose (Swiss pairing method)
*  Students experience proper tournament rules
*  Gold/Silver/Bronze medals awarded to various grade/year level categories
*  "Star of the tournament" trophy for top scorer of the day
*  Table prizes/giveaways
*  Northern Star Chess State Final or Semi-final qualifications announced at the end of tournament based on results for the day
It would be fantastic to have a strong representation of AGS students at the tournament, please email Max White on mwh@ags.vic.edu.au if you would like to compete!
We hope to see you there!
Janet Stewart and Max White,
Chess Club Coordinators.
Kenshi Life Changing Candles for Sale
We have sample candles in our secondhand uniform shop each Thursday between 9 – 10:00AM
We have a number of these candles still available, please follow the link below on how to order.
Every candle sold directly funds 3kg of pasta which equates to 24 meals. The pasta is purchased by Make a Difference Community every month and delivered to some of the biggest food charities in Melbourne.
To purchase, please scan the QR code on the attached flyer, email info@ags.vic.edu.au with your receipt and we will advise by email when the candles are ready to be collected. 
Footy Colours Day Canteen Menu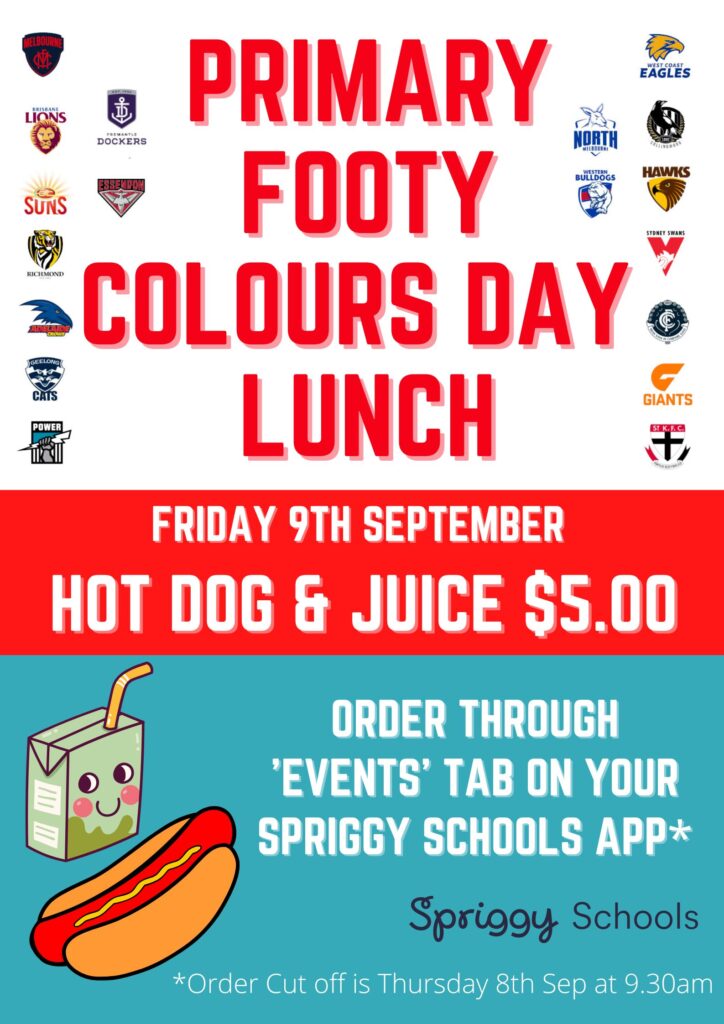 Please see attached information regarding the upcoming Footy Colours Day
Please see attached information regarding the upcoming Fathers Day Stall.
IDSSA Summer Sport Fixture 2022
Please see attached information regarding the Primary IDSSA Summer Sport Fixture.
Year 8 - Community Service Week, 2022
Please find attached letter regarding the Year 8 Community Service Week.
Year 8 - World Of Maths Incursion
Please find attached letter regarding the Year 8 World of Maths Incursion.
Valedictory Dinner Invitation - Class of 2022
The Class of 2022 Valedictory Dinner is coming up on Friday 7 October at Leonda by the Yarra. Tickets are now available via the link below: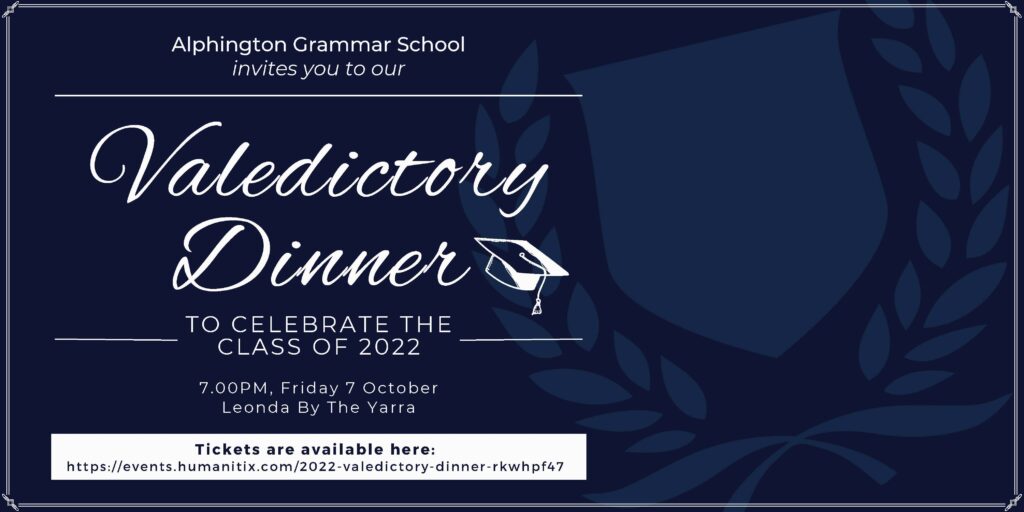 Semester 2, 2022 Key Dates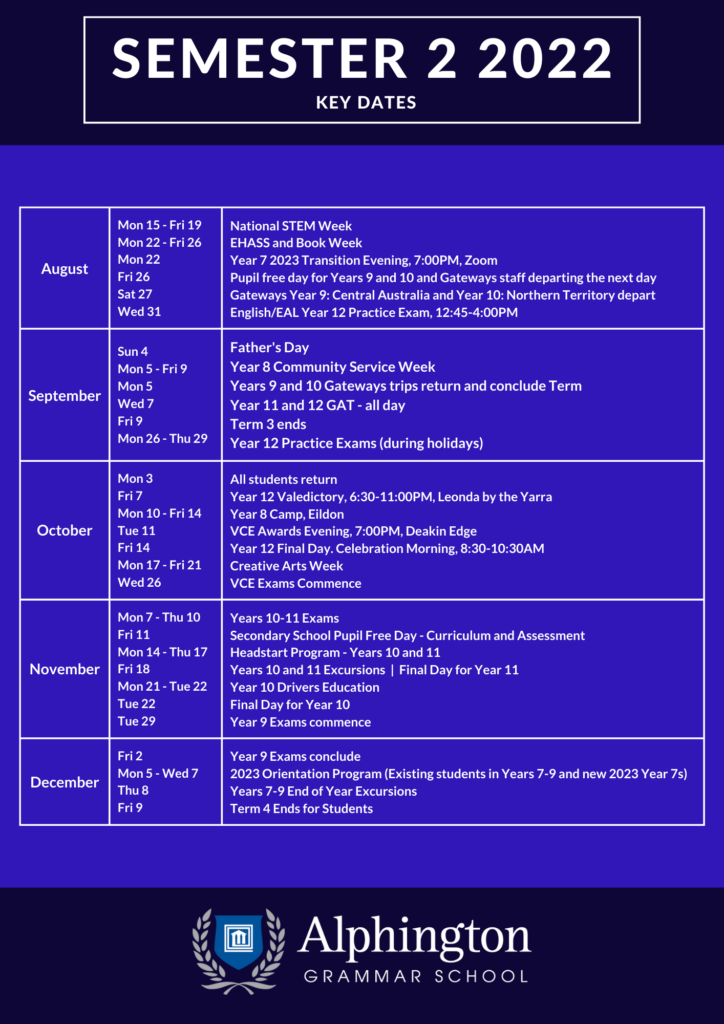 Please find attached Term dates for 2023.
Semester 2 Secondary Enrichment Program
Please find attached Semester 2 Secondary Enrichment Program Information.
Our Secondhand Uniform shop is open each Thursday during term time between 9:00 – 10:00am.  
For Term 4 our Uniform shop will be open each Thursday between 8:45 – 9:45am.
Please be advised that we will be changing back to Summer Uniform next term. 
Any donations of pre owned good quality school uniforms would be greatly appreciated.  
Important Information for Students using Public Transport
Please see attached information from Public Transport Victoria regarding Student pass applications.
Please be reminded that all 2022 School Fees are now overdue.
5,086 total views, 1 views today